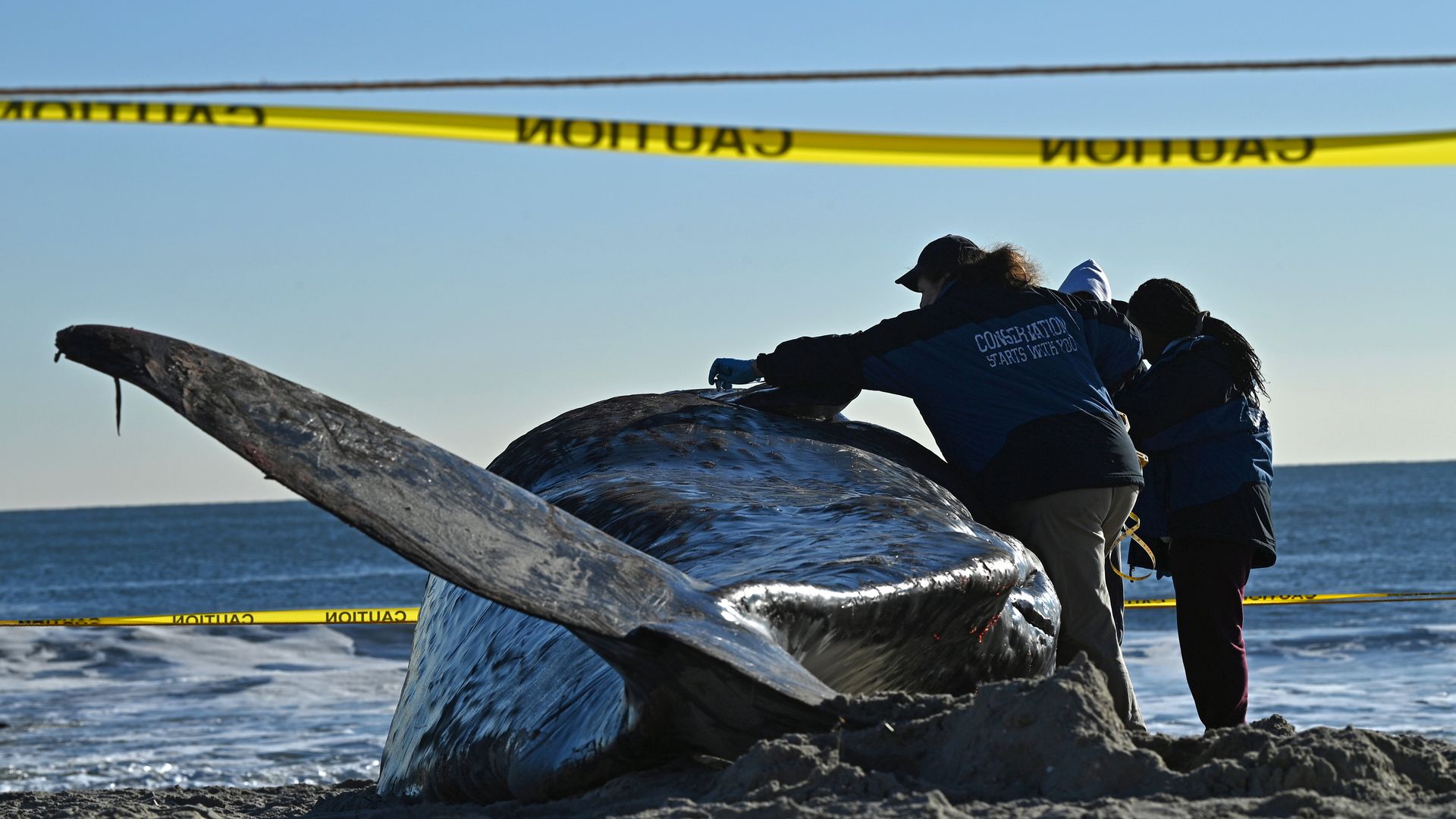 Whale deaths are the newest reason some House Republicans hate offshore wind power, and they're about to make a lot of noise about it.
Why it matters: With environmental laws on the table in permit talks, conservatives are going to try convincing America that banning offshore wind projects in some places will save imperiled whales.
It's a conspiracy theory at sharp odds with science that won't manifest into a law any time soon. But hearings on the subject are in the offing.
Driving the news: Speaking with Axios outside the House chamber, New Jersey's Jeff Van Drew outlined a campaign he's launching against offshore wind generation.
Van Drew said he is crafting a bill to ban offshore projects. The measure will be targeted at the Northeast Atlantic, an aide said.
It's a push that'll benefit from his new vice-chair slot on House T&I. He's scheduled a field hearing March 16 and is talking about the bill with Speaker Kevin McCarthy.
This comes after another New Jerseyan, Chris Smith, introduced a bill last month to require new environmental reviews as offshore wind generation grows.
Van Drew said he's inspired by an outcry from some environmentalists, fishermen and coastal towns about dead humpback and critically endangered right whales recently washing ashore.
"The American people aren't always the most amazing environmentalists in the world, but they do love animals and they do love whales," Van Drew said.
Reality check: His anti-wind effort is rooted in a false premise.
Former Trump-era acting NOAA administrator Timothy Gallaudet told Axios' Andrew Freedman the jury is out on why all these whales are dying.
"Whale strandings in general are very hard to pin to a single cause," Gallaudet said. "We don't know."
The other side: Wind supporters certainly aren't loving this turn by some in the GOP, which goes against their unity on an all-of-the-above energy message.
"It's unfortunate that the disinformation being spread by opponents of clean energy is being used in attempts to delay projects, threatening thousands of well-paying jobs for New Jersey workers," said Jason Ryan of The American Clean Power Association.
It's unclear how many Republicans will take the bait.
Right-leaning Gulf states historically support offshore wind power. At least one GOP senator, John Kennedy of Louisiana, told Axios he's against any bans on the industry.
The primary avenue for Van Drew's bill would be the House Natural Resources Committee, where GOP committee staff declined to comment on his legislation.
But Democrats are countermessaging nonetheless.
To applause from fisheries, Maine's Jared Golden, a prototypical moderate Democrat, sent a letter calling on NOAA to share more info on why the whales are dying.
Meanwhile, Democrats on Natural Resources just introduced a bill to protect the North Atlantic right whale from fishing.
And Sen. Sheldon Whitehouse wants Democrats to look at the ways that fossil fuels could be, well, fueling this situation.
"I am 100% convinced that fossil fuel is funding some of the opposition. Any clean energy, they want to find ways to hobble and harass," he told Axios, echoing a claim John Kerry also recently made.
Asked about using his new Senate Budget chairmanship to wade into the whale misinfo mess, the Rhode Islander said: "Potentially, but our focus is obviously in the first instance directly on how this impacts the federal budget."
Go deeper