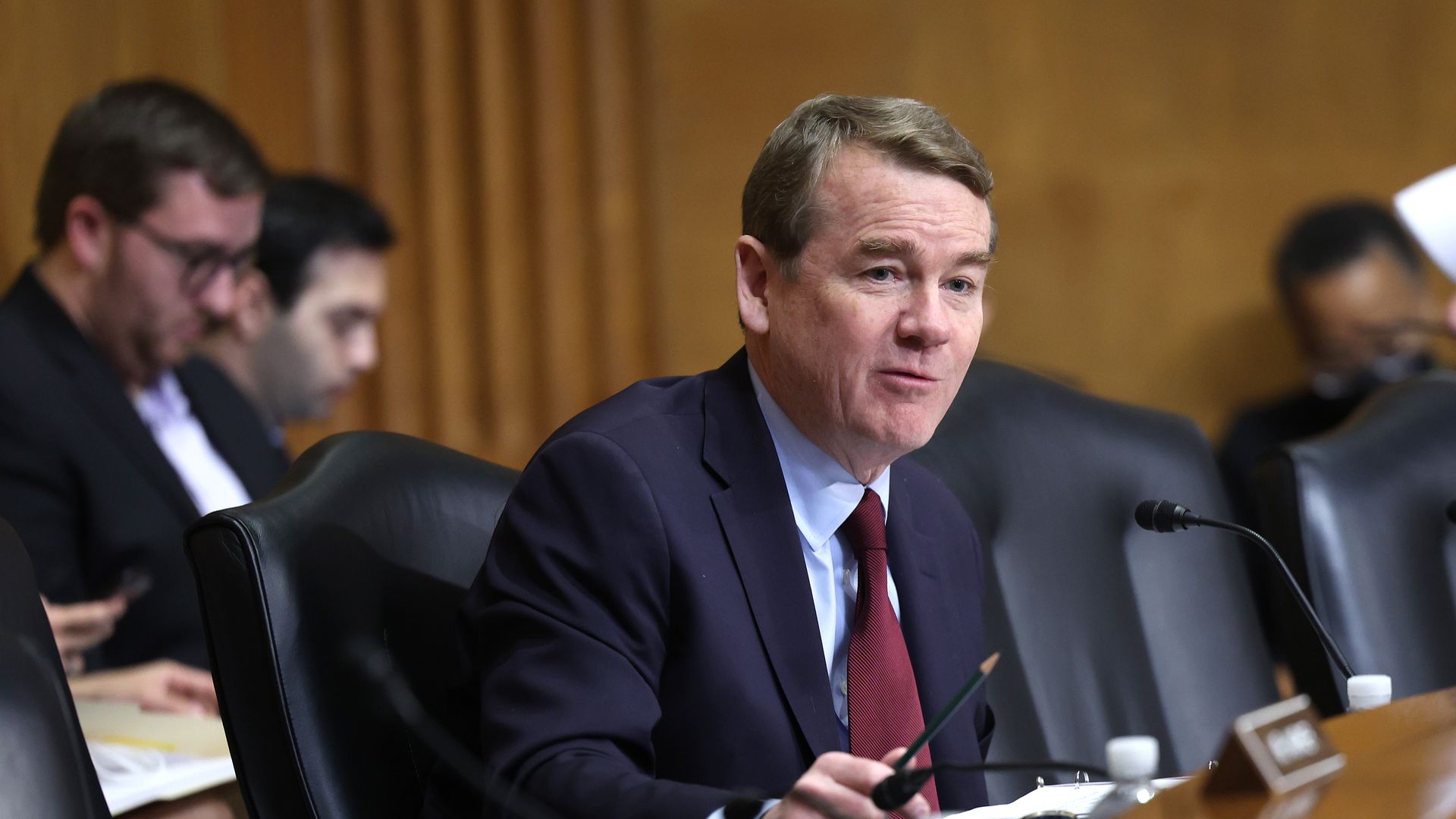 🚜 Western drought and forest management are emerging as major priorities for this year's farm bill.
Why it matters: Western watersheds are drying up. Forests are burning more frequently. The bill — which expires Sept. 30 — is the best vehicle for Congress to intervene.
Driving the news: Sen. Michael Bennet is pushing to get his Protect the West Act into the bill as the House and the Senate kick off the process with hearings this week, he told Nick.
His legislation would send billions to states, tribes and localities for drought and wildfire resilience projects on top of the money for the West lawmakers approved in the IRA and the infrastructure law.
Bennet — who sits on the Ag Committee — said he expects a discussion about "backstopping" a potential agreement for water cuts among the states in the Colorado River Basin.
"It's really important to use the farm bill process to raise the alarm on the 1,200-year drought that the Colorado River Basin is facing and that the American West is facing," Bennet said.
Meanwhile, Republicans in both chambers are eager to get substantive forest management legislation into the bill.
House Ag Chair Glenn Thompson told Jael as he walked through the Cannon tunnel that he created a forest-specific subcommittee because it's important to address the "devastating loss of lives and communities out West" from wildfires.
As Thompson said this, he ran into Natural Resources Chair Bruce Westerman waiting for the elevator. Westerman is looped in on farm bill talks and has numerous forest priorities, including the Save Our Sequoias Act.
Asked about the farm bill, Westerman simply said, "I would like to see some good forestry legislation passed."
🌲 GOP senators hope that legislation includes a bipartisan forestry package that Senate Energy and Natural Resources Chair Joe Manchin offered last year.
Sen. John Barrasso, the committee's ranking member and co-author of the package, said he's talking to Westerman about how it can advance.
Barrasso said he hopes it will be signed into law "this year."
All Westerman would say of that Senate package: "I think it needs a little work on it."
An aide for Sen. Steve Daines said he's also pushing for the bill to include legislation reversing a 2015 federal appeals court decision on timber management colloquially known as Cottonwood.
Threat level: The nation's two largest reservoirs have hit record low levels in recent months, and wildfires are only intensifying.
Drought is top of mind for Western lawmakers because the seven states that depend on the Colorado River are negotiating water usage cuts to stave off potential drought disasters at Lake Powell and Lake Mead.
Western lawmakers don't want the federal government to force an agreement in the basin, but Bennet said he views it as a "national issue" that will percolate on the Hill as the farm bill moves ahead.
Yes, but: Both chambers are still in the early process of auditing farm bill programs and deciding how to proceed with the must-pass ag safety net.
Quick take: It's still early, but we expect the farm bill will become one of the only ways lawmakers make policy on climate issues this Congress.
Go deeper