Why AOC matters in the permits fight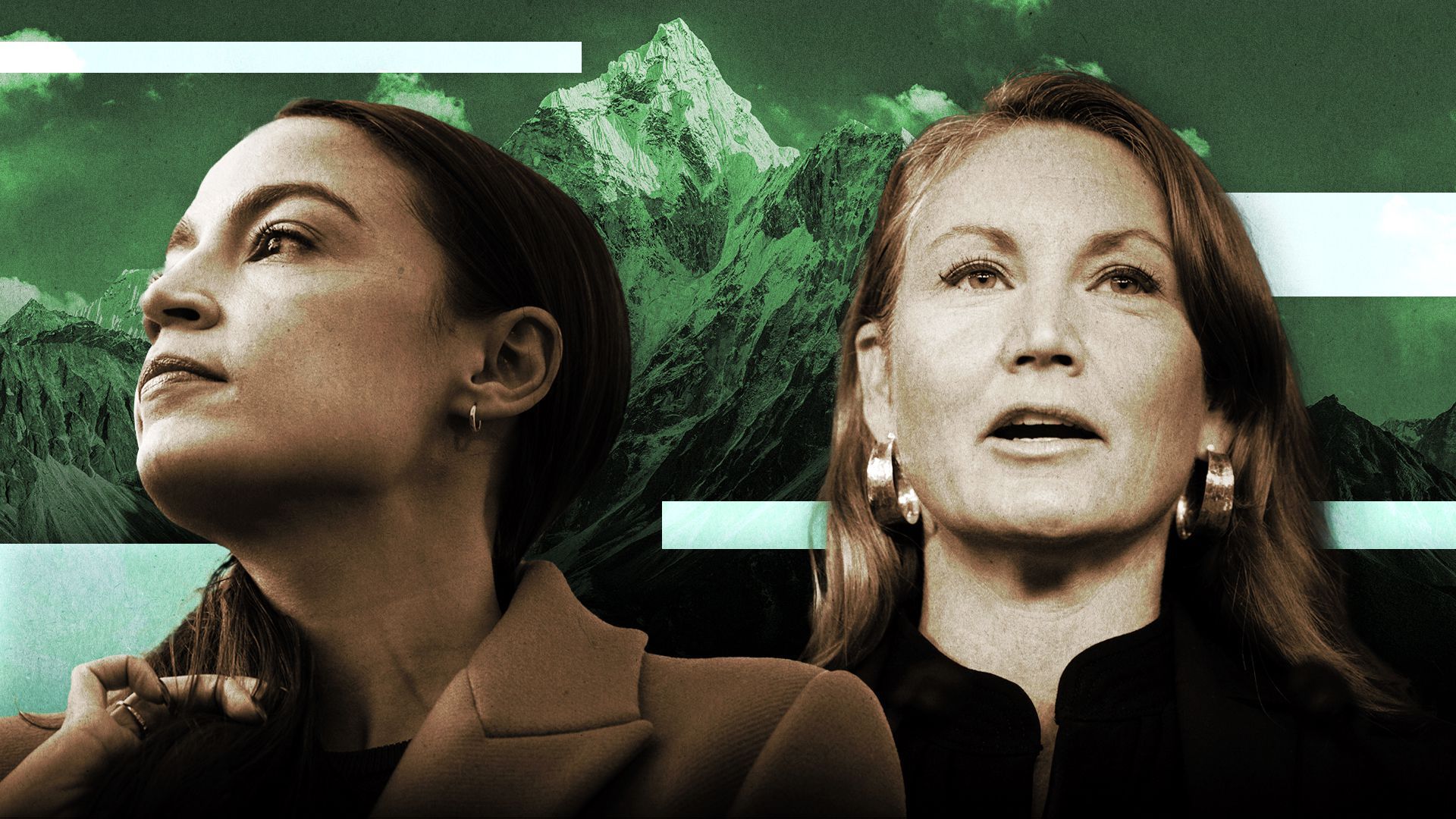 Progressives' messaging strategy against any future energy permits deal is emerging — and it runs through firebrands like Rep. Alexandria Ocasio-Cortez, Axios writes.
Why it matters: The Democratic left flank successfully killed Joe Manchin's permits deal last year with help from Republicans. Now it's making chess moves to deter moderates who try to revive anything similar.
What's happening: House Democrats elevated two charismatic colleagues — Ocasio-Cortez and Melanie Stansbury — to ranking-member subcommittee slots on the Natural Resources Committee.
"Our job is to be loyal and effective opposition," Natural Resources ranking member Raul Grijalva told Jael, "and you saw by the people we put in [committee] leadership, we're going to be OK."
The Natural Resources Committee will be ground zero for bills related to using federal lands — the crux of any permitting discussions.
Republicans, and some Democrats, want to pass permit legislation. But any fiery exchange between Ocasio-Cortez or New Mexico's Stansbury and a conservative over permits could help an otherwise drab subject resonate with climate-conscious Gen Z voters.
In the committee's first week of hearings, Ocasio-Cortez has focused on environmental justice and local community impacts from freeing more land for resource extraction.
At the committee's organizational meeting, she offered an amendment to its oversight plans stating that lawmakers would look at how federal fossil fuel programs impact public health.
Republicans easily voted it down, but the moment showed how Ocasio-Cortez can stir debate, as GOP members responded with a questionable claim that fossil fuel use is extending life expectancy.
Stansbury, a former staffer on the Senate Energy and Natural Resources Committee, has telegraphed a countermessage against a deal: that fast permits and more oil, gas and minerals extraction won't solve the climate crisis.
"I believe in telling it like it is," Stansbury said in a statement her office gave Jael. "We need real science-based solutions to tackle our biggest challenges in climate and energy, not half-baked, industry-driven attempts to weaken our bedrock environmental laws, as currently proposed under the guise of permitting reform."
State of play: Progressives are sounding the alarm early, but it will be months before talks on a bipartisan package get serious.
House Speaker Kevin McCarthy met with Manchin to discuss permitting — among other things — in January.
Manchin also huddled with House Natural Resources Chair Bruce Westerman.
"I think there's common ground not just between Senator Manchin and myself, but between others as well," Westerman told reporters who saw him walking with Manchin after the Feb. 1 meeting.
What's next: We expect House Republicans to roll out a broad energy package that includes permitting proposals and pass it in the coming weeks. The BUILDER Act and the Tap American Energy Act are likely to be included.
Republicans view that package as a starting point for leadership negotiations on a bipartisan permitting bill with the Senate — which they hope happens toward the middle of the year.
Yes, but: These talks won't happen in a vacuum. The Biden administration is putting considerable effort into making permits fly faster without a deal.
The big picture: Real hurdles exist at the federal level to approving commercial projects like transmission lines at a pace experts say is needed to slow catastrophic climate change.
But paring back legal environmental protections could make it easier to build new oil and gas projects—precisely what climate advocates want to avoid.
Quick take: The coming fight over permits will be less about whether environmental laws work within the permitting process and far more about which energy projects — renewables or fossil fuels — lawmakers want to boost.
Go deeper