Scoop: Cassidy plans carbon-tariff bill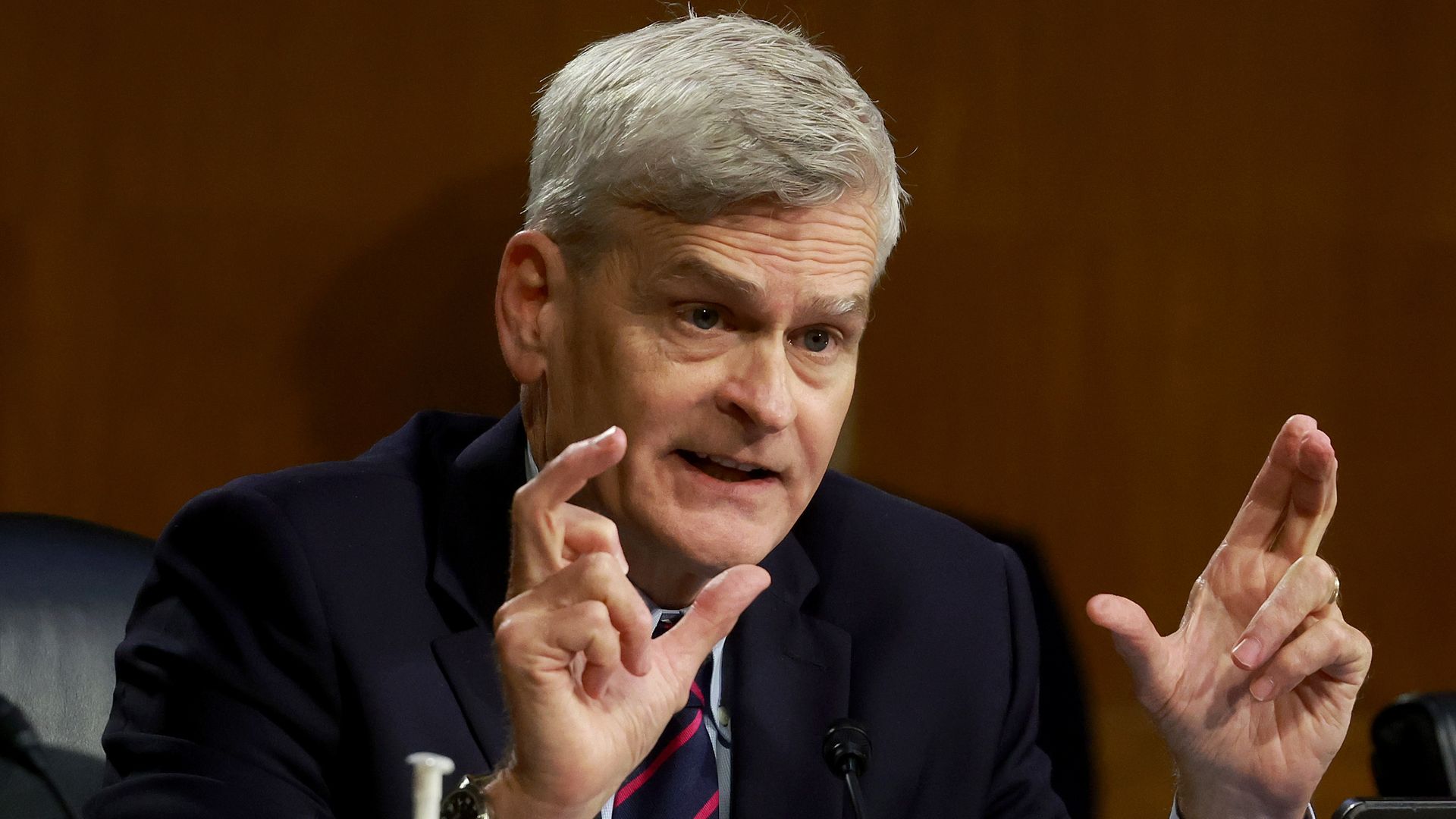 Sen. Bill Cassidy is planning to unveil an emissions tariff bill in the "next couple of months," he told Axios in the Senate basement today.
Why it matters: This would be the first carbon tariff legislation introduced by a Republican — and it's likely to be a huge part of an emerging bipartisan conversation on the Hill.
Cassidy is among a handful of Senate Republicans publicly discussing the idea.
Driving the news: Cassidy has been talking about what he terms a "foreign pollution fee" for some time. Now, he's nearly ready to turn it into legislation in the first half of this year.
"We're obviously trying to build support, but it's pretty mature product, and so I feel like it could be soon," Cassidy told Axios.
How it works: Cassidy is proposing to slap a fee on imported goods, such as steel, that have a high emissions profile compared to those produced in the U.S.
That includes greenhouse gases, as well as some other pollutants regulated by the EPA.
Flashback: The European Union struck a deal late last year on its own "carbon border adjustment mechanism."
It prompted a conversation among U.S. lawmakers about enacting a version of the policy here — or joining a carbon club with the EU — to protect domestic industry.
Sens. Chris Coons and Sheldon Whitehouse both have their own "CBAM" bills that they've tried to shop with the GOP.
Cassidy said he views it as "a national security play, as well as an environmental play."
"Effectively, this is going to encourage re-shoring of industry, which helps create more American jobs. But it also addresses the needs of those concerned about foreign pollution," he told Axios.
Part of the legislative strategy here is to get the U.S. into a "foreign pollution club" with the EU and other trading partners to counter China and other major greenhouse gas polluters.
That argument could resonate with Republicans increasingly concerned about China's role in the energy transition.
Zoom in: We could also see the Senate Finance Committee weigh in on carbon tariffs.
Chair Ron Wyden told Axios today he wants to make sure any carbon border adjustment would "protect American jobs."
Yes, but: Some experts believe it would be difficult to enact a carbon tariff without a carbon tax on domestic emitters.
Republicans don't support such a domestic fee.
Cassidy believes existing U.S. regulations already impose compliance costs that would prevent a carbon tariff from running afoul of global trade rules.
The other side: Some conservatives believe it's an appealing idea for the new nationalist GOP, but it hasn't gained much traction among House Republicans.
"That's not the solution right now," Rep. Garret Graves said in a recent interview.
Go deeper