January 14, 2023
Welcome back to Climate Wheels!
Alan Neuhauser here, and this week I drove the Ford Mustang Mach-E.
This electric muscle-car is the first that got me to crank Led Zeppelin on the radio.
And I got to sit in the front seat of an EV police cruiser.
🤟 Let's rock.
1 big thing: The Mach-E revelation and revolution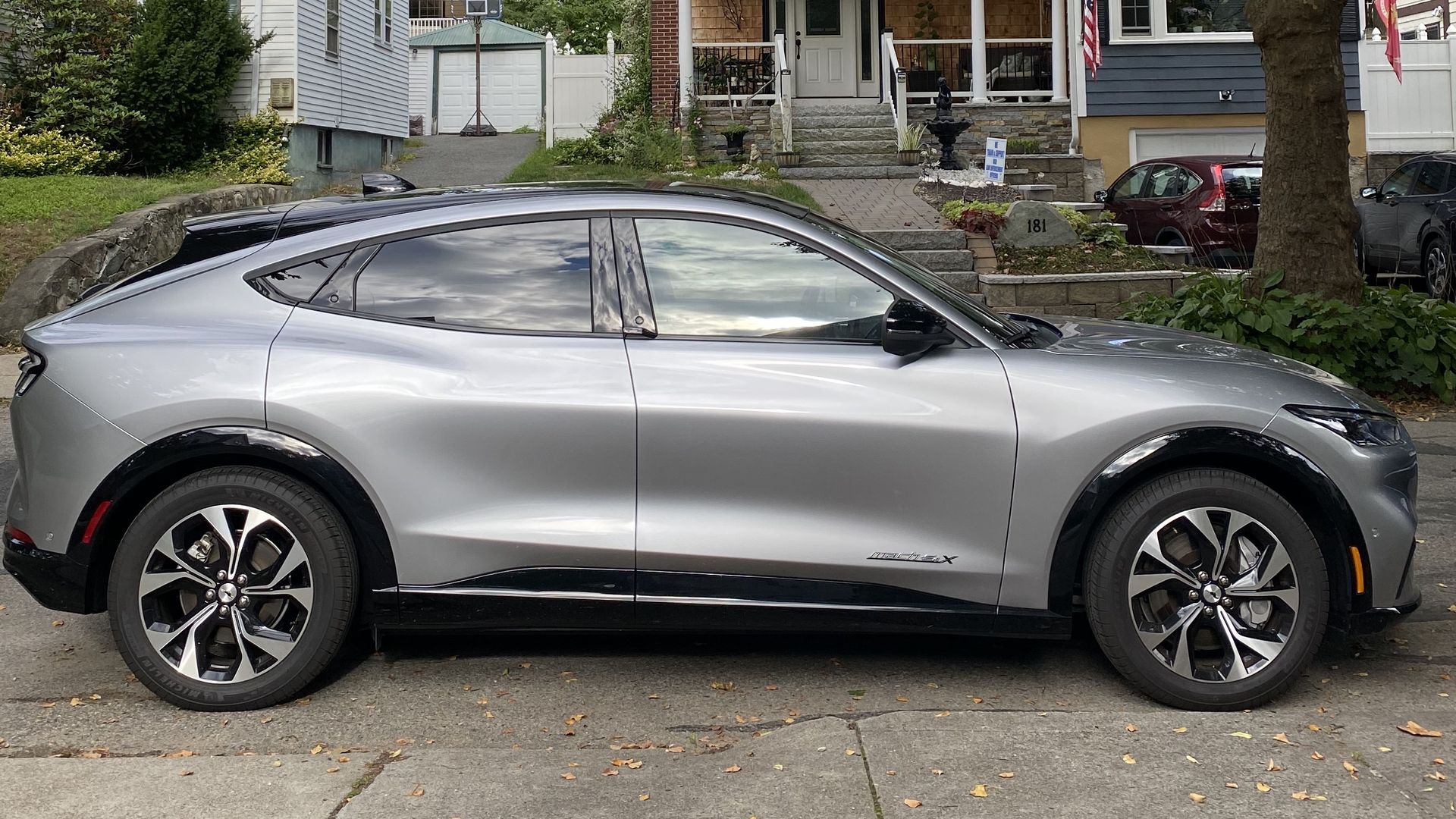 Ford debuted the Mach-E in 2019, and it was a revelation and a revolution. But three years is three generations in the EV market, and this instant classic needs a refresh.
Why it matters: Sparking a revolution is easy. Staying ahead of it is something else altogether.
Flashback: When introduced in 2019, the Mach-E was a beautiful, thoughtful, attainable SUV that finally gave American drivers a reason to get excited about going electric.
At the time, Tesla held ~80% of the EV market. The only mainstream alternatives were the gerbil-like Nissan Leaf and Chevy Bolt — long on virtue, short on vroom.
There was deep doubt about whether any major automaker — let alone Ford, so deeply mired in bureaucracy it became a central story line in "Ford vs. Ferrari" that same year — could get an EV right.
The intrigue: The vehicle was a jaw-dropper.
Eye-catching curves, powerful performance, clever design, as much as 300 miles range, and a starting price of $43,995.
No wonder analysts predicted a sharp drop in Tesla's stock the next day. (Indeed, Ford debuted the car on Elon Musk's doorstep, right outside his company SpaceX.)
What happened: The Mach-E finally reached dealers for model year 2021. It swiftly became the second-bestselling EV in the U.S., trailing Tesla.
Yes, but: The sales haven't generated a profit for Ford.
The automaker in 2018 announced it would invest at least $11 billion to bring 40 hybrid and electric vehicles to market by 2022.
The pandemic — and the market woes, factory shutdowns and supply chain turmoil it wrought — slowed that ambitious rollout.
Zoom in: As recently as last summer, Ford CFO John Lawler said inflation and soaring commodity prices had largely wiped out the company's margins on its Mach E.
However, a company spokesman tells me that the automaker's EV sales overall are profitable.
Meanwhile, automakers such as Kia and Hyundai have started selling similarly priced SUVs with larger instrument clusters, similar range, faster charging speeds and arguably fresher styling.
What's next: Ford is hiking prices between $3,000 and nearly $9,000 on its Mach-E, citing battery costs.
It's not alone. Electric automakers from Polestar to GM bumped their prices for the same reasons.
Ford has emphasized that it's continuing to introduce new features through over-the-air software updates, even as it increases prices.
It's increased its investment in electrification to $50 billion through 2026.
Let's drive.
View archive