Green hydrogen: bulging pipeline, little deployment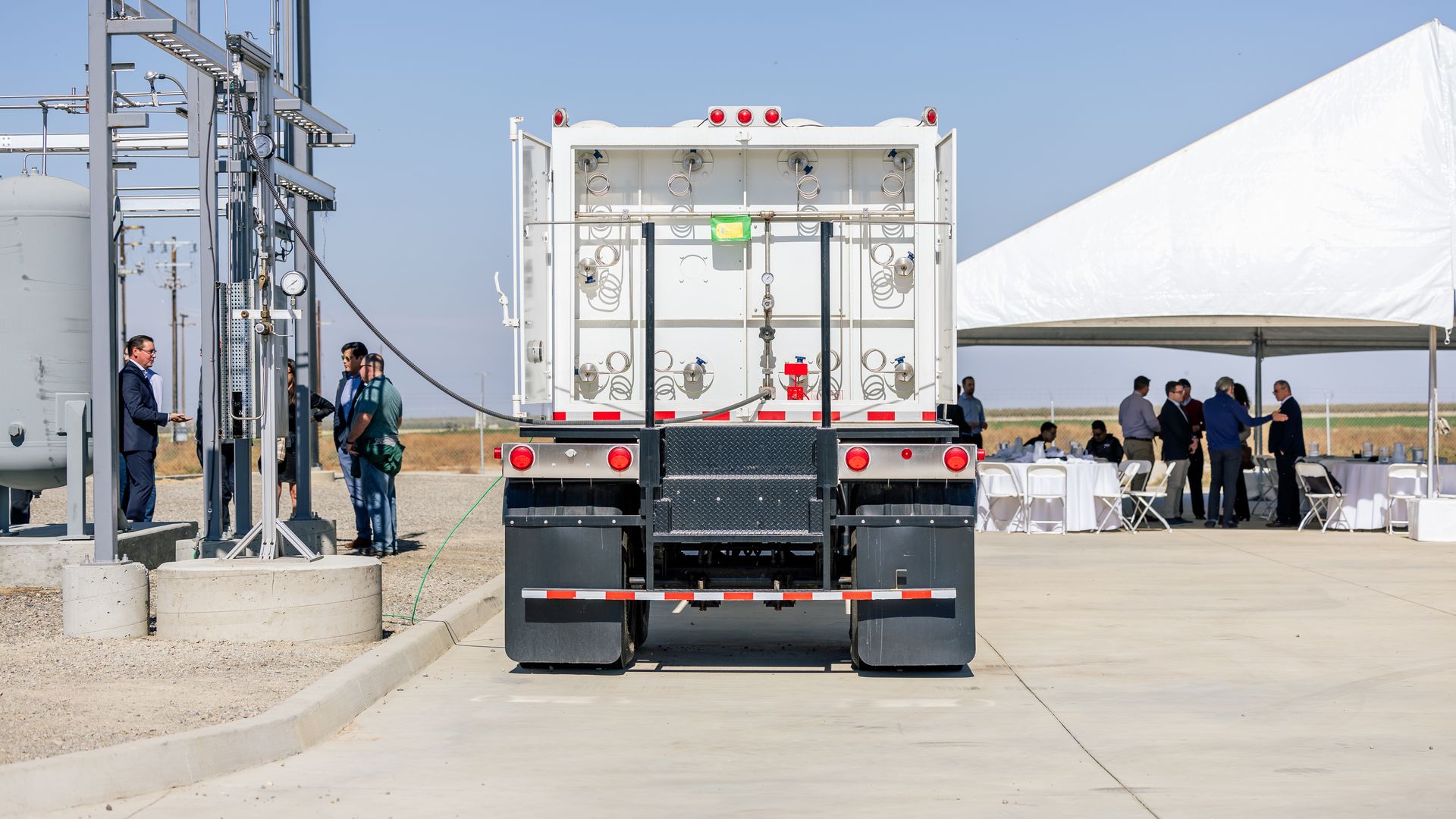 When it comes to green hydrogen deployments, the pipeline is full of projects. The list of those that are operating, however, is very short.
Why it matters: The market for green hydrogen has major global potential to provide carbon-free fuel for long-haul trucks, airplanes, container ships and industries like steel and cement.
Driving the news: Green hydrogen developer H2B2 Electrolysis Technologies said on Wednesday that its green hydrogen project called SoHyCal in Kerman, Calif., is now producing hydrogen that can be used to power local fleets.
The company called the facility the "first and largest green hydrogen production plant in North America." It can make one ton of hydrogen per day, with plans to increase to three — enough to power up to 210,000 cars or 30,000 city buses in a year, says the group.
The site's first hydrogen is being made by sourcing biogas from nearby dairy farms.
Big picture: According to Wood Mackenzie, there are 6.59 million tons per annum worth of green hydrogen projects in the pre-development phase in the U.S., but only .01 million tons operating. (Green hydrogen is defined as being made by electrolyzers that are powered by clean electricity.)
The International Energy Agency issued a report on developers holding back because projects are expensive and buyers hard to find.
Zoom in: H2B2's project was able to tap into California state funding, but also the company worked closely with the local Fresno County Economic Development Corporation to help partner with transportation groups.
The state and Central Valley counties are concerned about air quality issues. H2B2's Miguel Ruelas, who does business development and was born and raised in Fresno, says hydrogen for mobility as well as using local biogas is a big win for cleaner air in the region.
On the federal level, last month the Department of Energy unveiled its plan to deploy $7 billion to regional hydrogen hubs, including one in California via The Alliance for Renewable Clean Hydrogen Energy Systems (or ARCHES), a public-private group that will receive $1.2 billion.
What's next: H2B2 announced earlier this year plans to go public via a $750 million SPAC.
H2B2 USA CEO Pedro Pajares de Tena said that the SPAC is still on track but he wouldn't elaborate on timing.
Pajares de Tena said that the green hydrogen market is still at an early stage where you're not seeing many long-term contracts yet, but that now "we're getting there."
Go deeper