The power grid needs new transmission technology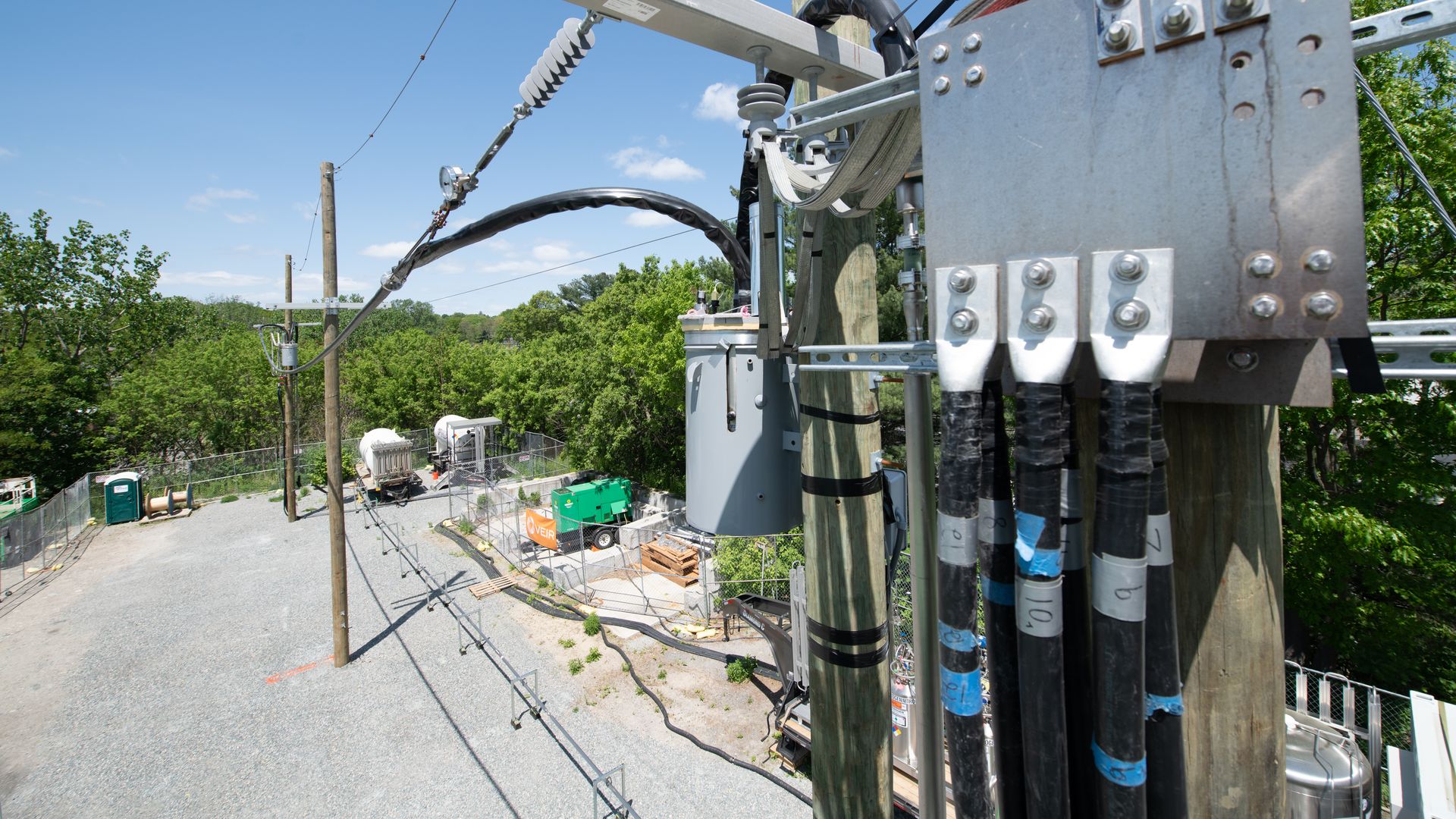 A potential transmission tech boom could be a windfall for new startups and big companies using emerging tech — like new superconductors, sensors and AI — to help grid operators add capacity on existing lines or upgrade aging lines.
Driving the news: Three-year-old Veir, based in Woburn, Mass., raised a $24.9 million second tranche of a Series A round and completed an outdoor demonstration of its overhead superconductor power line tech.
The funding came from investors including Breakthrough Energy Ventures, The Engine Fund, Congruent Ventures, Fine Structure Ventures, Galvanize Climate Solutions and VXI Capital. The company raised $10 million in the first tranche of its Series A in 2021.
Veir is developing a new generation of transmission lines using high-temperature superconductors that the company says can multiply capacity by five to 10 times compared to traditional lines, and add capacity in the same space (or right of way) as the aging line.
Veir's transmission system uses a new process for cooling the lines, which shrinks the size and weight of the system and enables the lines to be installed overhead.
State of play: U.S. grid companies will need to invest heavily in new transmission technologies to meet an explosion of demand for electricity as vehicles and homes electrify and the power grid transitions to clean energy.
Veir is focused on transmission tech that upgrades the line. "I get most excited about things that will dramatically increase capacity," said Veir CEO Tim Heidel.
But other companies are looking at ways to get more capacity out of existing transmission lines, called grid-enhancing technologies, which use computing to control the power flow, line switch to avoid congestion, and monitor lines.
LineVision, based in Boston, uses lidar mounted on towers to dynamically rate the power line. The tech can deliver an average of a third or more additional capacity unlocked on existing lines, LineVision CEO Hudson Gilmer told Axios Pro Energy Policy Reporter Nick Sobczyk.
NewGrid, based in Somerville, Mass., makes software that helps grid operators reroute flow around congestion, like a Google Maps for transmission.
Big picture: Earlier this week, Elon Musk said at a PG&E event that in order to electrify homes and transportation, the grid will need to triple output, and that utilities are likely vastly underestimating the coming demand.
The most economic way for grid operators to add transmission capacity is for a third of it to come from upgrading existing lines using advanced conductors, among other tech, says Johannes Pfeifenberger, principal at The Brattle Group.
Another third of capacity could come from transmission tech like power flow control and dynamic line rating, and another third could be new greenfield transmission lines, says Pfeifenberger. "Whatever grid operators choose, it "will require massive amounts of investments."
As we're trying to electrify everything and decarbonize everything, the pressure is much greater on utilities, says LineVision's Gilmer.
Yes, but: Transmission technology can be a challenging sector due to the conservative nature of grid operators and the long timelines needed for deployment.
Veir's Heidel says the company is five years away from commercial deployment. "Transmission is difficult to build and is getting harder to build."
What's next: All eyes are on lawmakers' potential transmission deals that could add reliability and expand capacity to supercharge the clean energy deployments from the Inflation Reduction Act.
Go deeper