Amazon's clean energy shines, while EVs prove trickier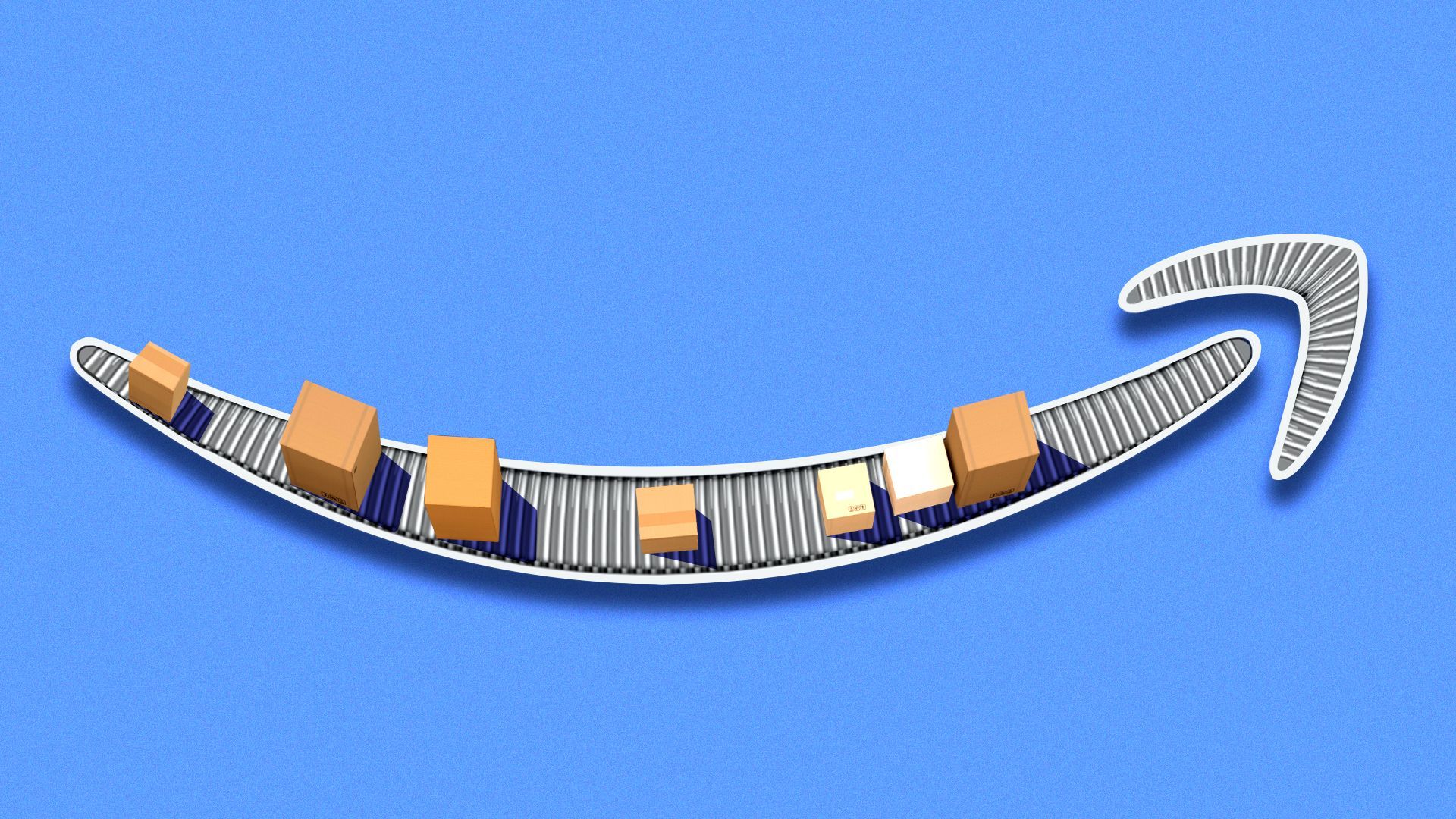 Last year, Amazon bought a massive amount of clean energy — more than any other company in the world — but only electrified a small percentage of its sprawling truck and van fleets.
Why it matters: Amazon's climate tech progress is mirroring the market. Solar and wind farms have become low-cost, mature technologies, while electric trucks and vans are still relatively expensive, and charging depots are facing supply chain challenges.
Details: In Amazon's new 2022 sustainability report, the logistics giant said that 90% of the electricity that it consumes is from renewable sources, up from 85% in 2021. By 2025, five years before its own deadline, 100% of its electricity will be clean, the company says.
Renewable energy investments grew to 401 solar and wind farms with 20 GW of capacity.
Yet Amazon has only hit a small percentage of its goal to put 100,000 electric delivery vans from Rivian on the roads in North America by 2030. The company said it has 2,600+ Rivian vehicles operating, and a total of 9,000 EVs in its fleet globally (including 3,800+ EVs in India).
In 2019, Amazon announced a plan to buy 100,000 electric trucks from startup Rivian, in the largest electric vehicle order ever.
Amazon's carbon emissions related to the fossil fuels that power its current vehicle fleet (called Scope 1 emissions) actually rose 11% from 2021 to 2022.
Big picture: While more electric trucks are being manufactured globally than ever before, large fleet operators are still facing supply chain constraints for both charging infrastructure and vehicles.
Utilities can also be a major barrier to getting enough power to a depot to support large volumes of new charging infrastructure.
An independent electric vehicle maker like Rivian also faces challenges as it tries to scale up its manufacturing processes. The Irvine, California-based EV maker plans to make 50,000 vehicles this year, below analysts' estimates.
Amazon needs to scale up its EVs by over 10 times in just seven years to reach its EV goals.
What's next: Beyond EVs and clean power, Amazon will also need to work on decarbonizing even more difficult sectors like aviation and maritime shipping. The markets for these two sectors are even less mature than electric trucks.
Go deeper