Big potential, early days for CO2 jet fuel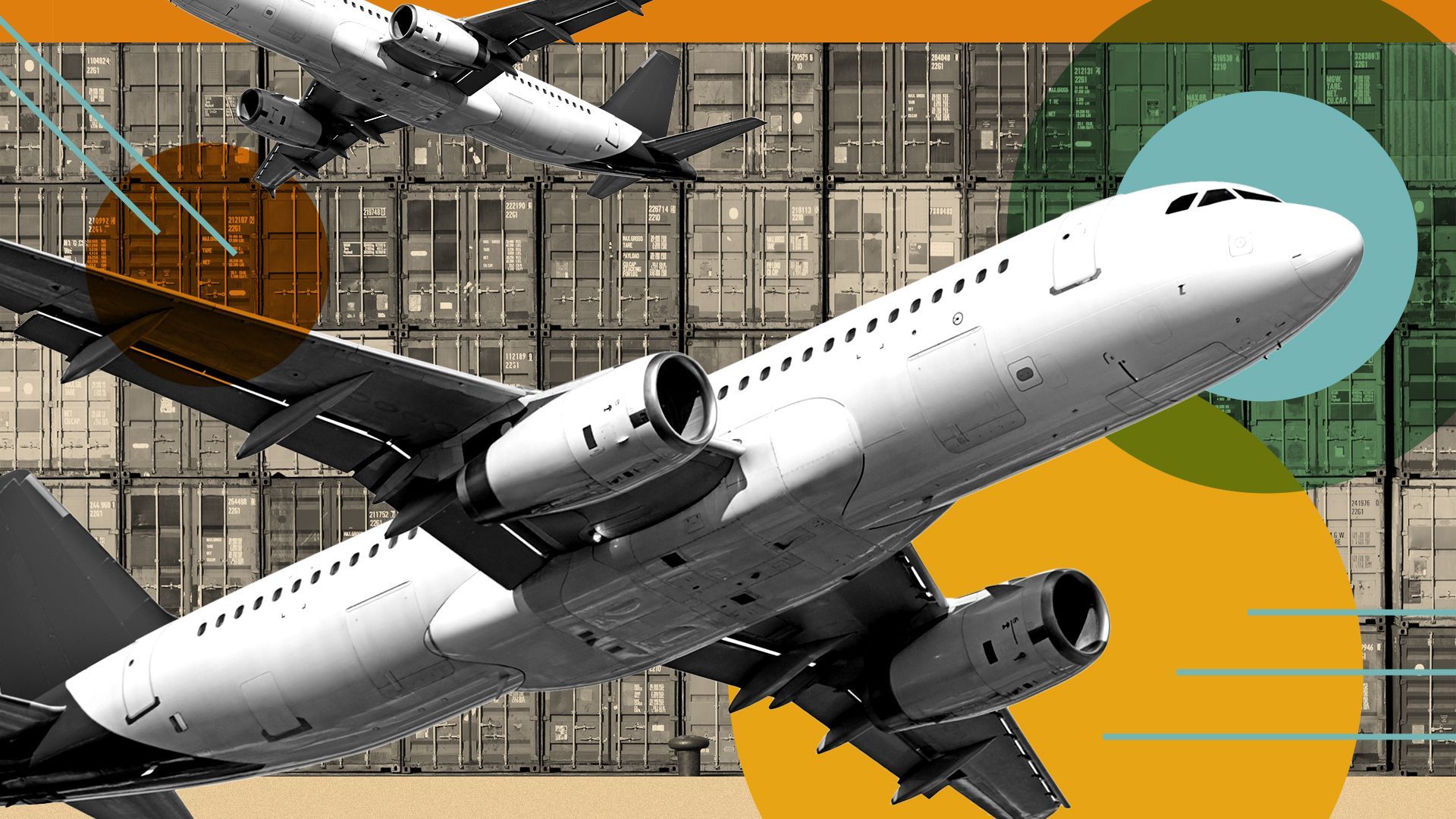 A group of startups is looking to produce jet fuel using carbon dioxide, offering airlines and logistics companies a new way to meet net-zero targets.
Why it matters: The aviation sector is being pushed by regulation and sustainability commitments to cut carbon emissions, and it needs to find new, innovative ways to dramatically grow its use of sustainable aviation fuel.
Details: Startup Twelve just broke ground on a facility in Moses Lake, Washington, that will make sustainable aviation fuel from CO2. The facility is supposed to start producing fuel in partnership with developer Emerging Fuels Technology in mid-2024.
The Berkeley, California-based startup says its fuel can lower greenhouse gas emissions by 90% compared to petroleum-based jet fuel and that Alaska Airlines, Microsoft and Shopify will be the first companies to utilize products from the Washington facility.
On the other coast, Air Company is already making small volumes of its CO2-derived jet fuel at its facility in Brooklyn, New York. The company has agreements to sell fuel to Boom Supersonic, JetBlue and Virgin Atlantic.
LanzaJet, the aviation-focused sister company of carbon recycling company LanzaTech, is planning to use waste CO2 as a feedstock for a project in South Wales, U.K., with the support of the U.K. government.
Oxford-based startup OXCCU just raised a Series A round of $23 million from investors including United Airlines to test out its technology in a demonstration plant.
Yes, but: Sustainable aviation fuel (SAF) has a long way to go — it represents only 0.1% of jet fuel use, according to Bloomberg New Energy Finance.
Big picture: Most of the sustainable aviation fuel produced today is made from bio-based materials like agricultural waste, animal-fat waste and used cooking oil. It can also be made from "energy crops" like corn, sugar cane and soybeans.
Bio-based sustainable aviation fuels are "feedstock constrained," says Gregory Constantine, the CEO of Air Company.
While many SAF producers are trying to tap into waste streams for bio feedstocks, the use of agriculture for a feedstock remains highly problematic for the global food supply.
Bio-based SAF also tends to have an emissions-reduction potential of around 80%, while Air Company and Twelve's carbon-dioxide-based jet fuels have more emission-reduction potential with 97% and 90%, respectively.
By the numbers: The aviation sector is responsible for 2.4% of global annual carbon emissions but could be responsible for 4% of greenhouse gas emissions beyond CO2.
That's a similar percentage to the emissions associated with global shipping as well as for powering the world's data centers.
A group of 300 airlines, which fly 80% of global air passengers, has committed to net-zero targets by 2050.
The Biden administration has a goal to have 3 billion gallons of SAF produced domestically by 2030 and is using the Inflation Reduction Act to provide incentives for kickstarting production.
Reality check: If it's early days for SAF in general, then it's really early days for CO2-derived SAF.
Similar to the way the market has matured for biofuels for ground-based transportation, the market for SAF will evolve to meet demand and stricter environmental regulations as it scales up.
Go deeper