New Jersey's first offshore wind farm gains approval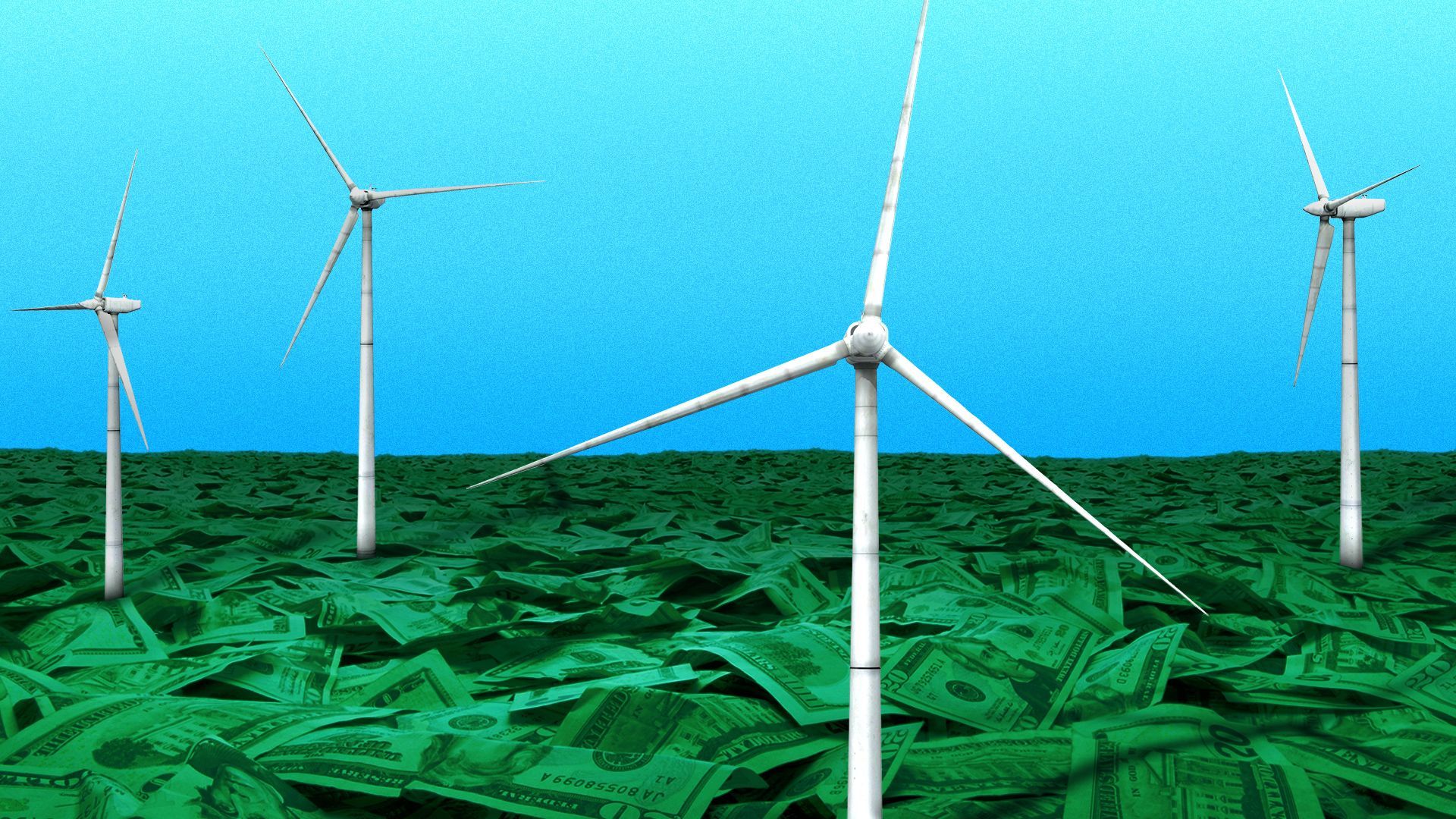 The first offshore wind farm planned for off the coast of New Jersey just received approval from the Biden administration, allowing construction to begin this fall.
Why it matters: While the number of offshore wind farms in Asia and Europe has shot past 200, the U.S. has seen slower growth with just two projects so far partially built out.
By the numbers: Worldwide, there are 257 offshore wind farms currently in operation, of which 140 are located in Asia, 115 in Europe and two in the U.S.
Driving the news: Wednesday, the Department of the Interior's Bureau of Ocean Energy Management approved the plans for Ocean Wind 1, a wind farm that will be located 13 miles off the coast of Atlantic City.
This is the third offshore wind project that the Biden administration has approved and could create 3,000 jobs through construction and operation.
The project, developed by Danish energy company Ørsted, is now on track to begin commercial operation in 2025.
The project is designed to have 98 wind turbines and three offshore substations, and with 1.1 GW of capacity could provide power to up to 500,000 homes.
State of play: New Jersey is looking to build 11 GW worth of offshore wind farms by 2040.
The first two U.S. offshore wind farms are being built off the coast of Martha's Vineyard in Massachusetts and Rhode Island.
Much of the development thus far in the U.S. has been in East Coast waters, but there are planned developments for the West Coast, too.
Zoom in: Like many offshore wind farms in the U.S., Ocean Wind 1 has faced opposition from local residents.
Some are concerned about how the turbines would affect their views, diminish tourism and potentially harm local wildlife and commercial fishing.
The big picture: Local opposition and NIMBYism is one of the chief reasons why the American offshore wind industry has moved at a slower pace than in Europe and Asia.
The Biden administration has sought to kickstart the sector and streamline permitting, with a goal to deploy 30 GW of offshore wind projects by 2030.
Threat level: The fledging American offshore wind sector also faces a new issue with turbines that can shake and break.
The faulty hardware has been a massive billion-dollar headache for German turbine manufacturer Siemens Energy.
The bottom line: Despite the hurdles, the U.S. offshore wind sector appears to be finally gaining momentum this year, after seeing $9.8 billion in investment in 2022.
Go deeper