New from Finland: Nuclear district heating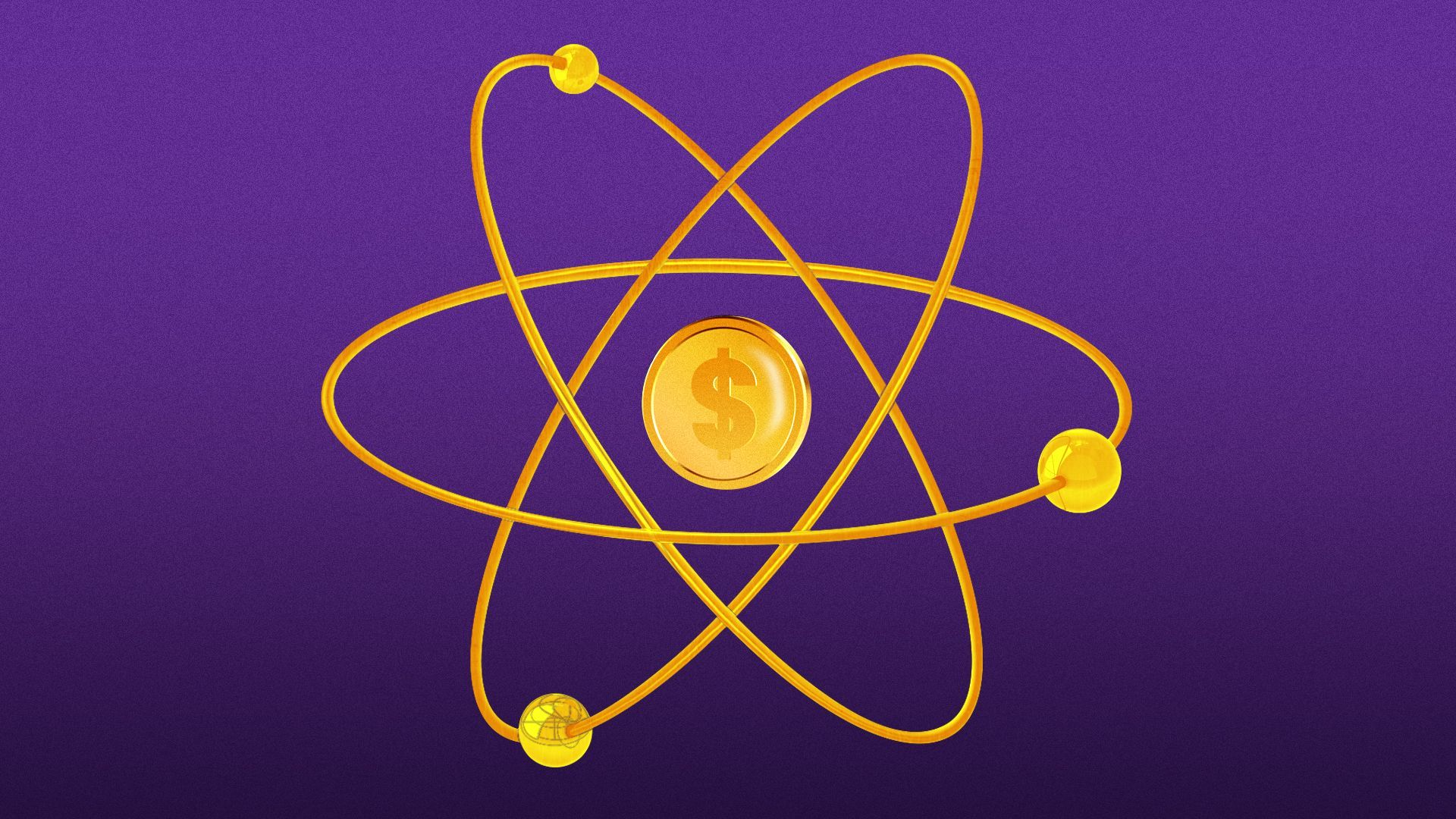 Finnish startup Steady Energy is developing a small nuclear reactor that it can pair with district heating systems for homes and industry, a novel concept that hasn't been commercialized before.
Why it matters: District heating is an efficient and popular way to heat buildings and factories in Europe, but most systems rely on fossil fuels.
Background: Steady Energy, which was spun out of Finland's research institution VTT, is developing the designs behind the concept as well as the small nuclear reactor, called the LDR-50.
The company is hoping to build a pilot plant (that won't yet run on nuclear) to test the concept over the next couple of years, followed by a first commercial plant by 2030.
How it works: District heating plants use a system of pipes to pump low-temperature heated water to be used for heating buildings and industrial facilities in cities or regions that can be as large as 20,000 to 30,000 people.
Common in Europe as well as in China and Russia, most district heating systems use fossil fuels like natural gas and even coal, though some in Europe are starting to use biomass or are paired with solar.
Such heating systems can be difficult to pair with intermittent clean energy like solar and wind, as heating for buildings usually needs to be delivered around the clock.
In Finland, nuclear energy is becoming increasingly popular as a way to help the country become independent from Russian natural gas and meet aggressive climate targets. In April, Finland's latest large (1.6 GW) nuclear power plant went online.
Of note: Steady Energy just raised €2 million (~$2.2 million) led by San Francisco-based Yes VC and Finnish investors Lifeline Ventures. VTT invested their intellectual property in the round.
Yes VC partner Jyri Engeström, who previously sold his mobile startup Jaiku to Google, led the Steady Energy deal. Yes VC is a seed venture firm created by web entrepreneurs, including Flickr co-founder Caterina Fake.
Steady Energy is "the only serious venture-backed effort to commercialize this technology," says Engeström, speaking from the city of Helsinki, which gets most of the heat for its homes and buildings from district heating.
Engeström, who's Finnish, says he's seriously looked at five or six nuclear deals as an investor, but saw the huge market potential for a technology like Steady Energy's, driven by Europe's new rush to get off of Russian gas.
Zoom in: Steady Energy CEO Tommi Nyman helped develop the reactor while at VTT and previously worked on Finland's Olkiluoto nuclear power plant, as well as at CERN on particle physics experiments.
Nyman said he's interested in using nuclear for district heating because "it's the simplest way of using nuclear for the climate problem." Nyman said Steady Energy's district heating system will eventually be cost-competitive with heating systems that run on biomass in Europe.
What's next: Eventually the company will need to raise a lot more money to get its nuclear heating systems deployed and producing heat for cities.
The startup says its nuclear reactors could also be used to power desalination plants and produce steam for industrial applications.
Yes, but: Steady Energy's customers will be limited to regions that are pro-nuclear and willing to swap out gas for nuclear for central heating.
The global popularity of nuclear power has ebbed and flowed over the years, the most recent ebb following the nuclear disasters at Fukushima, Japan.
Given the low adoption of district heating and the relative freeze on nuclear plants in the U.S., this type of technology won't be coming to America any time soon.
Go deeper