Clean energy manufacturing boom busts budgets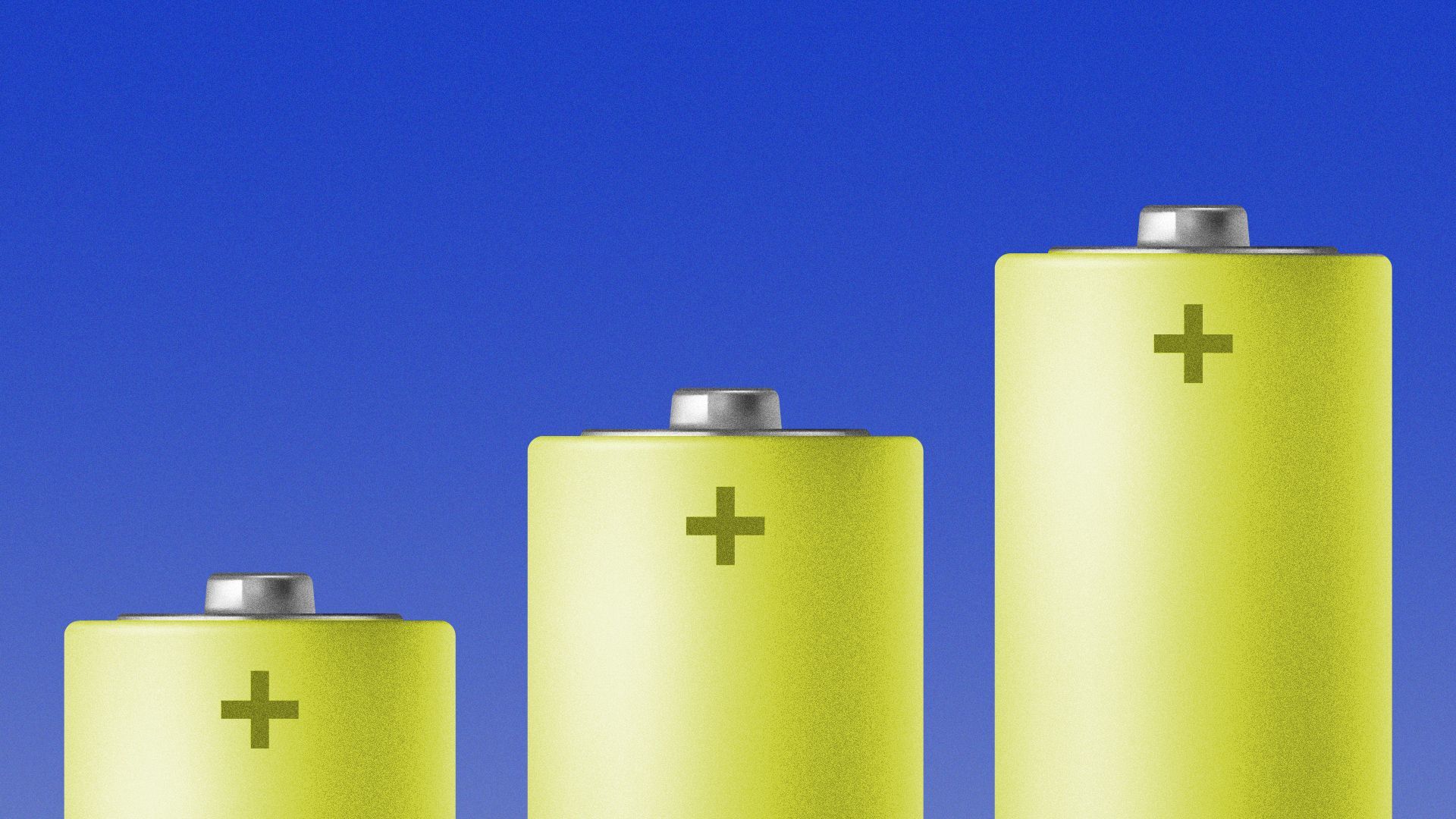 As the U.S. sees a surge in new clean energy and battery factories, some companies building these factories are facing rising costs.
Why it matters: The U.S. is in the midst of a new manufacturing boom around climate tech.
Driving the news: A Department of Energy spokesperson confirmed that some of the battery and EV mineral projects selected to receive grants to build facilities "have seen an increase in construction cost estimates during the negotiations of final awards."
"There's definitely a lot higher costs in the industry in building right now," says Gene Berdichevsky, CEO of Sila Nanotechnologies. "Over the last 18 months they've really skyrocketed."
Sila won one of the DOE battery grants and is building a factory in Moses Lake, Washington. Berdichevsky said that just ordering basic equipment for a factory, like electrical switch gear, involves long lead times, which lead to higher costs.
Grant Goodrich, executive director of the Great Lakes Energy Institute, says he's heard similar concerns from companies building factories in Ohio, which recently landed a $220 million solar factory from Illuminate, a $3.5 billion EV battery factory from Honda and LG, and before that a $2.3 billion EV battery plant from GM and LG.
What's happening: The Biden administration and the DOE are unlocking billions of dollars to support domestic EV and clean energy manufacturing projects.
Because so many new factories are planned, supply chain issues around construction materials and labor could be having an effect.
These factories are being built in an inflationary environment, and costs for some goods and services continue to rise.
For the DOE manufacturing projects specifically, companies could have underestimated construction costs or simply developed a more detailed cost estimate during the award negations.
What's next: Companies will be looking to find ways to alleviate supply chain challenges around construction materials and labor.
In the face of rising construction costs, companies need "to be creative and look at something other than gold-plated engineering off-the-shelf plans," says Todd Malan, head of climate strategy for Talon Metals.
Talon, which is using a DOE grant to help build a nickel mine in Minnesota and a processing facility in North Dakota, is working with building trade unions to better access labor and help with construction planning.
Given the inflationary environment, many companies could already be expecting higher construction and labor costs and could have these rising costs baked into their overall budgets.
Yes, but: Although supply chain issues might remain a problem for a while, eventually supply will meet demand and companies will be able to get their needed equipment and find workers more swiftly.
"It'll get worked through. I think we're going to be building a lot more manufacturing in the U.S., and this is a precursor for things to come," says Sila's Berdichevsky.
Go deeper