Exxon CEO calls direct air capture "holy grail" of reducing emissions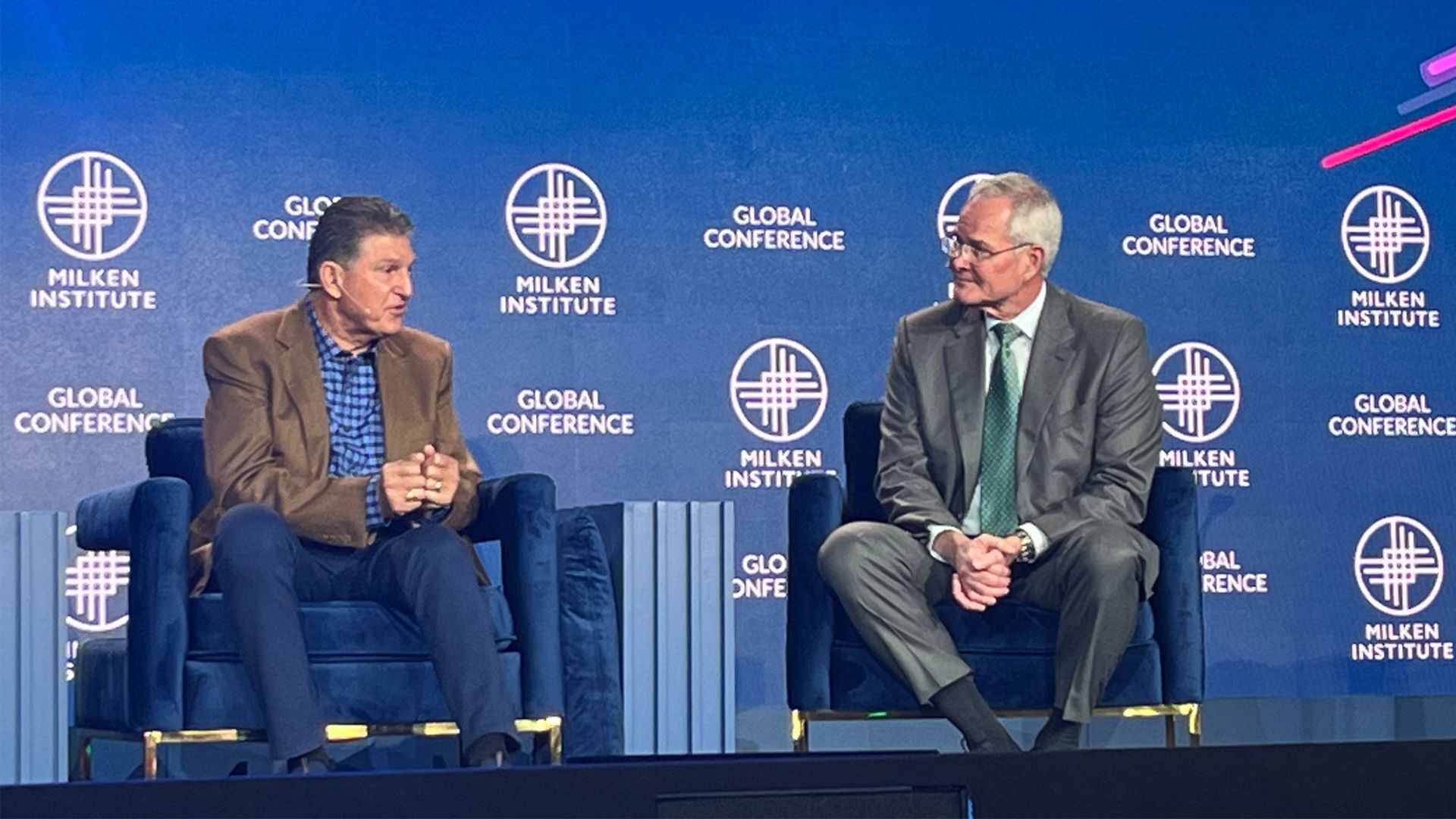 Exxon CEO Darren Woods said his company is working to develop technology to reduce emissions and that so-called direct air capture (DAC) is among the most promising developments.
Why it matters: Exxon's role in climate tech advancement has huge impacts across the sector and on the ability of energy companies to lower emissions.
Details: Woods appeared with Sen. Joe Manchin (D–W.Va.) on a panel at the Milken Global Conference on Monday to discuss energy policy and climate tech costs.
"We think carbon capture is going to play a really critical role" in reducing emissions, Woods said. "We capture more Co2 than any other company in the world. The technology is real. It happens, it works. The issue is the cost. That issue exists on all the alternatives."
The Exxon CEO was deliberate in both advocating for climate tech and also stressing that oil and gas remains a critical part of global energy infrastructure.
"It's an energy dense, very affordable, and extremely reliable source of energy. We're trying to find something that competes with that on availability, on affordability, and that's a challenge," he said.
Zoom in: Manchin said trying to eliminate fossil fuels is a mistake.
"You can't eliminate your way to a cleaner environment. You need to innovate," he said.
Of note: Manchin said he would push to repeal parts of the Inflation Reduction Act that could raise the national debt.
"I'm going to repeal sections of what they're trying to expand on," Manchin said. "They're trying to expand the bill beyond what we wanted."
Meanwhile: Woods said he was particularly excited about developments with DAC, a technology that removes heat-trapping carbon from the ambient air.
"We're doing a lot of work in direct air capture. For me, direct air capture is the holy grail. There's a lot of potential there," he said.
Between the lines: Exxon has been perhaps the most outspoken oil major in declaring its continued commitment to oil and gas. Carbon capture and carbon removal effectively give it the license — or fig leaf — to stick with that core business.
Exxon last month laid out an ambitious energy transition strategy focused on carbon capture, hydrogen and biofuels.
Go deeper