Battery maker Energy Dome charges up with €40M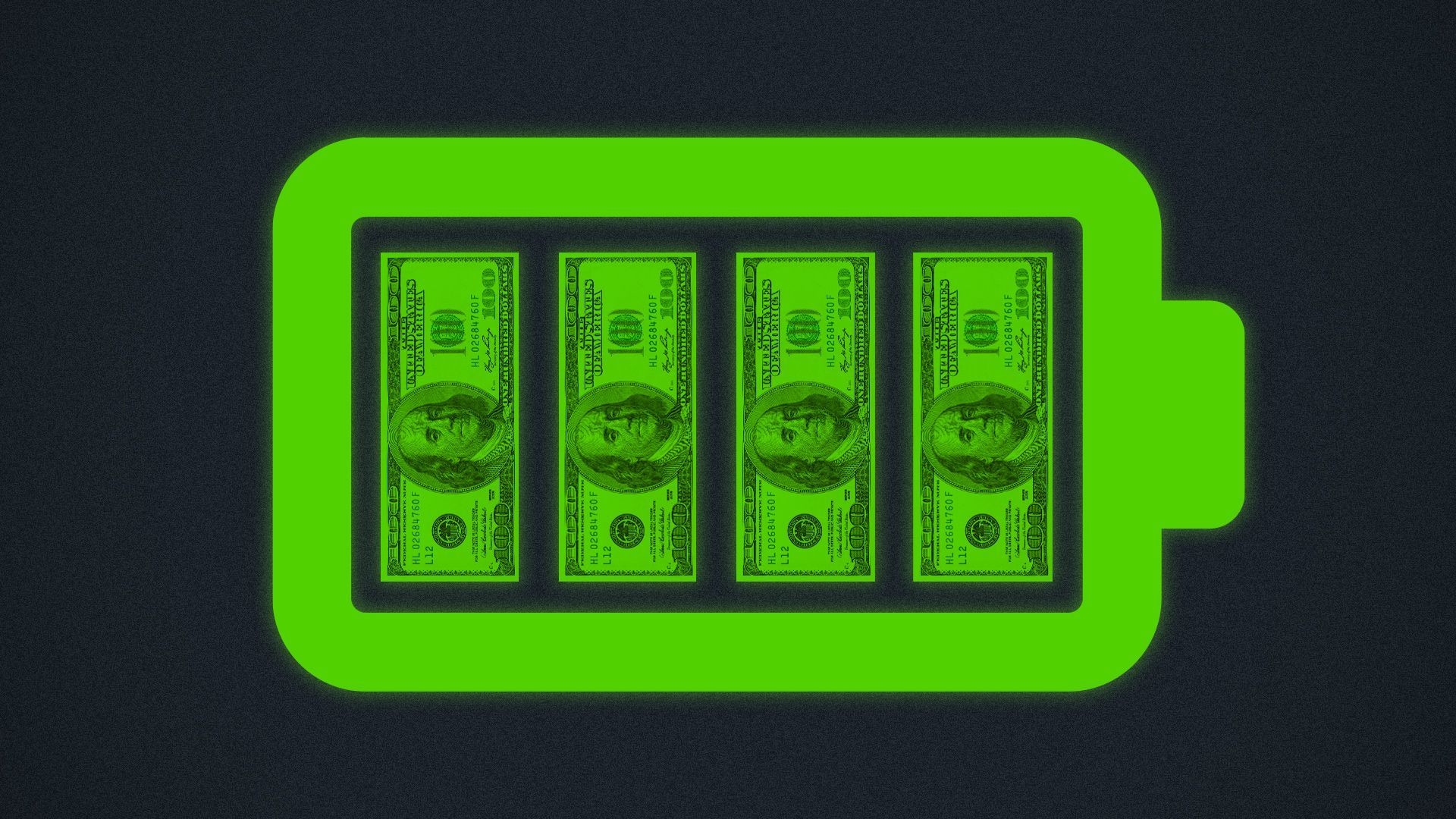 Energy Dome, a Milan, Italy-based battery tech startup, raised €40 million (~$44 million) in Series B funding, the company tells Axios.
Why it matters: In a tight funding market, the deal shows that battery tech companies are still appealing to investors, as long-term energy storage's economic opportunity becomes hard to ignore.
Details: ENI Next, energy giant ENI's venture arm, co-led the all-equity round with Neva SGR, the venture arm of European banking group Intesa Sanpaolo.
Barclays' Sustainable Impact Capital Fund, CDP Venture Capital, Italy's sovereign wealth fund, Novum Capital Partners, 360 Capital, Japan Energy Fund and Elemental Excelerator also participated in the round.
Energy Dome CEO Claudio Spadacini declined to share the company's valuation and board structure following the deal.
How it works: Energy Dome makes a long-duration battery using carbon dioxide in a thermochemical reaction that can store and release energy.
The device is not exactly a battery, in the literal sense, but it does have the ability to store energy for up to 20 hours and doesn't require the types of rare earth materials needed for lithium-ion batteries, Spadacini says.
The company says it has proven the technology — a modular unit that only uses steel, water and carbon dioxide to run — and plans to use the new funding to roll out units commercially.
Zoom out: Long-duration battery technology remains one of the biggest opportunities in all of climate tech.
Storage options are required for grid operators that want to incorporate wind and solar power — energy sources that are clean but intermittent — and reinforce grid reliability.
Lithium-ion batteries are the most common forms of batteries, but are expensive to operate at a size needed to work with an electric grid and require materials and metals that are in increasingly short supply around the globe.
Yes, but: Investors have starting backing companies with alternative approaches to energy storage that don't require the same materials and don't have the same fire hazard risks as lithium-ion batteries, but most companies are still in the early stages.
It remains to be seen which tech is the most cost-effective but efficient enough to catch on as companies start to consider larger commercial contracts.
What we're watching: Energy Dome is planning to expand in the U.S. with the new funding, in addition to the 9 GW worth of projects it already has in its pipeline.
Go deeper