Colossal Biosciences raises $150M to revive the dodo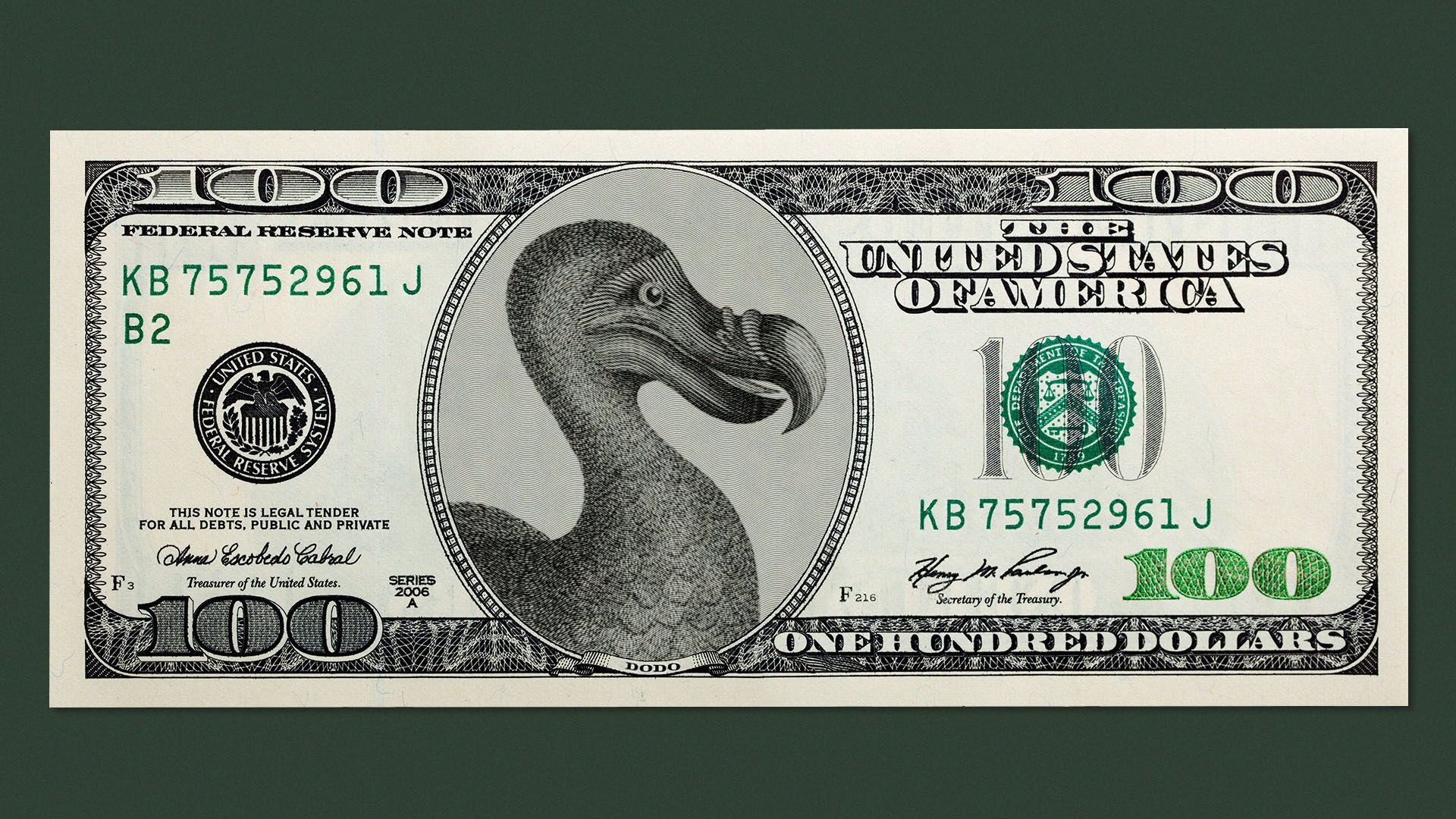 Colossal Biosciences, the Austin-based "de-extinction" company that's bringing back the woolly mammoth and Tasmanian tiger, closed a $150 million Series B to fund a new effort to revive the dodo.
Why it matters: The climate movement, at its most fundamental level, is about protecting the Earth. Colossal Biosciences hopes to repair some of the damage already done.
Details: United States Innovative Technology Fund, founded by longtime tech investor and former Legendary Entertainment CEO Thomas Tull, led the round.
Breyer Capital, Bob Nelsen, Animal Capital, Victor Vescovo, In-Q-Tel, Animoca Brands, Peak 6, Bold Capital, and Jazz Ventures participated.
The all-equity round closed last week. Colossal has raised $225 million since its launch in September 2021.
Plus, the round pushed the company's valuation past $1 billion. (No word whether they plan to grow a unicorn.)
Of note: In-Q-Tel is a nonprofit VC backed by the CIA.
What's happening: Colossal is essentially a genetics engineering company.
Its efforts to de-extinct species is its splashiest work. But the company has also developed innovations for labs and other types of biotech work.
Zoom in: The company in September launched Form Bio, a biological research software provider that raised a $30 million Series A.
It's the first of further expected spinoffs, Colossal's CEO Ben Lamm tells Axios.
"De-extinction is our primary goal and north star. As we focus on that, we have a business analyst team that is constantly looking at applications," Lamm says. "When we find opportunities for humans, we spin them out."
Meanwhile, the company has expanded its de-extinction work to include birds, which have been especially imperiled by human activity.
The world's bird population has fallen by 3 billion in the past 50 years. The dodo was wiped out of its native ecosystem, Mauritius, in 1662.
"This is the icon for human-caused extinction," Beth Shapiro, Colossal's lead paleogeneticist, tells Axios. "By raising the possibility that we can create a functional dodo, we can engage more people in thinking about how these technologies can be applied to address some of the broader issues around avian conservation."
Separately, if you're wondering what this technology means for one day cultivating humans in a lab, "growing humans ex utero, full gestation, I do think at some point that technology is inevitable," Lamm says.
"Long term, actually, to full gestation humans, is technologically feasible and possible," Lamm says. "We aren't focused on that, we're working on animals."
From "both a regulatory, ethics perspective," developing tools to improve IVF is much more likely, he continues.
Go deeper