Reporter's notebook: Breakthrough Energy Summit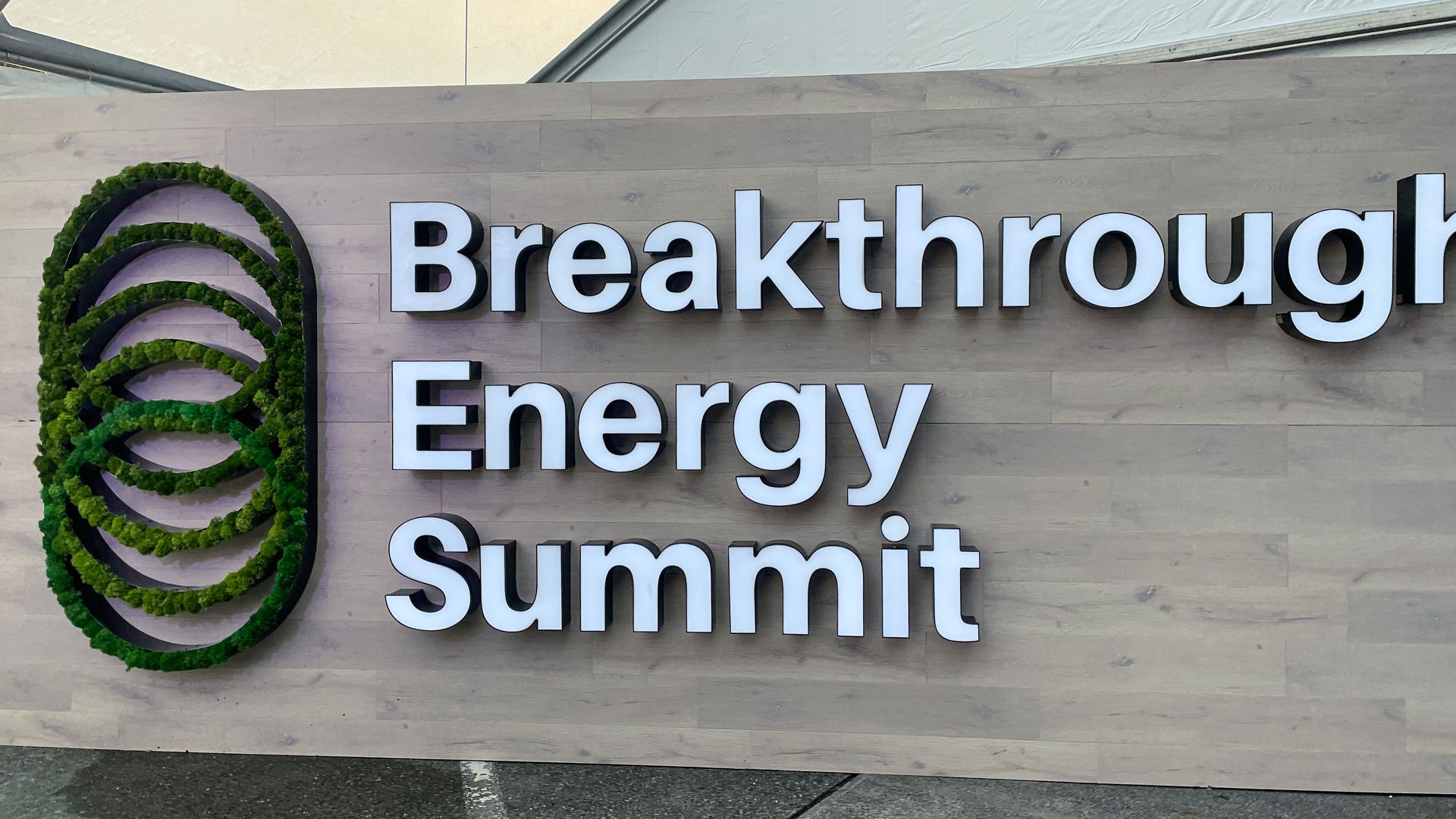 Bill Gates' Breakthrough Energy hosted a 700-person summit in Seattle to discuss ways the public and private sectors are investing in climate technology.
Why it matters: The gathering convened a who's who of climate investing and advocacy amid a surge in private and public funding for climate technology.
Context: The three-day Summit coincided with extremely hazardous air quality in the Seattle area, with guests donning N95 masks upon exiting the waterfront conference center to protect themselves from the wildfire smoke.
The irony of the situation — that some of the world's richest and most powerful climate investors were speaking against a hazy orange backdrop — was not lost on conference attendees. Air Quality Index forecasts were a regular topic of conversation most of the week.
Key takeaways: Everyone seemed a bit surprised at how well-attended the summit was, and a cautious optimism was palpable in most discussions.
Carbon capture has friends in high places: U.S. Special Presidential Envoy for Climate John Kerry tells Axios that carbon capture is "essential" to meeting climate goals and has been encouraged by the amount of funding it's received.
"We're not where we need to be": HSBC global banking co-CEO Greg Guyett emphasized that climate investing, technology and actions had improved, but were not where they should be to meet net-zero targets.
There's urgency around 2030: The discussions pointed to urgency around 2030 net-zero goals as reasoning for increased investment in the climate tech sector.
Financial groups see long-term ROI in climate investments: Temasek CEO Dilhan Pillay Sandrasegara says he is treating the energy transition similar to the Industrial Revolution in that there will be large amounts of capital required upfront with little prospect of short-term returns.
Diversity is lacking in climate investment: Microsoft vice chair and president Brad Smith highlighted the glaring lack of diversity at the conference, saying onstage "this room is a little short on gender diversity."
Go deeper