Top of the Morning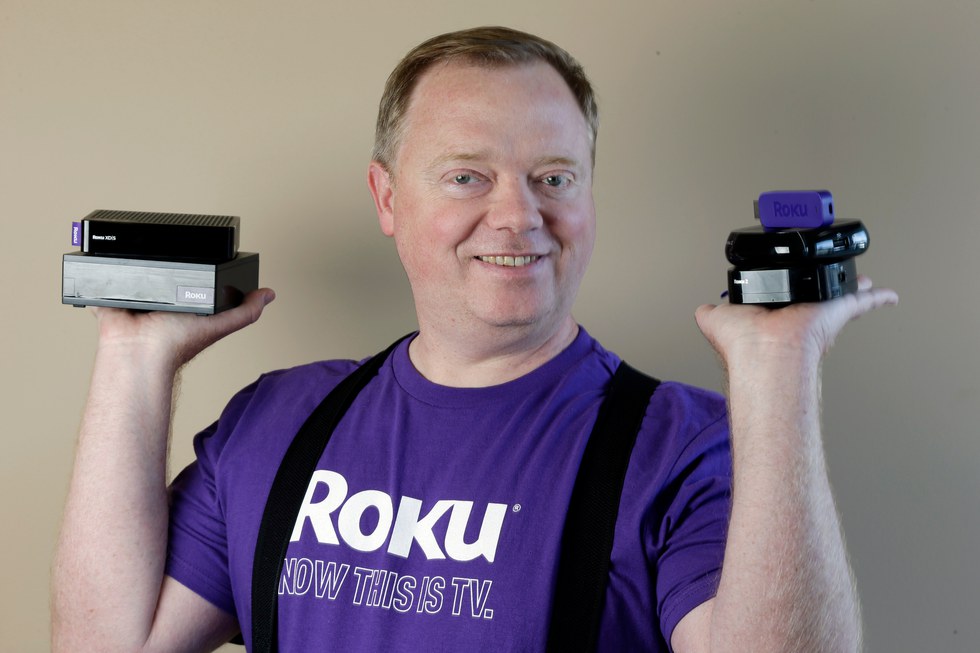 AP Photo/Marcio Jose Sanchez
• OTT IPO: Roku shares yesterday closed up a whopping 68% on their first day of trading. Via a quick chat with CFO Steve Louden (no, the photo above is of CEO Anthony Wood):

Why IPO now: "People are more comfortable today that streaming is a massive opportunity."
Competition: "We're the only purpose-built operating system for TV. All the others port over from a phone OS… People think of us as the Switzerland of the TV ecosystem, so we provide companies like Amazon or Netflix with audience and streaming hours. They view us as a partner."
Leaving lots of $ on the table: "I'm gratified to see the early trading, but my focus is on executing against long-term opportunities." (Read: No comment)
• Afterlife: Former 500 Startups partners Elizabeth Yin and Eric Bahn are raising up to $50 million for something called Hustle Fund, according to an SEC filing. They're not commenting, but Kia reports that the focus is pre-seed. In a related note, I wasn't really aware that pre-seed was a thing.
• Gender imblance: Research firm Preqin next month will release a gender report on the alternative investment industry, and has sent Axios a preview. Get ready to be depressed:
Women make up 17.9% of all private equity employees, but only 9% of senior leadership positions.
In North America, those same figures are 17.1% and 9.5%. In Asia, the senior leadership percentage rises slightly to 11.2%.
Half of all female PE employees are in either marketing or investor relations.
It reports 20.5% of all VC firm employees are women, with 11% in senior leadership. That latter figure is higher than the 7% figure Axios has reported, but that's likely due to different methodology (for example, we only looked at U.S.-based funds, and didn't include non-investing positions).
• Crypto crunch: NYSE Arca has pulled its request to list Grayscale Investments' Bitcoin Investment Trust, although it hopes to refile when regulatory conditions are more conducive. A related S-1 filing with a $1 billion cover price remains on file, and BIT will continue to trade over-the-counter.
Why it matters: Moving from OTC to NYSE was a big attempt to mainstream bitcoin exposure, basically acting as an ETF that would reflect the cryptocurrency's value. Moreover, the $1 billion ask reflects Grayscale's belief in widespread demand.
Statement: "At this time Grayscale does not believe there have been enough regulatory developments to prompt the SEC to approve the Rule 19b‑4 application for the Bitcoin Investment Trust."
ICOnogo: South Korea has followed China's lead in banning initial coin offerings, although questions remain about whether it's a blanket ban or only applies to domestic issuers.
• Have a great weekend... Go Pats!
The BFD
Source: Giphy
Ikea has acquired TaskRabbit, a San Francisco-based on-demand platform for everyday chores. No financial terms were disclosed, although a source close to the deal puts the price tag south of $75 million (unclear if that's to be paid in cash, stock or modular shelving units). TaskRabbit had raised around $50 million in VC funding, from backers like 500 Startups, Baseline Ventures, Collaborative Fund, Floodgate, Founders Fund, Lightspeed Venture Partners and Shasta Ventures.
Why it's the BFD: Well, it's obviously not based on ROI for the venture capitalists. Instead, it's a bit because of the novelty of IKEA buying a well-known Silicon Valley startup, and a bit because the Swedish retail giant is voluntarily wading into the legal morass of "gig economy" contractors.
Synergy: TaskRabbiters were regularly asked by users to assemble Ikea furniture.
Bottom line: "In the US, Ikea delivery starts at $59 and assembly starts at $89, an anachronism in an era of cheap on-demand labor and free two-day delivery. Small wonder that people were turning to TaskRabbit instead." — Quartz's Alison Griswold, who argues that America's DIY spirit is dying.
VC Deals
🚑 Analytics 4 Life, a Toronto-based AI platform for diagnosing coronary artery disease, has raised C$25 million in Series B funding. No investors were identified. http://axios.link/xmWb
• BuildingConnected, a San Franciscio-based preconstruction platform, has raised $22 million in Series B funding. Lightspeed Venture Partners led the round, and was joined by return backers Crosslink Capital, Homebrew, Freestyle, Bee Partners and Brick & Mortar. http://axios.link/QQ6m
🚑 EchoNous (d.b.a. Signostics), a Palo Alto, Calif.-based maker of an ultrasound tool for bladder and kidney care, has raised $35 million in new funding from KKR. http://axios.link/mcjw
🚑 Magenta Medical, an Israeli medical device startup focused on transcatheter heart failure therapy, has raised $15 million in Series B funding from Abiomed, Pitango Venture Capital and Jafco. http://axios.link/KCtd
🚑 LNC Therapeutics, a French developer of gut microbiota-directed drugs for the treatment of obesity, has raised €6.5 million in Series C funding led by Seventure Partners. http://axios.link/MENx
• Yunwen Technology, a Chinese developer of customer service robots, has raised $4.5 million in Series A funding. Green Pine Capital Partners led the round, and was joined by Landray.
Private Equity Deals
• Alpine Investors has invested in Bill4Time, a Bellevue, Wash.-based provider of cloud time and billing software for professional services firms. No financial terms were disclosed. www.bill4time.com
• Campus Labs, a Buffalo, N.Y.-based portfolio company of Leeds Equity Partners, has acquired CoursEval, a provider of online course evaluation software for higher education institutions. No financial terms were disclosed. www.campuslabs.com
• GI Partners has acquired stake in Access, a Livermore, Calif.-based records and information management services provider, from Berkshire Partners (which now will be an equal shareholder to GI). http://axios.link/7mAL
• Hammond, Kennedy, Whitney & Co. has acquired Protect Plus Air Holdings, a Hickory, N.C.-based manufacturer and distributor of retail air filters and related products for home HVAC systems. No financial terms were disclosed. www.protectplusair.com
🚑 MeriCal, an Orange, Calif.-based nutritional supplements maker owned by Linden Capital Partners, has agreed to acquire Global Health Industries, an Ogden, Utah-based probiotic contract manufacturer. No financial terms were disclosed. www.merical.com
• Siigo, a Bogota-based provider of accounting and administrative software for SMEs in Colombia, has raised an undisclosed amount of funding from Accel-KKR. www.siigo.com
Public Offerings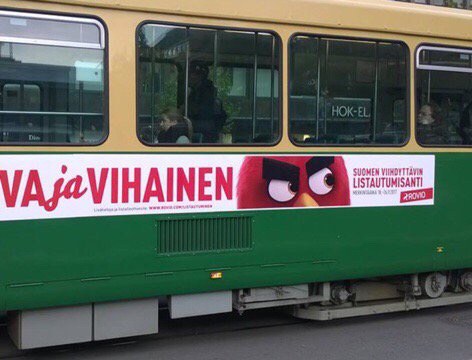 IPO rules are different in Finland. Here's the translation from this tram ad: "Strong and Angry - the Most Entertaining IPO in Finland"

Photo courtesy of Tero Kuittinen, strategist at app investment co Kuuhubb.
• Rovio, the Finnish maker of mobile games like Angry Birds, priced its IPO at 11.50 per share (top of its range), which valued the company at around $1.1 billion. Shareholders include Accel Partners and Atomico. It is now trading on the Nasdaq Nordic exchange. http://tcrn.ch/2ywMARW
• PQ Group Holdings, a Pennsylvania producer of silica-based inorganic chemicals that is owned by CCMP Capital Advisors, raised $508 million in its IPO. The company priced 29 million shares at $17.50 (below $21-$23 range), and will trade on the NYSE under ticker symbol PQG. Morgan Stanley was listed as left lead underwriter. It reports a $2.3 million net loss on $333 million in revenue for the first quarter of 2017. www.pqcorp.com

Liquidity Events
• Lion Capital has hired Credit Suisse to find a buyer for Dutch homeware retailer Hema, which has more than 700 stores in seven countries. Hema's first half EBITDA was €42 million. https://bloom.bg/2ftZLLE
• Vision Capital has hired Rothschild to find a buyer for British rent-to-own retailer Brighthouse, which has £220 million of debt coming due next year, according to The Telegraph. http://axios.link/sDH5
More M&A
• Bayer AG (DB: BAYN) has sold a 6.9% stake in German plastics business Covestro (DB: 1COV) for €1 billion, just weeks after a €1.2 billion sale. Its stake is now below 25%. http://reut.rs/2yxAd7R
• Clubessential, a Blue Ash, Ohio-based provider of membership and club management solutions to the private club industry, has acquired PrestoSport, a Rockville, Md.-based provider of SaaS solutions for building athletics-related websites. No financial terms were disclosed. Clubessential backers include Battery Ventures. www.prestosports.com
• Happigo Home Shopping Co., a China-listed television shopping platform, has acquired Mango TV, a Chinese online video platform, for around $1.4 billion. This is below the $2 billion post-money valuation Mango TV reportedly received in a mid-2016 Series B round from unidentified backers. http://axios.link/aRVd
• M Group Services has acquired Magdalene, a British telecom infrastructure services provider. No financial terms were disclosed. www.mgroupservices.com
🚑 Novartis (Swiss: NOVN) is considering a takeover bid for Advanced Accelerator Applications (Nasdaq: AAAP), a French radiopharmaceutical company valued at nearly $2.9 billion, according to Bloomberg. https://bloom.bg/2k3JuCh
Fundraising
• Leerink Transformation Partners, a growth equity firm focused on healthcare IT and services, has raised its debut fund with $313 million in capital commitments. www.LTPequity.com
• MidOcean Partners has held a $692 million first close on its fifth flagship private equity fund, per an SEC filing. A source says that the book target is $750 million with a $1 billion hard cap.
• Piper Jaffray Merchant Banking is raising up to $150 million for its second fund, per an SEC filing. www.piperjaffray.com/merchantbanking
It's Personnel
• Andrew Calamari is stepping down as director of the SEC's New York regional office, after a 17-year run. www.sec.gov
• Ken Denman has joined Sway Ventures as a venture partner. He previously was CEO of Emotient (acquired by Apple). www.swayvc.com
Final Numbers: Early-stage aerospace investments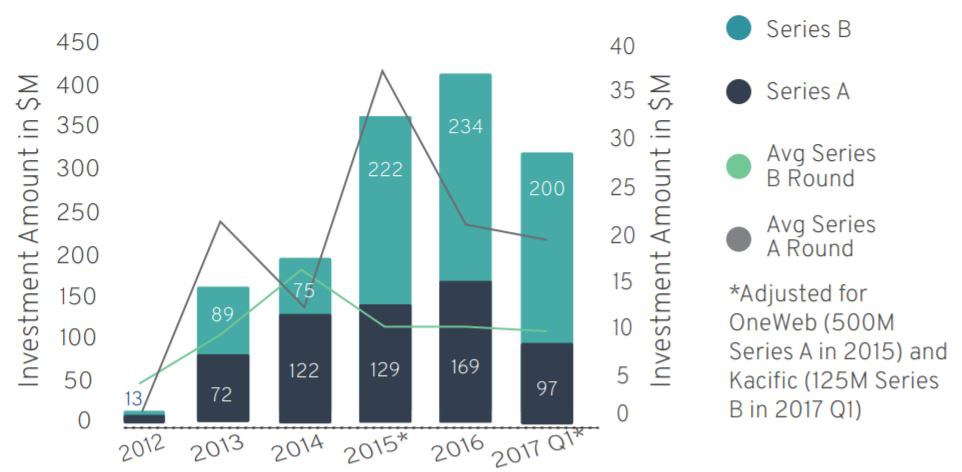 Source: Starburst Insights
More from Starburst: "With the legalization of privatized space travel in 2004 and subsequent discontinuation of many NASA programs, hundreds of private companies began to fill the void. High profile players such as SpaceX, Virgin Galactic, and Blue Origin, along with their prolific leaders, have stoked the imaginations of millions, resulting in renewed interest and—perhaps more importantly—new funnels and avenues of investment dollars."
Last night, via Ina Fried: "Elon Musk outlined his latest vision for going to Mars, showing the rocket he hopes will travel to the red planet as early as 2022, with possible manned missions by 2024. The same rockets, he said, could transport people from any city on earth to any other city in under an hour."