Friday greetings from the home office. A bunch of you have requested that we make certain types of deal blurbs more easily recognizable, in order to accelerate your skim. The top asks have been for healthcare and energy items, so today we're experimenting a bit. Please let me know your thoughts. 🚑 ⛽
Top of the Morning
Source: Giphy
• Academia: A group of researchers have published their findings on VC decision-making, after being "invited to silently observe [Swedish] governmental VC decision-making meetings and, more important, the conversations they had about entrepreneurs applying for funding."
The purpose was to better understand investment decision-making, with the VCs hoping that the findings could help them improve their own processes. But the results were different than either side expected:
The language used to describe male and female entrepreneurs was radically different. And these differences have very real consequences for those seeking funding.
For example, unproven, young male founders were referred to as "promising," whereas unproven, young female founders were referred to as "inexperienced." Or "Cautious and sensible" vs. "too cautious."
In terms of results, female founders on average received 25% of their ask, compared to a 52% mark for the men. A majority of women (who comprised 21% of the sample) were denied funding altogether, while only 38% of men were turned down.
Yes, this is Sweden rather than Silicon Valley. But: (1) Women own around 1/3 of all businesses in Sweden, so its hardly a more chauvinistic market in this regard. (2) Government VCs actually are required to take "European equality criteria and multiple gender requirements" into account when making their decisions, which highlights just how deep these unconscious biases run. (3) Two of the seven VCs were women, which is a higher percentage than we'd see in most U.S. venture firms.
• Stepping back: Menlo Ventures yesterday announced the close of its fourteenth early-stage fund with $450 million in capital commitments, but without longtime partners Doug Carlisle (35-years with the firm), John Jarve (30 years) and Pravin Vazirani (16 years). A spokeswoman says that each will maintain current portfolio company board seats, but none will participate in new deals.

• I'm still confused: Treasury Sec. Mnuchin yesterday testified that the White House does not support legislation that would separate commercial banks from investment banks, despite its repeated invocations of a rule that did exactly that."We never said we were in favor of Glass-Steagall. We said we were in favor of a 21st-century Glass-Steagall. It couldn't be clearer."
• Coming attractions: Innovation Endeavors is in talks to expand its capital base beyond the bank account of Google executive chairman Eric Schmidt, according to multiple sources. No word yet on fundraising targets for the early-stage VC firm, which has been solely backed by Schmidt since its 2010 formation.

• Market theory: Famed short-seller Jim Chanos yesterday told Axios that he believes the markets are pricing in a President Pence: "I think they're beginning to factor it [Pence] in, that's for sure. The markets are hoping for Vice President Pence to become President... a more stable person being able to enact a Republican agenda."
• Recommended reading: Ryan Mac of Forbes has the bizarre story of 1-Page, a San Francisco-based HR software company that went public via a reverse merger in Australia, despite its CEO having neither a viable product nor an apparent clue about what it means to be a public company. And its shareholders don't come off much better. If you've had a rough week and want to feel smarter about yourself, this is for you.
• Have a great weekend. Go Celtics!

The BFD
🚑 Steward Health Care, a hospital operator owned by Cerberus Capital Management, has agreed to acquire Tennessee-based IASIS Healthcare from backers like TPG Capital. No financial terms were disclosed, but the WSJ reports a transaction value of around $1.9 billion. As part of the deal, Medical Properties Trust will acquire substantially all of IASIS's hospital real estate (subject to maintaining long-term leases with Steward), with proceeds being used to retire IASIS debt and to provide liquidity to Iasis shareholders.
Why it's the BFD: This merger would make Steward the country's largest private, for-profit hospital company, having gone from a 10-hospital chain in the Boston area to a 36-hospital national player in just a matter of months.
Bottom line: "Steward's latest acquisition exemplifies the hospital industry's appetite to bulk up wherever possible. Hospitals want more market power to offset declining federal reimbursements, but it often comes at the expense of higher prices for patients." ― Bob Herman, Axios
Venture Capital Deals
🚑 Iterum Therapeutics, an Ireland-based developer of anti-infectives, has raised $65 million in Series B funding. Arix Bioscience (LSE: ARIX) led the round, and was joined by Pivotal BioVenture Partners, Advent Life Sciences, Domain Associates, Bay City Capital and return backers Frazier Healthcare Partners, Canaan Partners, Sofinnova Ventures and New Leaf Venture Partners. http://bit.ly/2q39QCj
• Eat Club, a Redwood City, Calif.-based provider of corporate lunch programs, has raised $30 million in Series C funding. Sodexo (Paris: SW) led the round, and was joined by return backers August Capital and Trinity Ventures. https://bloom.bg/2ryAcOE
• FullStory, an Atlanta-based provider of customer experience analytics, has raised $15 million in Series B funding. GV led the round, and was joined by Salesforce and return backer Kleiner Perkins Caufield & Byers. http://bit.ly/2q37t2l
• Affinity, a CRM toolkit for professional investors, has raised $13.5 million in new VC funding. 8VC led the round, and was joined by Sway Ventures, Pear Ventures, Great Oaks Venture Capital and Western Technology Investment. http://tcrn.ch/2pSsstC
• Spotluck, a Bethesda, Md.-based restaurant discovery app, has raised $4.8 million in Series A funding. JOBI Capital led the round, and was joined by Rank Capital Group and New Dominion Angels. http://bit.ly/2qpdzxI
🚑 Robocath, a French developer of medical robotics for treating cardiovascular disease, has raised €4.7 million in new VC funding. M Capital and Normandie Participations co-led the round, and were joined by return backers Go Capital and NCI. http://bit.ly/2qAsxkw
• Dor, a San Francisco-based foot traffic sensor and analytics platform for retailers, has raised $3.8 million in seed funding co-led by Zetta Venture Partners and Vertex Ventures. http://bit.ly/2qE3kE8
• Precognitive, a Chicago-based developer of online fraud prevention technology, has raised $1.25 million in seed funding. Corazon Capital led the round, and was joined by Flybridge Capital Partners, Hyde Park Ventures and Jeff Liesendahl (CEO of Accertify). www.precognitive.io
• Boray Data, a Beijing-based provider of real-time big data analytics, has raised an undisclosed amount of Series B funding led by Cash Capital. http://bit.ly/2rlwDhf
• Optimatics, a provider of infrastructure planning software for water and wastewater utilities, has raised an undisclosed amount of VC funding from Suez Ventures and return backer Emerald Technology Ventures. www.optimatics.com
Private Equity Deals
• Pfingsten Partners has acquired Sign-Zone, a Brooklyn Center, Minn.-based manufacturer of wide-format, portable promotional signage and displays. No financial terms were disclosed, except that HarbourVest Partners acted as an equity co-investor. www.signzoneinc.com
• Polynt, an Italian chemical maker owned by Investindustrial, has completed its previously-announced merger with Reichold, a Durham, N.C.-based resin maker owned by Black Diamond Capital Management. The combined company will have more than €2 billion in revenue, with the two private equity sponsors holding equal ownership. http://reut.rs/2qDYLJR
⛽ Quantum Energy Partners has acquired a 50% stake in Pennsylvania-based midstream company CONE Gathering LLC from Noble Energy (NYSE: NBL) for $765 million. http://bit.ly/2qEryOq
• TPG Capital is in advanced talks to acquire Wave, a Kirkland, Wash.-based regional broadband operator that it would merge with RCN Telecom Services and Grands Communications, according to Reuters. The deal could be valued at more than $2 billion (including debt). Wave is currently owned by Oak Hill Capital and GI Partners. http://reut.rs/2q3fg07
Public Offerings
• Aston Martin, a British carmaker whose shareholders include Investindustrial, is considering a 2018 IPO, according to Bloomberg. No financial decisions have been made. https://bloom.bg/2q14mb7
Liquidity Events
• KSL Capital Partners is considering selling the Belfry, an English golf resort known for hosting the Ryder Cup, according to Bloomberg. A deal could be worth around £180 million. https://bloom.bg/2ryXF1e
• Starwood Capital is seeking a buyer for French crystal maker Baccarat (Paris: CDBP), which could be valued at around €200 million in a sale, according to a local media report. Starwood has controlled the company since 2005. http://reut.rs/2rls9Y5
More M&A
• A. Silva & Silva has hired JPMorgan and Caixa BI to find a buyer for Spanish carpark company Empark, which could be valued at around €1 billion, according to Reuters. http://reut.rs/2qEsjXT
🚑 Elliott Associates has acquired a 9% stake in electronic health record company Athenahealth (Nadaq: ATHN). http://bit.ly/2rz0WxC
• Spotify has acquired Niland, a Paris-based AI startup focused on music search and recommendation, for an undisclosed amount. http://tcrn.ch/2rycnq8
⛽ Vistra Energy (NYSE: VST) is in talks to acquire rival Dynegy (NYSE: DYN), which remains debt-laden after emerging from bankruptcy protection in 2012, according to the WSJ. Dynegy has a current market cap just south of $1 billion. http://on.wsj.com/2pR3ivc
Fundraising
• Signal Peak Ventures of Utah is raising up to $150 million for its third VC and growth equity fund, per an SEC filing. www.spv.com
• Work-Bench, a New York-based VC group focused on enterprise tech, is raising $40 million for its second fund, per an SEC filing. www.work-bench.com
It's Personnel
• Marc Mezvinsky, a former hedge fund manager and husband to Chelsea Clinton, has joined Silicon Valley VC firm Social Capital as New York-based vice chairman. https://bloom.bg/2ryPbr5
• Molly Murphy has joined the Orange County Employees Retirement System as chief investment officer. She succeeds Girard Miller, who stepped down last December, and previously was CIO at Cincinnati-based Mercy Health. http://bit.ly/2ryPFxh
• Philipp Patschkowski has joined to London office of Neuberger Berman to focus on private equity secondaries, according to Private Equity International. He previously was a principal with Coller Capital. http://bit.ly/2qZpG5X
Final Numbers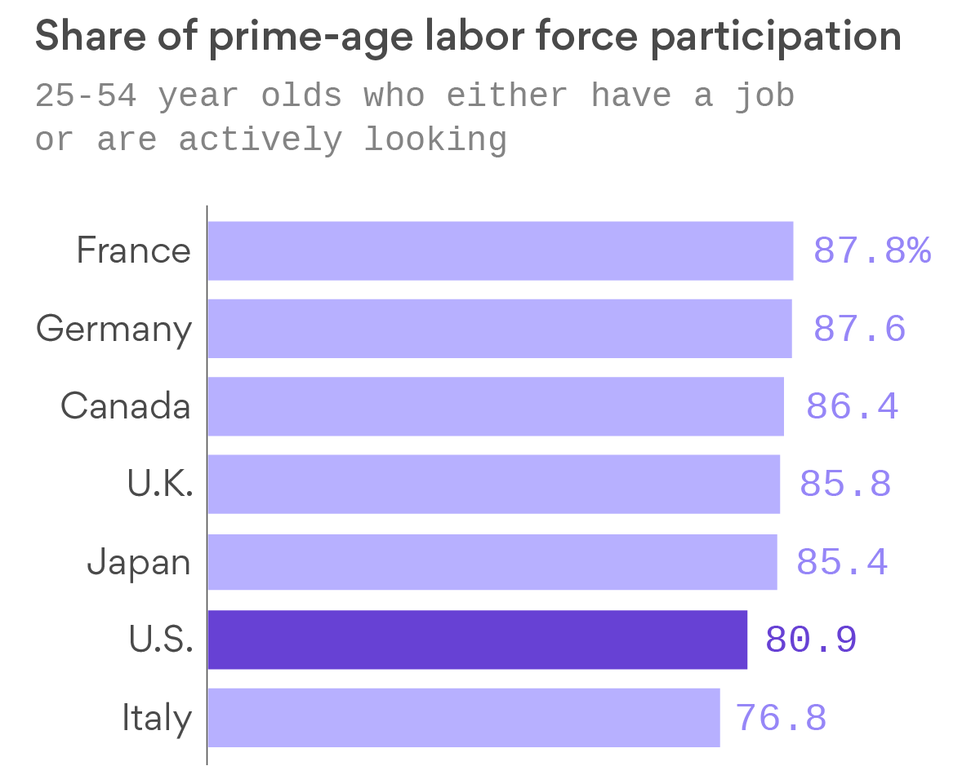 Data: OECD; Chart: Andrew Witherspoon / Axios