Monday greetings from the home office, even though I was supposed to be in D.C. today (storm is pushing that back a week). Please remember that today is the launchof Axios Login, our new daily tech newsletter that includes an exclusive interview with Bill Gates. Sign up by going here. Okay, on to the business of business...
Top of the Morning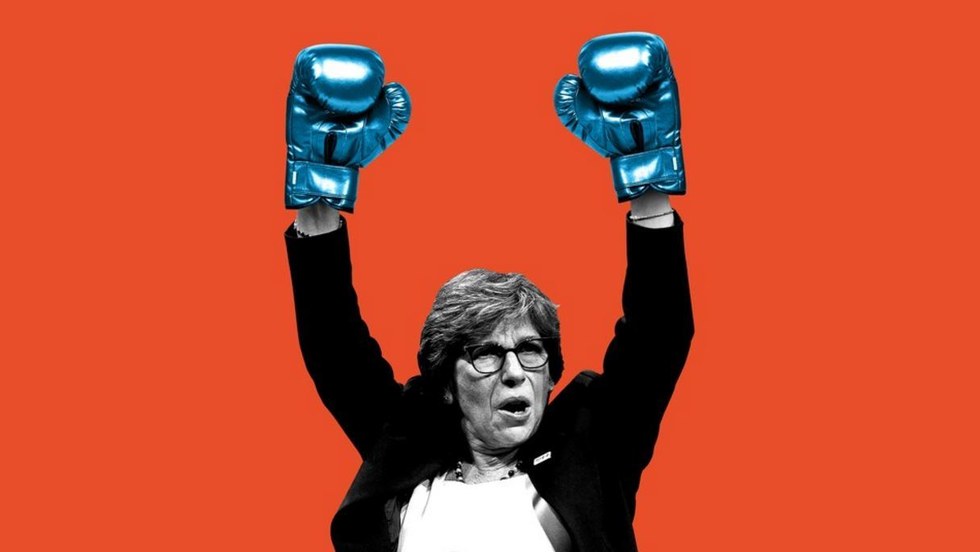 • An inconvenient enemy: We still don't know specifics of President Trump's infrastructure plan, but it appears that private equity is expected to play a major role. That could well mean tax credits for investments in everything from toll roads to telecom towers, or other incentives for public-private partnerships that are less obvious PE plays.
As Jonathan Swan and I report this morning on the site, it also may mean that the White House should reconsider its antipathy toward Randi Weingarten, head of the American Federation of Teachers.
Public teacher pension funds currently have around $73 billion committed to U.S. private equity (per Preqin) and Weingarten, while not in direct control of those dollars, does hold sway with a lot of the teacher reps on those boards. Simply put: She could make it more difficult for PE firms to raise new infrastructure funds, or at least slow down a process on which the White House wants to move quickly. More here.
• New fund alert: Ross Fubini has quietly stepped down as a venture partner with Canaan Partners, in order to launch a new shop called XYZ Ventures (no, that isn't a placeholder name). He recently filed a Form D that suggests a top goal of $70 million, but word is that he's really targeting $50 million for a fund that will focus on "big seed" and Series A rounds for fintech and enterprise tech startups.
Prior to joining Canaan in 2012, Fubini was a partner with Kapor Capital. Before that he co-founded Cubetree, which was bought by SuccessFactors. He's also been a longtime advisor to Palantir. No comment from Fubini, natch.
• March Madness: Yeah, we'll do a reader pool. Details tomorrow.
• Big software: Vista Equity Partners has secured nearly $10.5 billion in capital commitments for its sixth flagship fund, according to SEC filings. The software-focused private equity firm originally targeted $8 billion but later increased expectations to $10 billion. The final close has not yet occurred. Notes:
Vista has been moving quickly up the capital stack, transitioning from a mid-market buyout firm to one of the world's largest tech PE investors. Historical returns have been extremely strong, with Vista on record as having never lost money on a control deal. Going forward, the questions are if Vista can manage the speed and size of its scale-up, and if it has been letting leverage multiples get too rich on some of its deals (as some of its rivals argue).
Vista also is about to close on its debut small-cap fund, called Vista Endeavor. The target was $400 million, but a source says it should end up at around $500 million.
• Not funny: By now you've probably heard or seen Sean Spicer trying to guffaw away President Trump's hypocrisy on the monthly jobs data from BLS. This morning on NBC's Today Show, Kellyanne Conway just went for the straight avoidance technique. Disgraceful performances all around (including by some of the WH press corps, which laughed along with Spicer). You shouldn't be able to disingenuously delegitimize important data (and those who compile it), and then play Emily Litella when "real" is more politically convenient than "phony."
The BFD: Intel buying Mobileye
Intel (Nasdaq: INTC) has agreed to acquire Mobileye (NYSE: MBLY), an Israeli developer of vehicle collision avoidance systems, for $15.3 billion. The $63.54 per share price represents a 34.4% premium over Friday's closing for Mobileye stock.
Why it's the BFD: This is Intel's second-largest acquisition of all time, and the largest-ever acquisition of an Israeli tech company (per S&P). It's also the year's biggest tech deal to date.
Bottom line: Intel believes that auto is a big part of its future, and bringing Mobileye in-house is a pricey attempt to catch up to rival chipmakers like Qualcomm and Nvidia. It also could aid Intel in the drone space, given Mobileye's focus on collision avoidance. For Mobileye, it's a big premium (and a giant multiple on $358m/$108m in 2016 revenue/earnings), and is vindication after Citron Research started shorting the company in February, saying that it was an overvalued "one-trick pony." Oh, and there even was a research analyst downgrade on the stock this morning.
Venture Capital Deals
• Viva Republica, maker of the Korean financial services app Toss, has raised $48 million in Series C funding. Goodwater Capital led the round, and was joined by Bessemer Venture Partners, Altos Ventures and Partech Ventures. http://tcrn.ch/2njcxyE
• Canopy, a Lehi, Utah-based practice management platform for tax professionals, has raised $20 million in Series B funding. Pelion Venture Partners led the round, and was joined by return backers NEA, Epic Ventures and Deep Fork Capital. http://bit.ly/2mRgXQn
• Dream Payments, a Toronto-based provider of cloud payment solutions, has raised C$10 million in Series A funding. FairVentures (a unit of Fairfax Financial) led the round, and was joined by Connecticut Innovations and Real Ventures. http://bit.ly/2nfby6w
• RiskSense, an Albuquerque, N.M.-based provider of cyber risk management solutions, has raised $7 million in new Series A funding (bringing the round total to $14m). Jump Capital came in as a new investor on the round, which previously was led by Paladin Capital Group. The company also secured a debt facility from Silicon Valley Bank. www.risksense.com
• PokitDok Inc., a San Mateo, Calif.-based online health marketplace, has raised around $5 million in strategic funding from the VC unit of Guardian Life Insurance Co. The company previously raised more than $40 million from firms like New Atlantic Ventures, Rogers Venture Partners, Lemhi Ventures, McKesson Ventures and Subtraction Capital. http://bit.ly/2nvKNXz
• Marketing Evolution, a New York-based provider of marketing software and analytics, has raised $4 million in VC funding from Zetta Venture Partners. http://bit.ly/2nvKLis
• Crypt, a digital TV startup focused on horror, has raised $3.5 million in seed funding led by Lerer Hippeau Ventures. Other backers include NBCUniversal and Advancit Capital. http://on.wsj.com/2nmST4L
• Datebox, an Oklahoma City-based maker of monthly subscription boxes for couples, has raised $2.6 million in VC funding from Oklahoma Seed Capital Fund and the SeedStep Angels. http://bit.ly/2mD9LXG
• Wazoku, a UK-based crowdsourcing and "ideas sharing" platform, has raised £1.7 million in seed funding from Cambridge Angels and Fig. The company also secured £680,000 in venture debt from Barclays. http://bit.ly/2mDc64B
Private Equity Deals
• Constellis, a Reston, Va..-based portfolio company of Apollo Global Management, has agreed to acquire Centerra Group, a Palm Beach Gardens, Fla.-based provider of global government and critical infrastructure services, from Alvarez & Marsal Capital. No financial terms were disclosed. www.constellis.com
• Littlejohn & Co. has acquired a majority stake in Total Safety, a Houston-based provider of workplace safety equipment and services, from Warburg Pincus. No financial terms were disclosed. www.totalsafety.com
• Seven Point Equity Partners has acquired Medin Technologies, a Totowa, N.J.-based manufacturer of sterilization cases and trays for the orthopedic implant and instrument industry. No financial terms were disclosed. www.medin.com
Public Offerings
• Calendar: Four companies are expected to price IPOs on U.S. exchanges this week: MuleSoft, ProPetro, Ardagh Group and Canada Goose. http://bit.ly/2mRTPRF
• Alteryx Inc., an Irvine, Calif.-based provider of data blending and analytics solutions, has set its IPO terms to 9 million shares being offered at between $12-$14. It would have an initial market cap of around $732 million, were it to price in the middle of its range. The company plans to trade on the NYSE under ticker symbol AYX, with Goldman Sachs and J.P. Morgan serving as lead underwriters. Alteryx reports a $24 million net loss in 2016 on around $85 million in revenue. Shareholders include Insight Venture Partners (27% pre-IPO stake), Sapphire Ventures (13%), Thomson Reuters (13%), Toba Capital (6%) and Iconiq Capital (5.6%). www.alteryx.com
• Carvana, a used car retailer, has hired Wells Fargo and BofA Merrill Lynch to lead its coming IPO, per Reuters. http://reut.rs/2n0POLo
• Logicor, a British warehouse investor backed by The Blackstone Group, has hired bankers ahead of a possible London IPO, according to the FT. A float reportedly could value the company at around £10.6 billion (including debt). http://on.ft.com/2miPnbt
More M&A
• Bovis Homes (LSE: BVS), a British homebuilder, said that it has rejected takeover approaches from both Galliford Try and Redrow, but says that a deal could still be struck. http://bit.ly/2mBLIqh
• Canada Pension Plan Investment Board and a unit of Caisse de depot et placement du Quebec have agreed to partner with real estate logistics company LOGOS to invest in warehouses in Singapore and Indonesia. http://reut.rs/2nlbQFE
• Eldridge Industries has terminated its proposed $1 billion sale of Dick Clark Productions to Dalian Wanda Group, after the Chinese giant allegedly "failed to honor its contractual obligations." http://bit.ly/2lSWE5I
• Evonik, a listed German chemicals company, has agreed to acquire German cosmetic ingredients company Dr. Straetmans just under €100 million. http://reut.rs/2miMK8F
• Johnson Controls (NYSE: JCI) is considering a sale of Scott Safety, a safety equipment unit that could be valued at upwards of $2 billion, according to Reuters. Centerview Partners is managing the process. http://reut.rs/2nfmDo9
• John Wood Group (LSE: WG) has agreed to acquire smaller British oil and gas rival Amec Foster Wheeler (AIM: AMFW) for around 2.2 billion in stock. http://bit.ly/2miKPSx
Fundraising
• Data Collective has added over $80 million to a pair of funds closed in early 2016. One of the funds is focused on early-stage companies, while the other is a sidecar for large-scale follow-on investments. The total capitalization of both funds now stands at $387 million. http://bit.ly/2n0FPWg
• Platinum Equity, a Los Angeles-based private equity firm led by Tom Gores, has closed its fourth fund with $6.5 billion in capital commitments. www.platinumequity.com
• Thayer Ventures, a VC firm focused on the hospitality industry, is raising its third fund, per an SEC filing.
It's Personnel
• Eduardas Afanasjevas and Gregory Weegenaar have joined British buyout firm TDR Capital to launch a data science unit, aimed at analyzing and improving performance of portfolio companies, per Dow Jones. TDR is soon expected to close on 3 billion for its latest fund. http://bit.ly/2n0kvQO
• Timothy Cremieux has joined Waud Capital Partners as a vice president. He previously was a VP for GenNx360 Capital Partners. www.waudcapital.com
• James McIntire, the former Washington State Treasurer and chairman of the Washington State Investment Board, has joined Star Mountain Capital as a "strategic investor" and senior advisor. http://bit.ly/2mDk91t
• Ben Schryber has joined The Carlyle Group as a New York-based managing director, leading global credit sales and business development. He previously was global head of credit at fund placement firm First Avenue Partners. www.carlyle.com
• Phil Schwarz, the former CMO of Tinder, has joined Chicago-based seed investment firm Corazon Capital as a principal, according to StrictlyVC. www.corazoncap.com
Final Numbers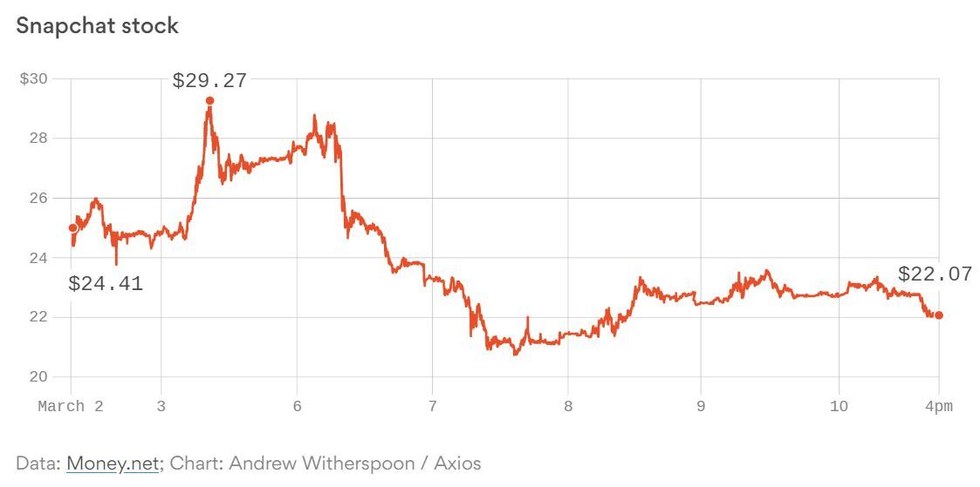 Data through Friday's market close