Top of the Morning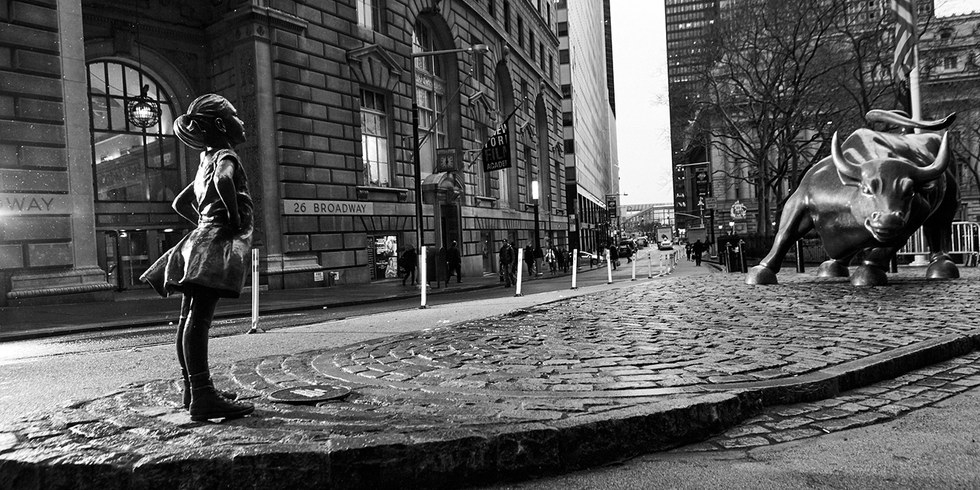 Photo by Federica Valabrega
It has been nearly a year since David Lee (ex-SV Angel) and Zal Bilimoria (ex-A16Z) teamed up to launch Refactor Capital, a new seed-stage venture capital firm. Today they're officially launching the platform and a $50 million debut fund.
The pair tells Axios that the plan is to back founders who are going after "fundamental human problems," in areas like healthcare, agriculture and financial services. They believe that there is a burgeoning class of entrepreneurs seeking to apply software to these "hard, but not impossible industries," as part of an ethos shift from wants to needs.
Average check sizes are expected to be around $500k, with the $50m fund size designed to enable follow-ons without the need for SPVs (although it did already do a one-off SPV, for Clover Health). Refactor already has 20 portfolio companies in the fund, many of which are rolled-in smaller investments made personally by Lee. Expect between 40 and 50 total portfolio companies in the fund.
Both Lee and Bilimoria are Google alums, although they didn't know each other at the search giant. Instead, Lee says he kept receiving founders references about Bilimoria while each was at their prior firm.
• Repeal & replace: One of the investors I respect most on healthcare is Annie Lamont, a longtime venture capitalist (co-founder of Oak HC/FT) who serves on the board of hospital giant HCA. So I reached out via email for her gut take on the House GOP's healthcare plan. A few highlights (all verbatim):

Impact on her firm's investments: "Other than that uncertainty isn't great, the areas we have been investing in are relatively unaffected. Our solutions usually fall in commercial or Medicare bucket and if we are lowering costs and improving quality there, our companies should have unending opportunity. Medicaid will be less well funded so companies dependent on that bucket could be hurt although anyone taking cost out should benefit. Commercial world will be asked to bear even more of the brunt of costs so cost shifting and pressures to do so will be even greater."
"Medicare advantage in good shape under almost any scenario."
"Chickenshit move to have it all kick in in 2020 post next election and not affecting the congressional elections."
"A lot of head fakes in this. We aren't punishing you for not getting coverage except that we are because you are going to have a 30 % penalty if you don't keep your healthcare going. So you are smarter to never sign up if you think you might not be able to afford or decide you have other priorities."
• Frack fan: Peter Thiel spoke at an energy conference in Houston last night, touching on everything from globalization to climate change to politics. The line that may get notice back home: "On some level I think fracking represents a bigger economic form of progress for our society as a whole than the innovation in Silicon Valley."
• #TeamGouda: Scott Belsky is quietly joining the board of Cheddar, the millennial-focused online broadcast news platform led by former Buzzfeed president Jon Steinberg. Belsky is the founder of Behance (acquired by Adobe) who last fall stepped down as a general partner with VC firm Benchmark, just seven months after taking the job.
Belsky remains a venture partner with Benchmark, and is spending much of his time as executive chairman of a stealthy New York-based Benchmark portfolio company. The Cheddar role is independent from Benchmark, with Belsky telling me that he is fascinated by the eyeball battle between user-generated and professionally-produced live video content (i.e., Periscope types vs. Cheddar types), and that he believes he can help Cheddar on the product side. "Where does UGC live and more professional live content meet in the middle? Does one side win?"
• Unicorn Update: Grocery delivery company Instacart has closed that big new financing round we first reported on last week.
• Correction: Hellman & Friedman and GIC are acquiring all of Spanish mutual funds platform Allfunds, not just a majority stake. Apologies.
• VC Tweet of the Day, from @ashleymayer: I want to make a joke about how several venture capital firms are already partaking in "A Day Without a Woman" but it's just too real.
The BFD: Virta inks fresh funding
Virta Health, a San Francisco-based digital health startup that wants to "reverse Type 2 diabetes," has raised $37 million in VC funding. Backers include Venrock, Allen & Co.,Obvious Ventures, Redmile Group and Scifi VC. The company is led by Sami Iniken, founder of Trulia.
Why it's the BFD: Reversing diabetes without drugs or surgery is a pretty audacious goal, so points here for bold vision. And the company already has the public endorsement of a former chief scientific and medical officer of the American Diabetes Association. The basic idea is to obsessively monitor food intake, which Virta claims has proven effective in reversing (not managing) Type 2 in 87% of recent clinical trial patients. Yes, there will need to many many more clinical trials before this technology is proven out.
Bottom line: "Most people with the disease end up having to constantly monitor their blood sugar with the prick of a needle and diabetic pills or can "cure" it with bariatric surgery. However, type 2 diabetes (also know as adult onset diabetes) only affects those afflicted with it if their sugar levels go too high or too low. Thus, monitoring every carb you swallow is another measure in keeping the disease at bay." ― Sarah Buhr
Venture Capital deals

• iFlix, a Netflix-style service for Southeast Asia, has raised $90 million in new VC funding. Liberty Global and Zain were joined by return backers Sky, Catcha Group and Evolution Media Group. http://tcrn.ch/2lAbVYZ
• Spero Therapeutics, a Cambridge, Mass.-based developer of therapeutics to treat bacterial infections, has raised $51.7 million in Series C funding. GV led the round, and was joined by new investors like RA Capital Management and Rock Springs Capital. http://bit.ly/2mB0e3x
• Farmer's Business Network, a San Carlos, Calif.-based farmer-to-farmer network and ecommerce platform, has raised $40 million in Series C funding. GV and DBL Partners co-led the round, and were joined by return backers Acre Venture Partners and Kleiner Perkins Caufield & Byers. http://bit.ly/2miaYSe
• Veem (f.k.a. Align Commerce), a San Francisco-based provider of global payment solutions for small businesses, has raised $24 million in Series B funding. National Australia Bank led the round, and was joined by SBI Investment and GV. http://bit.ly/2n5HZRA
• ID.me, a McLean, Va.-based digital identity company, has raised $19 million in Series B funding led by FTV Capital. www.ide.me
• Velano Vascular, a San Francisco-based developer of a needle-free blood draw device, has raised $17 million in new VC funding. Backers include First Round Capital, Griffin Hospital, Kapor Capital, Safeguard Scientifics, Sutter Health, The Children's Hospital of Philadelphia, White Owl Capital and an unidentified "publicly-traded healthcare company." http://bit.ly/2ndQB82
• ACV Auction, a Buffalo, N.Y.-based used car auction platform, has raised $15 million in Series B funding. Bessemer Venture Partners led the round, and was joined by return backers Tribeca Venture Partners, SoftBank Capital NY, Armory Square Ventures and Rand Capital. http://bit.ly/2n5hnA6
• Peerspace, a peer-to-peer online marketplace event rental spaces, has raised $11 million in VC funding from Foundation Capital, Mitsui Fudosan, Carthona Capital and Red Bridge Partners. http://bit.ly/2mt45j1
• Function of Beauty, a New York -based developer of personalized shampoo and conditioners, has raised $9.5 million in Series A funding led by GGV Capital. http://tcrn.ch/2mStSCy
• Conversion Logic, a Los Angeles-based marketing analytics platform, has raised $9 million in Series A funding. Pelion Venture Partners led the rund, and was joined by Rincon Venture Partners, Crosscut Ventures, Lerer Hippeau Ventures, Founder Collective, Revel Partners and TenOneTen. http://bit.ly/2lXXZTS
• LawGeex, an Israel-based business contract review platform, has raised $7 million in Series A funding. Backers include Recruit Holdings (Japan) and return backers Lool Ventures and LionBird. http://bit.ly/2n506qZ
• ODILO, a Madrid-based digital content distribution company, has raised €6 million in new VC funding from Active Venture Partners, Inveready, Kibo Ventures and JME Venture Capital. www.odilo.es
• Digital Alloys, a Burlington, Mass.-based provider of multi-metal additive manufacturing systems, has raised $5 million in Series A funding led by Khosla Ventures. The company was spun out of NVBots earlier this year. www.digitalalloys.com
• Current, a developer of debit cards for kids, has raised $3.6 million in seed funding. Expa and Human Ventures co-led the round, and were joined by Future Perfect Ventures. http://tcrn.ch/2lSUCxz

• Epicrop, a Lincoln, Neb.-based developer of epigenetic technology to improve crop yields, has raised $3.2 million in Series A funding. Backers include TechAccel, North Forty Ventures, Nelnet, Speedway Properties and Allen & Co. http://bit.ly/2m1FSNY
• Bigo Live, a Singapore-based social video streaming app, has raised an undisclosed amount of new VC funding at a reported valuation north of $400 million. Ping An Overseas led the round. http://bit.ly/2minSzA
Private Equity Deals
• Alignment Healthcare, an Orange, Calif.-based population health management company, has secured $115 million in growth equity funding from Warburg Pincus. www.alignmenthealthcare.com
• Ameredev, an Austin, Texas-based E&P company focused on the U.S., has secured a $400 million equity commitment from EnCap Investment and members of company management. www.ameredev.com
• Deposition Solutions, a Houston-based litigation support services company owned by Trinity Hunt Partners, has acquired Castle Copy Service, a Rocklin, Calif.-based provider of records retrieval services. No financial terms were disclosed. www.castlecopy.com
• Incline Equity Partners has recapitalized existing portfolio company Hartland Controls, a Rock Falls, Ill.-based manufacturer of definite purpose contactors. No financial terms were disclosed, although a source says that Twin Brook provided $55 million in leveraged financing. www.hartland-controls.com
• The Pritzker Organization, Redwood Capital Investments and Stephens Capital Partners have agreed to acquire Hargray Communications Group, a provider of broadband communications and entertainment in South Carolina and Georgia, from Quadrangle Capital Partners. No pricing terms of the all-cash deals were disclosed. http://bit.ly/2n5JtLB
• Quadrant Private Equity reportedly is receiving takeover interest in Icon Group, an Australian private cancer care company, from such firms as TPG Capital, The Carlyle Group and Macquarie. A deal could be valued at around A$1.4 billion, with Credit Suisse managing the process. http://bit.ly/2mATqCU
• TPG Capital reportedly has offered $311 million to acquire Brazilian energy assets of Spain's Abengoa. Banco Modal is managing the process, which also has received interest from Brookfield Asset Management, State Grid (China) and the pairing of BTG Pactual and Equatorial Energia. http://bit.ly/2mF99Sc
Public Offerings
• Champ Private Equity reportedly has dropped IPO plans for Australian vintner Accolade Wines, in which it holds an 80% stake. http://bit.ly/2lDGQUq
• Polskie Koleje Linowe, a Polish mountain tourism services firm owned by Mid Europa Partners, is prepping an IPO for later in 2017, according to Reuters. http://reut.rs/2m1N3pm
• Quintana Shipping, a Greek dry-bulk shipping company, has withdrawn registration for a $100 million IPO. http://bit.ly/2lYeHCB
• Warrior Met Coal, a Brookwood, Ala.-based metallurgical coal producer and exporter, has filed for a $100 million IPO. The company plans to trade on the NYSE under ticker symbol HCC.,with Credit Suisse listed as left lead underwriter. It reports a $65 million net loss in 2016 on $369 million in revenue. Shareholders include funds managed by Apollo Global Management, GSO and KKR. http://bit.ly/2lDNOZF
Liquidity Events
• Alinda Capital Partners has hired CIBC to find a buyer for Reliance Comfort, a Canadian HVAC company that could be valued at between C$3 billion and C$4 billion, according to Reuters. http://reut.rs/2mFonq6
More M&A
• Archer Daniels Midland (NYSE: ADM) is working with Saudi foods group Almarai on a possible bid for the milling operations of state-owned Saudi Grains, according to Reuters. http://reut.rs/2mB1Eev
• AWS, the cloud computing unit of Amazon, has acquired Thinkbox Software, a Winnipeg-based provider of content creation solutions for the video and visual media markets. No financial terms were disclosed. http://tcrn.ch/2mYIyge
• Credit Agricole is considering a sale of its 31% stake in Saudi lender Banque Saudi Fransi, according to Bloomberg. The deal could be worth around $2.4 billion. http://bloom.bg/2mTVhDO
• Spacer, an Australian P2P carparking space-share company, has acquired U.S. peer Roost for an undisclosed amount. http://tcrn.ch/2mizxQv
• Spotify has acquired Sonalytic, a London-based developer of song and other audio identification technology. No financial terms were disclosed. http://tcrn.ch/2meWZg9
• Tronc (Nasdaq: TRNC) is nearing an agreement to acquire entertainment publication US Weekly from Wenner Media for a reported $85 million to $100 million. http://bit.ly/2mTMh1B
Fundraising
• Apollo Global Management is targeting a May close for its ninth global private equity fund, which is targeting $20 billion, per Bloomberg. http://bloom.bg/2mz1og6
• Greyrock Capital Group, a Chicago-based private equity and subordinated debt firm focused on the lower middle markets, has closed its fourth fund with $275 million in capital commitments. www.greyrockcapitalgroup.com
• Oak HC/FT Partners is raising upwards of $500 million for its second fund since spinning out of Oak Investment Partners. The VC and growth equity firm focused on the healthcare and financial technology sectors. www.oakhcft.com
It's Personnel
• Joseph Huang has joined accelerator program StartX as CEO. He is a StartX alum, having sold WiFiSLAM to Apple in 2013. http://tcrn.ch/2lDLGRv
• Glenn Rewick has joined Deutsche Bank as a San Francisco-based managing director in the Americas M&A group. He previously led EMEA healthcare M&A for UBS. http://reut.rs/2lDFFo0
• Aman Verjee has joined 500 Startups as its first-ever chief operating officer. He previously was CFO at CAN Capital. http://on.wsj.com/2mBIpBT
Final Numbers: Private equity employment