Welcome to Axios World, where two evenings a week we break down what you need to know about the big stories from around the globe.
Thanks for joining me! Please tell your friends and colleagues to sign up, and I'd love your tips and feedback: lawler@axios.com.
Was this email forwarded to you? Sign up here.
1 big thing: Brexit deadlock and the political abyss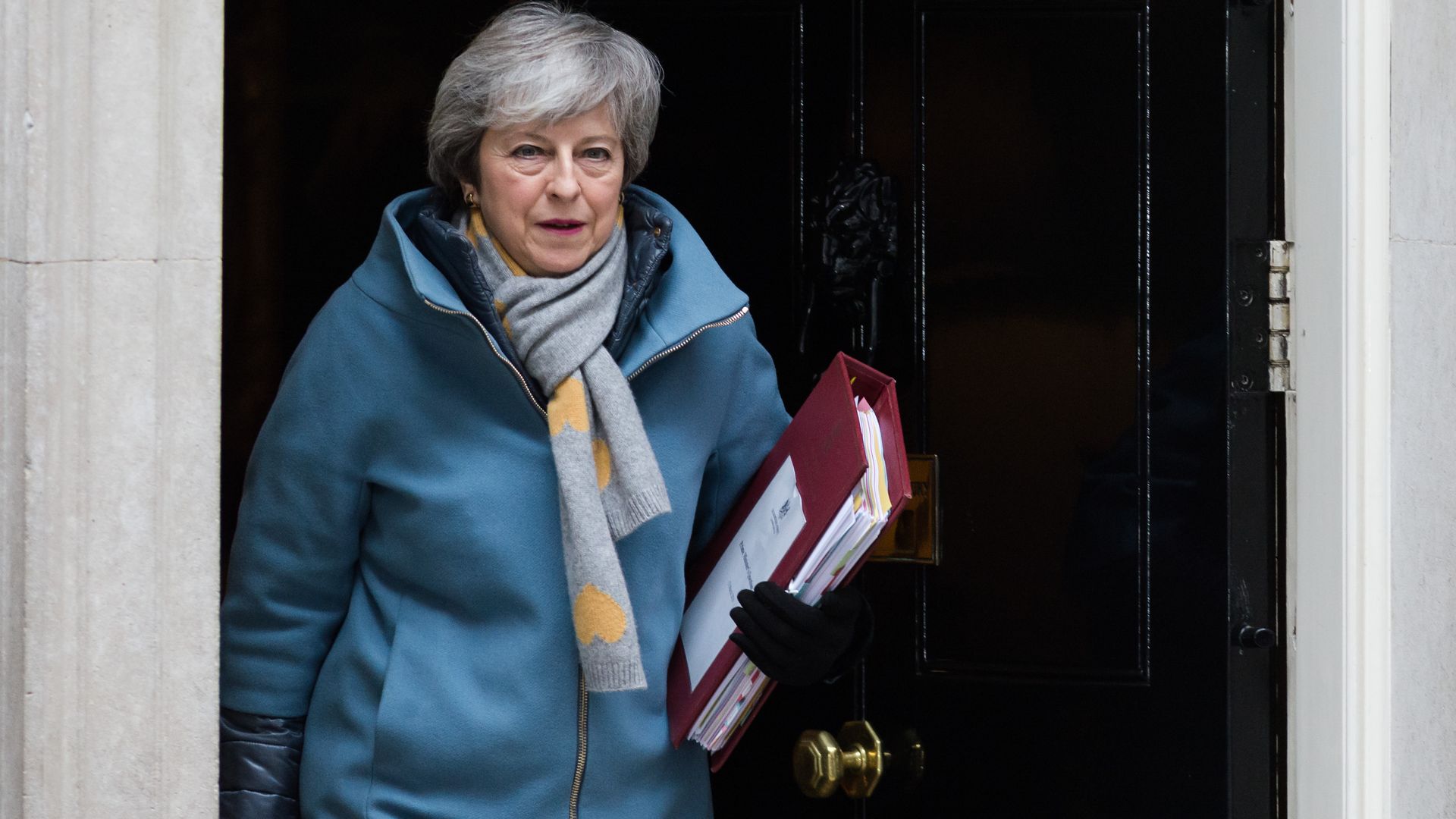 Here she comes, again.
Catch up quick: Having today secured a parliamentary mandate to extend the Brexit deadline, Prime Minister Theresa May plans to bring her remarkably unpopular plan up in Parliament for a third and final time next week. If she fails, it's off to the Continent to seek a delay that could ultimately last over a year.
Flashback: May has already cut a deal with the EU, which Brussels considers its final offer. That deal was defeated by the heaviest margin (230 votes) in modern U.K. history. On Tuesday, the margin was a mere 149 votes.
The latest: Having overwhelmingly rejected on Wednesday the idea of a "no deal" Brexit, which would see the U.K.'s trading arrangements with the EU vanish overnight, Parliament today collectively conceded that this won't get solved by March 29.
Between the lines: May is desperate to deliver Brexit without tearing whatever threads still hold her Conservative Party together. She's hoping fear of the unknown will lead Brexit enthusiasts in the party — who declare that her deal would spurn a historic opportunity to regain sovereignty — back into her camp. Hence, the third vote.
The big picture: This isn't just about Brexit anymore. It's a genuine political crisis. The prime minister has been repeatedly humiliated. The opposition leader, Jeremy Corbyn, has largely been irrelevant. No one is at the wheel.
Watching this week's proceedings, you could be forgiven for forgetting that the U.K. in many ways remains an economic, military and cultural power (perhaps a bold sentence for an American to write, I'll admit).
The Economist's Brexit editor, John Peet, sums it up (podcast): "British stability has been built around the two main parties … but Brexit has cast across that stability because the bigger divide now is between those who support 'Remain' and those who support 'Leave' and both parties are split from top to bottom on this issue."
The debate goes beyond politics. "Brexit is a feeling," a British former diplomat told me this week. He cited a 2017 YouGov poll that found a majority of "Leave" voters would support Brexit even if it damaged the economy, while just 38% said they'd change their vote to save their job, or a family member's.
What they're saying:
"The British have always kind of been a model for us," one diplomat from a small European country told me. "I don't really know what to think."
"It's tearing a country apart. It's actually tearing a lot of countries apart and it's a shame that it has to be that way," President Trump said today. "I'm surprised by how badly it's gone from the standpoint of a negotiation."
What's next: If May passes her deal by March 20, she'll need a short extension from the EU to get the necessary legislation in order. If not, she'll head to Brussels to face a roomful of exasperated European leaders. They're also anxious to avoid "no deal," but don't want to simply give the U.K. more time to continue the current squabble.
European Council President Donald Tusk today supported a "long extension" to allow the U.K. to "rethink its Brexit strategy and build consensus around it." If any of the 27 member states vetoes an extension, though, things will get more chaotic still.
Looming ever larger is the prospect of a second referendum to break the deadlock. May has long said a re-do would betray the faith of the British people in their government.
In the meantime, how about that third vote?
2. Syria: 8 years of civilian slaughter
Friday marks the eighth anniversary of Syria's "Day of Rage," the series of protests that provoked an aggressive government crackdown and ignited a nationwide uprising. Some 165,000 civilians have died in the ongoing violence, writes Axios data journalist Harry Stevens.
The Violations Documentation Center in Syria, using a team of human rights activists and reporters, has attempted to document the identity of every person who has died in the war.
Some have perished in mass executions, such as the one in late August 2012 in Daraya, a working-class town near Damascus. After retaking the town from rebel forces, Syrian troops reportedly marched in and massacred hundreds of civilians.
Islamic State, or ISIS, fighters have killed thousands of civilians, many of whom were kidnapped and tortured before being executed.
Still others have died in US-led coalition airstrikes, including thousands who perished in Raqqa during the air offensive against the Islamic State. Rescue workers told NPR that those airstrikes killed more civilians than they did Islamic State troops.
And weapons containing the lethal chemical sarin, fired by the Syrian government on its own people, have claimed thousands of lives.
The civilian death toll has declined from its peak in mid-2012, yet the carnage continues. This February alone, 158 civilians died in the violence.
3. News roundup: Sirens in Tel Aviv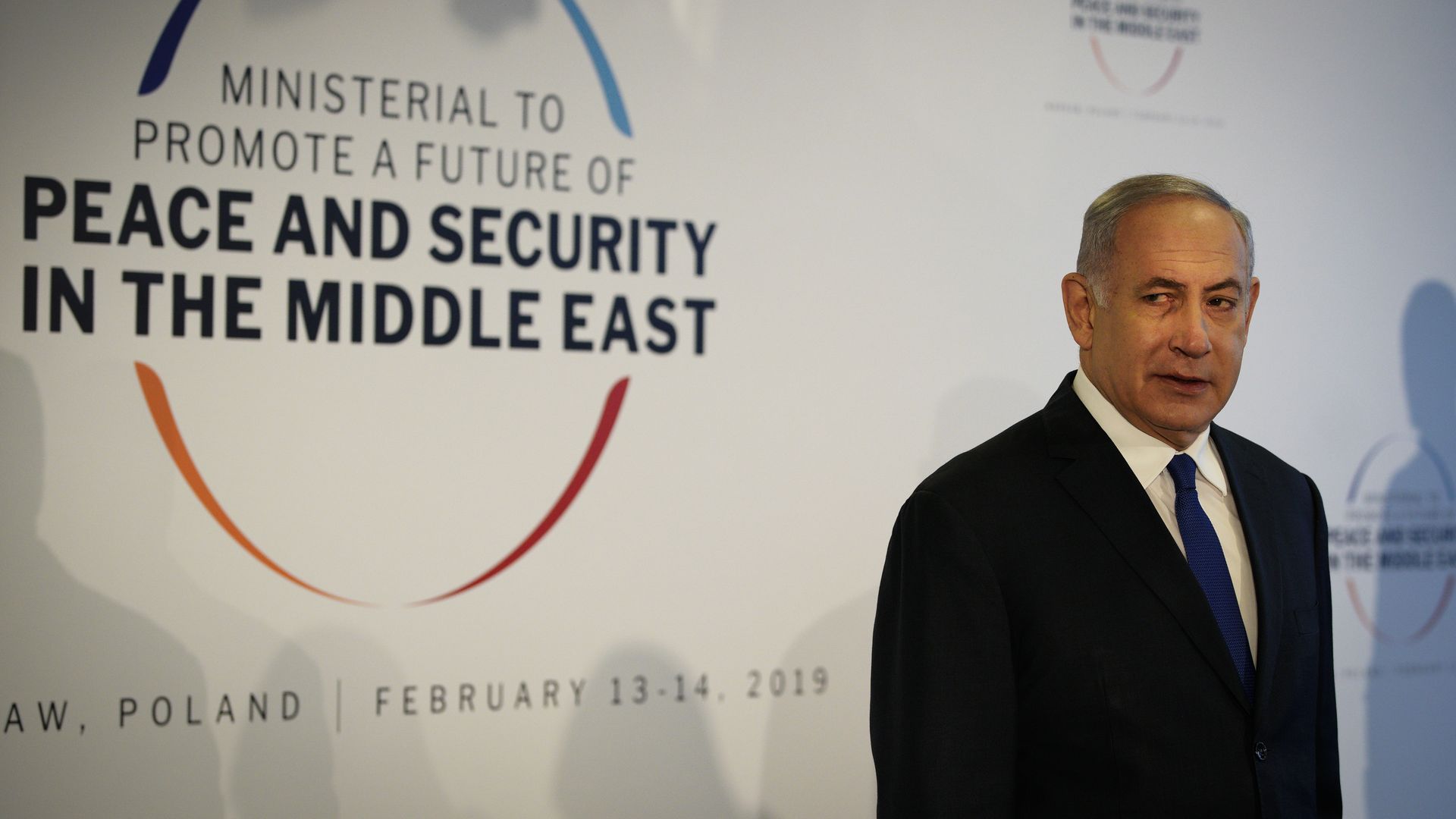 1. In Tel Aviv, Israel, sirens blared this evening after two rockets were fired from Gaza, activating the Iron Dome missile defense system.
The Israeli army says it was surprised by the attack. Hamas and Palestinian Islamic Jihad both denied responsibility. No injuries or damage have been reported. Israel is heading into a general election on April 9.
2. Afghanistan's national security adviser told reporters in Washington today that Zalmay Khalilzad, the U.S. envoy heading peace talks with the Taliban, was "ostracizing and alienating" the Afghan government and might have political motives for doing so, per the Post's Josh Rogin.
After the latest round of talks concluded, Khalilizad tweeted that the U.S. and the Taliban had reached agreements on the withdrawal of U.S. troops and a guarantee the Taliban wouldn't harbor terrorism, but still needed consensus on "intra-Afghan dialogue and a comprehensive ceasefire."
The Afghan government is wary of the talks. A senior adviser to President Ashraf Ghani told PBS Newshour this week that a rushed peace process could be "an invitation for civil war."
3. On Yemen, the Senate voted yesterday to end U.S. assistance for the Saudi-led coalition. The House is expected to follow suit in the coming weeks, with Trump threatening a veto.
4. Report: North Korea Embassy attackers had CIA links
10 attackers break into the North Korean Embassy. They tie up the staff, beating and interrogating them in the process.
One woman escapes and calls for help, but when police arrive on the scene an Asian man answers the door and calmly tells them all is well.
Minutes later, the assailants drive off in diplomatic vehicles, taking computers and other devices with them. The cars are soon found, abandoned. The attackers have vanished.
That's what happened in Madrid on Feb. 22, just days before the summit between Kim Jong-un and Donald Trump, according a report from El Confidencial (Spanish). Now, El Pais reports that police have linked two of the embassy attackers to the CIA, based on surveillance footage.
The backdrop: El Pais cites "sources" who speculate the goal of the attack was to gain intelligence on North Korea's former ambassador to Spain, Kim Hyok Chol. He's now playing a leading role in nuclear negotiations with the U.S.
My thought bubble: This is an explosive story. We haven't confirmed any of it. To be honest, I don't know what to make of it. But having skipped it when it first bubbled up, the latest twist seems too significant to ignore.
5. Weighing Trump's 'cash for troops' plan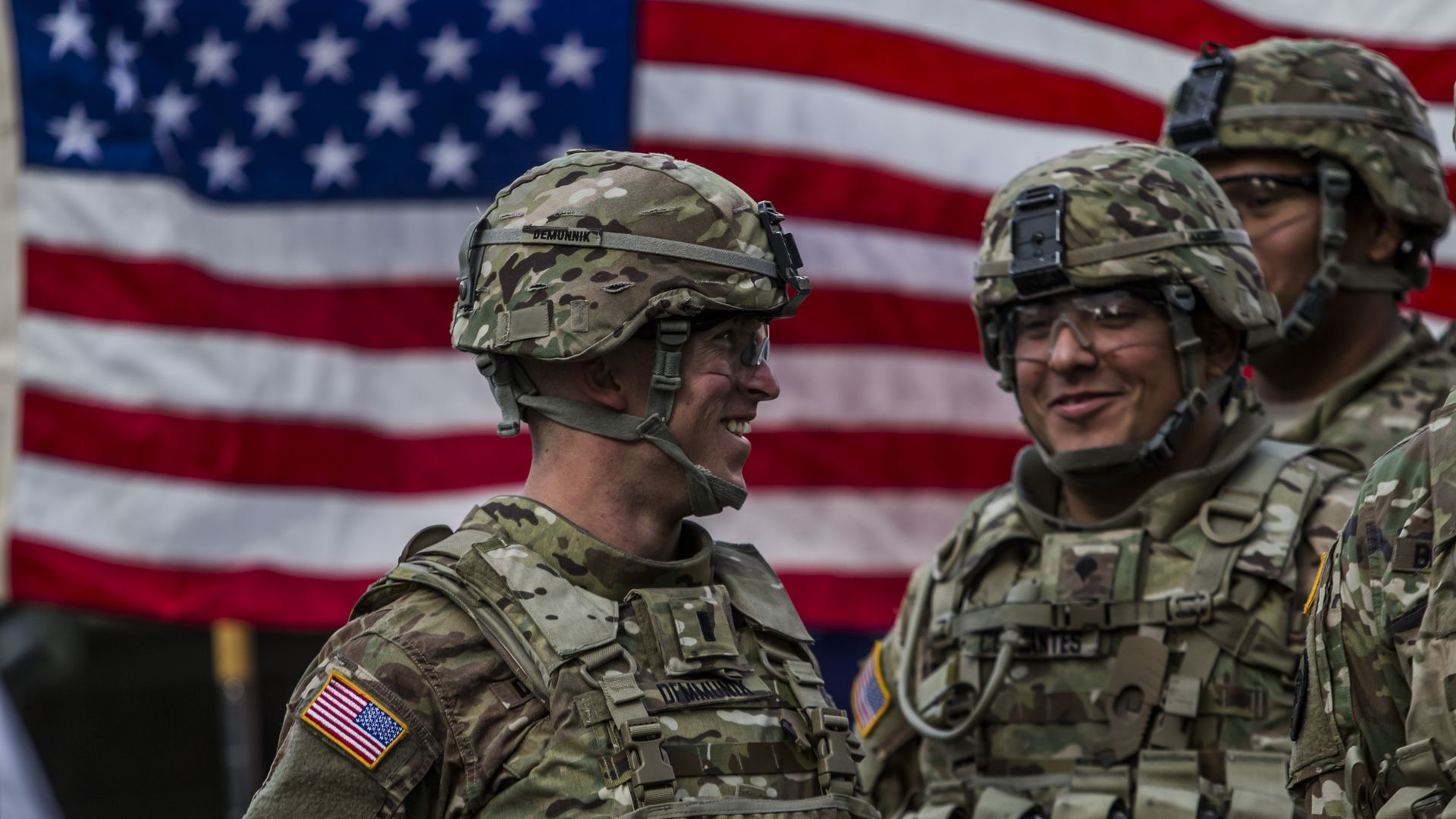 Being a U.S. ally might soon get a lot more expensive. Willis Sparks of GZERO Media breaks down reports the Trump administration wants to force countries to pay the full cost of hosting American troops, plus an additional 50% for the security the soldiers provide.
By the numbers: U.S. troops are stationed in more than 100 countries around the world. There are 56,000 American soldiers in Japan, 35,000 in Germany, 28,500 in South Korea, 12,000 in Italy, and 9,000 in the U.K. Under the "cost + 50" terms, some countries would pay as much as six times the amount they currently pay.
The leak of this plan may merely be the opening bid in a series of tough negotiations, but let's take it at face value.
Those in Washington who favor this plan, led by Donald Trump, are asking a few simple questions:
World War II ended almost 75 years ago, so why is the U.S. still responsible for guaranteeing the security of Germany and Japan? Haven't they become prosperous in part because U.S. protection allows them to avoid spending billions on their own defense?
If U.S. troops and taxpayers must continue to accept this responsibility, shouldn't countries that benefit from the U.S. presence pay fully for the privilege?
Are those who live in these countries and want U.S. troops to leave prepared for their governments to take much more money from their paychecks and cut their benefits to pay for defense?
The argument against:
The U.S. isn't simply doing other countries a favor. It's about geopolitics. U.S. bases in Japan, South Korea, Germany and the Middle East make the U.S. a force to be reckoned with in all key regions of the world. Chip away at that, and others will try to fill the gap.
The U.S. benefits economically, politically and militarily from stability in Asia, Europe and the Middle East. That stability depends on the willingness of the only nation capable of projecting military power into every region to play a leadership role in keeping the peace.
Raise the cost to allies and watch how fast taxpayers in these countries push for the Americans to leave. You might not think that's in their interest, but many of them may well think otherwise.
6. Data du jour: Immigration as strength or burden
Pew asked respondents from 18 countries whether immigrants are "a burden on our country because they take our jobs and social benefits" or "make our country stronger because of their work and talents."
The U.S. (59%) and U.K. (62%) were among the most likely to consider immigrants a strength, despite recent political fights over immigration. So was Japan (59%), which has historically heavily restricted immigration.
People in Hungary (5%), Greece (10%), Italy (12%), Russia (18%), Poland (21%) and Israel (26%) were very unlikely to consider immigration a strength.
In Western Europe, "strength" was the more likely response: Sweden (62%), Germany (59%), Spain (56%), France (56%), Netherlands (50%).
Trends: Greece, Germany and Italy are more skeptical about immigration now than in 2014, while the opposite is true in Spain, the U.K. and France.
Worth noting: Immigration is more politically polarized in the U.S. than any other country polled. In Canada, meanwhile, 65% of conservatives actually view it as a strength, compared to 81% of liberals.
7. Stories we're watching
Quoted:
"I lived in a country where if I'd try to be myself at the time I would have ended up breaking laws. But today that has all changed. I stand here as the leader of my country, flawed and human but judged by my political actions and not my sexual orientation, my skin tone, gender or religious beliefs."
— Irish Prime Minister Leo Varadkar today, on a visit to Vice President Pence's residence. Varadkar, who is gay, said watching U.S. leaders from afar inspired him to enter politics.
Have a lovely weekend. I'll see you on Monday.