Welcome to Axios World, where two evenings a week we break down what you need to know about the big stories from around the globe.
Situational awareness: "Canada's President of the Treasury Board resigned from Prime Minister Justin Trudeau's Cabinet on Monday, the second minister to leave in the wake of a political scandal that has roiled Trudeau's tenure months before an October election," per Reuters.
1 big thing: Spring returning to North Africa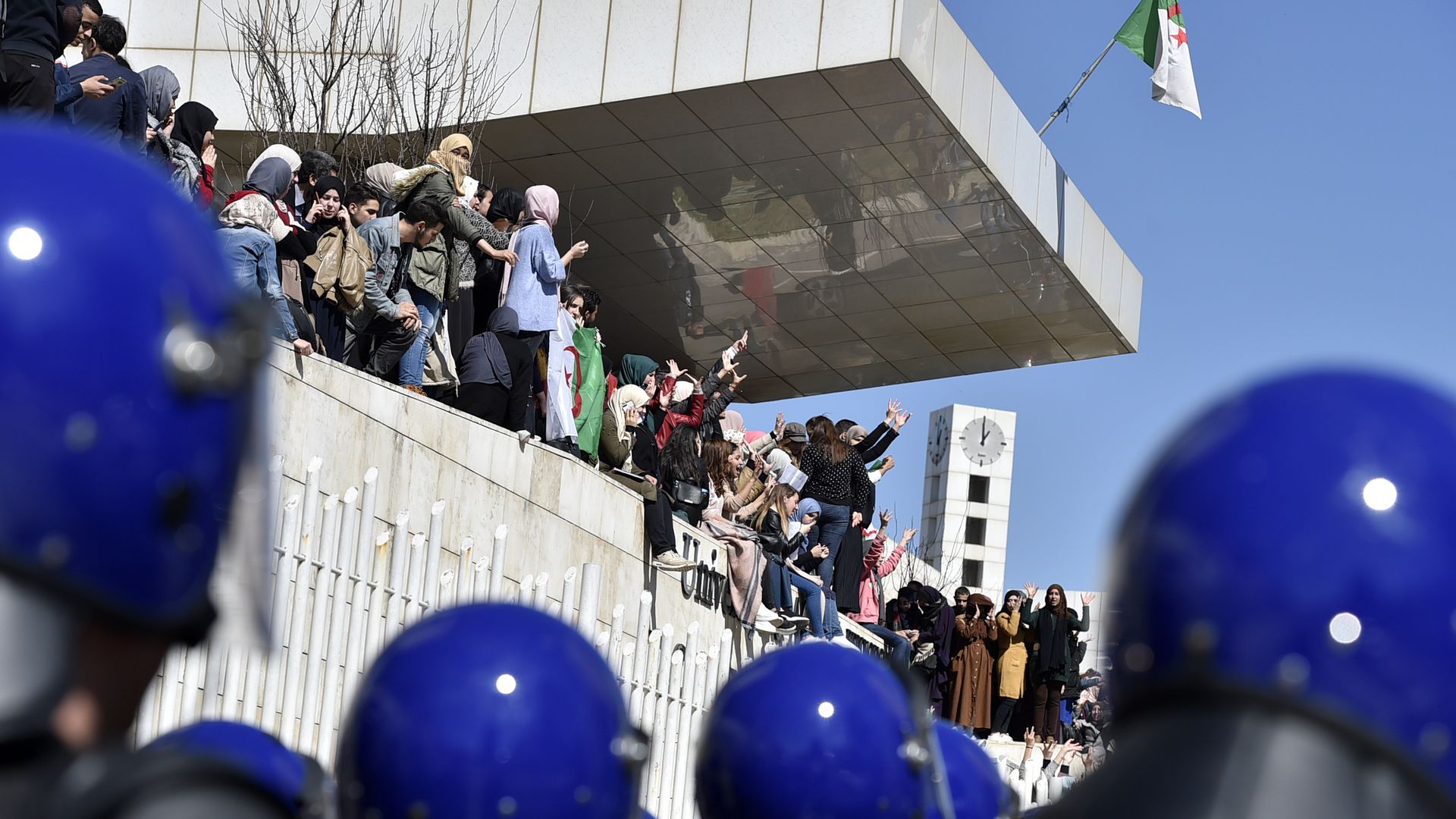 Two North African regimes that have ruled for a combined 50 years are facing unprecedented mass revolts and taking desperate steps to cling to power.
In Algeria, huge demonstrations this weekend greeted a letter from President Abdelaziz Bouteflika confirming he would seek a fifth presidential term next month. Bouteflika, who turned 82 on Saturday and has rarely appeared in public since suffering a debilitating stroke in 2013, wrote that he'd oversee a "national dialogue" before stepping down early.
The Atlantic Council's Karim Mezran says Bouteflika remains nominally in power six years after his stroke because the country's factionalized elites can't agree on another way to "ensure the equilibrium of power." Now facing swelling protests, he says, "they are really freaking out. When I read the letter, my first thought was: 'They are at the last resort.'"
In Sudan, President Omar al-Bashir has declared a yearlong national emergency and dissolved national and state governments after three months of protests sparked initially by economic distress. He also stepped down as leader of his party.
Bashir has led one of the world's most repressive regimes for three decades and is wanted for war crimes by the International Criminal Court. This is the most significant challenge to his rule to date, and he seems intent to answer it with force.
The big picture: Leaders around the region who survived the tumult of the 2011 Arab Spring had hoped the disorder and disillusionment that followed would translate into a sort of benign malaise. The scenes in Algeria and Sudan — which follow protests last year in Iraq, Iran, Jordan and Tunisia — might indicate the winter frost is melting.
However, as Marc Lynch writes in the Washington Post, while "the demands of today's protesters are very similar across borders, they have rarely been framed ... as a common struggle. That is partly because of their scattered emergence. But it is also because since 2011, Arab regimes have lived in fear of the sudden diffusion of unrest" and made preventing it a top priority.
In the years since the Arab Spring, says Mezran, the Algerian regime "has been able to say, 'See what happened in Egypt?' 'See what happened in Libya?' And it has worked for a time. But not anymore."
The regime in Algeria survived the Arab Spring in part through economic subsidies made possible by its energy wealth. There have been scattered protests since, but a combination of cash and repression kept them isolated. "The shame of appointing a guy who is in effect not alive was finally enough to unite them," Mezran says.
Where things stand: Now there's less money to dole out, more doubts surrounding the army's loyalty, and no obvious Plan B. To find another candidate who satisfies protestors and elites alike "would be the act of a magician," Mezran says. "How can they do it in one month when they couldn't do it for four years?"
What to watch: Mezran says if the protests continue, it's possible the army will fire on demonstrators or an officer will "decide to put an end to it and take over" in a military coup. "I think that something will happen," he says. "Whether it will lead to democratization, I don't know."
Meanwhile: "Many in Sudan's streets see Bashir's decision in the past week as a classic mistake repeated by desperate dictators in their final throes, and it raises their hopes that his days are numbered," the Post's Muhammed Osman and Max Bearak report from Khartoum. However, fears of a wave of violence are also growing.
2. Venezuela: Guaidó is back. Your move, Maduro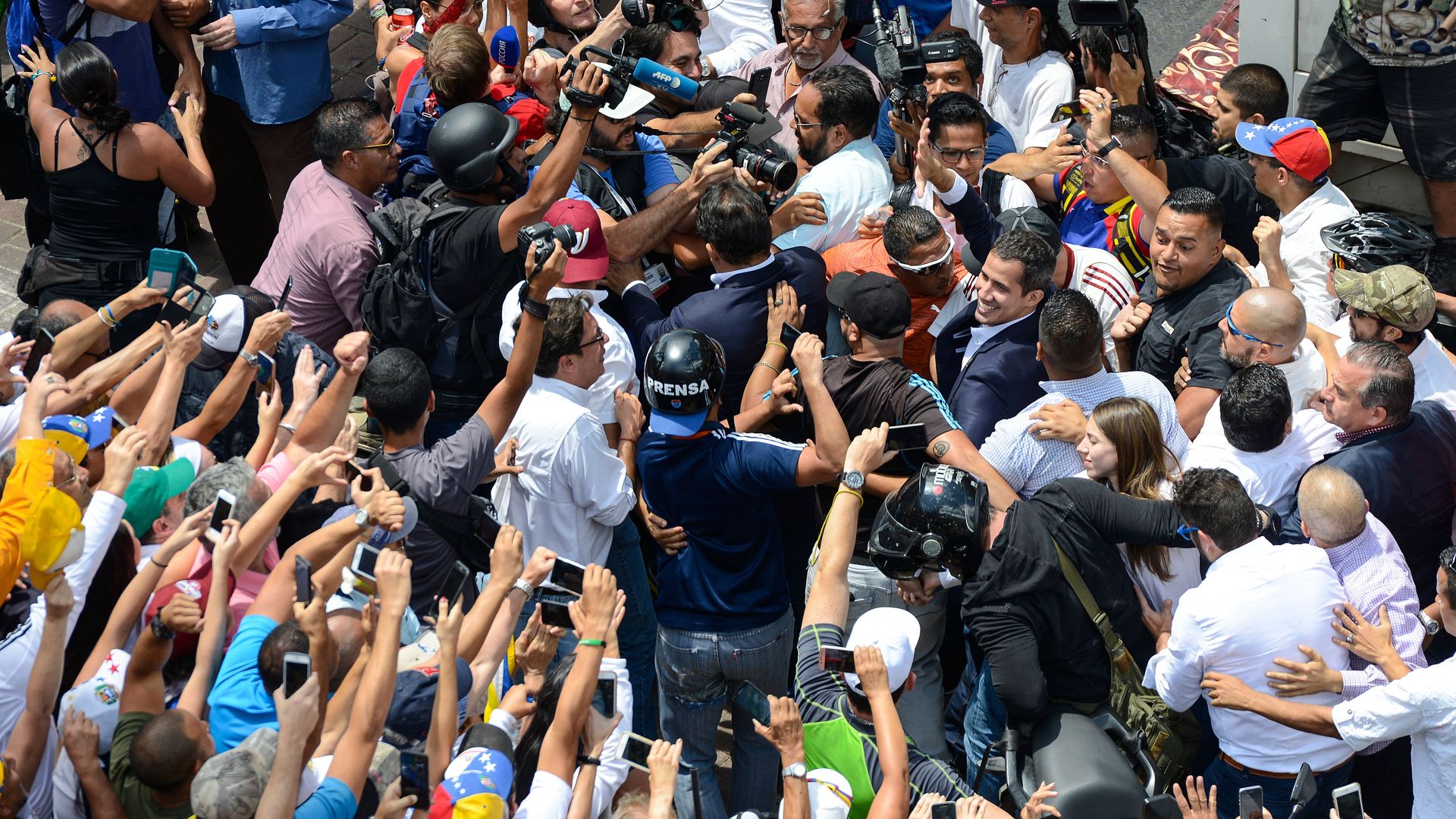 Opposition leader Juan Guaidó returned to Venezuela Monday despite embattled President Nicolás Maduro's warning that he could be arrested for violating a travel ban.
Backdrop: Guaidó left Venezuela on Feb. 22, crossing into Colombia and bringing about a major showdown with Maduro the next day by attempting to bring truckloads of U.S. aid across the border.
After Maduro's loyalists blocked the aid, Guaidó remained out of the country for 9 days. With the U.S. keeping a military option open, and both national security adviser John Bolton and Vice President Pence warning of a forceful response if Guaidó is arrested, a showdown between Venezuela's two presidents could lead to a military confrontation.
"As Mr. Guaidó flew into the country, large military contingents surrounded the Simon Bolívar Airport. A number of European diplomats had come to the airport to offer their support," the New York Times reports.
Guaidó's return was anything but low-key. He was greeted by a big crowd of supporters at the airport, then hit the road to address more demonstrations.
Bolton vowed a "strong and significant" U.S. response to "threats or acts" against Guaidó, while Pence tweeted that "any threats, violence, or intimidation against him will not be tolerated & will be met with swift response."
Between the lines: Bolton was asked Sunday by CNN's Jake Tapper whether the Trump administration's support for dictators around the world undermined its moral stand against Maduro. He invoked the Monroe Doctrine, saying: "This is a country in our hemisphere, it's been the objective of American presidents going back to Ronald Reagan to have a completely democratic hemisphere."
Expert Voices: Ending Venezuela's stalemate peacefully.
3. Latin America: Checking in on AMLO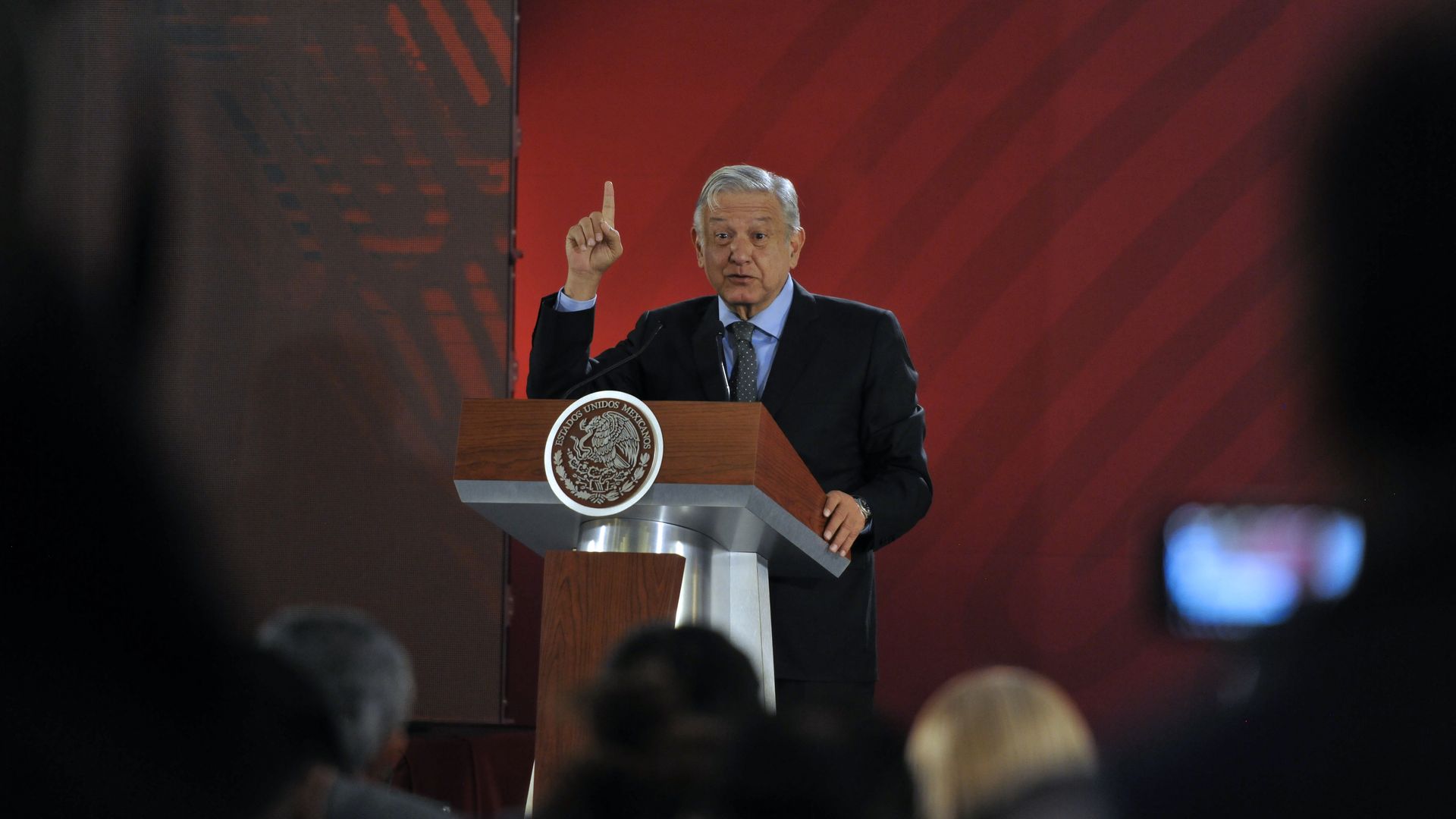 Nearly 100 days on from his inauguration, Mexican President Andrés Manuel López Obrador remains immensely popular and on very good terms with President Trump.
That's in part because, as the NYT reports, he's "carrying out the Trump administration's immigration agenda across wide stretches of the border."
Roberta Jacobson, the U.S. ambassador to Mexico from 2016 to 2018, says that's a "bromance that's destined to sour" despite López Obrador's desire to maintain good relations with Washington. Domestically, though, little stands in his way.
Speaking on Altamar, the global affairs podcast, Jacobson said no other major political figure has any "standing to speak up on the corruption issue."
But she says the steps López Obrador has taken so far on corruption are "weak" and "expedient." She asks: "At what point, if at all, do the majority of people become disillusioned with bread and circuses instead of real institutional changes."
"López Obrador is not an institutionalist. He's an 'I alone can fix it' type of president. And that's a real concern. Will he take relatively weak domestic institutions and fail to make them stronger, or in fact weaken them on corruption and a whole host of other issues."
Her bottom line: "I'm hoping he doesn't become an authoritarian."
Behind the scenes: Jacobsen spent some time with López Obrador prior to his election. She says he's smart and engaging, but has "a tendency to view any criticism as personal, and I think that could be his Achilles' heel."
4. Middle East: What to do about MBS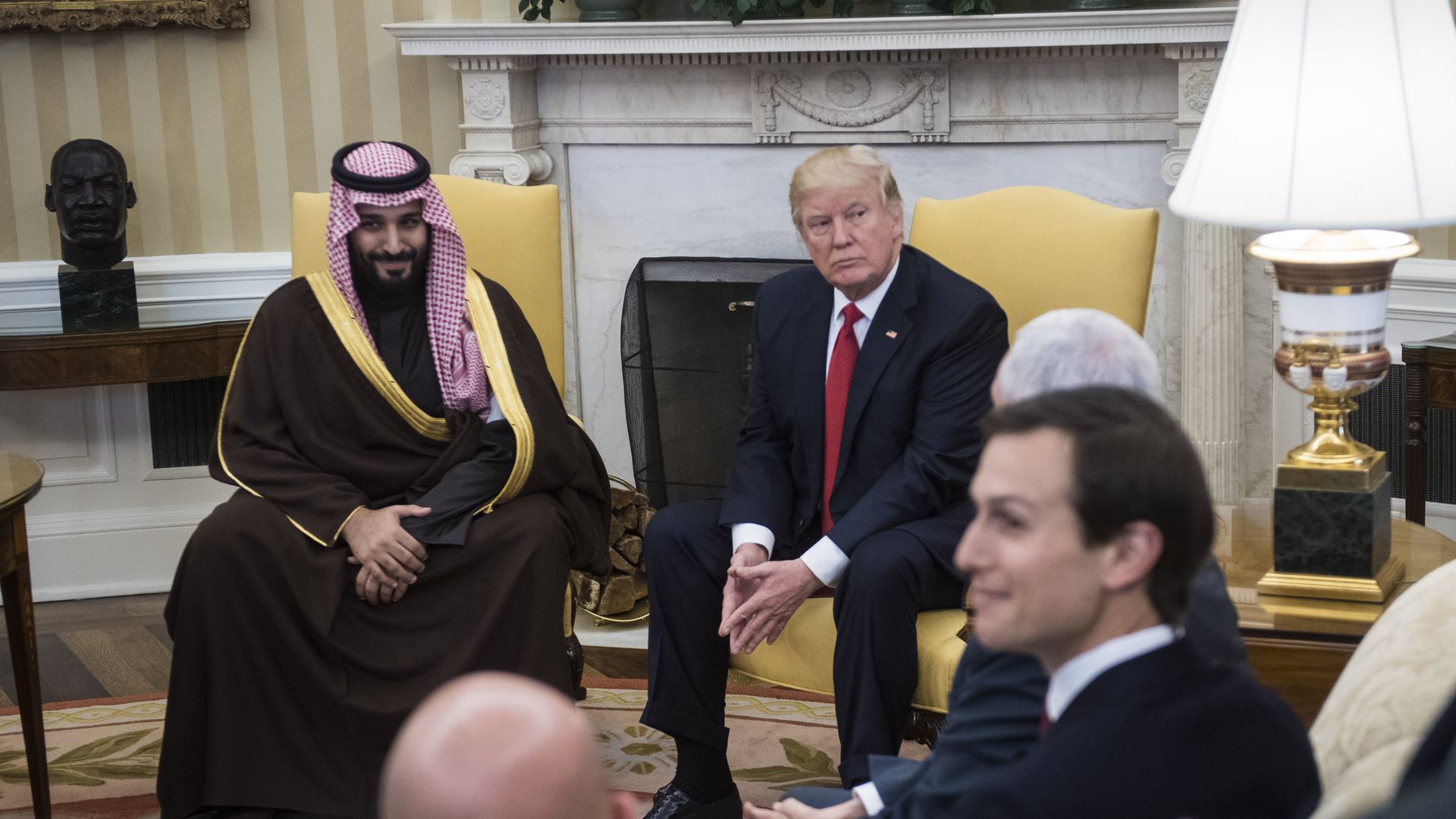 A dual U.S.-Saudi citizen may have been tortured in Saudi Arabia after being imprisoned in the Riyadh Ritz-Carlton during Crown Prince Mohammed bin Salman's so-called anti-corruption campaign in 2017.
The State Department confirmed Sunday that Walid Fitaihi, a graduate of George Washington and Harvard universities, is still being held in Saudi Arabia. Fitaihi told a friend he'd been tortured, and provided a detailed account, according to the NY Times.
The revelations come amid continued questions about the murder of Jamal Khashoggi and what will happen to jailed women's rights activists.
The Trump administration is standing by the Saudis. Jared Kushner was in Riyadh last week to meet with MBS about Middle East peace. Trump has also discussed selling nuclear reactors to the Saudis.
At a panel on the U.S.-Saudi relationship last week hosted by the Arabia Foundation, Aaron David Miller of the Wilson Center argued that Trump is both "according the Saudis a level of influence and importance" far beyond reality and sacrificing any U.S. leverage over MBS' behavior.
Karen Elliott House, a Pulitzer-winning journalist, argued that Trump's acquiescence comes down to "arms, Israel and re-election." She noted that Saudi society is changing rapidly on the crown prince's watch, though, and said it would be "hard for him to put the lid back on that" even if he wanted to.
Dennis Ross of the Washington Institute argued that those changes are "clearly in our interest." The question, he said, is "how we manage that on one hand and on the other ensure the ... maturation process comes sooner than later and there are checks and balances."
5. North Korea: Notes for the next summit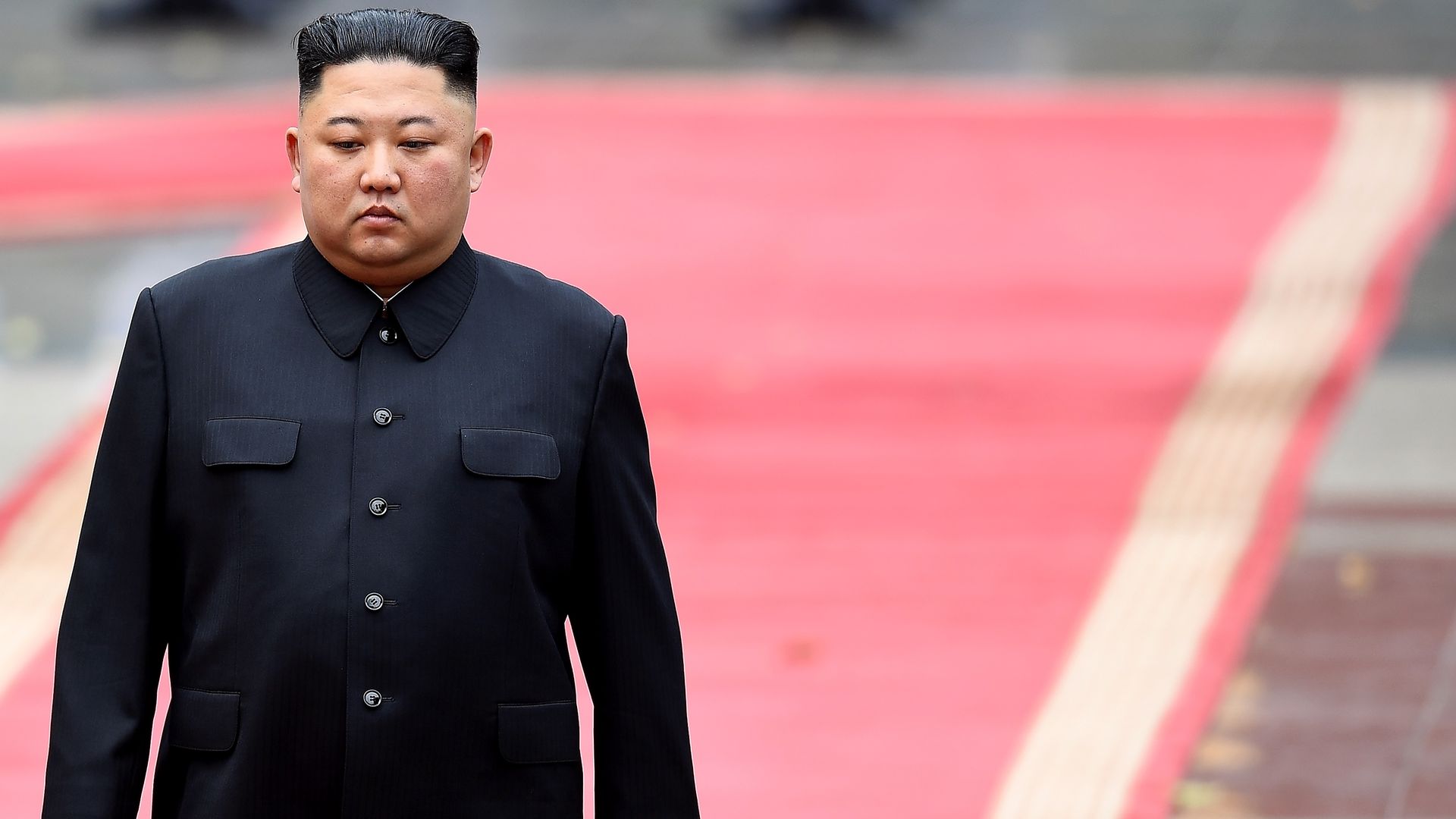 The expert consensus seems to be that last week's "no deal" in Hanoi was a decent outcome for Kim Jong-un, who emerges as a more "normal" world leader than ever without having to give anything up.
What they're saying: I asked Brookings experts on a post-summit briefing call how the U.S. can change that equation to convince Kim he needs a deal.
Jung Pak said Kim's series of summits — with Trump, China's Xi Jinping, South Korea's Moon Jae-in, and potentially Russia's Vladimir Putin — "has the effect of loosening or reducing the appetite for sanctions implementation."
She says the summit also demonstrated that "sanctions are our only leverage," making enforcement even more crucial. "China's role is incredibly important in all of this, of course."
Ryan Hass argued Trump "relinquished all sticks and was only left with carrots," and the carrots on offer "don't seem very appetizing" to the North Koreans.
"What they want is the one thing that we are not willing to relinquish. ... And so my concern is that we're sort of stuck in a dead end right now."
Hass argued that as long as Kim sticks to the testing freeze, "it's going to be very hard for us to rally the type of pressure" needed to change the equation.
Michael O'Hanlon said he's actually "relieved that some of these sticks are no longer being deployed," most notably the threat of a "bloody nose" military strike.
"The threat of war, I think, continues to decline even if the threat of an ongoing expansion of the North Korean nuclear arsenal has not yet declined."
6. Data du jour: Americans on global institutions
77% of Americans think the NATO alliance should be maintained, compared to 19% who think it's no longer necessary, according to Gallup.
That's down from 80% in 2017 but higher than Gallup's previous surveys, from 1989 to 1995, when support ranged 62–75%.
66% of Americans think the UN plays a necessary role, compared to 32% who feel it's unnecessary.
That's on par with polls taken during the Obama ('13) and Bush ('05) presidencies, but down from 85% in 1997.
Just 44% think the UN does a good job solving global problems, though. That figure has fluctuated wildly, from a low of 26% in 2009 to a high of 58% shortly after the 9/11 attacks.
7. Stories we're watching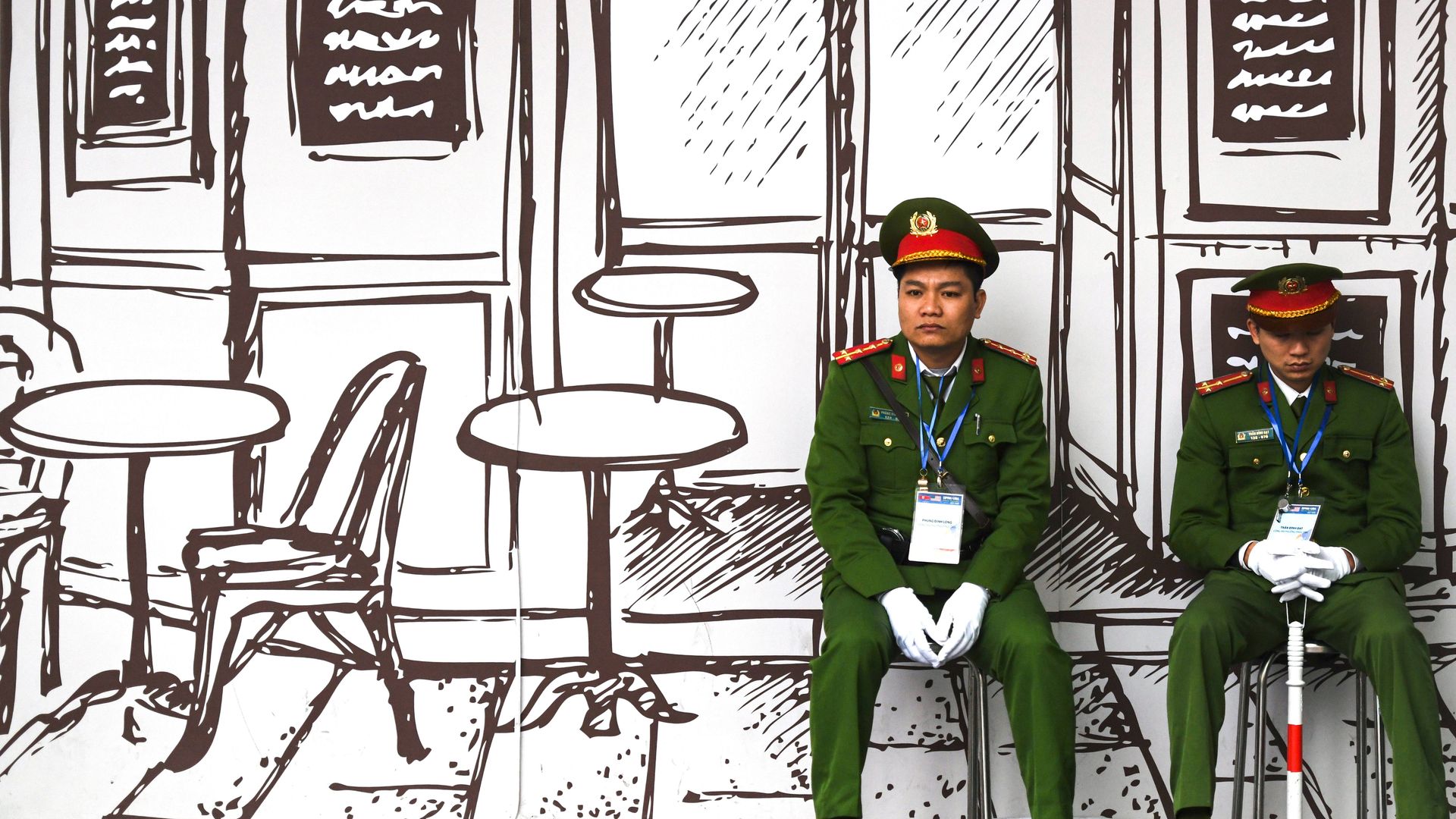 Quoted:
"For the Democrats to interview in open hearings a convicted liar & fraudster, at the same time as the very important Nuclear Summit with North Korea, is perhaps a new low in American politics and may have contributed to the 'walk.' Never done when a president is overseas. Shame!"
— President Trump
last night on Twitter
Thanks for reading — see you Thursday evening!