Welcome to Axios World, where two evenings a week we break down what you need to know about the big stories from around the globe.
We're off next week, but back and better than ever a week from Monday. Tell your friends and colleagues to sign up here, and send any recommended beach reading to: lawler@axios.com.
1 big thing: Unshackled Trump worries allies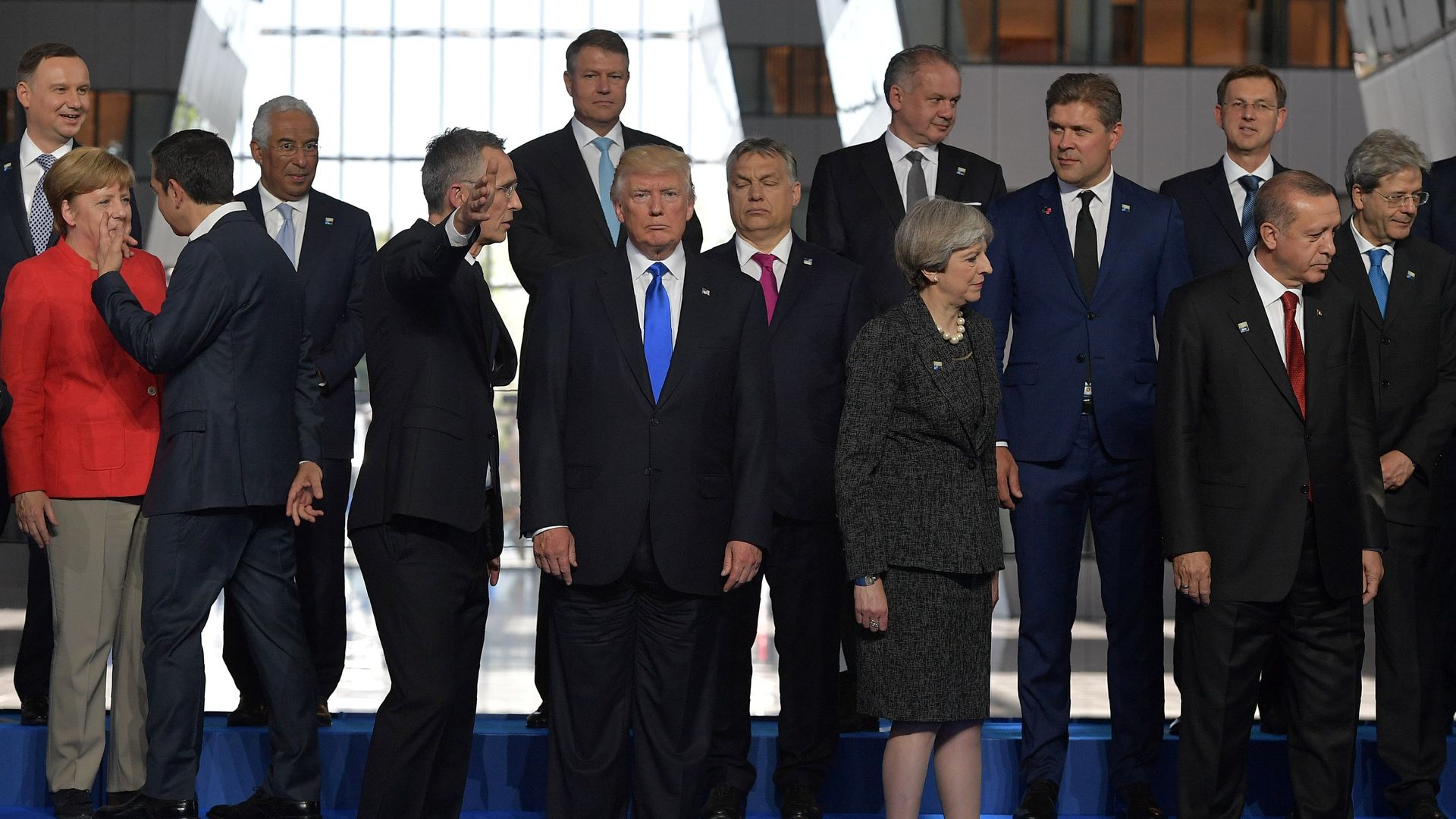 America's closest allies once believed President Trump could be contained — by the likes of James Mattis, or in a pinch Emmanuel Macron, if not by the weight of his office and America's role in the world. In recent months, they've all but given up on that idea.
The bottom line: Despite repeated exhortations from U.S. officials to "pay attention to our actions, not the tweets," Axios' Jonathan Swan reports that European officials are reaching a new, uncomfortable consensus: no one really speaks for Trump but Trump himself.
Case in point: After both his national security adviser and secretary of state said election meddling would be on the table when Trump meets Vladimir Putin next month, Trump fired off a tweet this morning again casting doubt on the conclusion that Russia had meddled at all.
As the Putin meeting will be back-to-back with an annual NATO summit, allies fear a repeat performance from two weeks ago, when Trump followed up a prickly G7 summit by castigating Justin Trudeau, before heaping praise on Kim Jong-un.
The tension is already building: Swan reports that Trump told other leaders at the G7 that, in his mind, "NATO is as bad as NAFTA," a deal he considers an unmitigated disaster for the U.S. and a massive waste of money.
In the same meeting, Trump said Crimea probably should belong to Russia because everyone there speaks Russian. He also said Russia should be allowed back in the G8 (it was expelled in 2014 for annexing Crimea).
Alina Polyakova of Brookings notes: "Moscow's aim is to destabilize the West. Luckily for Putin, the West is doing a lot of that work for him."
Alexander Vershbow, a former U.S. ambassador to Russia and deputy secretary general of NATO who is now at the Atlantic Council, tells Axios Putin "probably can't believe his lucky stars."
"This has been the Russian and the Soviet objective — to undermine NATO, to cause it to lose its cohesion and resolve — since NATO's founding in 1949."
Vershbow notes that many of the key topics for the NATO summit, including a new "readiness initiative" and updated command structure, were actually U.S. ideas. Despite that, he said, it's not out of the question that Trump could adopt Putin's line that exercises and troops on the bloc's eastern flank are "provocative," echoing his statements about joint exercises with South Korea.
On the other hand, he says, given all the speculation that the summit will be a disaster, even boilerplate statements of support from Trump would boost the alliance: "He likes to be a contrarian, so there's a chance."
2. The big picture: The South China Sea standoff
China's militarization of the South China Sea was top of the agenda on Defense Secretary James Mattis' trip to Beijing this week, and Chinese state media reports President Xi Jinping told him China will not give up "any inch of territory passed down from ancestors."
The backdrop: Over the past four years, China has built a series of artificial islands in the South China Sea, and turned them into airfields and naval ports. "It's breathtaking what the Chinese have done out there," says Dennis Wilder, the National Security Council's Senior Director for East Asia under George W. Bush. "There's nothing like it anywhere else in the world."
The U.S. vital interest in the region is to maintain the ability to sail commercial and naval ships through the waters. A third of the world's trade, worth about $3.4 trillion, passes through the South China Sea every year.
The bottom line: The sea is a critical component of China's plan to build a military proportional to its economic power. Beijing has no intention of giving up its claim, while the U.S. has no intention of accepting it.
Go deeper: More on the standoff, New bill targets China's influence operations.
3. Latin America: Venezuela's inflation crisis
Less than two years ago, a cup of coffee cost 450 bolivars in Venezuela. Today, as the nation's hyperinflation continues to skyrocket, a cafe con leche costs 1 million bolivars — or 29 U.S. cents, according to Bloomberg.
By the numbers, from Axios' Stef Kight:
The most common note in circulation is 100 bolivars, so you'd need 10,000 of them for your cup of coffee, per Bloomberg.
The current yearly inflation rate in Venezuela is now 43,378%, and the rate over last three months extrapolated over a full year would be a staggering 482,153%.
The big picture: It's nearly impossible to compile the cash needed to grab a coffee given allowances at banks in the country. Back in January, CNN Money's Stefano Pozzebano detailed his attempt to get cash in the Venezuelan capital, ultimately getting 10,000 bolivars — that day's allowance, then worth 6 cents — after visiting four banks over four hours.
Go deeper: More on Venezuela's crisis.
4. Two views on freedom
Creeping authoritarianism is leading to a gradual erosion of liberty around the world, as Freedom House has catalogued year after year. But another annual study, from Gallup, indicates that people are actually becoming more satisfied with the freedom they feel in their own lives.
Here's how the world's biggest economic powers rank, from most to least satisfied with levels of personal freedom :
Canada: 94% ("Free," per Freedom House)
USA: 87% ("Free")
India: 86% ("Free")
China: 85% ("Not Free")
Germany: 83% ("Free")
France: 83% ("Free")
U.K.: 81% ("Free")
Japan: 77% ("Free")
Brazil: 76% ("Free")
Russia: 69% ("Not Free")
Italy: 63% ("Free")
The least satisfied countries were Afghanistan ("Not Free"), Greece ( "Free"), Algeria ("Not Free"), and South Sudan ("Not Free").
Worth noting: Gallup notes that "social desirability to answer this question positively" and "fear about how a negative answer might be interpreted" could influence responses (hence why Uzbekistan and Cambodia join the likes of Denmark and Canada among the most satisfied countries).
5. Global: Balancing work and life
I'm about to head on vacation (have I mentioned that yet?), so it seems as good a time as any to note that work-life balance varies widely across the developed world.
The OECD looks at the percentage of workers who work long hours as well as the average time spent on leisure or personal activities — including eating and sleeping — in order to determine work-life balance.
The Netherlands comes out on top, pairing high employment with ample leisure time. On average, the Dutch work 353 hours fewer than Americans every year.
The French spend the most time on leisure and personal care, with an average of 16.36 hours per day, while people in Turkey and Mexico spend the least at fewer than 13 hours per day.
In the U.S., 11% of employees work 50+ hours a week and the average American dedicates 40% of the day to work.
6. World Cup: Sometimes it's more than a game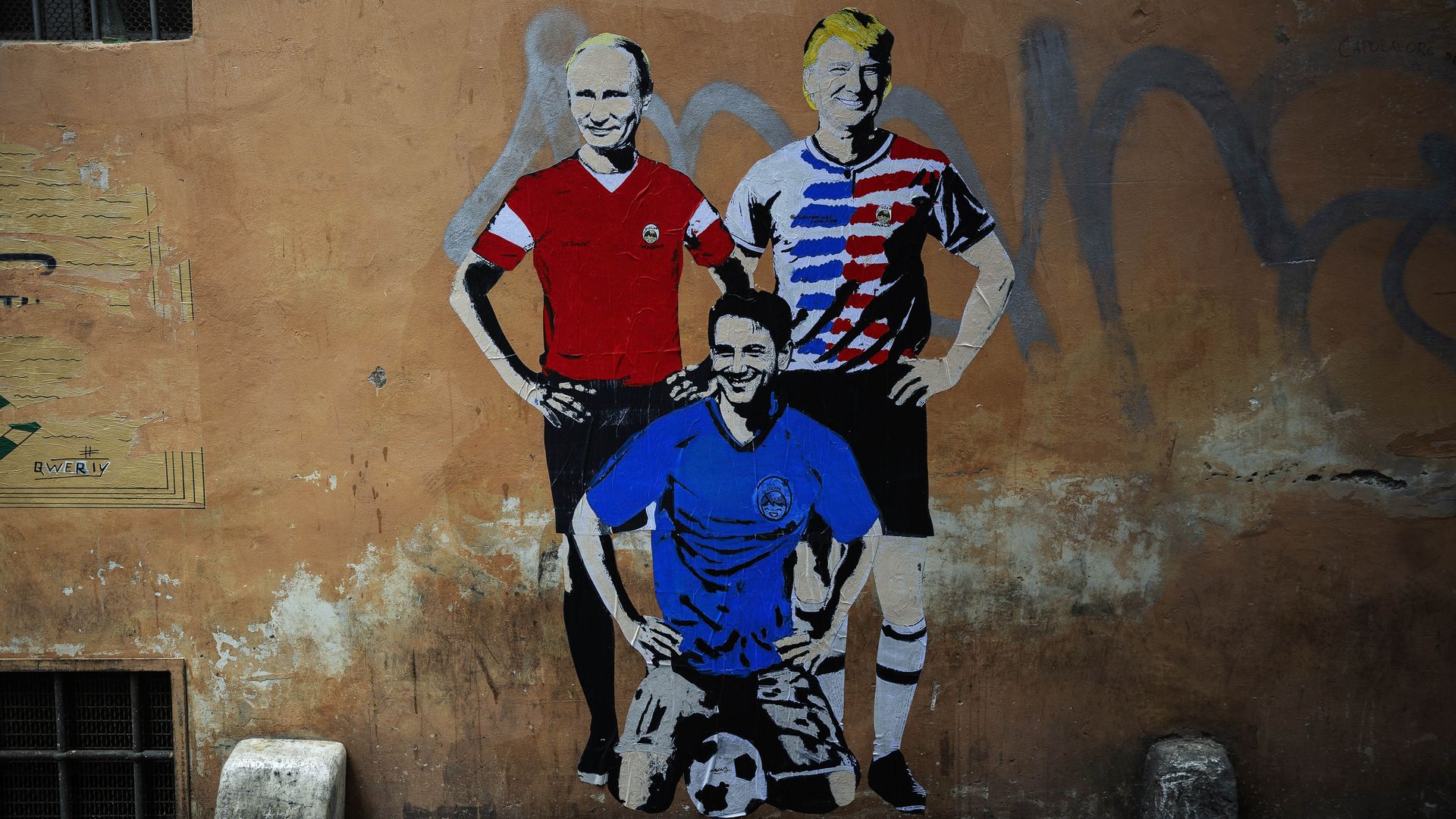 Three thoughts on the shock early exit of defending champions Germany from the World Cup...
Soccer builds bridges: South Korea was already out of the tournament when they beat Germany yesterday, but that unlikely victory propelled Mexico from the brink of elimination into the next round. In Mexico City, jubilant fans gathered outside the South Korean embassy and cheered the ambassador like a king.
Coach Joachim Löw took over the same year (2005) as Angela Merkel became Chancellor. Both have had remarkable runs, which could now be coming to an end. Politics and the World Cup are deeply intertwined: the national disappointment was timed particularly badly for Merkel, who is attempting to salvage her divided coalition.
Hope springs eternal: Germany's out and other favorites (Spain, Brazil, Argentina) look deeply vulnerable. Could this be the year a team outside the traditional top tier breaks through?
Next round's matchups: Uruguay vs. Portugal, France vs. Argentina, Brazil vs. Mexico, Belgium vs. Japan, Spain vs. Russia, Croatia vs. Denmark, Sweden vs. Switzerland, Colombia vs. England.
7. Stories we're watching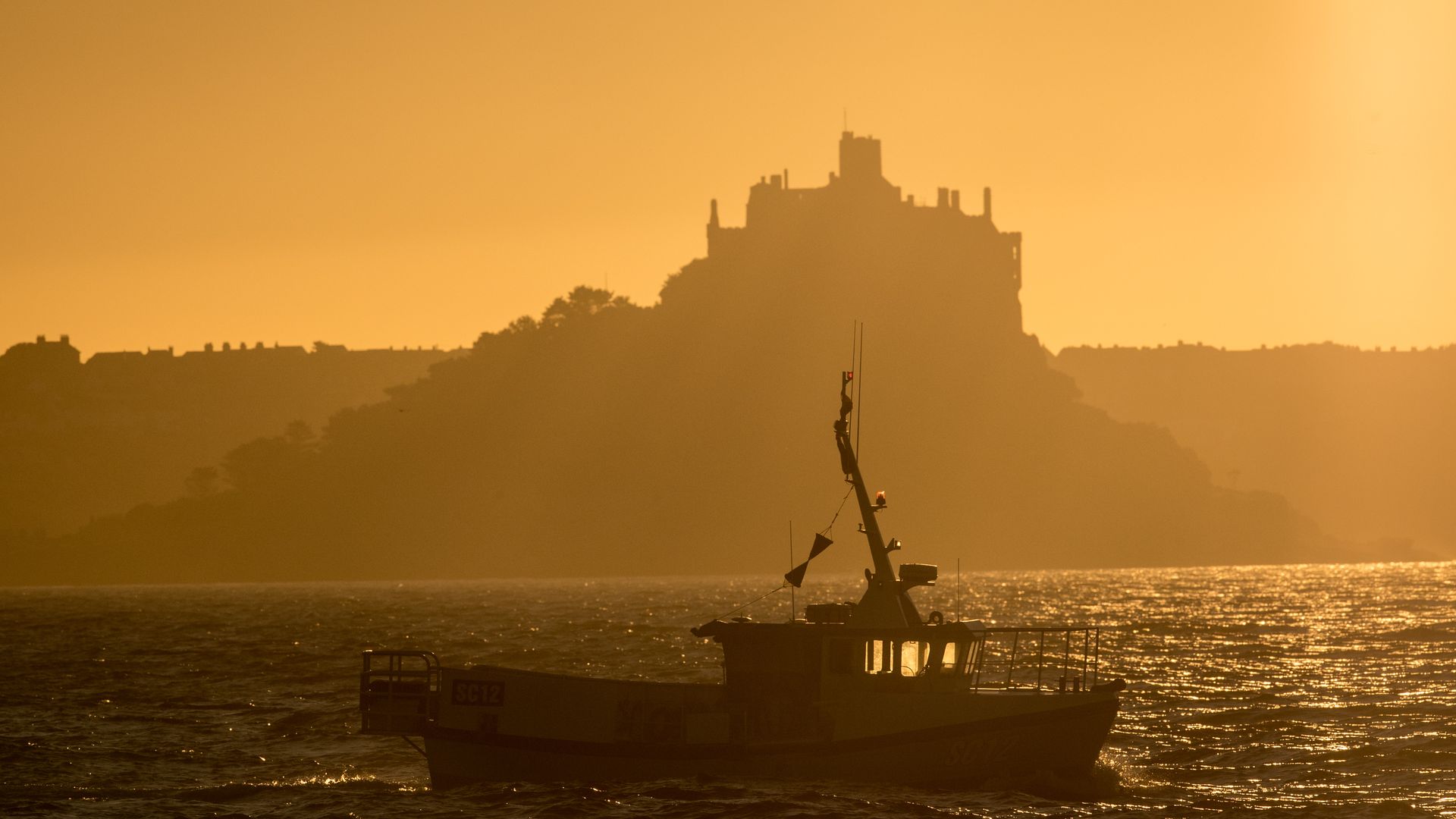 Quoted:
"If you can't come legally, don't come at all."
— Mike Pence to Central Americans
Thanks for reading — see you July 9th.