Welcome to Axios World, where two evenings a week we break down what you need to know about the big stories from around the globe. This is our lucky 80th edition.
1 big thing: Trump distrusts his intelligence chiefs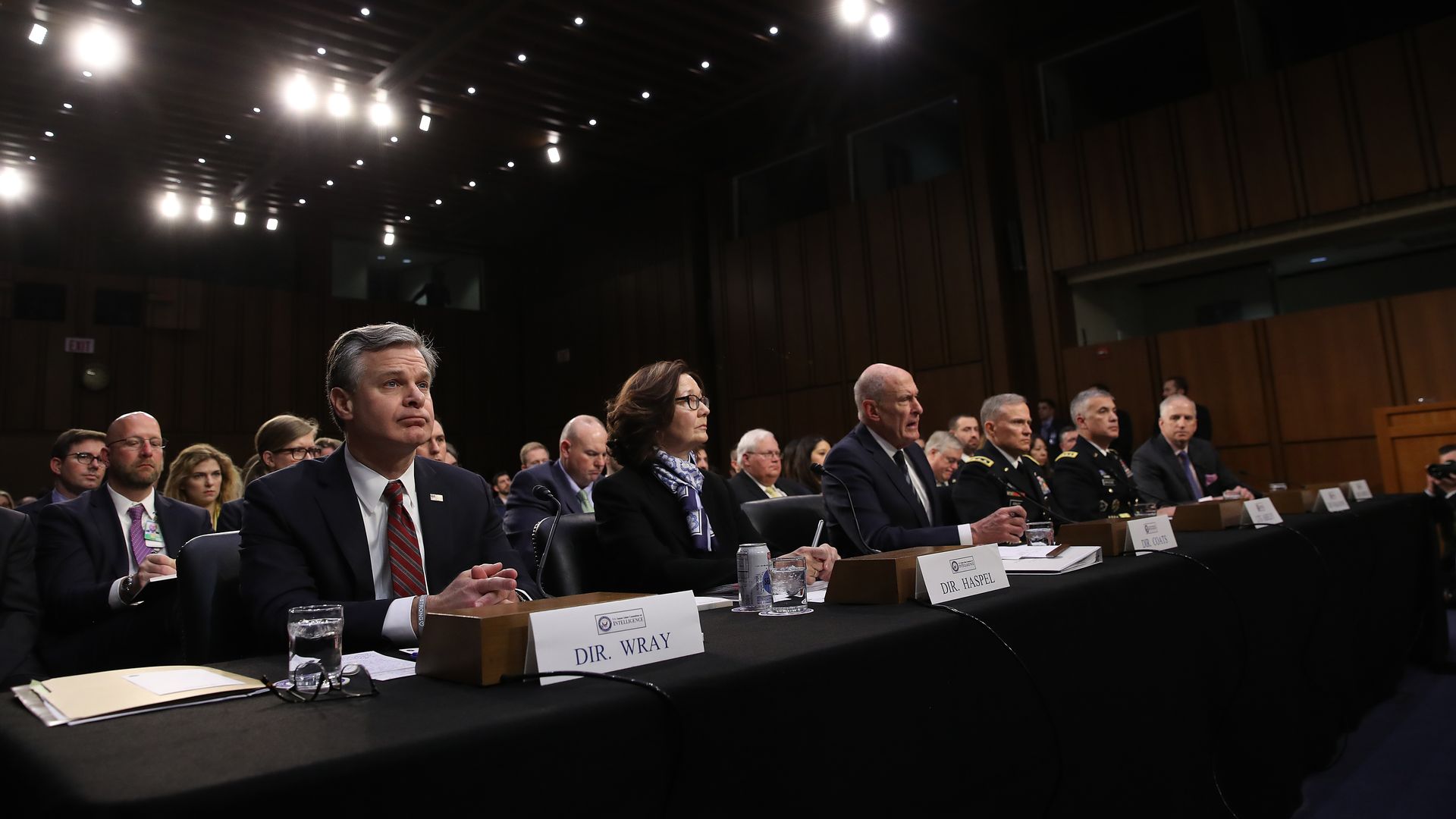 Asked in the Oval Office today if he trusts director of National Intelligence Dan Coats and CIA director Gina Haspel to give him good advice, President Trump said, "No, I disagree with certain things that they said," adding, "time will prove me right."
Driving the news: Coats, speaking for Haspel and four other intelligence chiefs arrayed on either side of him, said at a Senate hearing Tuesday that North Korea is unlikely to give up its nuclear weapons, the Islamic State, or ISIS, is "intent on resurging," Iran isn't currently pursuing a nuclear weapon and climate change is a national security threat.
The gaps between Coats' assessments and Trump's public statements quickly filled headlines and cable news chyrons. Next came at least one call for Coats' ouster, on Fox, and tweets from Trump suggesting "The Intelligence people" are "extremely passive and naive when it comes to the dangers of Iran," and "Perhaps Intelligence should go back to school."
Between the lines: Trump has been fairly consistent, at least publicly, in his approach to intelligence assessments: embrace them when convenient and reject them when they're not.
I asked two former directors of National Intelligence what they make of the position Coats, the current holder of that position, finds himself in.
John Negroponte, who served as the first DNI under George W. Bush, didn't like the premise of my question: "The position Coats finds himself in is director of National Intelligence, and the position Trump finds himself in is president of the United States," he told me. "You've got to take into account the difference."
"I honestly don't think [Coats] is challenging what Trump is saying," he continued, noting that Coats didn't actually contradict Trump on the Iran deal, for example. "I think there is a difference between analyzing a situation on the one hand and carrying out a policy on the other."
Negroponte said tensions between intelligence officials and those in the policy and diplomatic arenas arise in part because "so much of the discussion of intelligence matters is now in the public domain." Too much, in his opinion.
Yes, but: Negroponte did say that he couldn't recall ever having to offer an assessment that ran counter to the White House line — or being challenged so publicly by the commander in chief. He also praised Coats, whom he said "calls it how he sees it" and "speaks truth to power."
James Clapper, the longest-serving DNI and an occasional Trump sparring partner since he stepped down at the end of the Obama administration, was far more critical:
"This is simply a reflection of the no-fact-zone reality bubble where Trump dwells. The IC [intelligence community] really isn't being singled out here; he cannot tolerate anyone or anything that pushes back from his distorted world view."
"The IC leaders — notably Dan — acquitted themselves with great distinction. They did their constitutional duty: to tell truth to power, regardless of whether the power listens to the truth. I was very proud of them."
"That said, policymakers — to include policymaker No. 1 — always have the prerogative of accepting, rejecting or just ignoring the intelligence that is teed up for them. If they do so routinely, on many topics, they imperil the nation, and their position."
Breaking: Trump has tweeted, "Just concluded a great meeting with my Intel team in the Oval Office who told me that what they said on Tuesday at the Senate Hearing was mischaracterized by the media — and we are very much in agreement on Iran, ISIS, North Korea, etc."
Go deeper: All the times Trump's intelligence officials contradicted him
Situational awareness: Landmark treaty on death's door
"Russia and the United States failed to bridge their differences over a landmark Cold War-era arms treaty at last-ditch talks in Beijing, Russia's deputy foreign minister was quoted as saying by Russian news agencies Thursday. The impasse sets the stage for the United States to begin pulling out of the Intermediate-range Nuclear Forces treaty (INF) as early as Saturday unless Moscow moves to destroy a missile Washington says is violating the accord."
—
Reuters
Go deeper:
2. Venezuela: An offer from Washington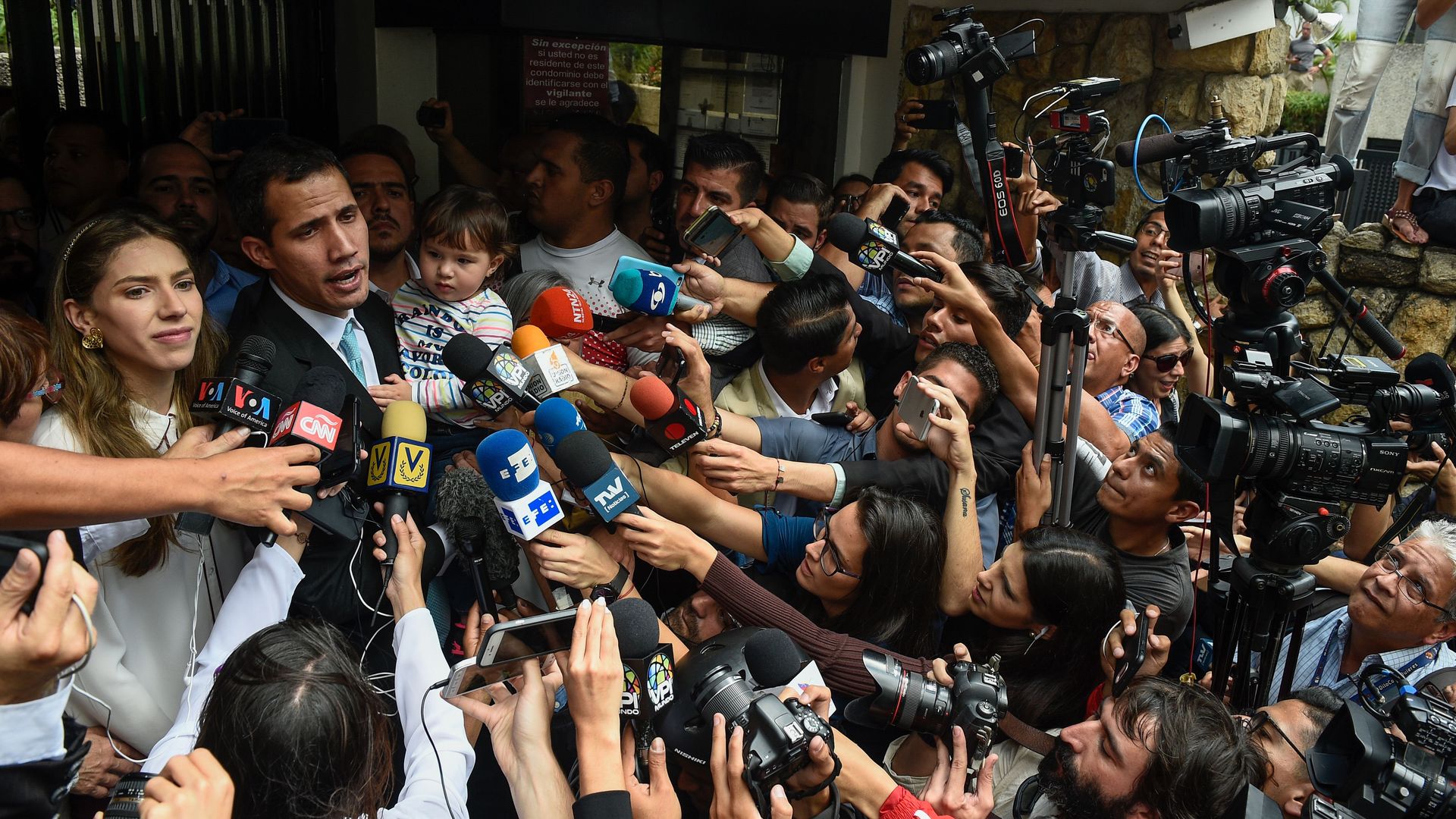 The White House is making Venezuelan leader Nicolás Maduro and members of his inner circle an offer: Accept amnesty from National Assembly President Juan Guaidó and move somewhere nice or dig in your heels and face the consequences.
"I hope this is the end. There's nothing we'd like more than for Maduro and those dozen people or so to pick up, leave the country" and allow for a democratic transition, a senior administration official told reporters today.
If the regime endangers Guaidó or otherwise gives the U.S. reason to escalate the situation, though, "We'll be creative. We're not going to announce it beforehand."
"Clearly the writing is on the wall," the official said, pointing to "desperate movements," including the arrival of Russian planes to "take out the last bits of gold and other commodities that Maduro and his cronies can get their hands on."
What to watch: The official said the administration is focused "100%" on preparing humanitarian aid to be delivered once Maduro is out of the way. I asked whether there were any discussions about sending troops to Colombia (based on John Bolton's notepad) and got a lengthy non-denial.
The latest: Guaidó was reportedly threatened by paramilitaries who entered his home today. Meanwhile, in Brussels, the European parliament voted to recognize him as president.
Go deeper: I joined Axios' Dan Primack on the Pro Rata podcast to discuss Venezuela.
3. Coups are a thing of the past
If the Venezuelan military were ultimately to depose Maduro, it would be a truly anomalous event.
The big picture: Coups are becoming far rarer — particularly in Latin America, where there hasn't even been an attempt in nearly a decade, according to data compiled by Jonathan Powell of the University of Central Florida and Clayton Thyne of the University of Kentucky.
3 reasons
The end of the Cold War meant not only that global powers were less likely to be actively fomenting coups, but also that would-be coup plotters couldn't bank on assistance after taking power.
Democratic and economic development changed the calculus. "Coups are expensive, they're dangerous," Thyne says. "Particularly if you can just wait for the next election."
International organizations like the Organization of American States and the African Union have "set strong precedents that this stuff is not going to be tolerated," Powell says.
The bottom line: The days of opportunistic military officers making a play for power seem to have come to an end. "I think what we're going to see is that the coups that happen have a pretty strong argument behind them — look at the recent ones in Egypt, Honduras, Venezuela, Zimbabwe — so that the international backlash is limited," says Thyne.
What to watch: Those extreme circumstances typically involve an economic collapse, or crisis of legitimacy. "Coups have obviously become extremely rare, particularly in Latin America. But Venezuela has a lot of the conditions we'd expect if a coup were going to occur," says Powell.
Go deeper: Check out our interactive graphic.
4. Asia: Guaranteed income pledge shakes up India's election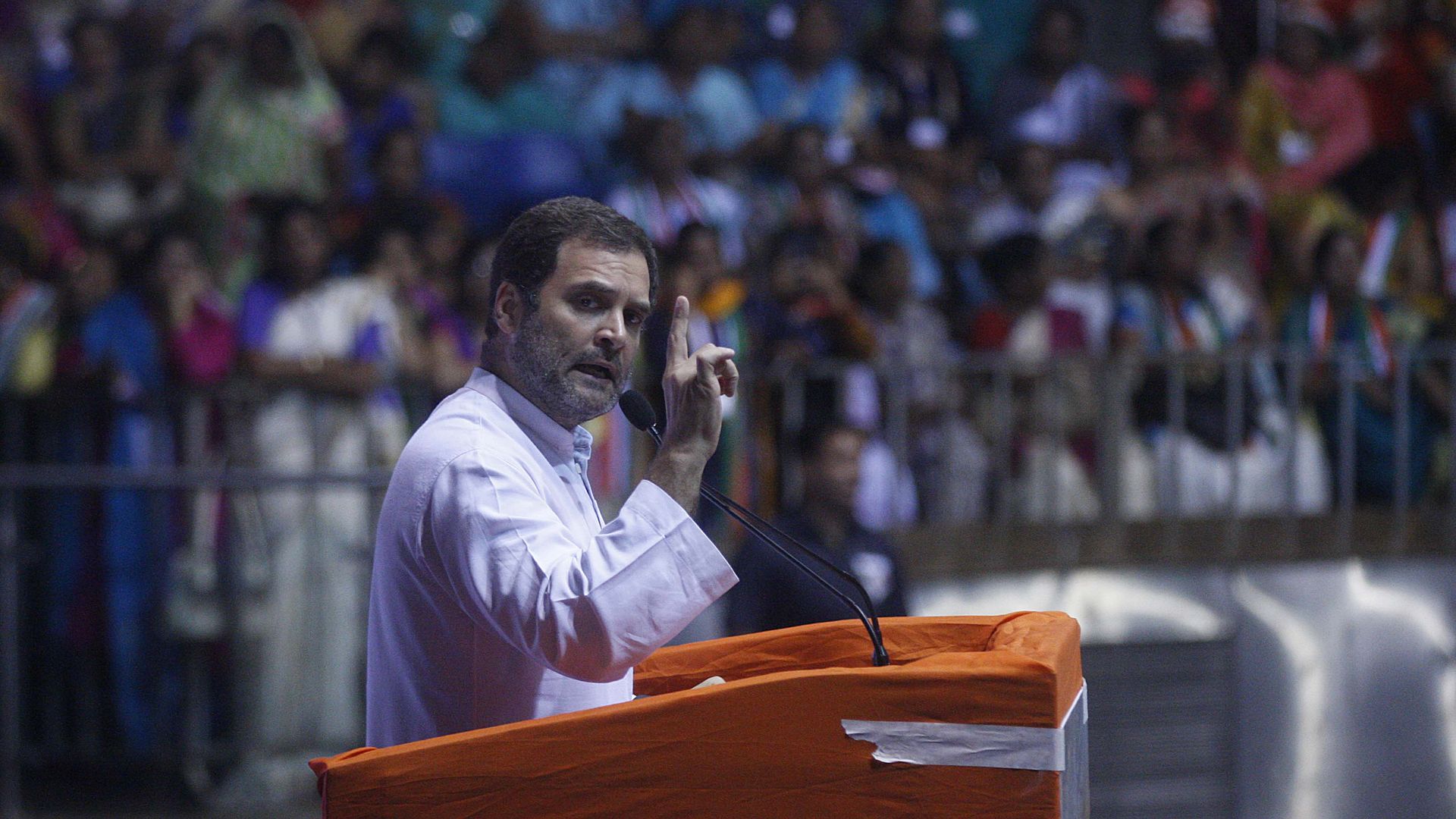 A political battle is brewing in India over a pledge from Rahul Gandhi, leader of the main opposition party, the Indian National Congress, to deliver a guaranteed income to every poor citizen in India if his party wins a parliamentary election set for later this year.
Gabe Lipton of GZERO Media breaks it down:
The proposal, if implemented, would be by far the largest-ever government attempt to guarantee citizens' incomes. Around 50 million Indians, or 3.5% of the population, live in extreme poverty. The scheme would likely extend beyond the poorest of the poor.
Guaranteed income has been gaining steady support in India for years, in part because it's seen as a silver bullet for rampant corruption and government waste.
But with a big election looming, the debate is as much about political maneuvering as good governance.
The rural voters who would benefit most from the proposal turned out in big numbers for the Congress party in a recent spate of state-level election victories that's brought Congress back from the political wilderness.
The opposition's announcement was strategically timed to underscore its generosity ahead of the release of a government budget expected to be chock-full of popular handouts.
The bottom line: The call for guaranteed income is now set to be a defining issue in India's upcoming election season. It will be an important test case for politicians around the world who see it as a possibly transformative policy solution. 
Go deeper: Carnegie's Milan Vaishnav analyzes the odds this gets implemented. He's not optimistic.
5. Europe: Brexiting is hard to do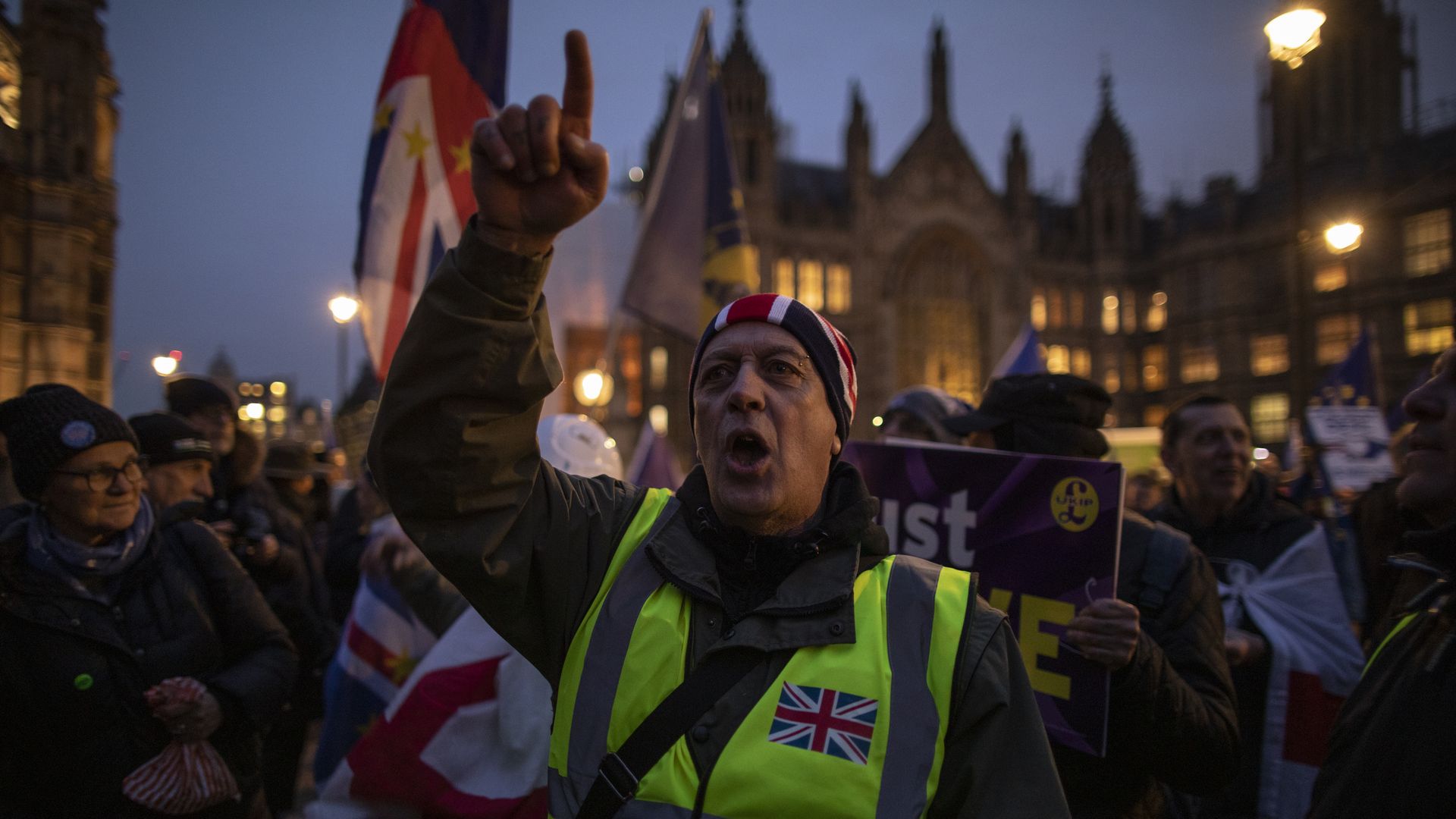 Theresa May finally won a Brexit mandate in the House of Commons this week, but it didn't get the U.K. any closer to a smooth exit from the EU.
Parliament voted (mostly along party lines) Tuesday to support May's effort to find "alternative arrangements" with the EU on the controversial "Irish backstop."
The backstop would prevent a hard border between the Republic of Ireland and Northern Ireland, which is part of the U.K. Hardline Brexiteers hate the backstop because it would keep the U.K. tied to EU trading rules for as long as it remains in place — but there's absolutely no consensus on how to get around it.
European Commission President Donald Tusk immediately said, "The withdrawal agreement is not open for re-negotiation." It's unclear whether May can even get the EU to the table, let alone get the kind of changes she needs for a parliamentary majority.
Between the lines: Boris Johnson brushed off Tusk's statement, saying, "It takes two to tango." That, it must be said, appeared to be Tusk's point.
What's next: Parliament also voted to express its opposition to "no deal," but rejected a plan to push the official exit date beyond March 29. The conventional wisdom has long been that both sides have every incentive to avoid "no deal," yet it's the default option absent a breakthrough.
6. Oceania: Rationing the internet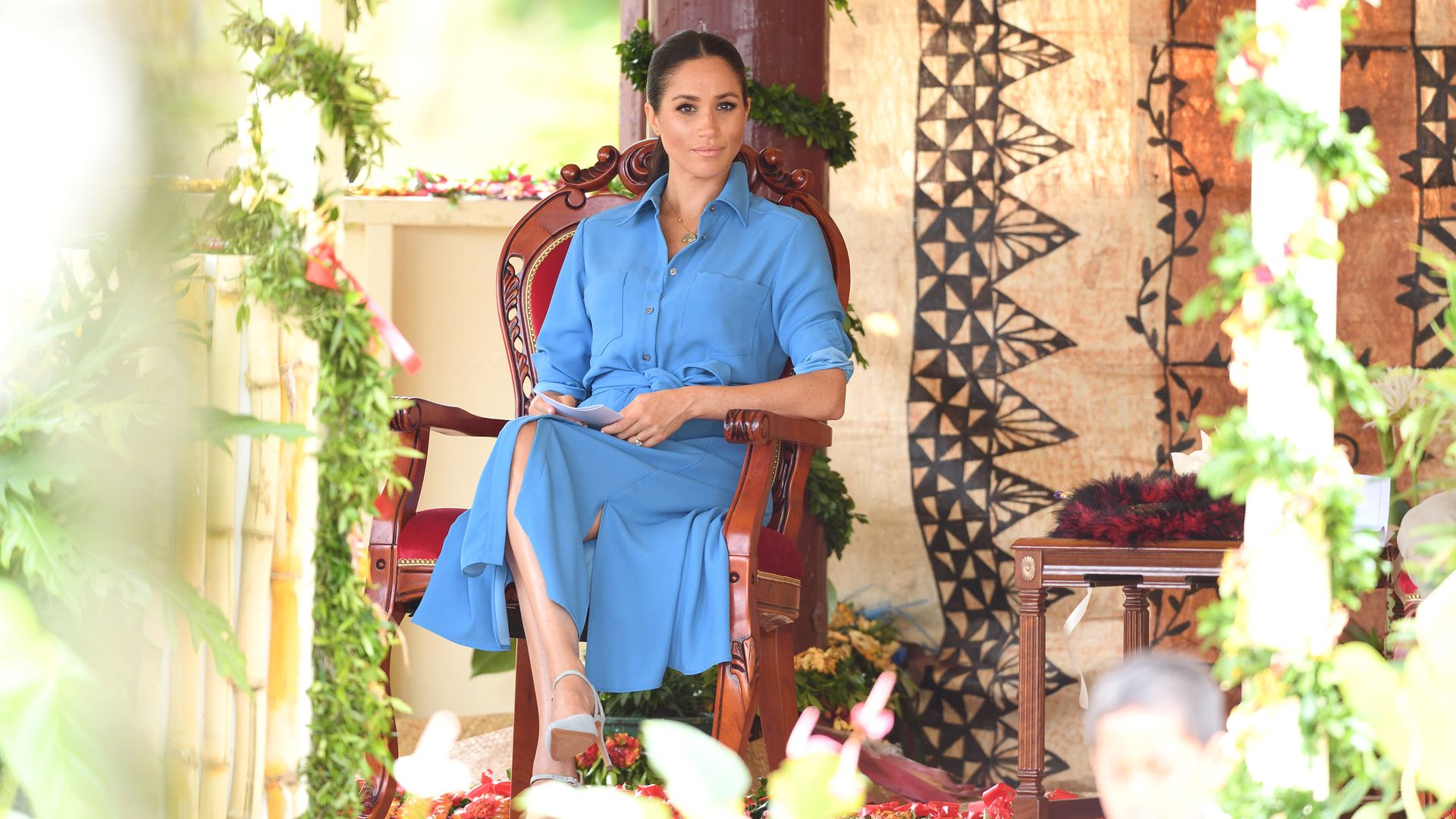 When's the last time you went a full day without using the internet? How about 11 days?
Sounds lovely, but the NY Times reports that for many in Tonga it has been anything but:
"An underwater fiber-optic cable that connects Tongans to high-speed internet was severed on Jan. 20, plunging the roughly 100,000 residents into digital darkness. Internet connections were lost on the country's more than 170 islands, international calls wouldn't go through and credit card payments couldn't be processed."
"Eleven days later, officials are still working to repair the damage as trickles of connectivity have returned, including phone service. ... Long lines have formed for brief rations of internet access at the headquarters of the Tonga Communications Corporation, the national internet service provider."
"We're all so hooked on the internet for what we're doing," resident Mary Lyn Fonua said. "It just shows how rapidly, since they put our cable in, we've come to depend on these high-speed communications."
7. Stories we're watching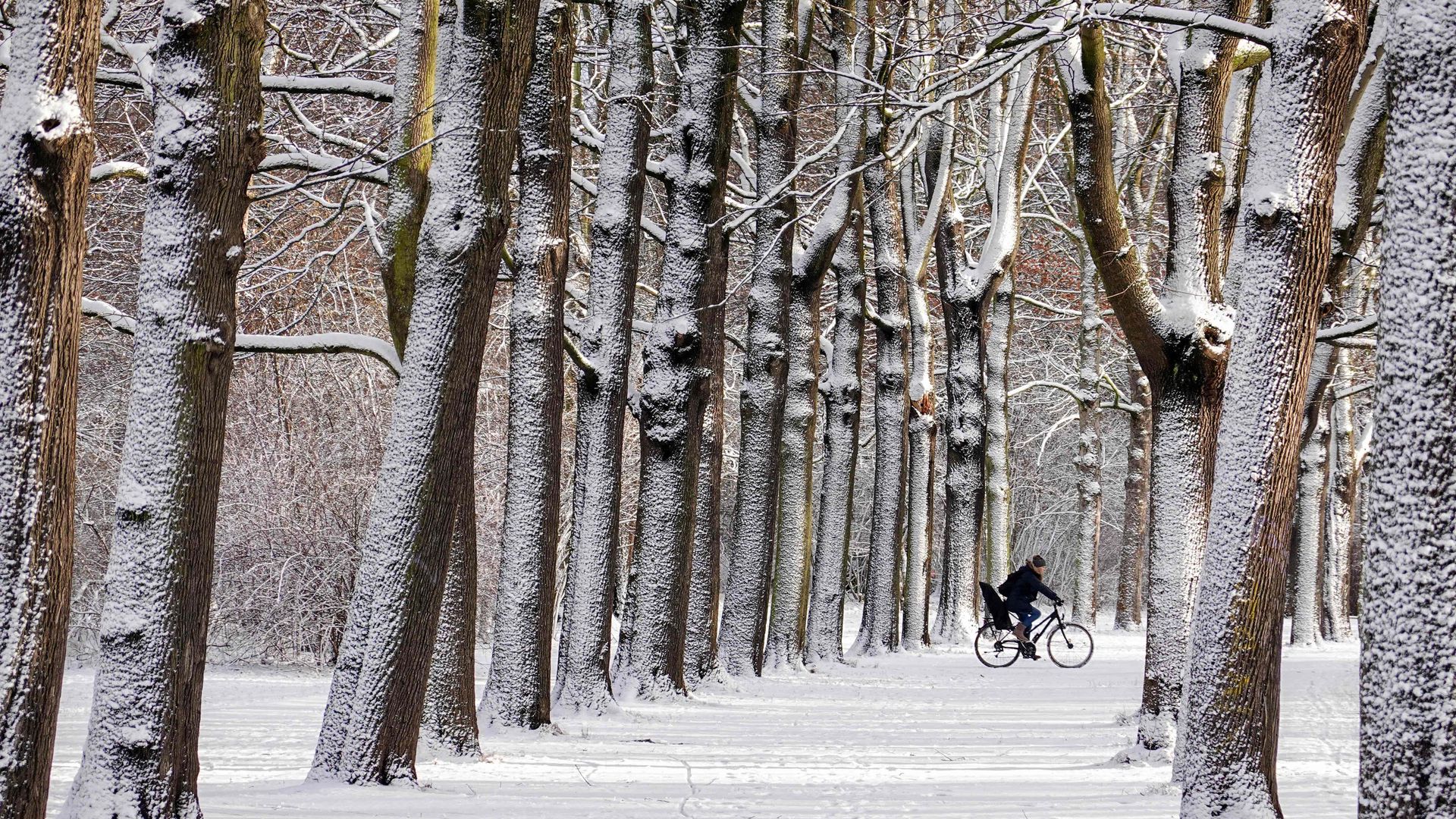 Quoted:
"This isn't going to be a small deal with China. This is either going to be a very big deal, or it's going to be a deal that we'll just postpone for a little while."
— Trump, speaking in the Oval Office today with Chinese Vice Premier Liu He. He said he'd be meeting Xi Jinping "in the near future."
Thanks for reading — have a lovely weekend.