Welcome to Axios World, where two evenings a week we break down what you need to know about the big stories from around the globe.
Thanks for joining me! Please tell your friends and colleagues to sign up here, and I'd love your tips and feedback: [email protected]
1 big thing: U.K. warning of Brexit crash landing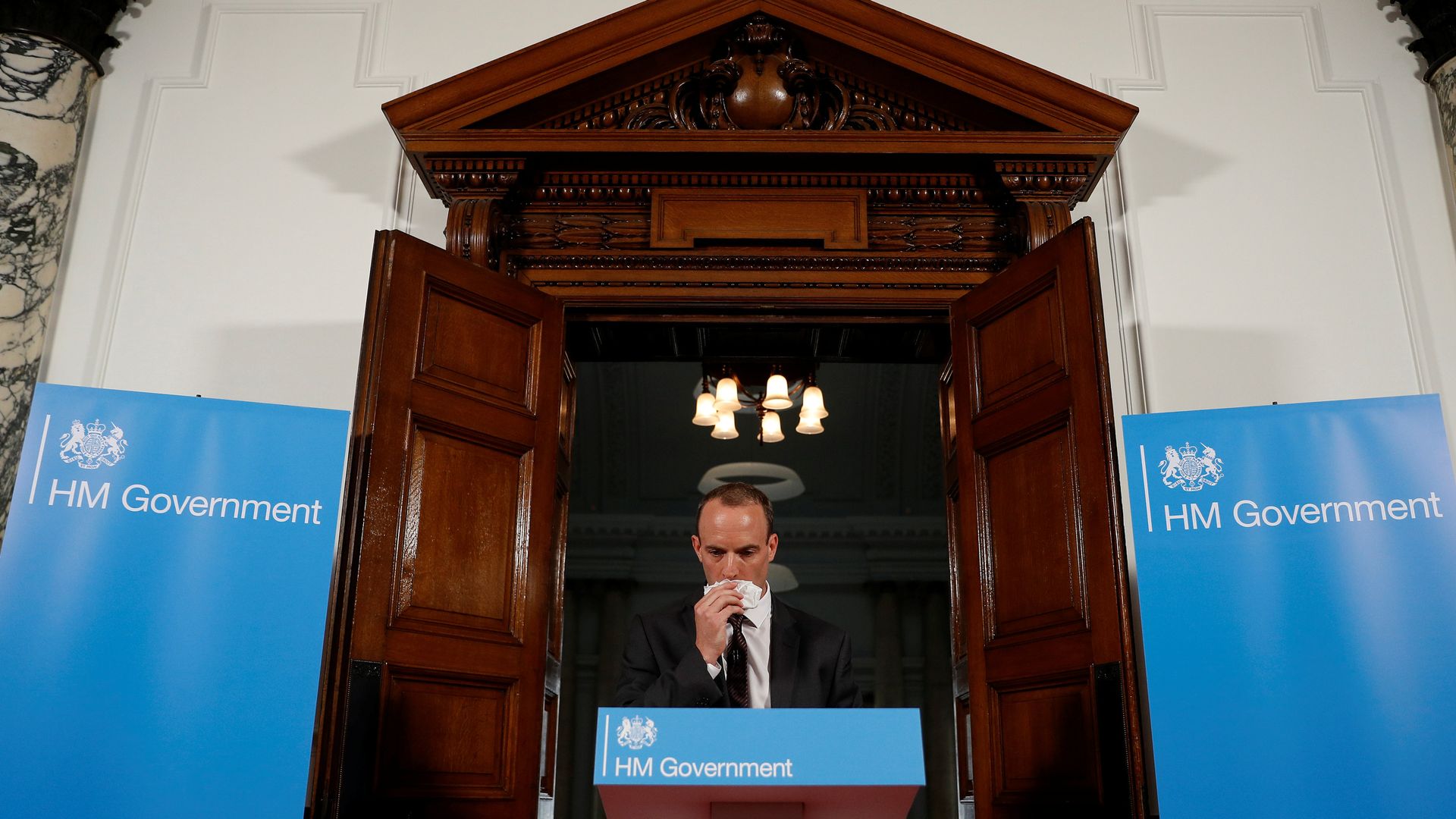 With the Brexit deadline approaching and breakthroughs proving elusive, U.K. officials today released a contingency plan for crashing out of Europe without an exit deal.
Between the lines: The immediate consequences of a "no-deal Brexit" include possible shortages of medicine and benefits losses for British pensioners living in Europe. A bad breakup between the world's 5th largest economy and a bloc that accounts for nearly half its trade would also have long-lasting consequences that stretch across the continent and beyond.
Sebastian Payne, political editorial writer for the Financial Times, emails from London that negotiations remain deadlocked:
"If no withdrawal agreement is struck before 29 March 2019, Britain will spill out of the bloc without formal trading arrangements. It would be forced to move onto basic World Trade Organization terms, which would introduce tariffs and customs checks overnight. Both sides expect it would bring immediate administrative and economic disruption."
"The May government is upping preparations for such a scenario — mostly to threaten Brussels that it is prepared to walk away from the talks if it does not broker a good deal. The U.K. can prepare as much as it wants for a no-deal Brexit but critically, it cannot control what the EU would or would not do."
The bottom line: "The chances there will be no deal by March are around 50/50 right now. Ultimately, however, a deal is in everyone's interests. It would risk so much disruption that nobody — especially Theresa May — is willing to let it happen. Instead, if progress is still lacking throughout the fall, the Brexit negotiations would most likely be extended until a smooth Brexit deal is in sight."
What they're saying: U.K. Foreign Secretary Jeremy Hunt, who campaigned for "remain" during the Brexit battle, has been warning far and wide of the consequences of "no-deal" for European relations.
But when I interviewed him on Tuesday evening, he insisted that the U.K. would be better off outside of Europe even if no deal is reached.
"I think, geostrategically, it could be hugely damaging. But in terms of Britain's narrow self-interest, our ability to prosper and survive and thrive economically, I'm totally confident we can do it."
Q: If we're having to talk about survival, surely you'd be better off in Europe?
"If the only variable in your equation is the degree of friction with your neighboring markets... the lower the friction, the faster you'll grow. But it isn't the only variable. ... We'd have to make sure we make other reforms to other parts of the economy that meant that we'd more than made up for it."
2. More from the interview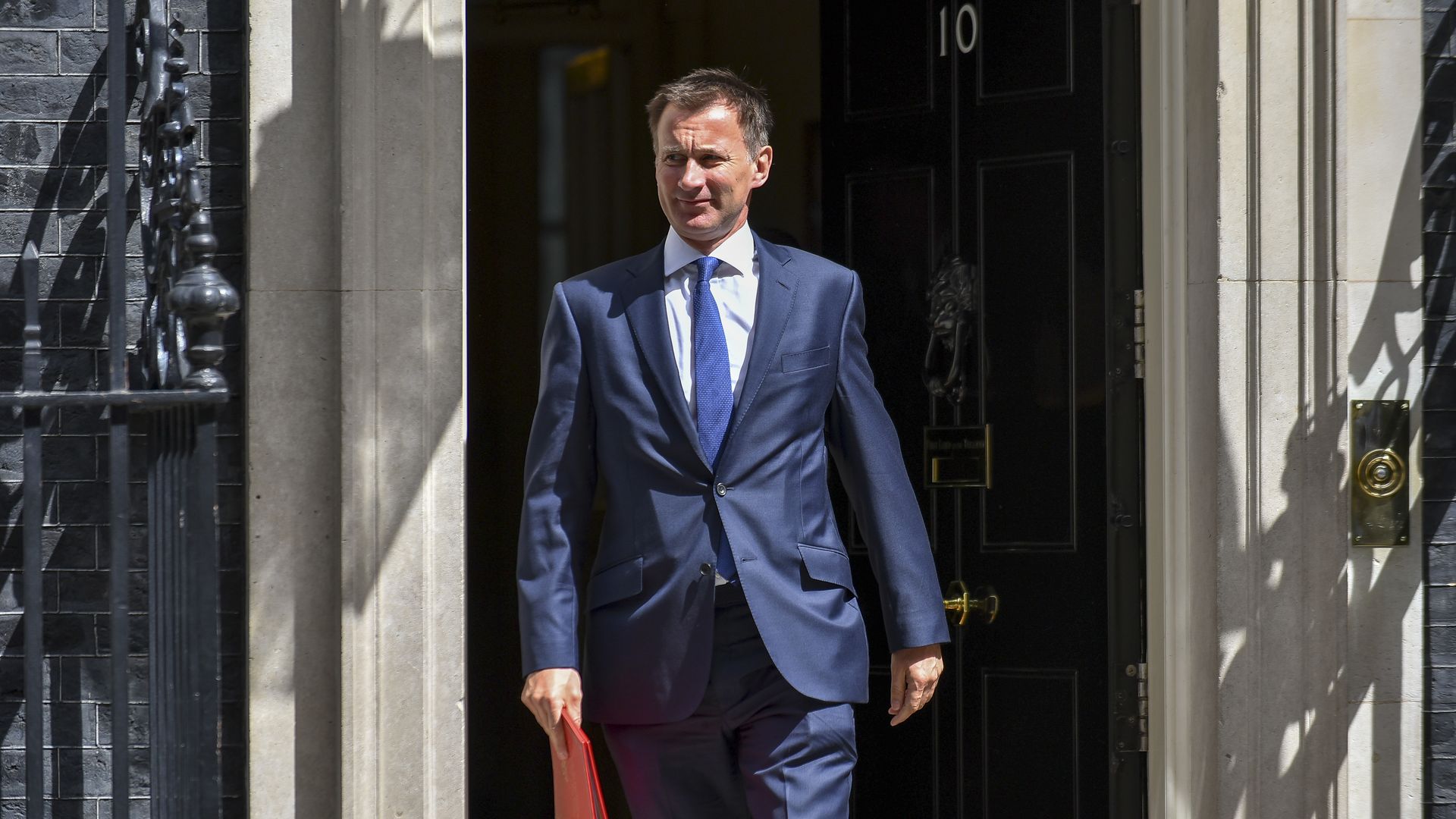 During our interview, which took place at the U.K. ambassador's residence in Washington, Hunt defended President Trump's approach to trade — including over looming auto tariffs — and Russia. Those highlights here.
I asked Hunt how history will remember David Cameron, whose cabinet he served in for six years:
"Well, I think that's a really interesting question actually. First of all I think that history will be more generous to David than it perhaps has been at the moment... we're right in the closing stages of the Brexit negotiations, and of course everyone is nervous about how it's going to turn out."
"I think Brexit will turn out to be a success, and people will look at David Cameron in that context and they'll say: 'Well, he may not have supported Brexit, but he gave Britain a choice, and he's also the prime minister who took Britain back from the brink in that very challenging period in 2010 when he became prime minister.'"
"He shepherded the country through that period with a great degree of humanity and decency, and he bequeathed a very strong economy — probably that very strong economy that's making Brexit doable."
I also asked whether Trump is right that his predecessor as foreign secretary, Boris Johnson, would make "a great prime minister."
"Well Boris is someone I would never underestimate. This is a man who has changed the course of British history through his campaigning for Brexit. I don't agree with him on everything, but, you know, who knows for the future?"
Between the lines: Johnson resigned over Prime Minister Theresa May's handling of Brexit, and has since been stirring up controversy and keeping himself in the headlines. It's pretty clear he wants to make a play for the top job at some point. Rather than dismiss the question ("we already have a prime minister..."), Hunt elected to praise him. That's getting some attention back in the U.K.
3. Africa: The facts on South Africa's land dispute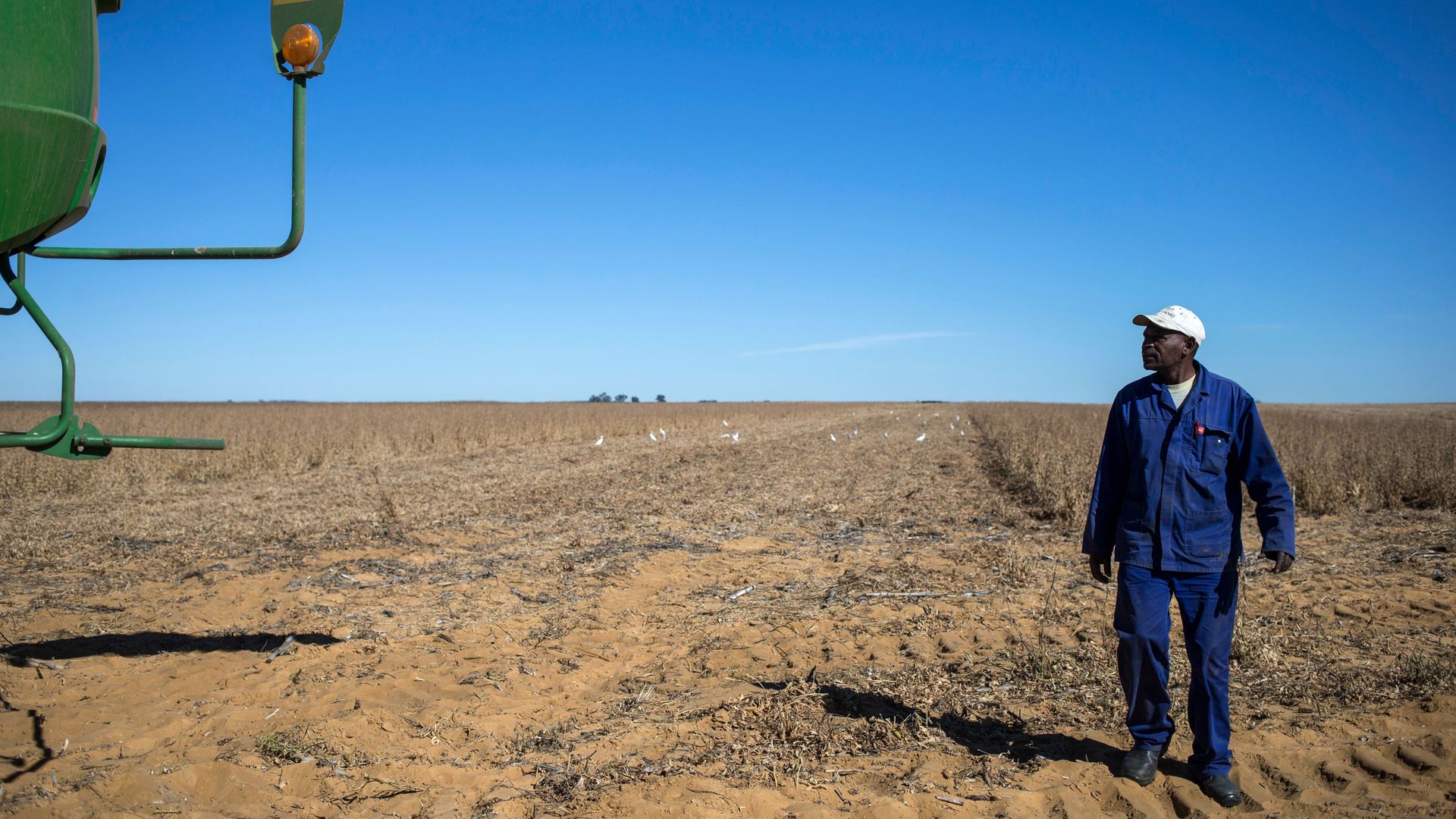 South Africa is accusing President Trump of a "misinformed" and divisive act which "reminds us of our colonial past" after the president — spurred on by Fox News coverage — tweeted that white farmers were having their land seized and falling victim to "large scale killing."
Axios' Haley Britzky helps sort out what's really going on...
White South Africans make up 8% of the population, per the Wall Street Journal, but still own 73% of agricultural land two decades after the end of Apartheid.
President Cyril Ramaphosa has "urged consideration of expropriation without compensation, so long... as the government's actions didn't threaten the economy or food security," the Washington Post reports. His ANC party has backed a constitutional change along those lines.
Last night, before Trump's tweet, Fox's Tucker Carlson "claimed incorrectly that South Africa's constitution has already been changed and called Ramaphosa a 'racist,'" per the FT, which notes that "studies have disproved claims of widespread farmer killings in South Africa, made by white nationalist groups in the US."
No farms have been seized, yet. Those that have changed hands were sold willingly by white farmers at market value.
4. Americans' polarized views of top world leaders
German Chancellor Angela Merkel has widespread approval among Democrats, but just a 27% favorable rate among Republicans, according to new data from Gallup. That's on par with Russian President Vladimir Putin.
Between the lines: Merkel's approval with both parties would likely be higher, but for the fact that 25% of Americans said they'd never heard of her, while 10% said they had no opinion.
The never heard/no opinion scores for Israel's Benjamin Netanyahu (35%), the U.K.'s Theresa May (33%) and Canada's Justin Trudeau (28%) are also far higher than those of two key adversaries: Putin (11%) and North Korea's Kim Jong-un (10%).
By the numbers (% favorable):
Putin: 13%. Republicans 27%, Democrats 4%.
Kim: 6%. Republicans 8%, Democrats 2%.
Merkel: 39%. Republicans 27%, Democrats 53%.
Trudeau: 48%. Republicans 30%, Democrats 67%.
May: 46%. Republicans 48%, Democrats 54%.
Netanyahu: 37%. Republicans 64%, Democrats 17%.
Worth noting: Putin's approval ratings among Americans were as high as 41% in the early 2000s, when relations with then-president George W. Bush were relatively warm.
Bonus: Russians say America is meddling
Just 15% of Russians believe the Kremlin interfered in the 2016 U.S. election, according to a new report from Pew, while 85% believe the U.S. government interferes in the domestic affairs of other countries.
Go deeper: Read the full piece.
5. Latin America: The world's response to Venezuela's crisis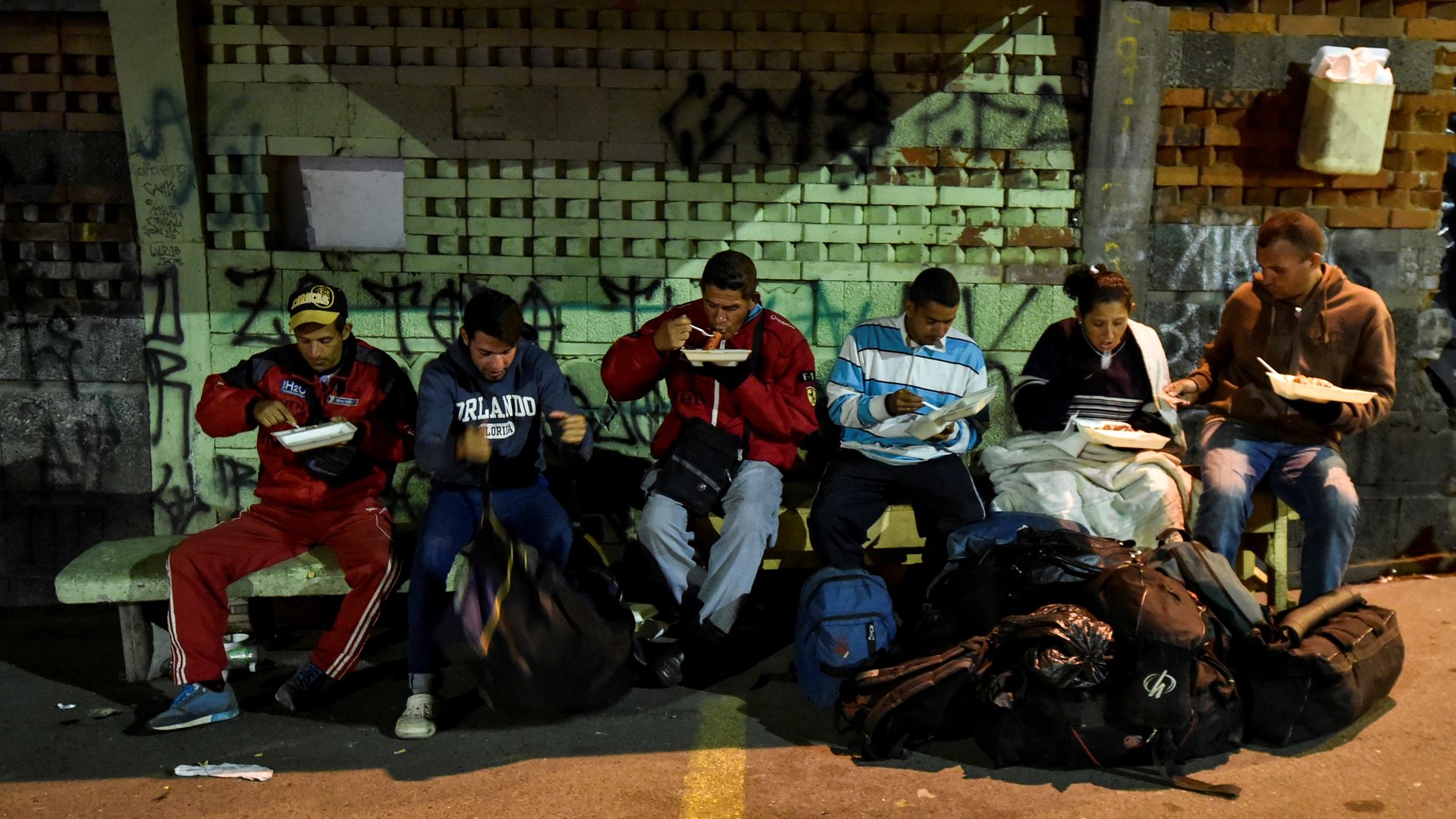 Venezuela's regime-driven economic collapse has hollowed out public services and accelerated hyperinflation, worsening its humanitarian crisis and fueling one of the largest mass migrations in South American history, American University's Michael McCarthy writes for Axios Expert Voices:
The biggest global players have chipped in financial and technical assistance to mitigate destabilization and alleviate suffering, including commitments of more than $50 million from the U.S. and $40 million from the EU.
The U.S. is dispatching a naval hospital ship to provide humanitarian assistance in neighboring Colombia, while China — a strategic ally of Venezuela — is reportedly doing the same in Venezuelan territory.
The bottom line: International actors are now trying to rush in to help. Yet, like President Maduro's recently announced measures to stabilize the economy, such assistance may be too little too late.
What to watch: Washington accepts that the Venezuela crisis is a top concern, but President Trump has yet to articulate the global stakes or define U.S. interests — as he has with China, Iran, North Korea and Russia. For now, expect more sanctions and further debate about how to time them around the next disaster event.
6. Arctic Circle: Now offering polar deliveries
A Danish cargo container vessel is about to set out on a voyage that will be a milestone in the opening of Arctic waters to marine shipping — and it's a direct result of climate change, Axios Science Editor Andrew Freedman writes.
Why it matters: The Arctic has been warming at least twice as fast as the rest of the globe, and sea ice has declined sharply since 1979. As the ice melts, Arctic shipping routes are becoming more attractive as an alternative to sailing through the Suez Canal.
The details: Danish shipping giant Maersk will send the first cargo container vessel unaided through the Arctic's Northern Sea Route, departing from Vladivostok this week and passing the Bering Strait on Sept. 1.
This route used to require the help of nuclear-powered icebreakers, and was not economically attractive for cargo shipping companies.
What we're watching: According to Maersk, the company doesn't have a timetable for when routine Arctic shipping runs will be feasible, and experts told Axios that the idea that such routes will be heavily traveled in a decade or two are flawed.
Even with thinner, sparser sea ice, shifts in Arctic winds can quickly transport ice into shipping lanes, causing delays. The era of just-in-time shipping makes that problematic, said Malte Humpert, the founder and senior scholar at The Arctic Institute.
7. Stories we're watching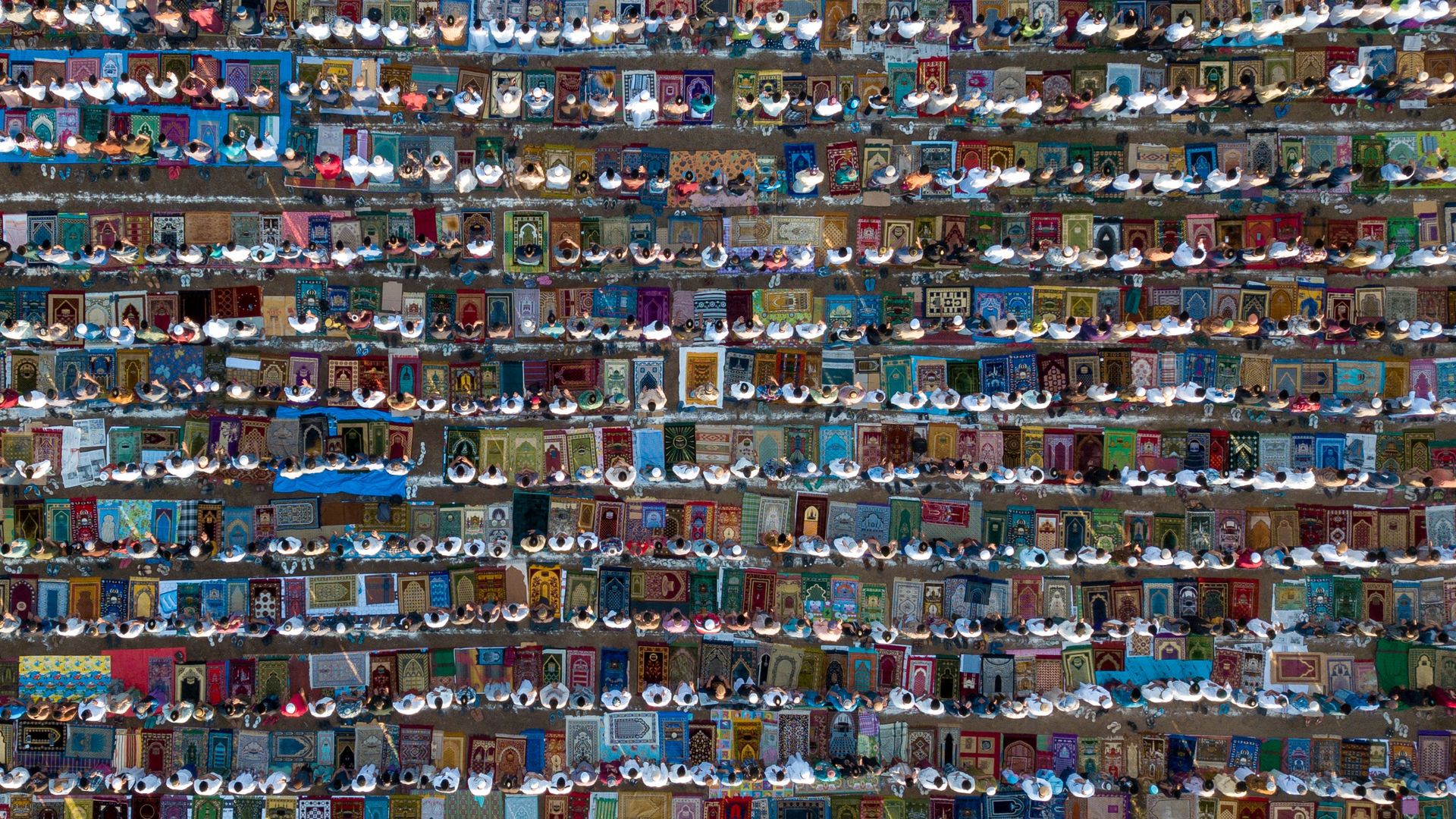 Quoted:
"Our position in Europe did not change because of a wedding."
— Austrian Prime Minister Sebastian Kurz on the
wedding dance-seen-round-the-world
between his foreign minister, Karin Kneissl, and Vladimir Putin.
Thanks for stopping by — see you Monday evening!