Welcome to Axios World, where two evenings a week we break down what you need to know about the big stories from around the globe.
Thanks for joining me! Please tell your friends and colleagues to sign up here, and I'd love your tips and feedback: [email protected]
1 big thing: Americans want Trump to stop hammering allies
Americans are more worried about the rupturing of international alliances and agreements than they are about being pushed around by other countries, according to a new Axios/Survey Monkey poll.
Why it matters: President Trump claims his combative foreign policy — tariffs and threats for allies and adversaries alike — is necessary to correct for years of being "ripped off" on the world stage. Trump's base tends to see things his way, but a majority of Americans (56%) are more worried about damage being done to alliances and agreements.
More from the poll...
Overall, 41% of Americans approve of Trump's handling of foreign policy, down from 46% when we last asked in May and slightly below his overall approval rating of 43%.
Two-thirds of Americans say it's very (40%) or somewhat likely (27%) that the Russian government will attempt to interfere in the midterm elections, as Secretary of State Mike Pompeo and others have warned they will.
Worth noting: Most Americans are unlikely to be thinking about foreign policy as they make up their minds ahead of the midterms. Just 5% of voters said it's the issue that matters most to them.
So what do the allies think?
35% of Germans view the U.S. favorably, per a Pew poll from last year, compared to 57% during Barack Obama's last year in office. Just 11% say they have confidence in Trump.
The trends are similar in Japan (72% approval under Obama, 57% now), the U.K. (61%-->50%) and France (63%-->46%).
Most Canadians and Mexicans now view the U.S. unfavorably. Approval has fallen from 65% to 43% in Canada and 66% to 30% in Mexico since Trump's election.
Outliers include Poland, where 73% still view the U.S. favorably, and Israel, where 81% view the U.S. favorably — the same percentage as under Obama.
Counterpoint: Most allied leaders, at least publicly, tend to take the longer view. Theresa May, Emmanuel Macron, Justin Trudeau et al. say they'll continue to work with the U.S., push back when necessary, and hope sunnier skies lie ahead.
2. Trump and Turkey dance along the ledge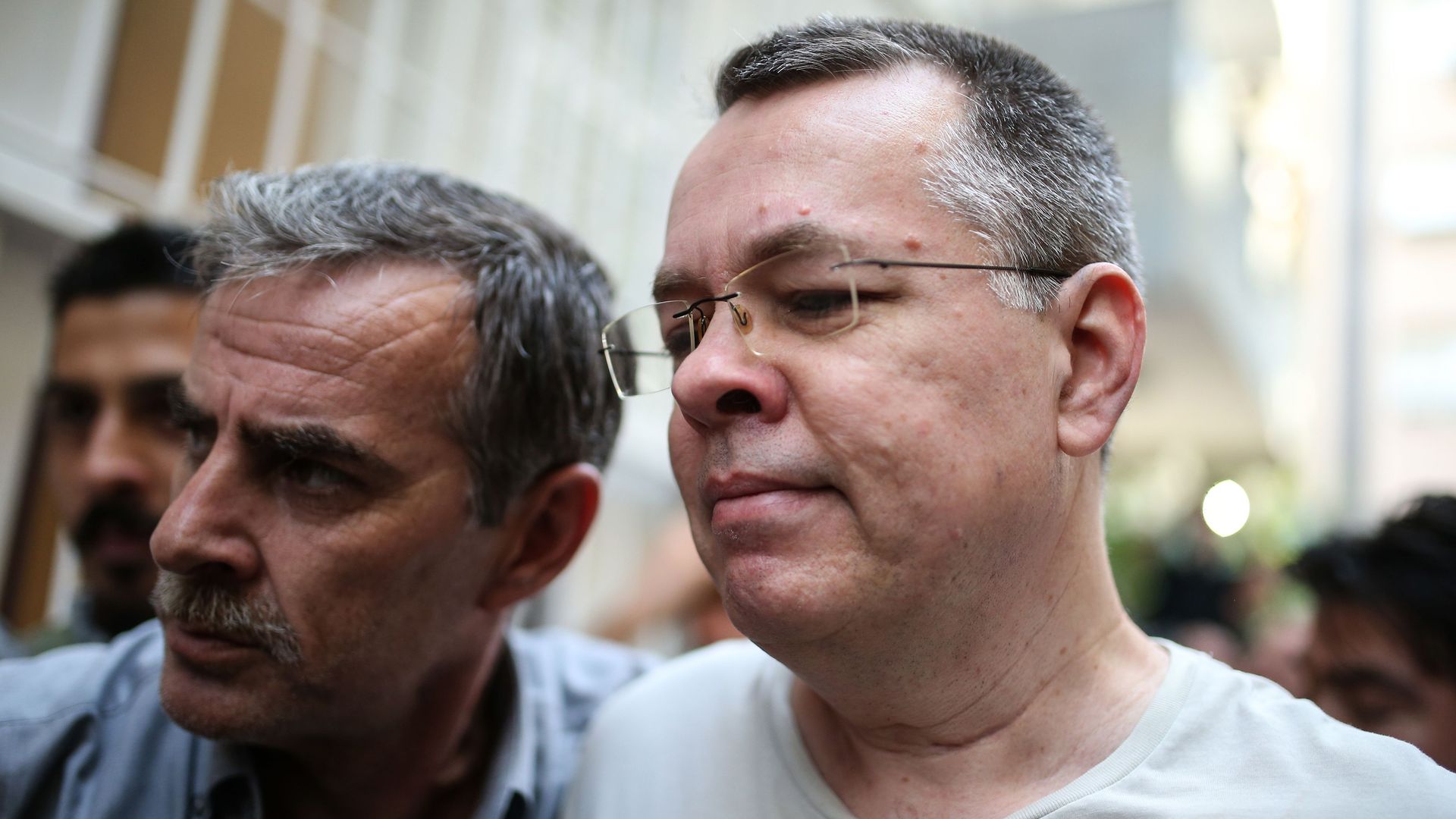 Speaking of shaky alliances... The White House has rejected Turkey's attempt to link a U.S. investigation into Halkbank, a state-owned Turkish bank accused of helping Iran skirt sanctions, with the release of American pastor Andrew Brunson, the Wall Street Journal's Michael Bender reports, citing a senior White House official.
Here's my understanding of how this has played out...
President Trump and Turkish President Recep Tayyip Erdogan met on the sidelines of the NATO summit last month and Trump left under the impression they had reached a deal: the U.S. would secure the release of a Turkish woman held in Israel, and Turkey would release Brunson, who is being held on terrorism charges the U.S. says are baseless.
Brunson was then moved to house arrest, rather than released, with Erdogan apparently attempting to use him as leverage in the Halkbank case.
Trump reacted furiously, and has since leveled sanctions and demanded Brunson's unconditional release, while Erdogan — whose bet that no president would risk losing Turkey as an ally seems to have been called — has sought a face-saving way out.
"They made a bet on the old rules with the new guy."
— Aaron Stein of the Atlantic Council
What to watch...
"Political ties will remain tense until Erdogan finds a way to release Brunson and sell it in Turkey," says Soner Cagaptay of The Washington Institute for Near East Policy.
"Erdogan didn't want this crisis with Trump, but now he's looking at how he can intertwine it with the other crises he faces," Cagaptay adds, most notably the long-anticipated economic meltdown which Erdogan is now blaming on U.S. sanctions, despite having largely caused it with his own economic policies. "He's a master of turning situations to his advantage."
Frenemy of my Frenemy: From today's Financial Times... "There is quiet optimism in Europe that Erdogan's tussles with Trump will help to strengthen Ankara's strained ties with EU capitals."
Go deeper: How U.S.-Turkey relations reached a breaking point.
3. Europe: Putin cuts in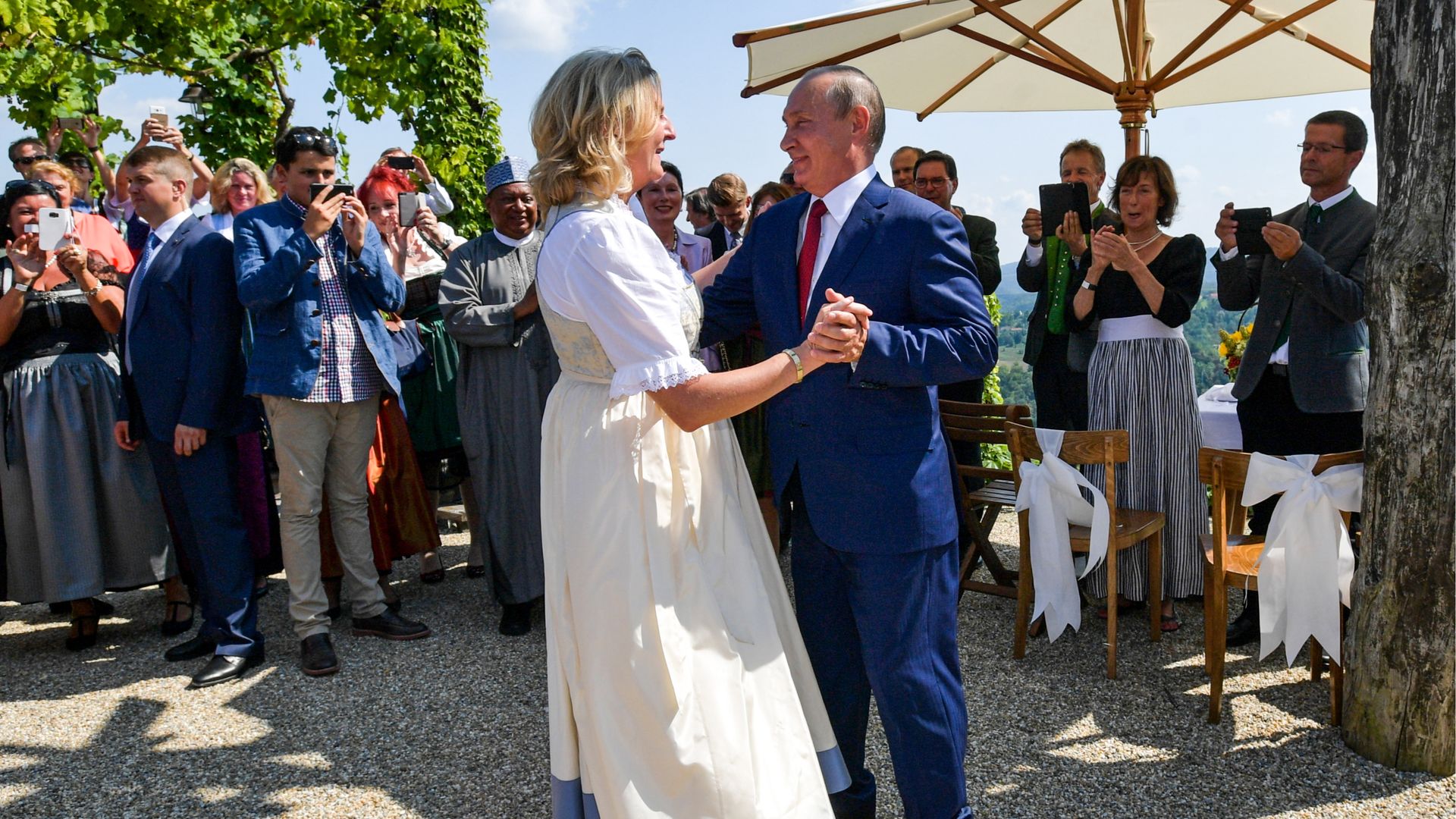 Several European countries have been sliding into Russia's orbit in recent years. In the case of Austrian Foreign Minister Karin Kneissl, it was more of a waltz.
Putin attended Kneissl's wedding over the weekend. Per Reuters, he "arrived in a car carrying a bouquet of flowers and accompanied by a troupe of Cossack singers booked to serenade the newlyweds." He danced, he gave a toast, and, in so doing, raised eyebrows around the world.
As the Washington Post points out, the closer ties to Moscow under the current government in Vienna — which includes the far-right Freedom Party — reach far beyond the dance floor: "Austria was a notable holdout when European Union nations banded together in March to expel Russian diplomats to protest the poisoning of former double agent Sergei Skripal. Top Austrian officials, meanwhile, have spoken out against the E.U.'s Russian sanctions."
It's also not just Austria: "In Greece, Italy, Poland, Hungary and Austria, anti-establishment parties with positions on either the far left or far right have taken hold of governments, either in whole or in part. Many are closely linked to Russia, and some have ties to extremist groups that have been associated with violence."
Putin's trip didn't stop there. He paid German Chancellor Angela Merkel a visit and, per Reuters, they "discussed the conflicts in Ukraine and Syria, as well as Iran and a gas pipeline project that has drawn U.S. ire during tough talks that ended with no clearcut progress."
Bonus: Where EU countries stand on the Russian threat
A report from the Czech-based European Values think tank evaluates all 28 European Union countries based on their governments' attitudes, policies, and strategic responses to the Russian threat, following the Kremlin's recent influence operations throughout the West.
4. Latin America: Ripples of Venezuela crisis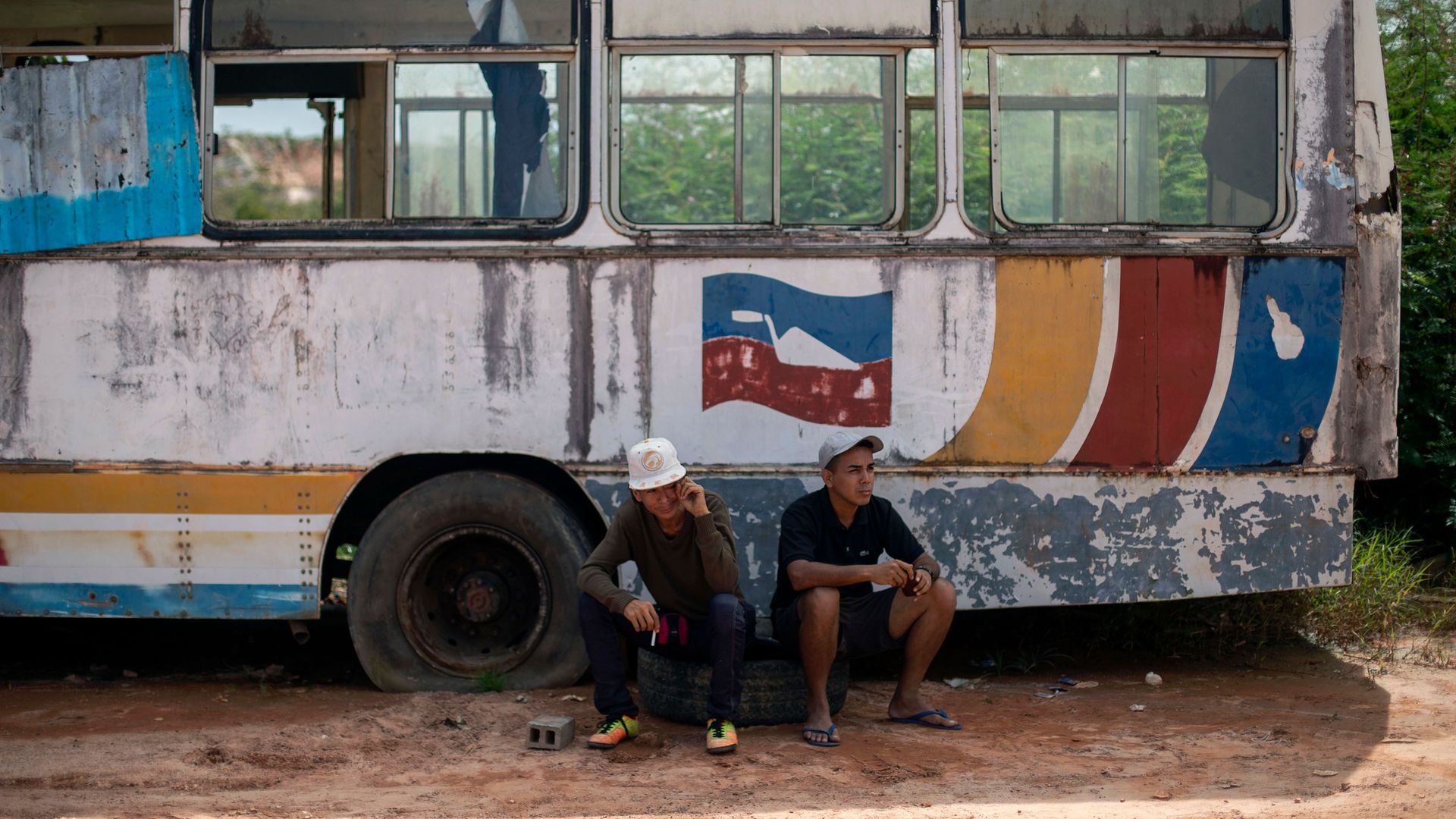 Venezuelan President Nicolas Maduro ordered one of the biggest currency devaluations in history over the weekend, taking the bolivar's official exchange rate from about 285,000 per dollar to 6 million.
"The devaluation comes at the same time the government is redenominating the currency by lopping off five zeros and introducing new bills and a name change," per Bloomberg. The government will also raise gas prices and hike the minimum wage.
"Economists say that by introducing the proposed measures, Maduro's administration is only likely to make matters worse. Caracas' cash-strapped government has recently defaulted on its bondholders and is currently facing the prospect of further U.S. sanctions," per CNBC.
Meanwhile, the exodus caused by Venezuela's crisis continues, leading to flare-ups in neighboring countries.
Ecuador has tightened entry restrictions, meaning many Venezuelans who had planned to cross into the country and beyond to Peru and Chile may be trapped in Colombia, which has already taken in hundreds of thousands of refugees.
Brazil sent troops to the border town of Pacaraima after bands of angry locals set fire to migrant camps following reports that Venezuelans had beaten the owner of a restaurant.
Go deeper: The new global migrant crisis is in the Americas.
5. Migration: Europe's age of Aquarius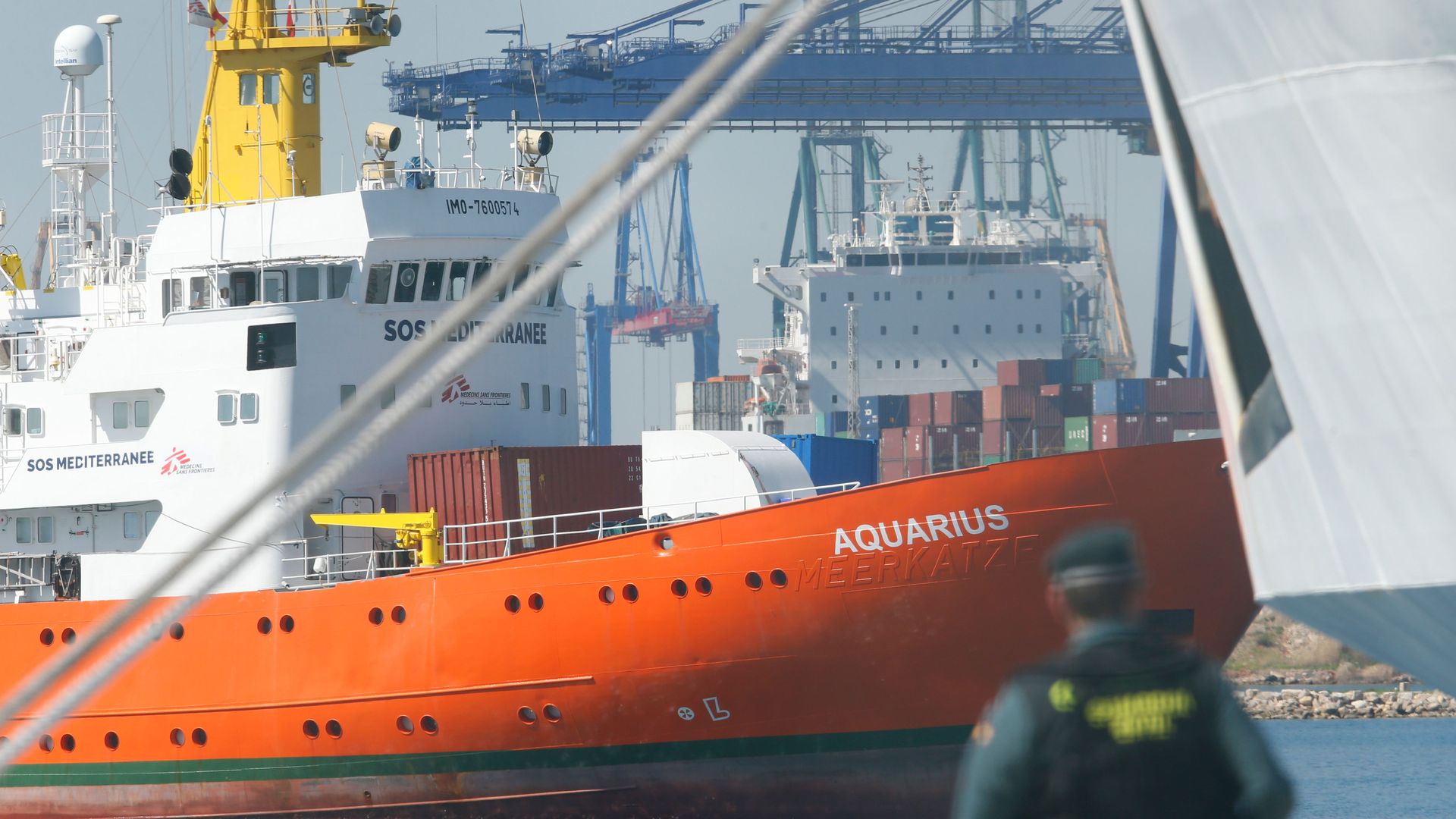 The Aquarius rescue ship is saving lives in the Mediterranean and causing political headaches on land, GZERO Media's Willis Sparks explains in the latest Signal newsletter:
The Aquarius made headlines across Europe in June when Italy refused entry to it and the 630 rescued migrants on board. In that instance, Spain's newly elected government came to the rescue by opening a port and accepting the passengers. The story was a political winner at home for both Italy's Interior Minister Salvini, who said no, and Spain's new prime minister, Pedro Sánchez, who said yes. 
The Aquarius is back. This time, the ship run by humanitarian organizations Doctors Without Borders and SOS Méditerranée was carrying 141 migrants, including 67 unaccompanied children, rescued in international waters. Italy and Libya again refused entry, and this time Spain also said no. After a four-day standoff, Malta accepted the ship, but only after France, Germany, Luxembourg, Portugal and Spain agreed to accept a share of the 141 rescued passengers. 
The Aquarius, the only rescue ship now patrolling the waters off Libya, will be back again. With Italy literally offering radio silence in response to requests for help, Spain will again be in the spotlight. Does Sánchez want Spain to become the haven that accepts the rescued migrants that other EU countries reject? If not, what happens to these people?  
The bottom line: The search for an EU-wide burden-sharing solution continues. It's both a moral dilemma and a serious political problem.  
6. Africa: Murder in a desert monastery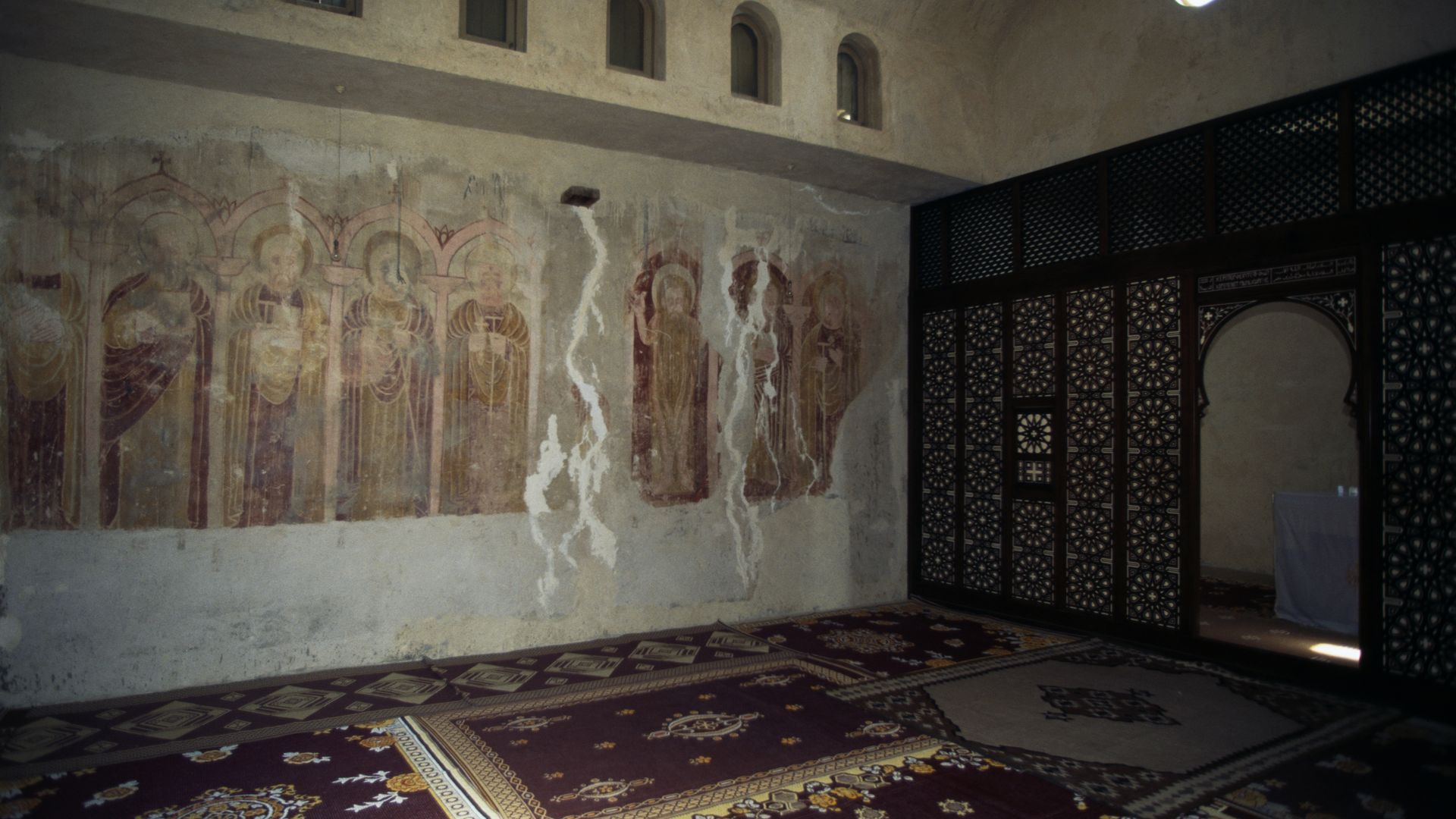 Two Coptic Christian monks have been arrested and charged with murdering their bishop inside a 4th century monastery in the Egyptian desert. Check out these opening paragraphs from the NYT's Declan Walsh...
"Christian monks living in the solitude of Egypt's deserts have always faced the threat of attack from outside. In the early centuries, they built drawbridges and windowless towers to repel marauding nomads."
"More recently, barricades and armed police officers ring the monasteries to guard against Islamic State suicide bombers, who target Christians. But now, to the shock of the faithful, it turns out that danger also lurks inside the monastery walls."
The fallout: The case has gripped the Egyptian public, and shocked Egypt's 10 million Copts, Walsh writes. The church is already rolling out new policies on admissions to the monasteries. Motives that have been floated include a theological dispute — the bishop who was killed was known as a reformer — or a personal vendetta.
7. Stories we're watching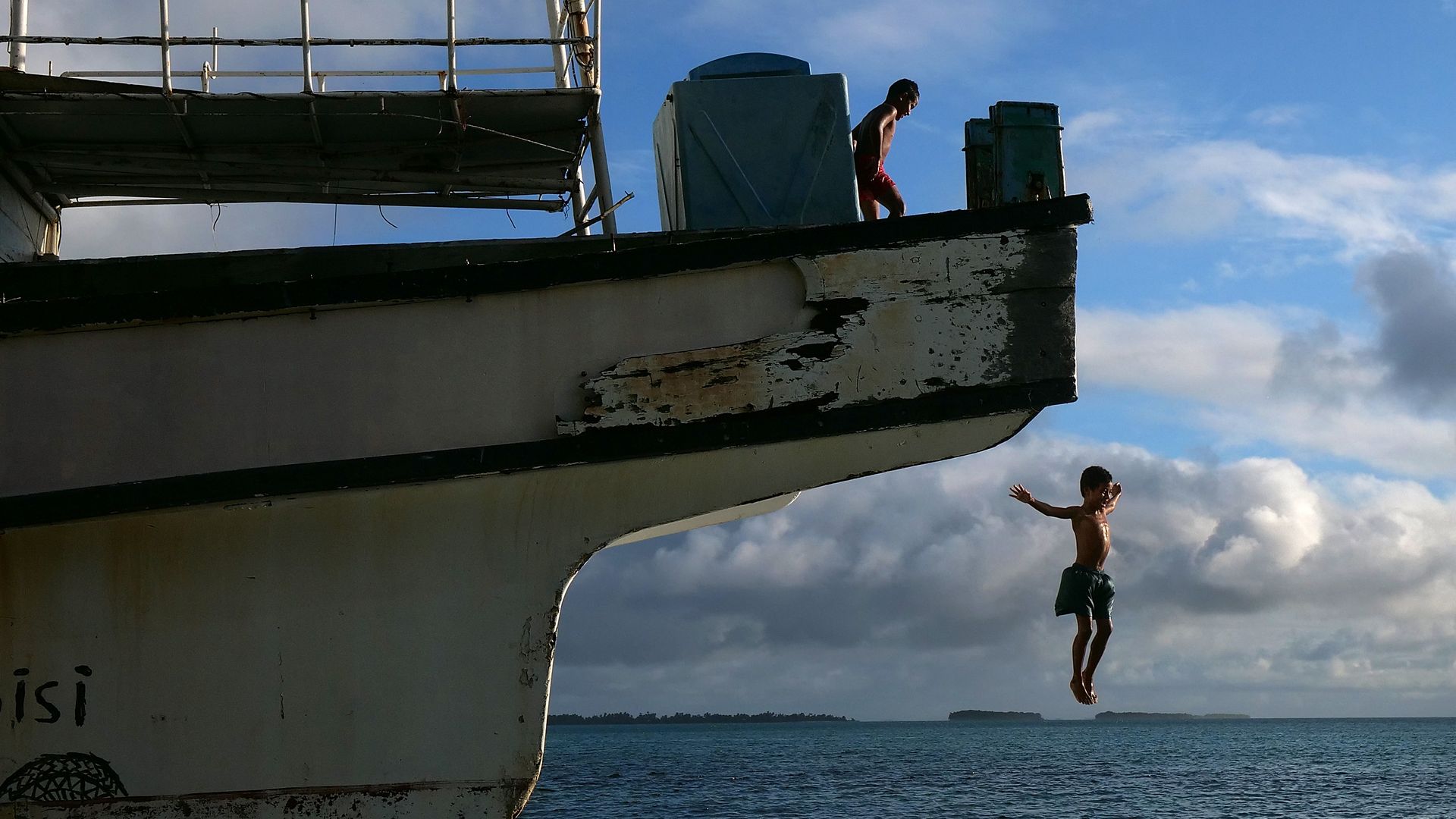 Quoted:
"Today's real borders are not between nations, but between powerful and powerless, free and fettered, privileged and humiliated. Today, no walls can separate humanitarian or human rights crises in one part of the world from national security crises in another."
— Kofi Annan, former UN Secretary General, in his 2010 Nobel lecture. He died Saturday at 80.
Thanks for reading — see you Thursday evening!