Welcome to Axios World, where two evenings a week we break down what you need to know about the big stories from around the globe.
Thanks for joining me! Please tell your friends and colleagues to sign up here, and I'd love your tips and feedback: [email protected].
1 big thing: Surprise twist in Congo's chaotic election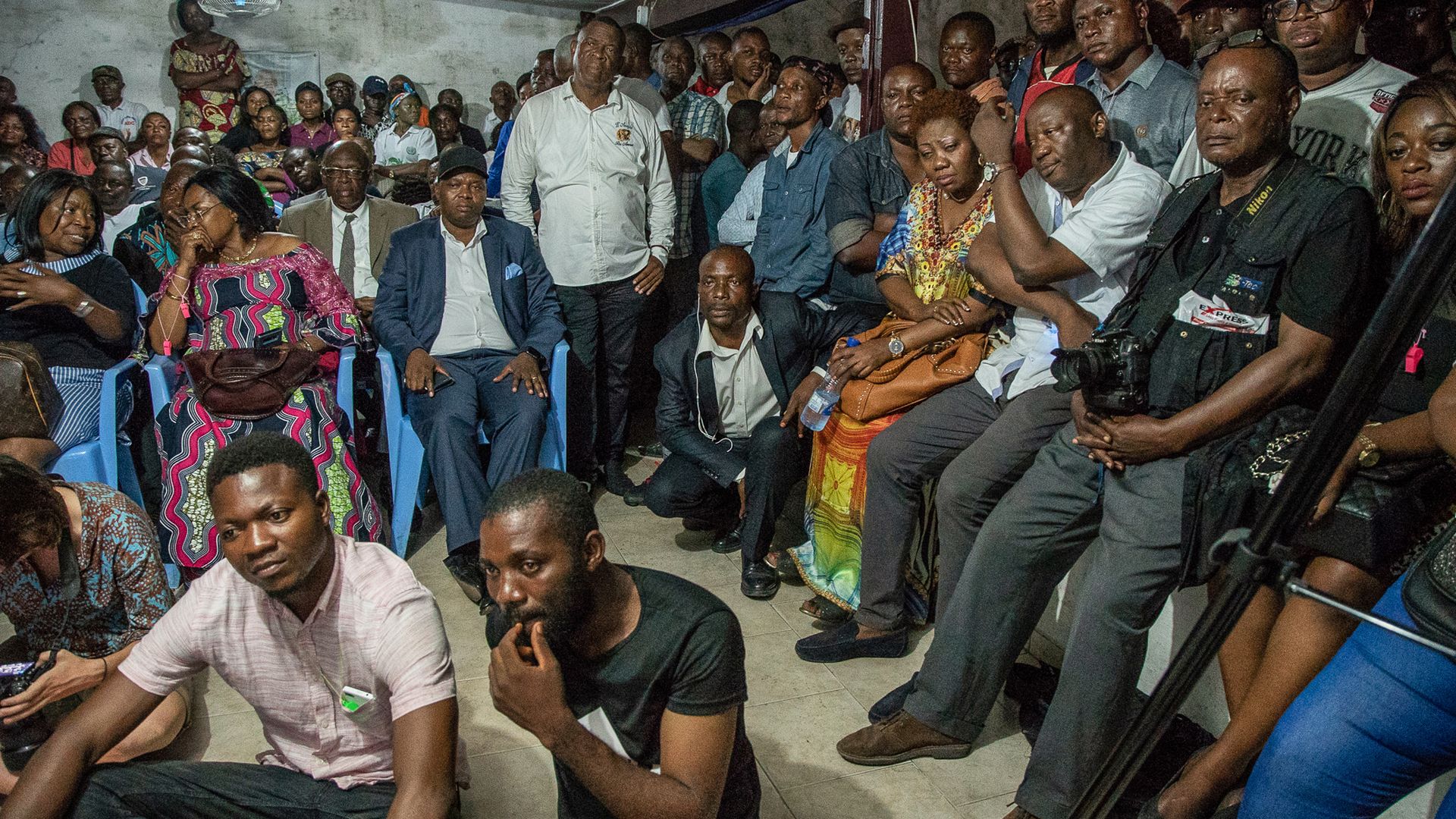 The ruling party was routed, strongman Joseph Kabila is stepping aside after 18 years, and the Democratic Republic of the Congo has a chance to complete its first-ever peaceful transfer of power.
Between the lines: Things are nowhere near that simple. There are widespread suspicions that Kabila cut a deal with Felix Tshisekedi, who was declared the winner last night by Congo's electoral commission. The Catholic Church, which deployed 40,000 election observers and is one of the few trusted institutions in Congo, reportedly found that another opposition candidate, Martin Fayulu, was the "clear winner."
The latest: The French foreign minister is among those questioning the official results, which he said were "the opposite to what we expected."
Catch up quick:
Elections should have been held two years ago but Kabila, up against term limits, clung to power in the massive, mineral-rich country of 80 million.
Elections were delayed again, this time by a week, when an apparent arson attack destroyed most of the voting machines set to be used in the capital, Kinshasa.
When the vote did take place on Dec. 30, two opposition strongholds weren't allowed to take part, officially because of concerns over insecurity and Ebola. After the vote, internet and texting services were cut because "fictitious results" were spreading.
The key players:
Kabila, still just 47, took power in 2001 after his father, Laurent Kabila, was assassinated during the brutal Second Congo War. He threw his support behind Emmanuel Ramazani Shadary, who finished a distant third.
Tshisekedi is the son of a longtime opposition leader. He has vowed to unite the fractious country and said he considers Kabila an ally in that effort.
Fayulu, a former energy executive who surged to front-runner status in the months before the vote, has labeled the results "fabricated" and "a treachery." He called on his supporters to "stand together, as one man, to protect our victory."
Be smart:
Kabila had to settle for "Plan C," the FT's David Pilling writes. Plan A was to stay in power. Plan B was Shadary. "And so we come to Plan C. Bestow victory upon Tshisekedi. ... Presumably the president has received assurances that the new government will not delve too deeply into his or his entourage's pecuniary affairs."
"A chaotic, unstable Congo at the center of the continent is a costly drag on African ambitions to enjoy more peace and prosperity in the decades ahead," Michelle Gavin of the Council on Foreign Relations writes in Foreign Policy, calling on leaders in South Africa and around the region to speak out.
"Protests will follow. Their intensity will depend on the extent to which Congolese are simply happy to see Kabila depart," writes Matt Ward of Oxford Analytica.
What to watch: These results are still preliminary. Fayulu's supporters are outraged. Appeals are likely, and violence is possible. We may not have heard the last from this chaotic election.
2. Moving monuments around the world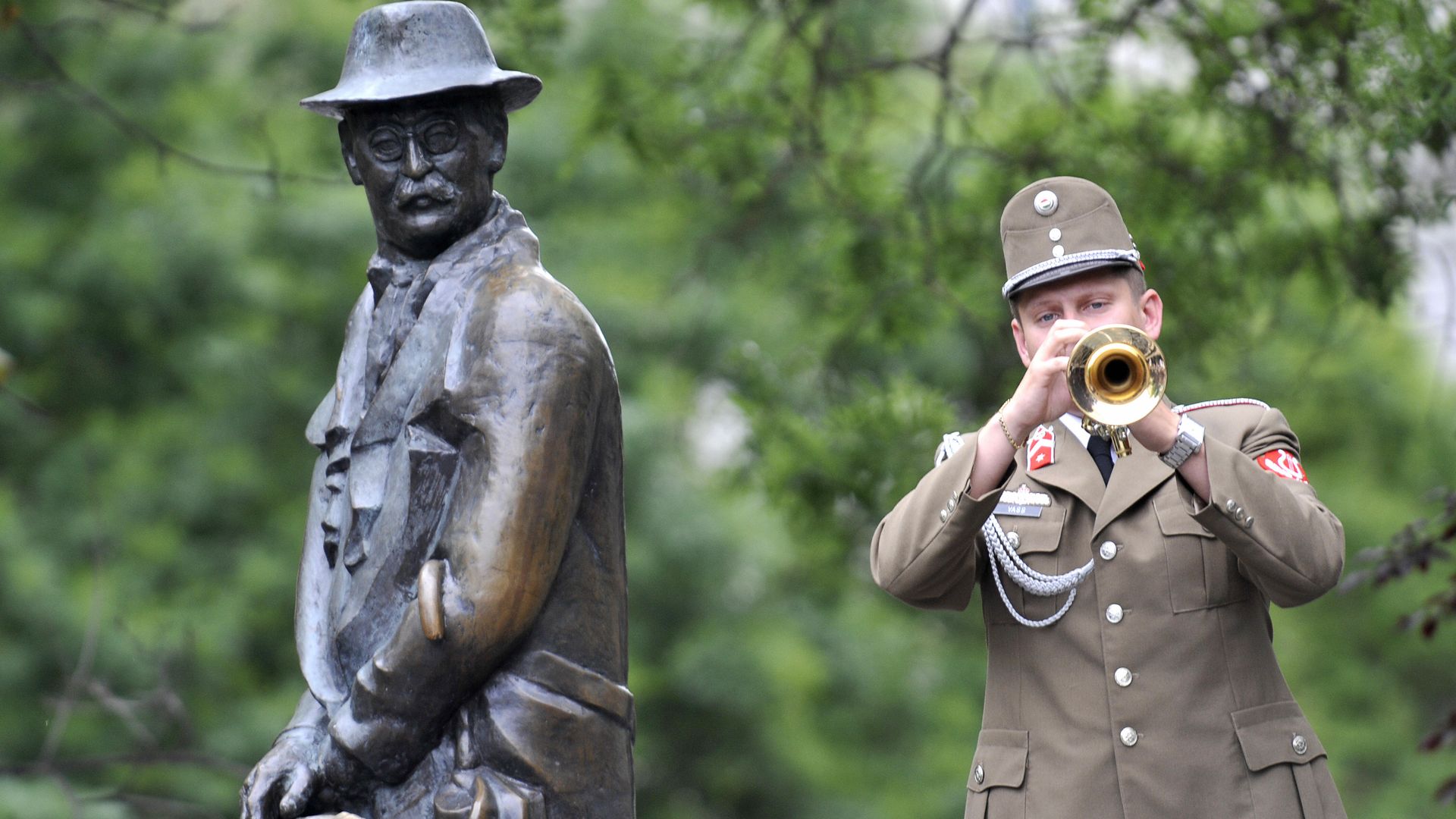 If you want to get a sense of where the political winds are blowing, take a look at the monuments that are going up, and coming down.
Three examples:
1. Nagy, no more. Just a few months ago, on a visit to Budapest, Axios Managing Editor David Nather snapped a photo next to a statue of Imre Nagy, who led an anti-Soviet uprising in 1956.
That statue is now gone. It's being moved to a less central location.
Why? A hint, from BBC: "In recent years [Hungarian Prime Minister Viktor] Orbán has forged closer ties with Russian President Vladimir Putin, a former KGB officer who has restored Soviet-era symbols and who regrets the collapse of the USSR."
2. Constitutional offense. A "Constitution Defense" monument in Bangkok commemorating the defeat of a pro-monarchy rebellion in 1933 was removed in the middle of the night two weeks ago. It's not an isolated case.
Flashback: "In April 2017, a small plaque commemorating the 1932 revolution that ended absolute monarchy ... was replaced with one lauding the monarchy," per the Nation.
Background, from the Economist: "The current king, Maha Vajiralongkorn, has been on the throne for two years. He has unnerved his 69m subjects from the start," with his lavish lifestyle and accumulation of power. In Thailand, which is run by a military junta, it's a criminal offense to question the king.
3. Standing (much) taller. Last October, India unveiled the world's largest statue, celebrating an independence hero.
Gandhi? Nehru? Nope. The statue is of Sardar Vallabhbhai Patel, whom the Economist notes "fits better with the muscular nationalism of the ruling Bharatiya Janata Party than more famous heroes of independence ... who stood for wishy-washy virtues such as peace and tolerance."
It just so happens that Prime Minister Narendra Modi's primary rival in this spring's general election is Rahul Gandhi. He doesn't just have the Gandhi name — he's former Prime Minister Jawaharlal Nehru's great-grandson.
Bonus: What I'm reading
Speaking of Orban ... For an illuminating look at his rise, ambitions and political skill, check out Elisabeth Zerofsky's profile in this week's New Yorker.
One paragraph that stuck with me:
"Orban thrives on conflict, and those around him say that, having consolidated power in Hungary, he is now a bit bored. 'He thinks he could have been much more powerful if he were from a bigger country,' András Petho, a senior editor at the independent Hungarian news outlet Direkt36, told me. 'He likes maneuvering among the big powers.'"
3. Where democracy is rising and falling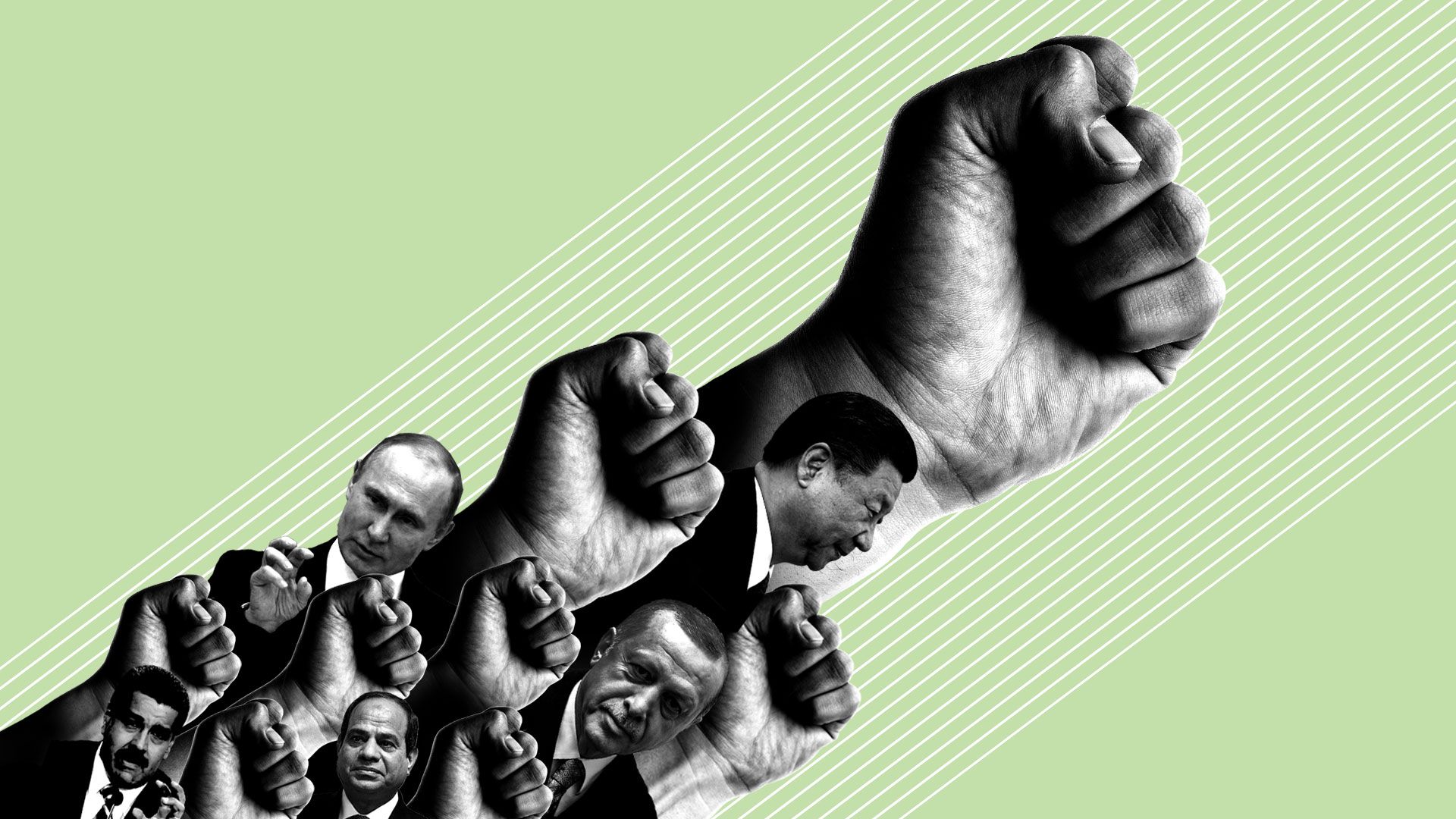 Two years of democratic erosion around the world came to an end in 2018, according to the annual index from the Economist Intelligence Unit (EIU). However, gains in countries like Costa Rica were canceled out by declines in places like Nicaragua, and globally we ended 2018 right about where we started it.
Just 4.5% of the world's population lives in countries EIU considers "full democracies." Another 43.2% live in "flawed democracies." The remaining 52.3% live in "hybrid" (think Turkey) or "authoritarian" regimes.
The most robust democracies are in Norway, Iceland, Sweden, New Zealand, Denmark, Canada and Ireland. The U.S. ranks #25, falling from #21 in 2017.
While Europe is home to the world's strongest democracies, it's also where "the democratic malaise of the past decade has been felt most keenly."
Gold stars: Armenia, Macedonia, Ecuador, Haiti and Tunisia all strengthened their democracies in 2018, per the index. Mauritius, a small island nation, is Africa's only full democracy.
Takeaways:
"Identity politics" and "strongman leaders" are on the rise globally and undermining "the institutions of representative democracy."
Liberalization is not risk-free. Ethiopia's democratic opening has been accompanied by "an increase in violence."
"Even in the Middle East and North Africa, where the population is increasingly disillusioned with electoral politics ... there has been a noticeable increase over the past year in public willingness to engage in public protest."
The bottom line: Political participation is on the rise, which indicates voters are "not disengaged from democracy. They are clearly disillusioned with formal political institutions but have been spurred into action," per the report.
Go deeper: Download the report.
4. Latin America: Maduro's crisis of his own creation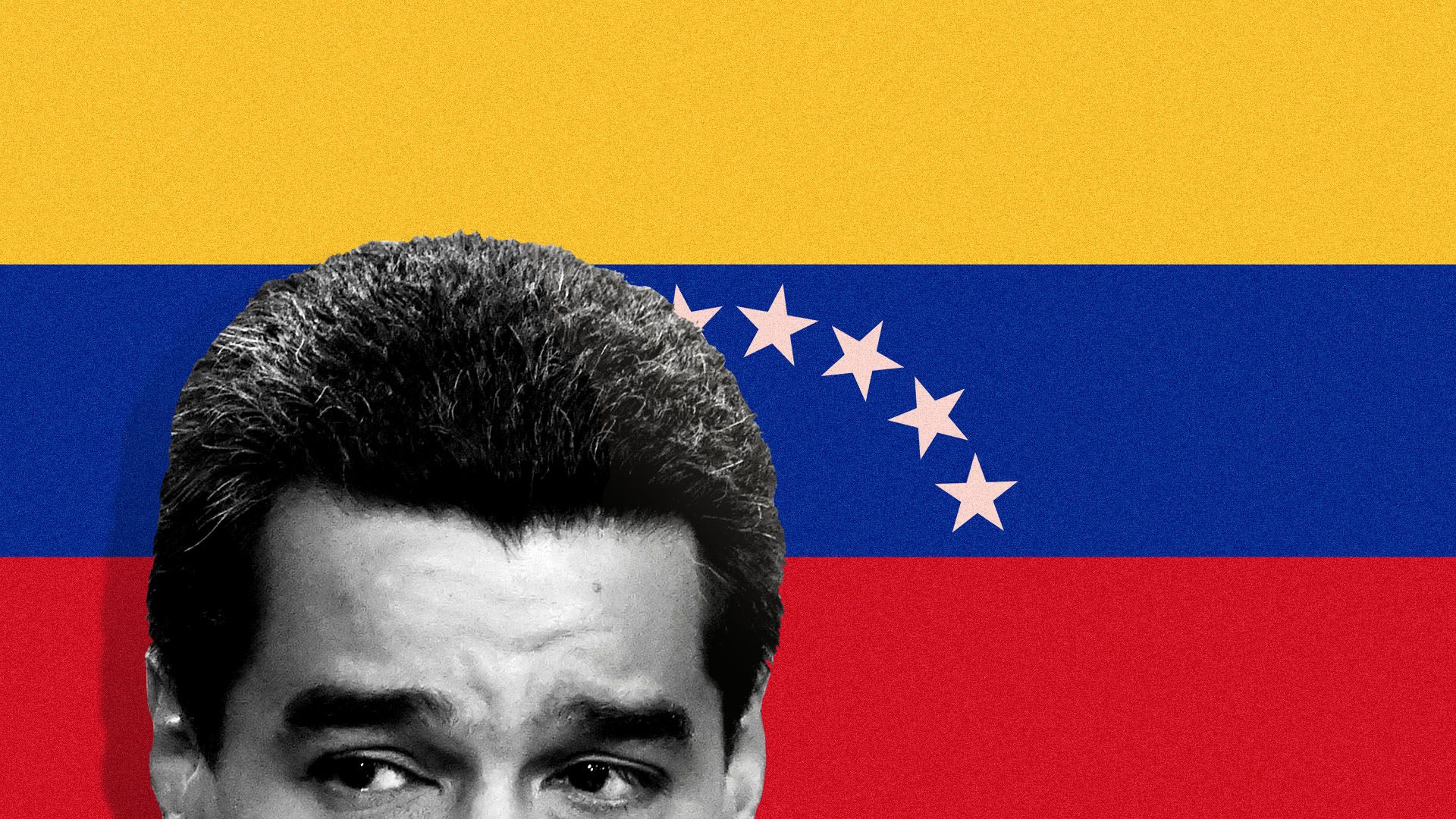 Venezuelan President Nicolás Maduro was sworn in for a new term today, following last year's sham election. My colleague Dion Rabouin has a "short list" of the problems he faces in his second term:
"The inaugural ceremony ... drew low levels of attendance from foreign governments," American University's Michael McCarthy writes for Axios Expert Voices.
"Colombia, Ecuador, Portugal and Spain, which maintained working relations with Caracas during the preceding government, chose not to send representation. Maduro's left-wing allies still participated, while his key commercial partners China, Russia and Turkey sent second-tier delegations."
"In a sign of Maduro's further isolation, Latin American governments are rolling out sanctions that target the regime hierarchy, joining Canada, the EU and the U.S."
"Former [Hugo] Chávez government ministers have publicly questioned Maduro's ability to pull Venezuela out of the crisis, and the expanding chorus of critics has raised questions about whether discontent with record-level hyperinflation and deepening social misery could lead to a palace coup scenario."
What to watch: "Trump may be reluctant to get embroiled in Venezuela's crisis, but his administration's commitment to righting the regional balance of power in Washington's favor might spur him to search for opportunities to initiate regime change in Venezuela."
5. Africa: Protests shake Sudan's brutal strongman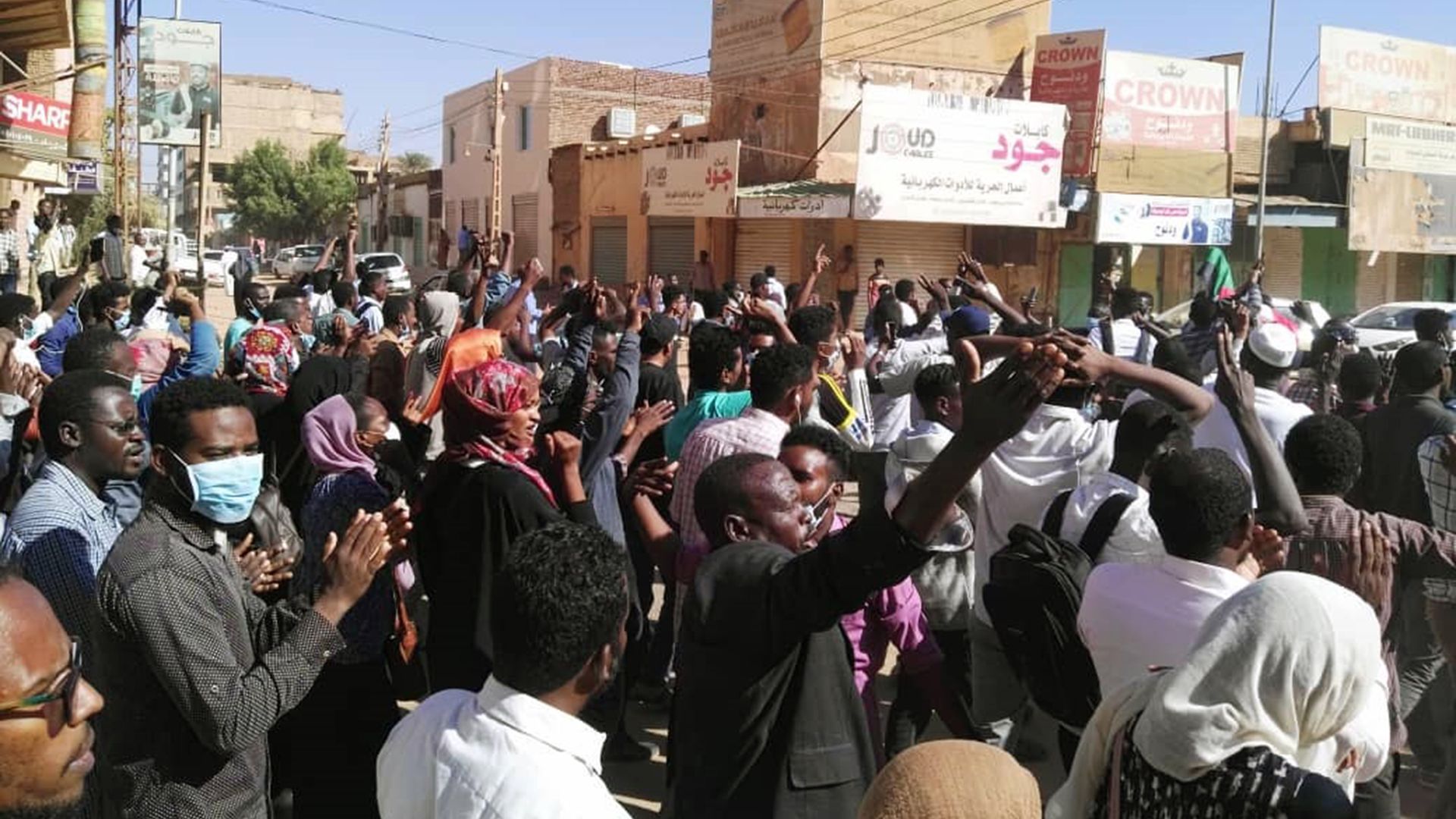 Three Sudanese protesters were killed yesterday, three weeks into mass demonstrations against strongman Omar al-Bashir, the leader of one of the world's most repressive governments
Why it matters: Alex Kliment of GZERO Media writes in the Signal newsletter that "while the protests were initially sparked by economic issues — inflation in Sudan is currently running around 70% — the brutal crackdown has helped stoke broader popular demands for Bashir's resignation." 
"Bashir, a former paratrooper, is a wily and brutal survivor. He first took power 29 years ago in a coup backed by Islamic fundamentalists, and he immediately dialed up the Arab-dominated government's long-running war against black and predominantly Christian separatists in the country's oil rich south."
"By the time that war fully ended with the south's internationally brokered secession in 2011, more than 2 million people had been killed." 
"Even as that war was winding down, Bashir crushed a rebellion in the western Sudanese region of Darfur with such brutality that he became the first sitting head of state to be indicted by the International Criminal Court for war crimes and genocide."
"Tight U.S. sanctions imposed in 1997 over human rights abuses and support for terrorism (Osama bin Laden briefly called Sudan home) helped him burnish his image as a populist defender of his people against a neo-colonial West." 
Flashback: "In 2013, he crushed a street movement in the capital that was inspired by the Arab Spring."
"This time around, however, protests appear more sustained and widespread, even if they lack coherent leadership and structure. And stripped of the cash that South Sudan's oil fields once pumped into Khartoum, Bashir has much less room to prop up a badly mismanaged economy, even with the help of Gulf Arab allies." 
The bottom line: "The future of this turbulent African country may be about to take another historic turn." 
6. Rich Spanish soccer team stymied by tradition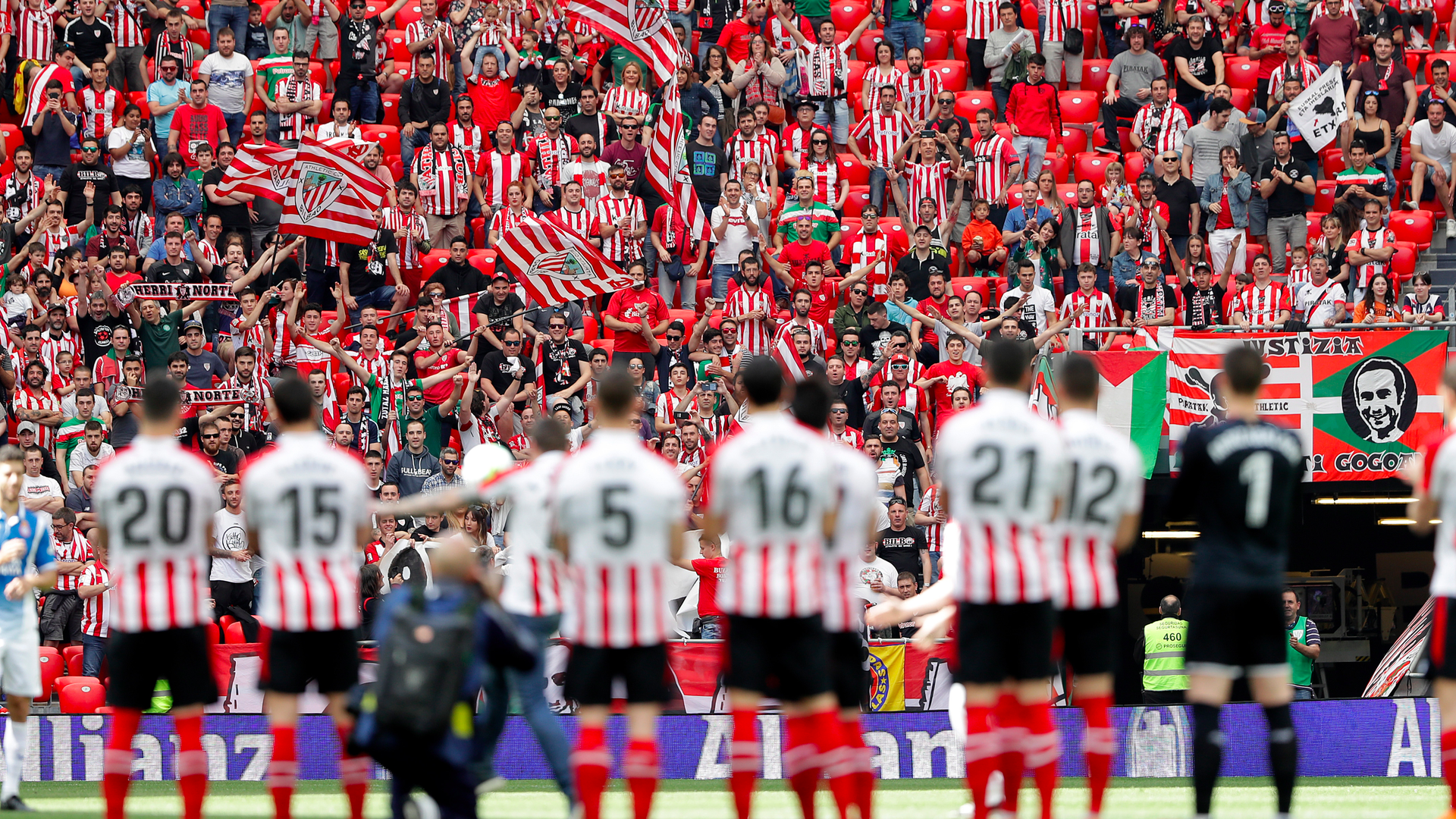 From my brilliant new colleague Kendall Baker... Europe's midseason soccer transfer window just opened, giving clubs at the top of the table one last chance to splurge on talent — and clubs at the bottom one last chance to improve.
Former Spanish powerhouse Athletic Bilbao finds itself in 17th place (out of 20) in Spain's top league, La Liga. The bottom 3 teams drop to the second tier.
The intrigue: Bilbao is flush with cash (200 million euros in reserves) and could certainly use some new talent, but unlike almost every team it competes against, the club has strict rules about who that money can be spent on.
"[Bilbao] is a throwback," writes the NYT's Tariq Panja. "Tradition dictates that it can only field players who were born [or raised] in the Basque Country — territory that includes seven provinces that stretch from northern Spain into France."
"[W]ith its flush coffers and narrowed options, [Bilbao] has become soccer's poor little loaded club."
The big picture: Bilbao has been a member of La Liga since its inception in 1929 and has never been relegated — an accomplishment it shares with only Barcelona and Real Madrid. That could change this season.
7. Stories we're watching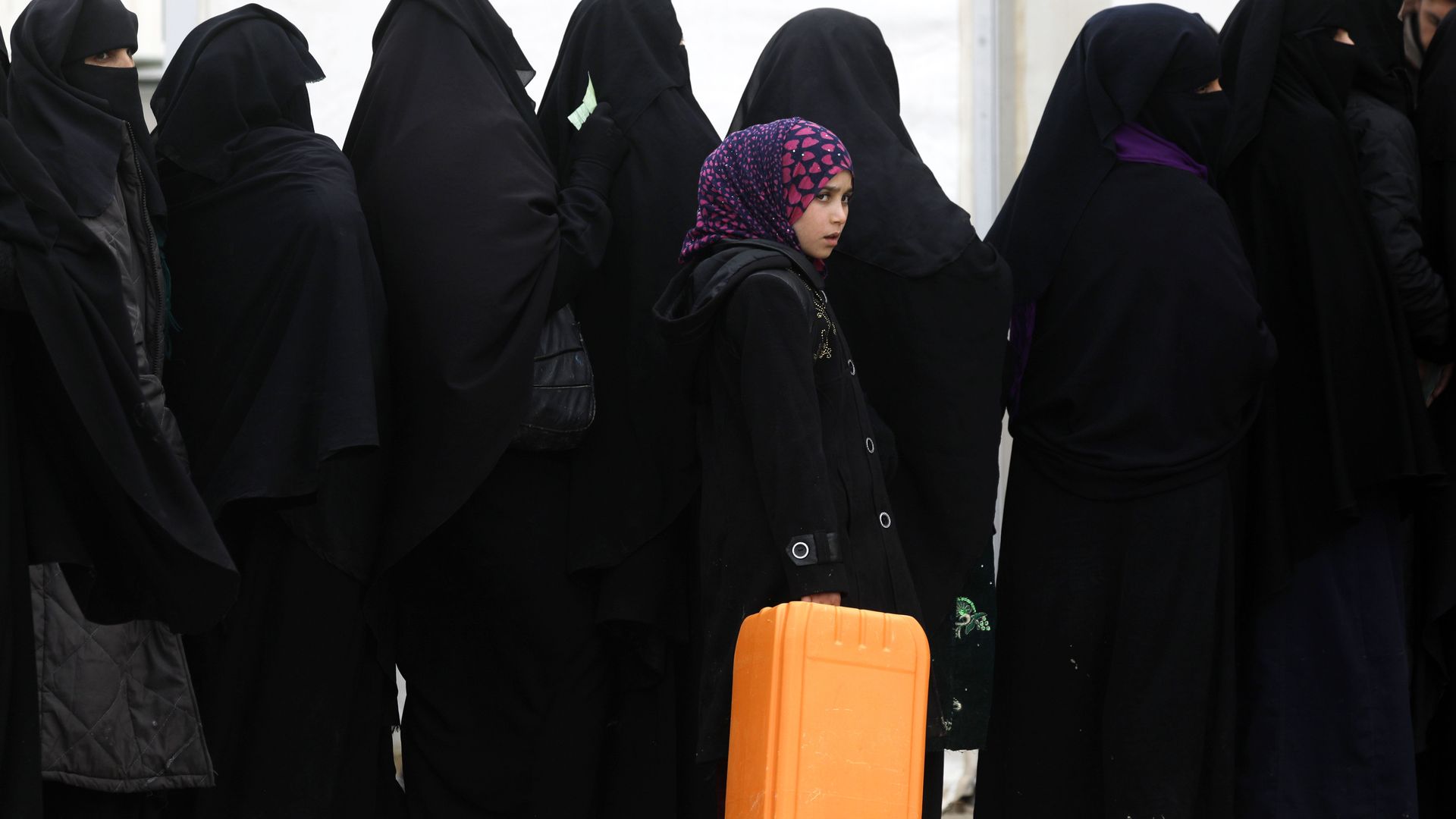 Quoted:
"Remember, it was here, here in this city, that another American stood before you. He told you that radical Islamist terrorism doesn't stem from an ideology. He told you that 9/11 led my country to abandon its ideals — particularly in the Middle East. He told you that the United States and the Muslim world needed 'a new beginning.' The results of these misjudgments have been dire."
— Secretary of State Pompeo today in Cairo, referring to Barack Obama
Thanks for reading — see you Monday evening!