Welcome to Axios World, where two evenings a week we break down the big stories from around the globe. This is our 30th edition. Thanks to readers old and new and please tell your friends, families and colleagues to sign up here.
Newsflash: Our first podcast launches today... subscribe here for Axios Pro Rata, a fast-paced 10 minutes on the collision of tech, business, and politics from my brilliant colleague Dan Primack.
1 big thing: Pakistan's democracy in the balance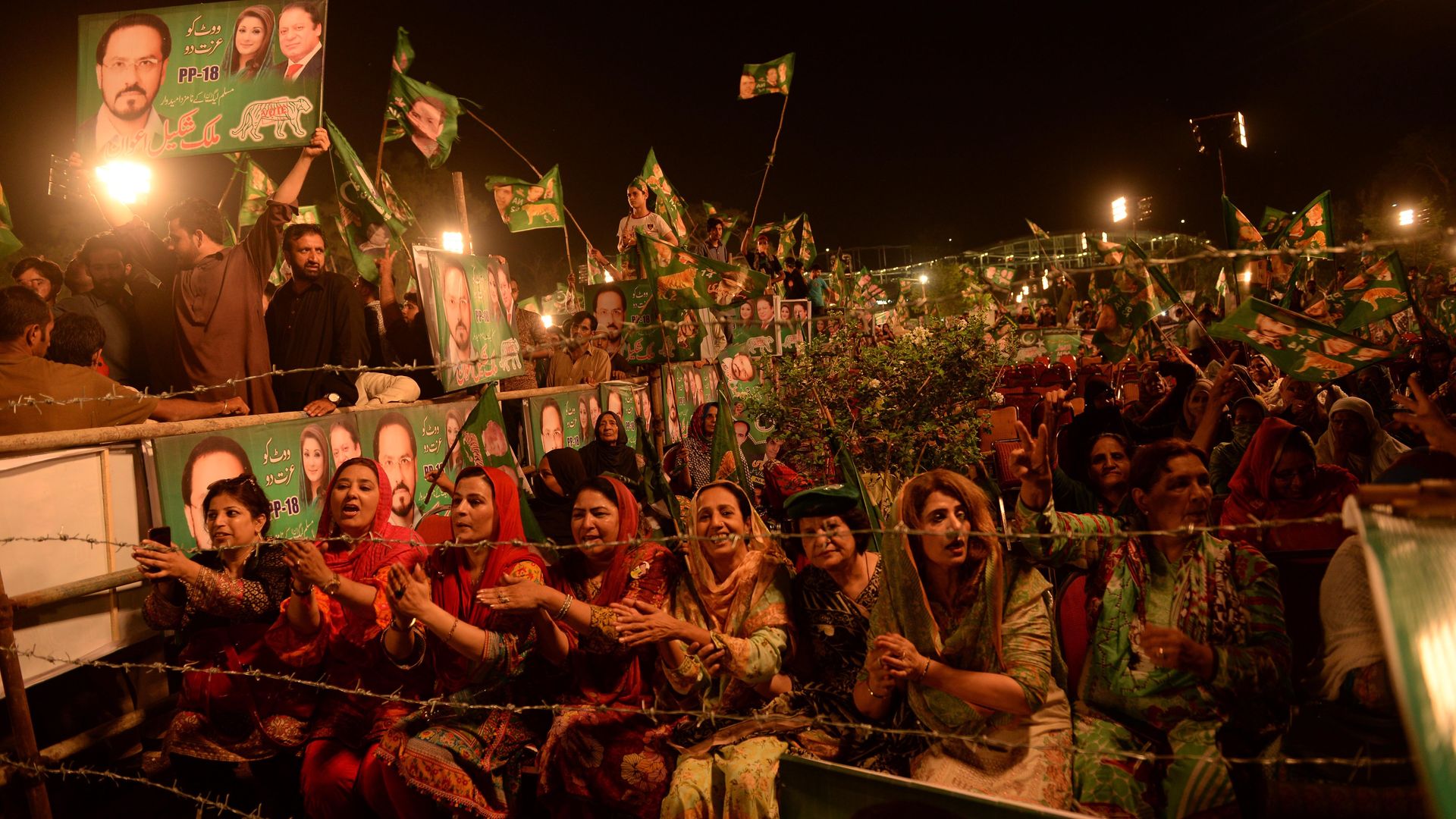 Pakistan will go to the polls on Wednesday to elect a new prime minister in what will be the country's second ever civilian-to-civilian transfer of power.
Why it matters: Pakistan is a nuclear power with volatile relationships with the U.S. and its neighbors, India and Afghanistan. An election that could have been a democratic breakthrough has been fraught by violence and military meddling. Things could still get worse. "We could be heading for a period of prolonged instability if you have a hung parliament," says Ashley Tellis, a former State Department official now at the Carnegie Endowment.
The key players and political parties...
Nawaz Sharif and PML-N: Sharif was removed as prime minister in 2017 over corruption charges, a move he claims was engineered by the military. He returned to Pakistan from London on July 13 to turn himself in, and his arrest has taken the electorate by storm.
Imran Khan and PTI: A former cricket star, Khan is a polarizing political outsider with some powerful behind-the-scenes allies. "The military and intelligence services have really propped him up as their tool to destroy the two mainstream parties," Tellis says.
Shehbaz Sharif, Nawaz's brother, is now leading PML-N, which is running neck-and-neck with PTI.
Bilawal Bhutto Zardari, the 29-year-old scion of a political dynasty, leads the PPP party, which trails the other two.
Al Jazeera's Asad Hashim has been reporting from rural Pakistan on allegations the military is tipping the scales:
A local tribal chief and politician told Hashim the military has intimidated voters and offered incentives to switch loyalties, from installing electricity transformers to offering to release relatives allegedly "disappeared" by the intelligence services.
A PPP leader said at least three of the party's candidates had been threatened by people identifying themselves as military officers, while in impoverished Balochistan a new party popped up with unofficial military support and is suddenly fielding dozens of candidates.
What the military ultimately wants is a fragile government it can control by using its carrots and sticks to manipulate key votes. It's on course to get it, according to Javid Ahmad of the Atlantic Council: "The relationship between the military and the elected civilian governments is like two scorpions in a bottle — contentious, territorial, and deadly. This election, however, is particularly significant because the military is actively engineering the outcome."
Politically-motivated attacks this month have left more than 150 dead, Sahar Khan of the Cato Institute writes for Axios Expert Voices: "The increase in violence spells trouble for election day, and although the military has stepped in for security purposes, it is also involved in intimidation."
What to watch...
If PML-N (or PPP) ends up in the driver's seat, Tellis says, "there will be some hope" for Pakistani democracy, while a hung parliament with Khan at its center would all but guarantee the military calls the shots.
After a political whirlwind that lasts two weeks or so, Pakistan's next government will face a harsh economic reality as well, says the Stimson Center's Sameer Lalwani: "Pakistan is going to face a currency crisis soon," he says, "and it doesn't have any good options besides seeking another loan."
The bottom line: "Pakistan is too dangerous to fail," says Ahmad. "The new government will need to engage in some introspection and determine whether Pakistan can afford further regional and international isolation."
Go deeper: Read Asad Hashim's reporting from the campaign trail in Pakistan.
2. TRUMP THREATENS IRAN
President Trump tweeted an all-caps threat at Iranian President Hassan Rouhani after Rouhani warned that "peace with Iran is the mother of all peace, and war with Iran is the mother of all wars."
"To Iranian President Rouhani: NEVER, EVER THREATEN THE UNITED STATES AGAIN OR YOU WILL SUFFER CONSEQUENCES THE LIKES OF WHICH FEW THROUGHOUT HISTORY HAVE EVER SUFFERED BEFORE. WE ARE NO LONGER A COUNTRY THAT WILL STAND FOR YOUR DEMENTED WORDS OF VIOLENCE & DEATH. BE CAUTIOUS!"
That back-and-forth followed a speech from Secretary of State Mike Pompeo on the administration's Iran policy, which left some key questions unanswered.
Alex Vatanka of the Middle East Institute explains for Axios Expert Voices:
"The Trump administration has kept the diplomatic door open to Tehran, which suggests that it has yet to make up its mind about whether it wants to negotiate, as Trump did with North Korea after a flurry of back-and-forth insults, or to seek the regime's downfall."
The bottom line: "Ultimately, the chances of Trump making diplomatic headway are slim, as Iranian President Rouhani claims that he has on eight occasions turned down Trump's calls for direct talks. In fact, the Iranian regime's position seems to be one of buying time until 2020, when it hopes the next U.S. president will take office. In that sense, U.S.–Iran relations on Trump's watch are unlikely to change going forward: Both parties will be generous in accusations and acrimony but short on policies that could improve the rancorous status quo. "
Go deeper: Pompeo invokes human rights to defend administration's Iran policy.
3. Asia: China's massive drug market stocked with shady products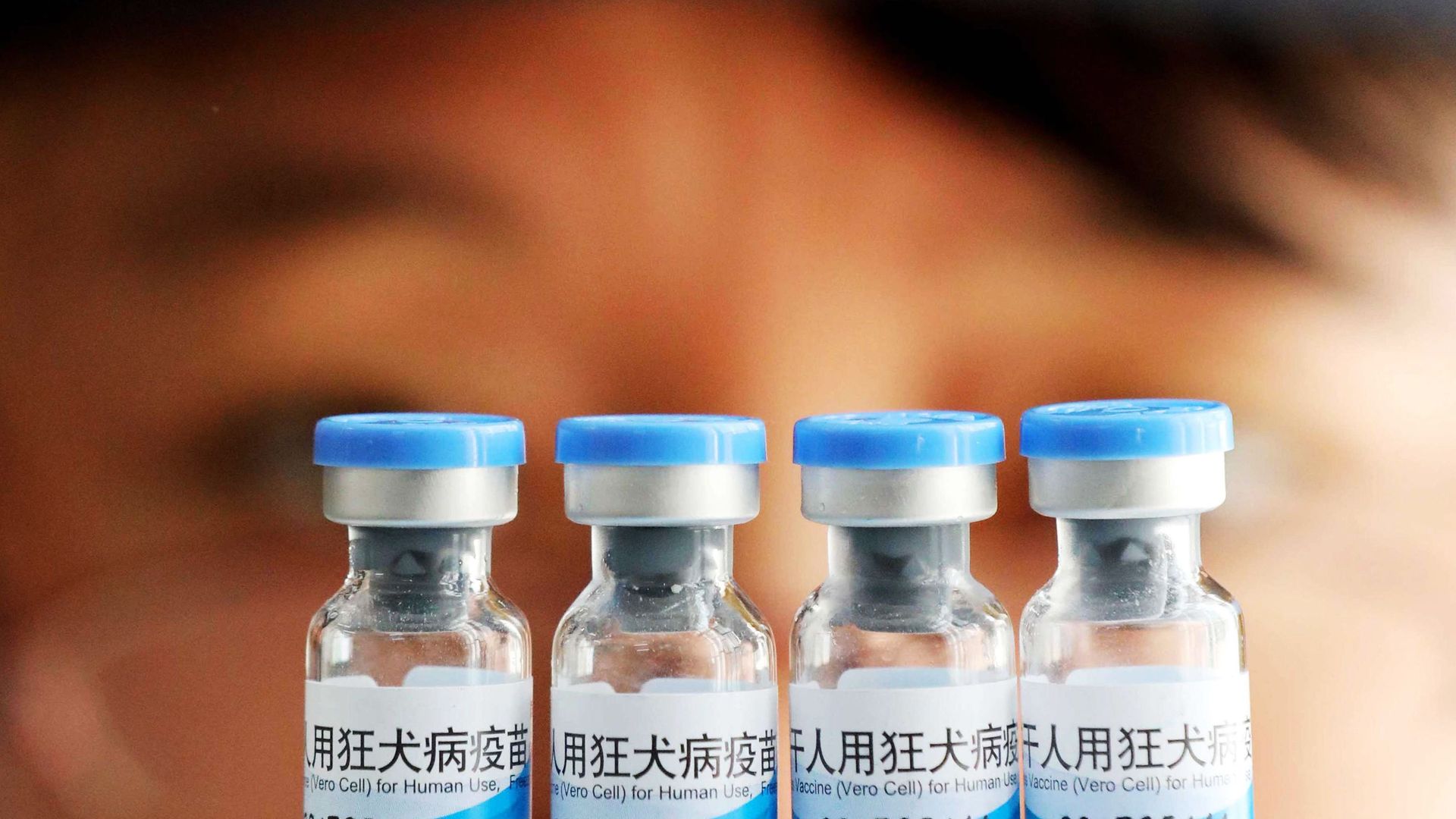 A Chinese vaccine manufacturer gave hundreds of thousands of defective doses to children as part of mandatory vaccination protocols in China, Axios' Erica Pandey writes:
At least 113,000 doses of the company's rabies vaccine are faulty, Chinese state media Xinhua reports. An additional 253,338 doses of diphtheria and tetanus vaccine are defective, per authorities. They've been recalled, but it's unclear how they'll affect the children they were given to.
Chinese President Xi Jinping called the issue "vile and shocking" and directed local authorities to "scrape the poison off the bone" as they investigate the incident. Chinese Premier Li Keqiang said the company "broke people's moral bottom line."
The bigger picture: The Chinese government is walking the line between reforming its health care system and rapidly increasing access to care. That conflict will take time to resolve, Sophie Cairns, an Asia-Pacific health care analyst at IHS Markit, tells Axios.
Worth noting: A low-budget comedy called Dying to Survive, which centers on the issue of unaffordable drug prices, is set to become one of China's highest-grossing productions of all time, the Economist reports. That's a big departure for Chinese cinema, and it's putting the pharma industry under pressure.
4. Latin America: Brazil's bombastic front-runner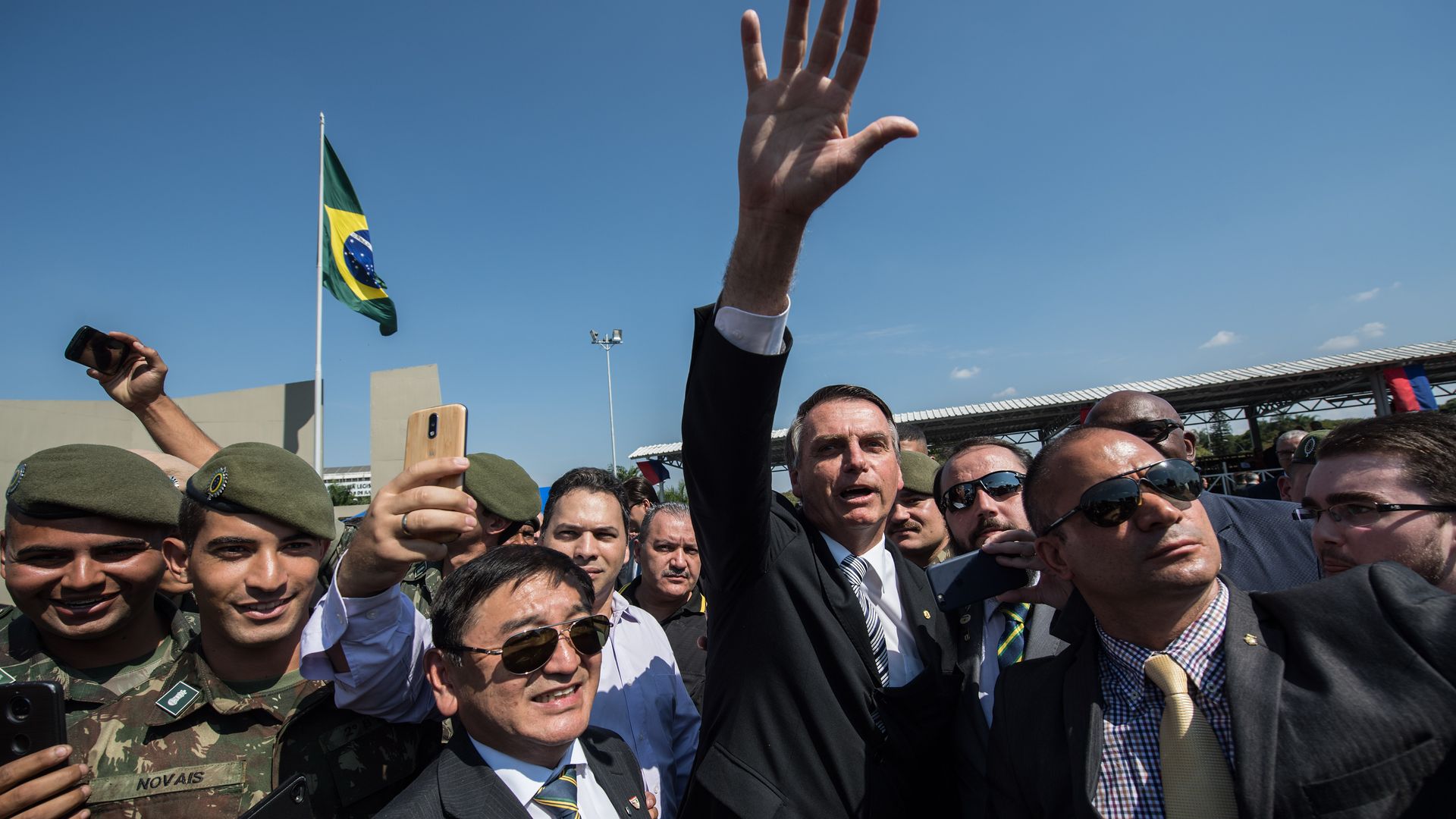 Far-right firebrand Jair Bolsonaro officially declared his candidacy for the Brazilian presidency today ahead of October's election. With poll-topping former president Luiz Inácio Lula da Silva in prison on corruption charges, Bolsonaro has become the front-runner.
The former army captain has spoken favorably about military rule, and holds deeply conservative positions on social issues. He also wants to relax gun laws as part of his tough-on-crime approach.
Roberta Braga of the Atlantic Council says Bolsonaro was known to most Brazilians, until fairly recently, primarily for making provocative and racist remarks. "Five years ago it would have been unthinkable for someone like him to be in the position he is now," she says.
A country of 200 million with the world's 9th largest economy, Brazil is currently "projecting itself as outward-looking, open to trade, pro-democracy," Braga notes. That could change if Bolsonaro is elected.
5. Latin America: Haiti's new president faces crisis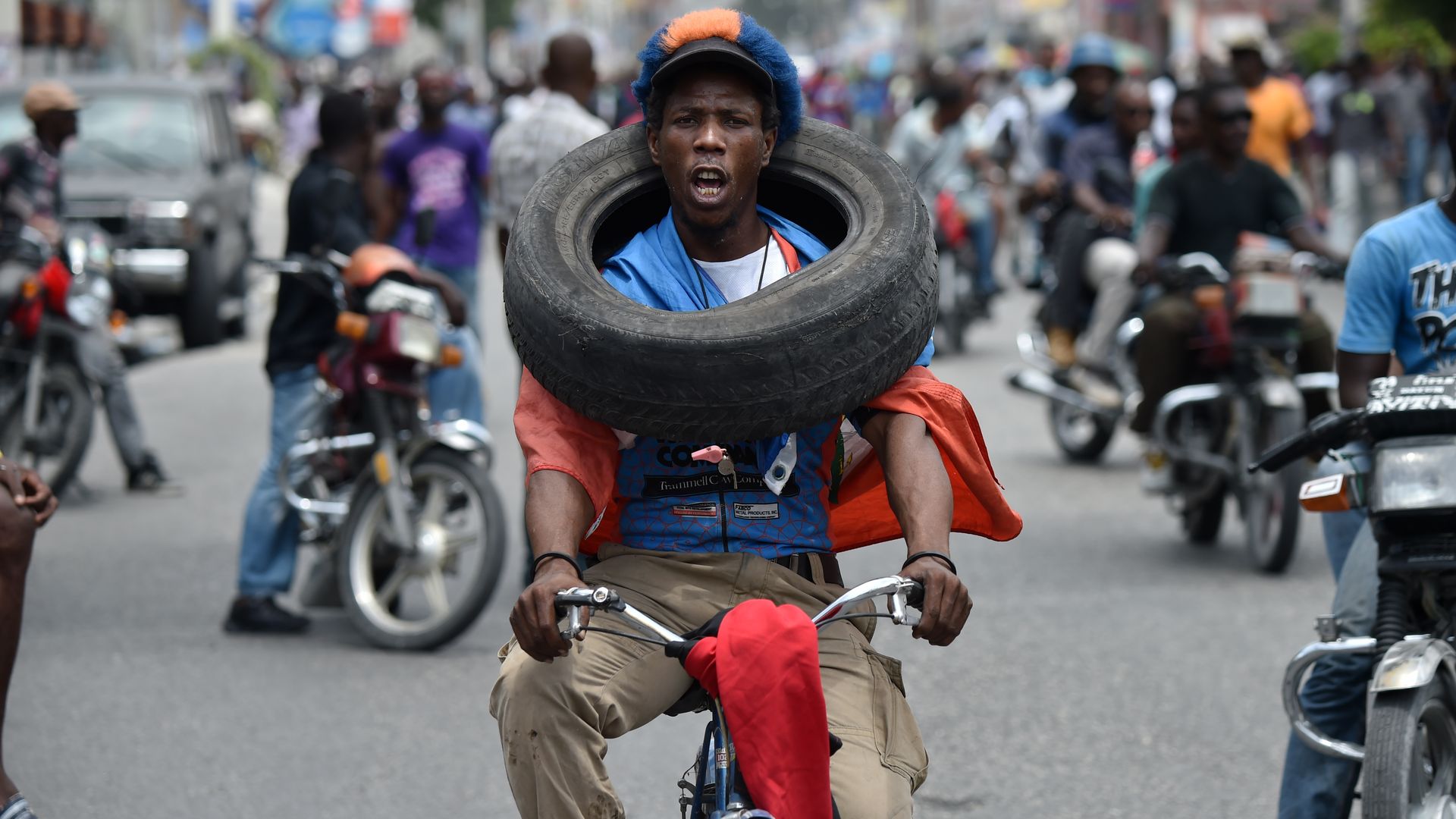 Speaking of Brazil... Haitian fans adopted the Brazilian team at the World Cup as their own, which made the timing of Brazil's elimination at the hands of Belgium particularly painful on the impoverished island.
"With the public glued to their screens watching the seleção on July 6th, the Haitian government discreetly raised fuel prices by around 40%," the Economist notes. "A Brazilian victory might have left Haitians too ecstatic to protest. Instead... soon after, Port-au-Prince burst into flames."
"Protesters burned cars, looted shops and closed much of the country with roadblocks. ... Early estimates put the damage at some 2% of GDP. Three people have died."
The bigger picture: "Haiti is still rebuilding itself after an earthquake in 2010 that killed perhaps 200,000 people. And as the flow of aid from foreign donors has ebbed, so too have funds from Venezuela, which sent Haiti $300m a year until it plunged into an economic crisis."
What to watch: The riots have increased the pressure on Jovenel Moïse, Haiti's reform-minded president, who took office last year.
6. Europe: 'German when we win, immigrant when we lose'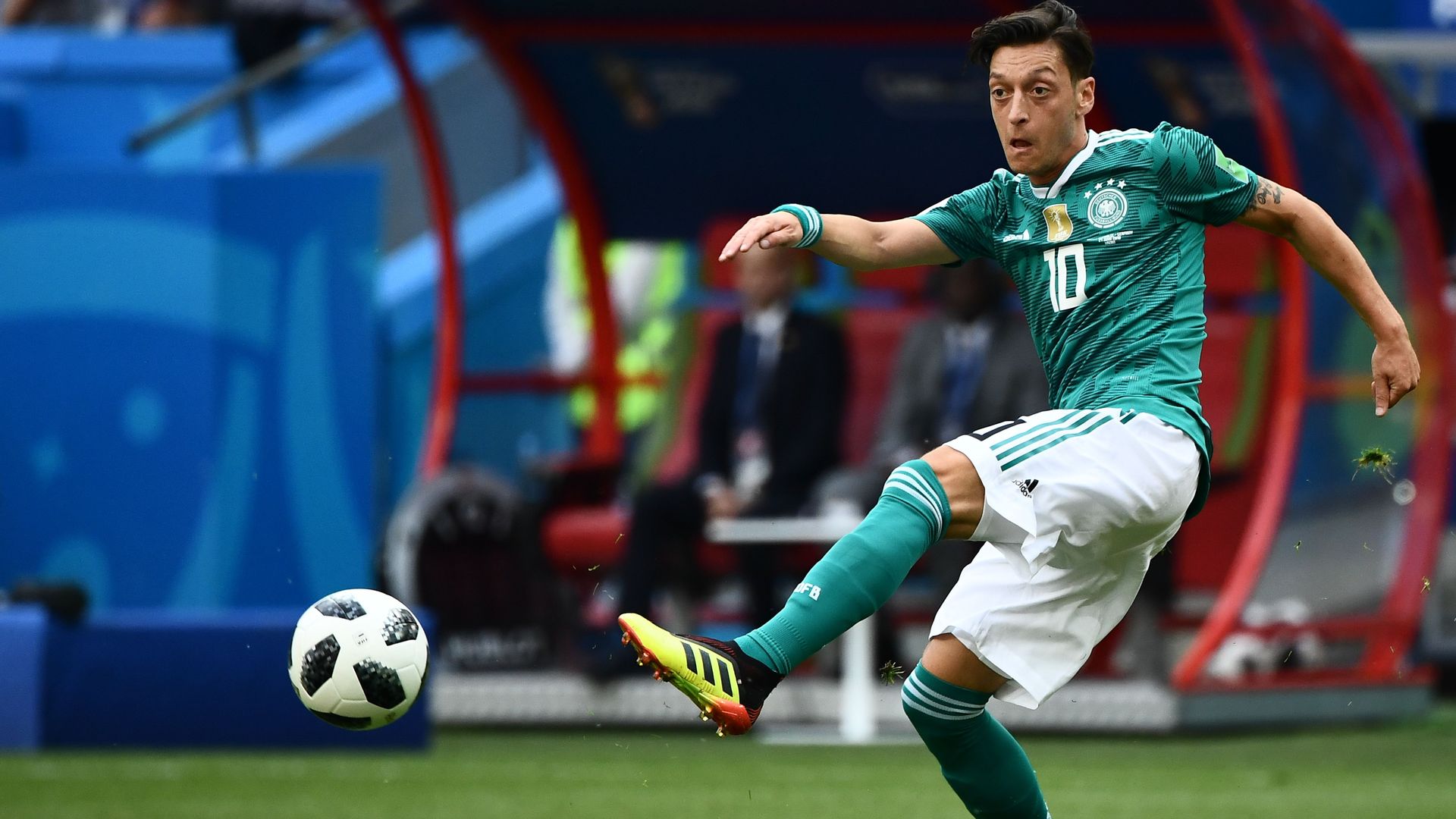 The resignation of Mesut Özil from the German national team over racist abuse is fueling a wider debate in Europe over immigration, integration and nationalism.
After Germany's poor World Cup performance, which saw the tournament favorites crash out in the group stage, Özil said he received criticism not just for his play, but for his Muslim and Turkish heritage and for a picture in which he posed with Turkish President Recep Tayyip Erdoğan, Axios' Zach Basu writes.
In his statement, Özil referenced a line that has grown to become a shared grievance among footballers of immigrant stock throughout Europe: "I am German when we win, but I am an immigrant when we lose."
Angela Merkel's spokesman: "Mesut Özil is a great football player who has done a lot for the national football team. He has now made a decision and it must be respected."
German foreign minister Heiko Maas: "I don't believe that the case of a multimillionaire living and working in England will give us any information on capacity to integrate in Germany."
"July 22, 2018 marks a defeat that's much more painful and unsettling for German football than anything that happened in Russia this summer. The most technically gifted player of his generation feels he can no longer represent the white and black colours due to racism. Let that horrific sentence sink in."
— Raphael Honigstein
writes for ESPN
.
ICYMI: Our aging, childless future
I encourage you to check out the deep dive from my insightful Axios colleagues on one of the trends that will define our global future.
7. Stories we're watching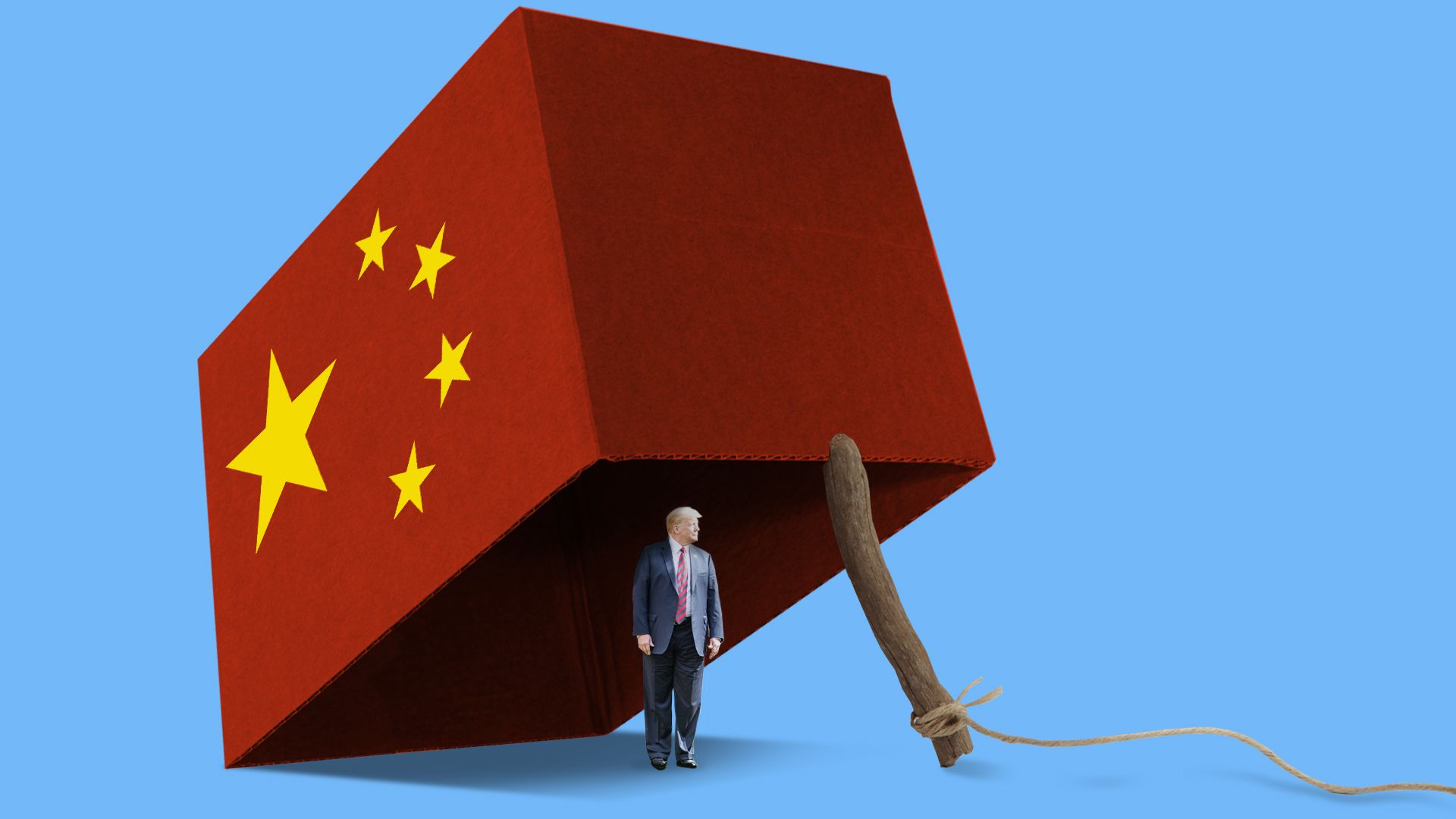 Quoted:
"The war against illegal drugs is far from over. It will be as relentless and chilling, if you will, as on the day it began. ... Your concern is human rights. Mine is human lives."
— Philippines President Rodrigo Duterte in his third
state of the nation address
Thanks for stopping by — see you Thursday evening!