July 16, 2021
It's Friday, and we have news on the autonomous vehicle front, a remote company for remote work and the return of carpooling.
"What was next" trivia: On this day in 1902, the first one of what was installed in Brooklyn? Hint: They've become very important lately — especially on the West Coast.
Credit to reader Brad Ball for being the first to note that the first U.S. death from killer bees occurred on July 15, 1993.
Send your answer, along with tips and feedback, to

[email protected]

.
Today's Smart Brevity count: 1,201 words ... 4.5 minutes.
1 big thing: Autonomous trucks wow Wall Street
Autonomous trucking is a hot commodity as investors once dazzled by self-driving cars are now pouring truckloads of money into automated logistics, Joann Muller reports.
The big picture: It's still not clear when robotaxis might be ready for large-scale deployment. Meanwhile, the explosion of e-commerce since the pandemic has created an increased demand for shipping.
By the numbers: In the first half of 2021, investors pumped a record $5.6 billion into autonomous trucking companies such as TuSimple, Plus and Embark.
Valuations for the top four companies in the truck sector soared 544% from Q2 2020 to Q2 2021, compared to only a 12% rise for the four largest robotaxi companies, according to PitchBook research.
"There's no question that investors are realizing the broader and potentially near-term opportunity with automated logistics," Asad Hussain, PitchBook mobility analyst, tells Axios.
Driving the news: Aurora Innovation is the latest self-driving tech company to go public, announcing plans Thursday to merge with a special purpose acquisition company, Reinvent Technology Partners Y.
Aurora will net about $2 billion from the deal and boost its valuation to an estimated $11 billion, more than any other publicly traded AV company.
The company, which turned its focus from robotaxis to trucks about a year ago, has partnerships with leading truck manufacturers Volvo Group and PACCAR, parent of Peterbilt and Kenworth. Together, they represent approximately 50% of the nation's Class 8 truck market — the largest 18-wheelers.
The "Aurora driver" will launch on the first of these companies' trucks in 2023, likely in Texas, where testing is underway.
Flashback: Back in 2018, Aurora co-founder and CEO Chris Urmson told Axios he didn't believe that long-haul trucking was a safe or smart way to start applying AV technology.
"Early on, there's a massive benefit to driving in urban environments because you learn more quickly," he said Thursday, explaining his thinking back then. At lower speeds, he said, there's "less kinetic energy" if something goes wrong.
"And we didn't think you could see far enough to solve the truck problem," he added.
Fast forward: Since then, Aurora has solved its perception problem by acquiring two lidar companies and built its core driving skills so that its Aurora Driver is almost ready.
What Urmson is saying now: The business argument for trucking is stronger than the case for robotaxis.
"It comes down to there's a massive shortage of 60,000 drivers. By the end of the decade, that shortage will be 160,000 drivers."
That seems to be the broad view of investors. "With robotaxis, you have to create the demand. But with the trucks, the demand is there. The labor thing is so crucial," says Pitchbook's Hussain.
What's next: Aurora still plans to target businesses outside of trucking, including last-mile delivery and ride-hailing, through its partnerships with Toyota and Uber.
Automated runs between airports and hotels or convention centers are a good place to start, Urmson said — but not until after Aurora's autonomous trucks are rolling.
Go deeper: Startups and VCs refocus autonomous vehicle efforts
2. The company that aims to make remote work actually work
An all-remote startup is offering companies a one-stop solution to set up their employees to work from home, writes Bryan Walsh.
Why it matters: If the pandemic year of enforced remote work was a rough one for many employees, it's in part because there was little time to prepare what they needed to work out of the office.
But with hybrid and remote work here to stay, an opening has emerged for companies to provide the necessary tools — including those comfy Aeron office chairs.
What's happening: For a few thousand dollars per worker, the startup Firstbase will provide the software that helps companies manage the hardware that remote workers need, and it can also ship hardware to employees and provide remote IT support.
"That means desks, chairs, headsets, microphones, laptops, monitors, and increasingly going into perks and other offerings as well," says Chris Herd, Firstbase's CEO. "The whole aim is to make remote workers as safe, comfortable and as productive working at home as they would be at the office."
By the numbers: In April, Firstbase closed a $13 million Series A round led by the VC firm Andreessen Horowitz, and Herd says the company has hundreds of customers on its waitlist and recently signed a $3 billion publicly listed firm.
Between the lines: Herd is a CEO who eats his own dog food. He lives and works in a small town in Scotland, and talks about "remote work as a bridge to higher quality of life."
3. Deepfaking the words of Anthony Bourdain
A new documentary about the late chef and travel show host Anthony Bourdain used AI technology to digitally re-create the sound of him reading words he never spoke in life, writes Bryan.
Why it matters: Such AI audio technology is growing in sophistication, and its use in the documentary "Roadrunner" raises ethical questions — and likely presages an era when we'll be increasingly unsure of just who we're talking to or hearing from.
Driving the news: In an interview with "Roadrunner" director Morgan Neville, the New Yorker journalist Helen Rosner asked how he was able to find an audio clip of Bourdain — who took his own life in 2018 — reading a portion of an email he had sent to a friend.
Neville said that a software company took dozens of hours of Bourdain speaking and "created an AI model of his voice."
What they're saying: The reaction of many to the news was not positive.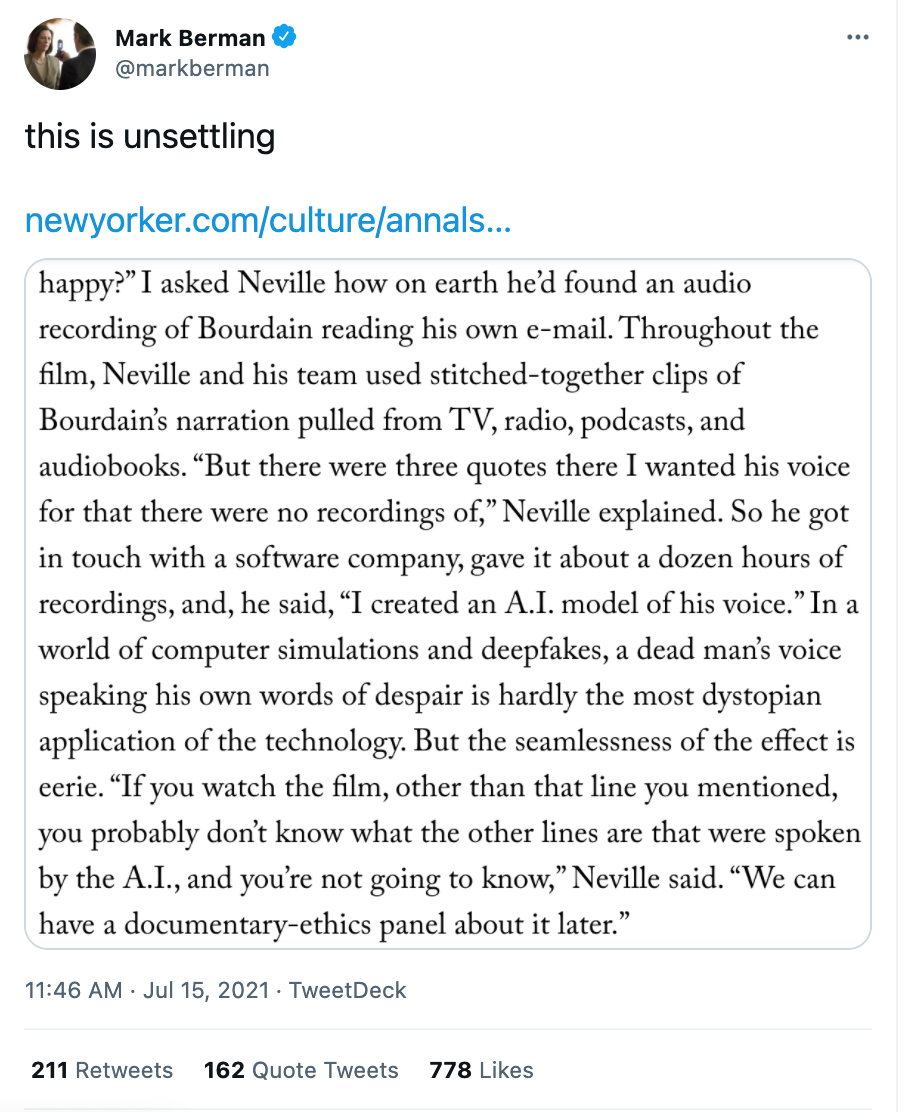 Between the lines: As Rosner noted in her piece, the AI-generated voice — which you can hear at about the 1:30 mark of the documentary's trailer — is speaking Bourdain's own words, not something that was fabricated.
But the ethics of using technology to bring a dead man's voice back to life to say words he never actually spoke aloud at the very least seems, as Neville himself admits, worthy of a chin-stroking documentary panel.
What's next: As MIT Tech Review's Karen Hao describes in a recent piece, startups are using deep learning to build eerily life-like synthetic voices for digital assistants, video-game characters and more.
4. Alarming rise in overdose deaths
Overdose deaths in the U.S. soared to more than 93,300 last year, up nearly 30% from more than 72,000 deaths in 2019, newly released federal data shows, writes Tina Reed.
The states with the greatest increases included Vermont (58%), Kentucky (54%) and South Carolina (52%).
Only two states — South Dakota and New Hampshire — saw a decline in overdose deaths in 2020.
5. 1 sign of the times: The return of shared car rides
One of the first things to go when the pandemic struck U.S. cities is back: carpooling, writes Erica Pandey.
Driving the news: Lyft is bringing back shared rides in Philadelphia, Chicago and Denver on Monday, with plans to keep adding cities over the coming months.
Why it matters: It's a sign that several U.S. cities are returning to the pre-pandemic normal. Sharing the back seat with strangers was unthinkable at the beginning of 2021.
Lyft is limiting shared rides to just two passengers for now.
An Uber spokesperson tells Axios the company has no plans to bring back its pooled rides in the U.S. yet. Uber Pool is available in some Australian cities, which got the coronavirus outbreak under control months ago.