Axios What's Next
June 08, 2022
See something cool that speaks to the way we'll live, work, play or get around in the future? Email us a photo at [email protected].
Today's Smart Brevity count: 1,110 words ... 4 minutes.
1 big thing: Say hi to Heat Wave Henry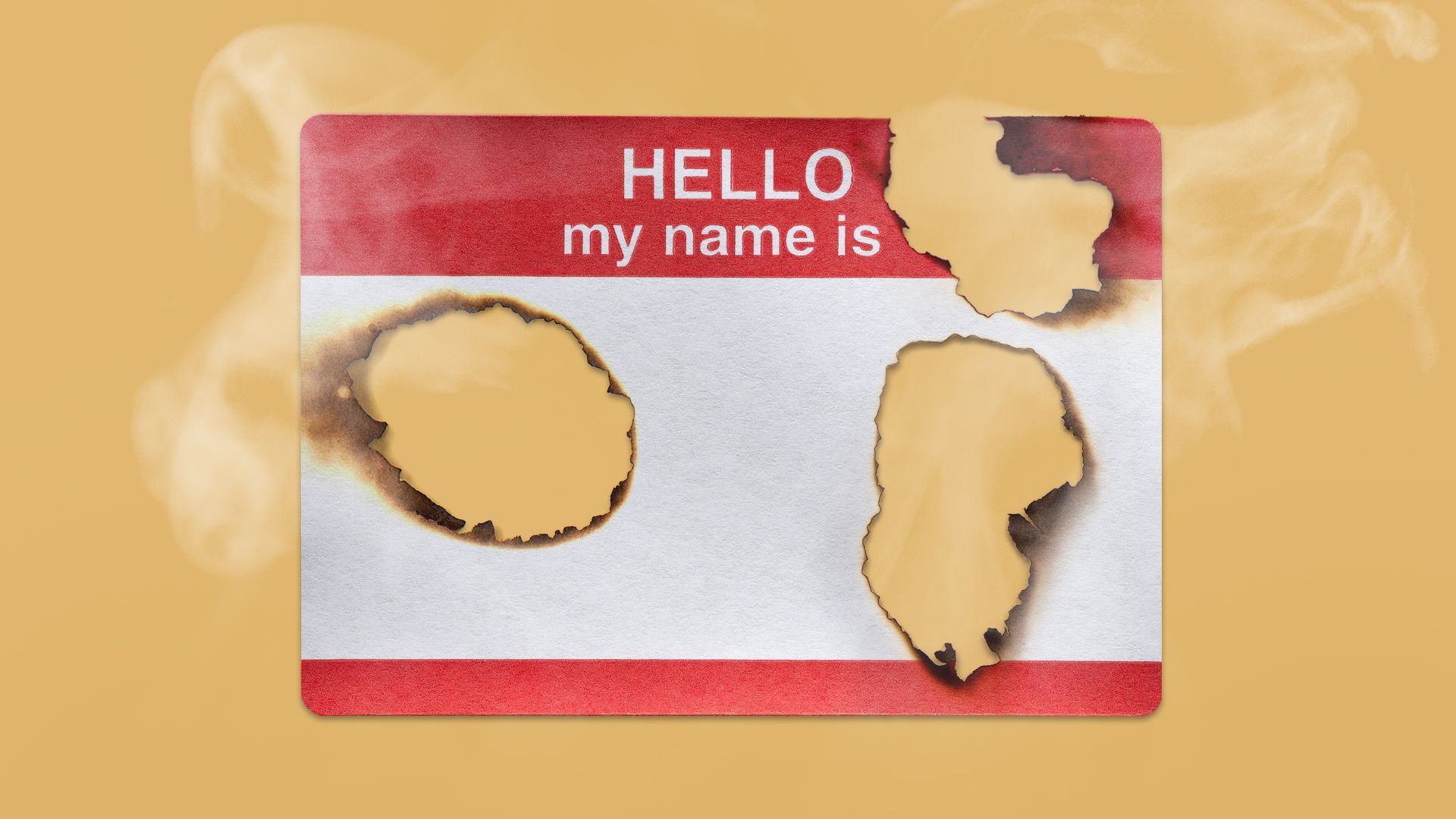 There's a growing effort to name and categorize heat waves the way we do hurricanes — the better to call attention to their significance, alert people to dangerous temperatures and prod public officials into action, Jennifer A. Kingson reports.
Why it matters: Heat waves are the deadliest type of weather emergency in the U.S. They're bigger killers than floods, tornadoes or hurricanes — and they're growing in frequency and intensity due to global warming.
Excessive heat — which hits low-income communities the hardest — doesn't lend itself to dramatic TV coverage, so people sometimes underestimate the risk.
Proponents of a more formal public warning system say it could save lives and trigger measures like opening community cooling stations and asking people to stay indoors.
Driving the news: This month Seville, Spain is poised to become the first city to start naming severe heat waves.
Five other cities — Los Angeles; Miami; Milwaukee; Kansas City, Missouri; and Athens — have also started piloting a similar initiative, using weather data and public health criteria to categorize heat waves.
They'll use a three-category system that organizers want to standardize. Each city's system will be tailored to its particular climate.
A "category three" heat wave in L.A., for example, will look and feel quite different from the same designation in Milwaukee.
"Some of the places least accustomed to heat are the most at risk," says Kathy Baughman McLeod, director of the Adrienne Arsht-Rockefeller Foundation Resilience Center (known as Arsht-Rock), which is spearheading efforts to name and categorize heat waves.
Details: Under the warning system starting up in the six global cities, "category one" is the least severe, while "category three" would be "the top 10% of terrible heat waves," said Larry Kalkstein, Arsht-Rock's chief heat science adviser.
Any of the designations would ideally trigger measures like opening city pools, curtailing outdoor sports, activating emergency heat lines, and sending people door-to-door to check on the elderly and at-risk.
Where it stands: Arsht-Rock and its two-year-old Extreme Heat Resilience Alliance are pressing the National Oceanic and Atmospheric Administration (NOAA) and the World Meteorological Organization to make naming and ranking of heat waves standard practice.
NOAA operates the U.S. National Weather Service, which — so far — favors early warning systems but not a naming system.
The National Weather Service tells Axios that while it "does not name heat waves," it does "appreciate the value of continued research and engagement to further our understanding of and response to extreme heat and other weather events."
What's next: In July, Arsht-Rock will release projections about the expected mortality of heat in 13 cities, plus new data about heat's impact on worker productivity.
Meanwhile, California could soon become the first U.S. state to set up a system for early warning and ranking of extreme heat events.
2. Quick chart: Workplace visits 📈
Workplace office visits are up more than 300% since the pandemic sparked a worldwide office exodus, per new data from office management platform Envoy shared with Axios, Alex Fitzpatrick reports.
Envoy's data is based on employee and visitor sign-ins from 14,000 worldwide locations across a range of companies.
By the numbers:
Larger companies are seeing a bigger rebound — office visits are up 88% since the start of this year for companies with 1,500 or more employees, compared to just 56% for those with fewer than 50.
Non-employee visits are up 43% overall this year, in part thanks to the return of onsite interviews, Envoy says.
What they're saying: "We expect the momentum to continue," says Envoy head of analytics Jonathan Weindel. "And we see it in the headlines — almost every day more companies are either coming back fully, or coming back in a more hybrid fashion."
Between the lines: The data is further evidence that fully remote work is dying off as companies pressure workers to head back into the office.
What's next: Envoy expects a further 30% bump in weekly office traffic over the next six months — meaning execs, office managers and workers should prepare for less elbow room.
3. The Saudis' 💰💰💰 push to solve aging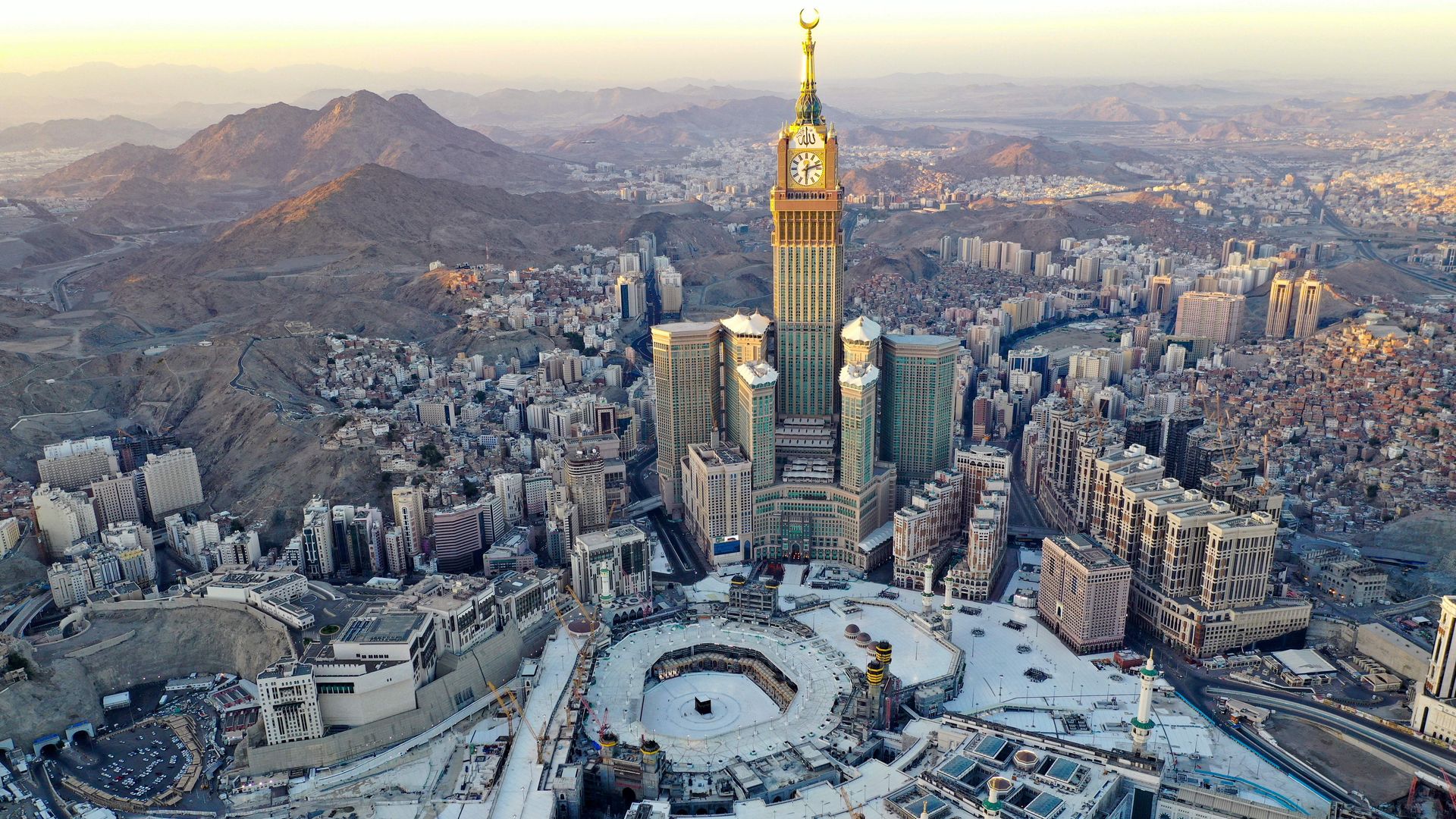 The Saudi royal family is spinning up an extremely well-financed nonprofit aimed at extending the human life span, MIT Technology Review reports.
The Hevolution Foundation will spend up to $1 billion annually on research into the aging process and ways to slow it, per the magazine.
Why it matters: That kind of money will instantly make Hevolution — and the Saudis more broadly — the world's biggest backers of lifespan-extending research.
The group has yet to be formally announced, and it isn't clear exactly which projects it will back.
But, but, but: A Who's Who of U.S. tech billionaires, including Larry Page and Peter Thiel, have tried to crack aging with few tangible results so far.
4. Small airports are on life support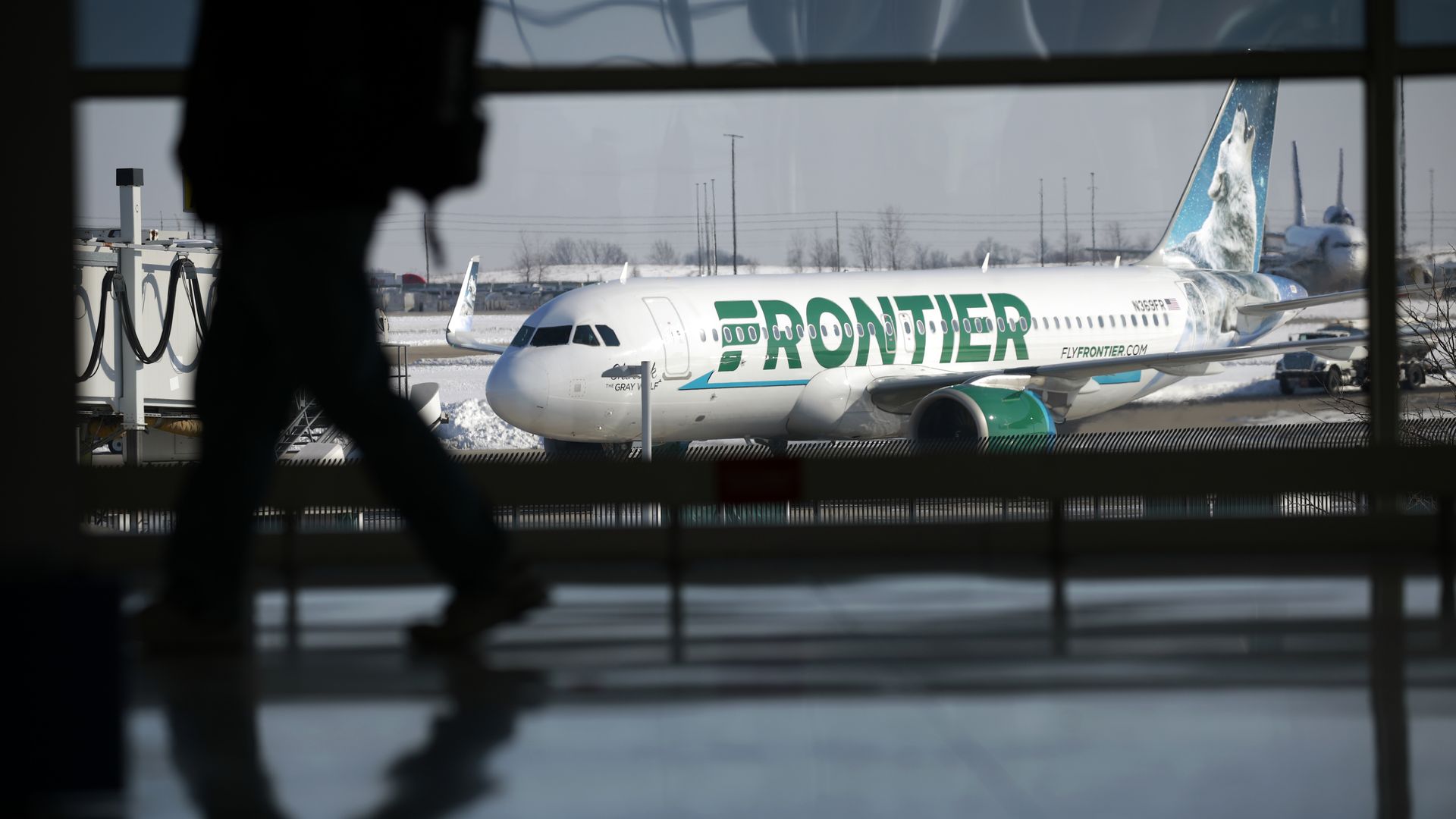 Smaller U.S. cities are losing air service left and right as airlines abandon underperforming routes, the Wall Street Journal reports.
30 airports have lost "at least half the departures they had in 2019," per the paper.
Major airlines are scooping up pilots from regional carriers that serve small airports, forcing service cutbacks.
Why it matters: Small airports provide essential connections to the wider air travel network — but if they're not being adequately serviced, they're harder to justify and likelier to close.
Some cities are making deals with smaller airlines like Spirit and Frontier that serve popular vacation destinations rather than traditional hubs — think Vegas, not Chicago or Atlanta.
Others are guaranteeing airlines a minimum amount of revenue for preserving existing flights.
Our thought bubble: Access to the broader air network can be an essential economic lifeline for small and medium-size cities. At the same time, these kinds of disruptions offer upstart airlines a chance to come in and try something new.
5. I'm at the mega Taco Bell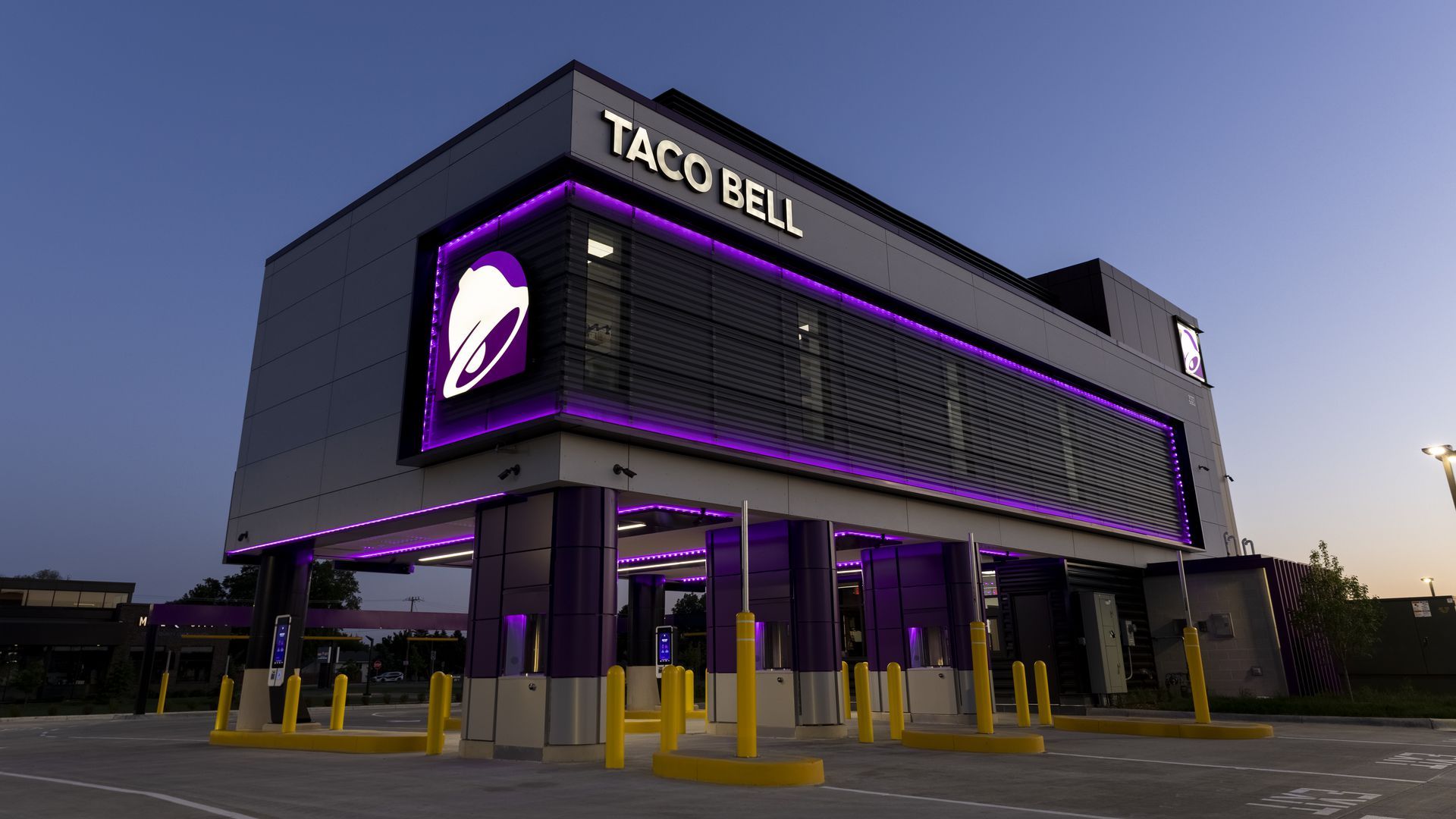 The first of Taco Bell's new "Defy" restaurant concepts — which has multiple drive-thru lanes with pneumatic tubes that work like bank tubes — is now open in Brooklyn Park, Minnesota, Axios' Kelly Tyko reports.
Food is delivered from the elevated kitchen above through a proprietary lift system developed by Minneapolis-based Vertical Works.
Three of the four lanes are dedicated to mobile or delivery orders.
What they're saying: "We believe that it's the first one of its kind, definitely in the United States and we think maybe throughout the world, in terms of how we're moving the food from the kitchen down to the customer," franchise owner Lee Engler told Axios.
What's next: A second Defy restaurant is set to open next year, also in Minnesota.
Was this email forwarded to you? Get your daily dose of What's Next magic by signing up for our free newsletter here.