Axios Vitals
April 30, 2021
Good morning ... Happy Kentucky Derby weekend. Drink an extra mint julep for me, your favorite Kentuckian.
Today's newsletter is: 688 words — the most exciting 2 minutes in news.
1 big thing: The next 100 million vaccinations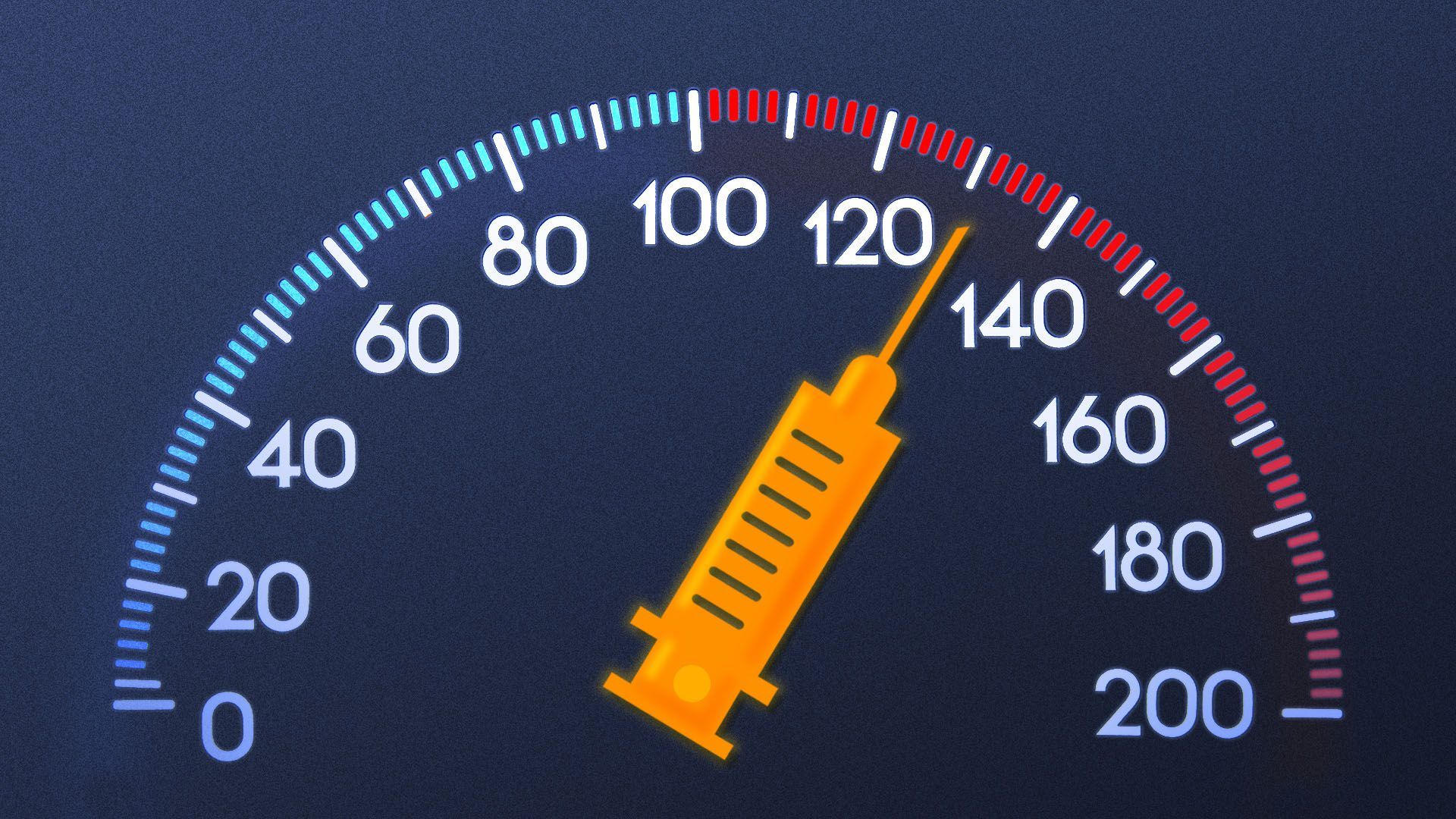 100 million fully Americans are now fully vaccinated against COVID-19, according to the CDC's tracker.
That's 38% of the country's adult population — and 55% of the adult population has had at least one shot. All told, the U.S. has administered nearly 240 million shots.
That is an enormous success, in such a short time. But, of course, it only gets harder from here — both domestically and globally.
What's next: Moderna is planning to dramatically expand its manufacturing capacity, both to keep up with the extreme global demand and to start making booster shots to address COVID-19 variants.
The company upped its minimum expected output for this year, saying it now expects to make at least 800 million doses, and that it'll be able to make as many as 3 billion doses in 2022.
Between the lines: The U.S. has a stranglehold on the Pfizer and Moderna vaccines doses right now, and Moderna said it's increasing its domestic manufacturing capacity by 50%.
But it's also making big investments in overseas facilities, which will allow it to serve more of the world.
For the first time, Pfizer is now exporting some of the doses it's making in the U.S., Reuters scoops.
2. AstraZeneca can't catch a break
Pfizer and Moderna are expanding, while AstraZeneca has "struggled to pull together the full data" it needs in order to apply for an emergency use authorization from the FDA, the Wall Street Journal reports.
The company's filing has been delayed, according to the Journal, as it pulls together the reams of real-world safety and efficacy data — which, to be fair, its competitors didn't have to do, because they started off in the U.S.
AstraZeneca is also still battling production issues that have prevented it from meeting some of its production targets, and its vaccine has suffered multiple reputational hits, both in the U.S. and Europe.
A stamp of approval from American regulators could help reassure the rest of the world that the vaccine is safe and effective — but getting there is taking longer than expected.
Flashback: Why the credibility of AstraZeneca's vaccine data matters
3. Hospital revenues bounce back
Hospitals' finances are climbing back toward pre-pandemic levels as patients come back — at least in outpatient settings, Axios' Tina Reed reports.
The big picture: Volumes are still down compared to 2019, but the upticks in business since the start of the pandemic could be an indicator that consumer confidence is returning, said Erik Swanson, senior vice president of data and analytics at Kaufman Hall.
"We're pretty optimistic for the rest of the year," said John Ransom, managing director of health care equity research at Raymond James & Associates.
With upwards of 80% of seniors vaccinated, "there is no reason they can't go see their doctor and get that elective procedure done," he said.
Emergency department visits, however, are still down, and may stay that way for a long time.
"Many people have learned you don't have to go to the ER for a black eye or stitches or that sort of thing," Ransom said.
4. Colorado's public option goes bust
Colorado is bailing on its plans for a state-level public insurance option — a reflection of political realities that the pandemic has only intensified.
Details: Colorado's plan was once seen as a potential model for other states, or even the federal government. But the state hit the brakes when the pandemic hit, and has now decided not to revive its public option, Kaiser Health News reports.
Between the lines: The biggest losers from public insurance plans aren't necessarily insurers, but hospitals.
After the whole country spent a year lionizing the very real sacrifices health care workers made during the pandemic, it's simply a whole lot harder, politically, to take on hospitals.
That's true in Colorado, and it will very likely be true in Congress, too. And the pharmaceutical industry, fresh off of delivering the coronavirus vaccines, may get some of the same political goodwill.
5. Monkey of the week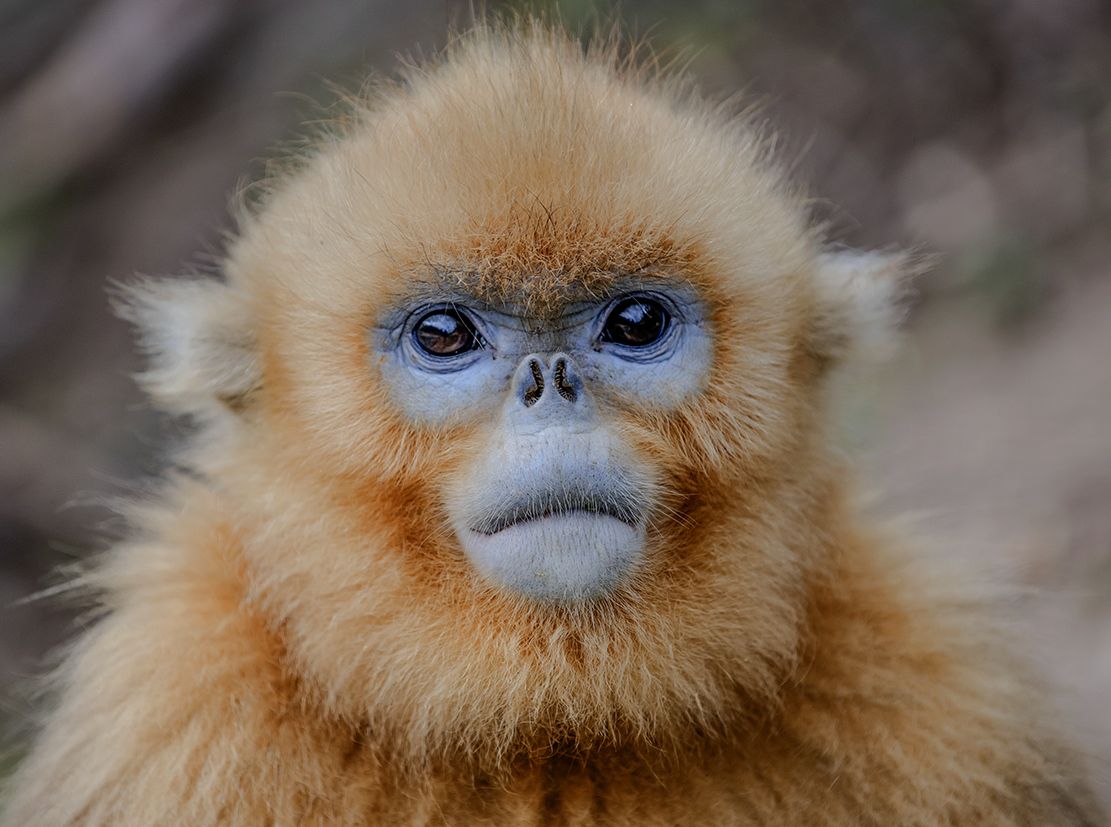 There's no dog of the week this week. You already know about dogs. You know what a picture of a dog would look like, and you know how you would react to it.
What you may not know, however, is the absolute delight — the unbridled, transcendent joy — of watching golden snub-nosed monkeys eating snacks.
The golden snub-nosed monkey apparently lives in China, and is endangered. 😔 I don't have a lot of monkey facts for you. I'm not a monkey expert. These have just been going around on Twitter lately, and I can't get enough.