March 26, 2019
Good morning ... "Population Bracketology," is a very fun little game brought to you by the Census Bureau. And it taught me that I have absolutely no mental picture of how big Tampa is, compared to almost any other medium-large city.
Did somebody forward you this newsletter? You can sign up for yourself here.
1 big thing: Justice Dept. now wants the entire ACA struck down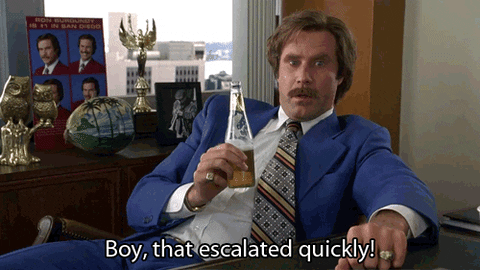 The Justice Department now wants the courts to strike down the entire Affordable Care Act — not just its protections for people with pre-existing conditions.
This is a stunning escalation, raising both the real-world and political stakes in a lawsuit where both the real-world and political stakes were already very high.
Where it stands: Judge Reed O'Connor ruled in December that the ACA's individual mandate has become unconstitutional, and that the whole law must fall along with it.
At the time, the Trump administration argued that the courts should only throw out the mandate and protections for pre-existing conditions — not the whole law.
But in a one-page filing last night, DOJ said the 5th Circuit Court of Appeals should affirm O'Connor's entire ruling.
Why it matters: If DOJ ultimately gets its way here, the ripple effects would be cataclysmic. The ACA's insurance exchanges would go away. So would its Medicaid expansion. Millions would lose their coverage.
The FDA would lose have the authority to approve an entire class of drugs.
The federal government would lose a lot of its power to test new payment models — in fact, the administration is relying on some of those ACA powers as it explores conservative changes to Medicaid.
Politically, this makes no sense. Chuck Schumer and Nancy Pelosi must be dancing in the streets.
Health care — specifically pre-existing conditions — was overwhelmingly a winning issue for Democrats in 2018.
This lawsuit already had Republicans in an unpleasant bind.
Now the administration is doubling down, putting even more people's coverage on the chopping block.
What they're saying:
"The bad faith on display here is jaw-dropping," pro-ACA legal expert Nick Bagley writes.
"I was among those who cheered the selection of William Barr as Attorney General and hoped his confirmation would herald the elevation of law over politics within the Justice Department. I am still hopeful, but this latest filing is not a good sign," said Jonathan Adler, a conservative law professor who helped spearhead the last big ACA lawsuit.
2. Timing plays into Democrats' hands
Y'know what was already on House Democrats' agenda for today, even before the DOJ news broke last night? A press conference to introduce a package of bills that would incrementally expand on the Affordable Care Act.
Details: Democrats' bills would expand the ACA's subsidies for both premiums and out-of-pocket costs.
The package also would effectively nullify Trump's expansion of bare-bones "short-term" insurance plans, per the New York Times; provide money to promote enrollment; and encourage states to set up reinsurance programs, which help reduce premiums.
Between the lines: These are pretty safe, standard Democratic ideas that would be a lot less newsworthy without the stark contrast Trump's Justice Department is providing.
The internal Democratic debate between "Medicare for All" and "Defend the ACA" won't go away, because the presidential primary is still going on. But to the extent it's an active fissure among House Democrats, Trump's latest move at least can't hurt Pelosi's effort to keep her caucus on the same page.
My thought bubble: One press conference on one day is no big deal, but we've already watched Democrats build a narrative and a campaign message around health care — including this exact lawsuit. There's no reason to believe they can't do it again, especially with even more on the line in court.
3. The unofficial health care system
When we talk about the cost and complexity of the U.S. health care system, we usually don't account for the time, money and labor donated by friends and family members — sometimes even strangers. But those unofficial supports are a large and growing part of American health care.
Caregivers spend their own money, take time away from work and provide help that would otherwise be very expensive — it would all add up to billions of dollars, if they were paid.
Health care expert Aaron Carroll writes in the New York Times about his experience helping out a friend who was undergoing cancer treatment, and similar stories from others: spouses and siblings taking time off work to be there during treatment; friends pitching in to offer a ride to the hospital, or help with child care.
Patients also rely on friends, family and strangers to pay their bills.
Medical campaigns on GoFundMe raise about $650 million per year.
Access to these unofficial support systems is not equal.
A successful medical GoFundMe often takes a certain level of production value, and volunteer caregiving often requires a flexible job and disposable income.
What's next: Lawmakers in several states are considering tax credits to help caregivers either hire professional help or defray certain costs, Kaiser Health News reports.
The bottom line, from Carroll: "Rides to the hospital are care. The time spent at home with those recuperating after procedures is care. Watching and monitoring and caring for the ill in their home is just as much care as doing the same in a hospital. We are willing to pay a fortune for the former, and almost nothing for the latter."
4. Health apps become suicide hotlines
While we're on the subject of getting help in unusual places, Stat has an interesting and surprisingly optimistic piece about how digital health apps are helping potentially suicidal patients.
These are mainly apps designed for other, non-emergency purposes — like Ada, a chatbot that gives users the most likely diagnoses based on symptoms they report. More than 130,000 users have told the app they're having suicidal thoughts, according to Stat.
Ada has a system in place to either suggest that you find someone to talk to or, if necessary, that you call an ambulance right away.
Strategies are mixed — one company told Stat it doesn't call the authorities when its clinicians sense a user in distress, but other operators, including tele-health companies where a nurse or doctor can see and hear their patient, said they've been able to intervene and help save lives.
5. All the old diseases are new again
It's not just the U.S. and it's not just the anti-vaccination trend — the return of once-defeated diseases is a global phenomenon, Axios' Steve Levine writes.
Driving the news: Measles had been eliminated from the U.S. in 2000, but we're experiencing a resurgence of both measles and mumps, concentrated mainly in New York, Texas and Washington state.
Europe, too, has had a surge of mumps, pertussis, rubella and tetanus over the last two years, according to the World Health Organization. Measles killed 72 people in Europe last year, among 82,596 who contracted the disease, according to the WHO.
The U.S. outbreaks are primarily the result of unvaccinated people contracting these diseases abroad, then coming home and transmitting them to other unvaccinated people in their communities.
Vaccination is the key factor in that equation, of course, and would be a safeguard against transmission. But, Steve notes, other cultural changes are also at play.
Some experts cited cheaper travel as one factor, and said migration and global poverty could also be contributing to more concentrated populations of people who don't always have access to vaccinations or treatment.
Thanks for reading. I always welcome your tips and feedback: [email protected], or just reply to this email.