July 10, 2018
Good morning … Many thanks to my colleagues Bob Herman and Caitlin Owens for holding down the fort while I took a few days off. But now I'm back. Party's over.
1 big thing: Brett Kavanaugh and the ACA
Now that President Trump has nominated Judge Brett Kavanaugh to the Supreme Court, there are two specific health care cases you'll probably be hearing more about — from both Democrats warning that he'll overturn the Affordable Care Act and conservative hardliners who are afraid he won't.
Kavanaugh's most significant ACA-related decision was in a case about the individual mandate. He did not, contrary to what some of his critics have implied, vote to uphold the mandate.
Kavanaugh, citing the federal Anti-Injunction Act, said the courts should not entertain taxpayers' lawsuits over a tax until they've had to pay it. The basic idea is that you haven't suffered a real harm until the IRS has sent you a bill.
He did not take a position on the merits of the mandate.
Yes, this posture assumes that the mandate is a tax, as Chief Justice John Roberts ultimately held in 2012. That's because it's part of the tax code and was enforced by the IRS. Like a tax.
The second case dealt with a more far-fetched challenge: It sought to have the ACA invalidated because the Senate wrote most of it.
The Constitution's Origination Clause says bills that raise revenues have to originate in the House, not the Senate.
So when the Senate wants to pass a revenue-raising bill, it often takes a random House-passed bill, strips everything out, and adds an amendment with whatever it wants to pass. That's what it did with the ACA.
"Such Senate amendments are permissible under the Clause's text and precedent," Kavanaugh wrote. But he said an earlier ruling had upheld the law for the wrong reasons, and that his court should take another look at that decision. He lost.
Small world: Kavanaugh and HHS Secretary Alex Azar worked together on independent counsel Ken Starr's investigation of the Clintons in the '90s. Azar praised the pick last night.
Expect Kavanaugh to face some questions about his experience with Starr — and how it shaped his views on whether and how presidents can be prosecuted — during his confirmation hearings.
2. Blues lose from ACA payment freeze
Bob has a helpful breakdown this morning of the winners and losers from the Trump administration's decision to freeze the ACA's risk adjustment program.
Winners: Five insurers are each supposed to pay at least $100 million into the program. They would directly benefit if the 2017 risk adjustment transfers go away.
No insurer owes more than Kaiser Permanente, at nearly $928 million. Molina Healthcare and Centene also owe huge sums ($853 million and $689 million, respectively).
Losers: Nine health insurance companies are owed at least $100 million each in risk adjustment payments
Blue Shield of California is owed $696 million. Not far behind are several other BCBS affiliates including Health Care Service Corp. ($640 million), BCBS of Florida ($618 million) and Anthem ($522 million).
The big picture: It is highly unlikely, though hypothetically possible, the government will kill the $10.4 billion in pending risk adjustment transfer amounts for 2017. But the timing of the freeze has puzzled analysts and raised questions of political motivations.
3. Physician burnout is a safety risk
Doctors burn out just like the rest of us — but with much more dire consequences. A new study published yesterday in Mayo Clinic Proceedings finds that physician burnout is rampant, and contributes to major medical errors.
By the numbers: In the survey of more than 6,500 doctors ...
54% reported symptoms of burnout, including 33% who reported "excess fatigue" and 7% who reported having suicidal thoughts.
10% said they had committed a major error in the previous three months.
Doctors who reported a major medical error were more likely to also report feeling burned out.
Why it matters: Being a doctor can be a a stressful job, compounded by administrative headaches. When health systems don't take steps to protect the mental health of the doctors who work there, they put patients at risk.
4. Women say border policy causing miscarriages
Pregnant women in immigration detention are not getting the medical care they need, which has in some cases led to miscarriages, BuzzFeed reports.
Between the lines: Under a new Department of Homeland Security policy implemented in December, women who are not yet in their third trimester of pregnancy are being detained. In some cases, they're also being mistreated, BuzzFeed found.
The Obama administration's policy was not to detain pregnant women except in extreme circumstances or in cases of expedited deportation.
The Trump administration's policy prohibits women from being detained into their third trimester, and says pregnant detainees must receive adequate medical care.
Yes, but: BuzzFeed found that detained pregnant women aren't receiving that care, chronicling stories of women who were bleeding and cramping — signs of a miscarriage — yet not given medical care. Other women were shackled around the stomach.
DHS Secretary Kirstjen Nielsen testified before Congress in May that pregnant women are receiving "adequate care" in detention facilities.
P.S. Of the roughly 100 children younger than 5 who were separated from their parents by the Trump administration, 54 will be reunited by today's court-imposed deadline, CNN reports.
5. Well, that's one way to use a smartwatch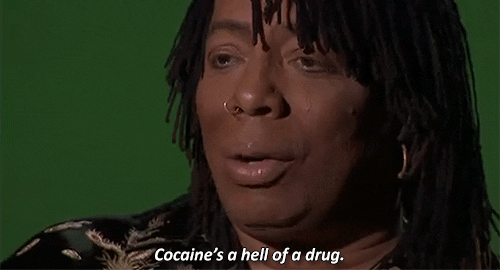 Some people in Silicon Valley are using their Fitbits, Apple Watches and similar devices for a warning that they're about to do too much cocaine, CNBC reports. When they see their heart rates spike, they dial it back.
"Watching your heart rate change on the Fitbit while doing cocaine is super real data that you're getting about yourself," one Silicon Valley tech worker told CNBC.
The same techie shared this system with some friends at — where else? — Burning Man: "They said, 'This make so much sense, we should be doing this.'"
"Drugs are basically the only reason I wear a Fitbit," another person wrote online. "I want an early warning system for when my heart's going to explode."
Spoiler alert: This is not a great system. Cocaine also affects your blood pressure and heart rhythm, not just your heart rate. And these devices are not necessarily super accurate as heart rate monitors.
Another option: Don't do cocaine.
What we're watching today: National Coalition on Health Care event covering strategies to reduce health care costs (10am).
What we're watching this week: The House Ways and Means Committee marks up several health care bills Wednesday, including measures to restrict abortion coverage, create new bare-bones "copper" plans and expand health savings accounts.
Energy and Commerce Committee hearing on the 340B program Wednesday.
What am I missing? I mostly stayed off Twitter while I was on vacation so no one has yelled at me in, like, a week. This is your chance! I'm at @sam_baker or email [email protected].