Axios Vitals
October 30, 2018
Good morning ... A big piece of non-health-care news this morning: President Trump said in an interview for "Axios on HBO" that he is planning to use an executive order to end birthright citizenship. Read more here and watch the show's premiere this Sunday at 6:30pm ET/PT.
1 big thing: A new view of Medicaid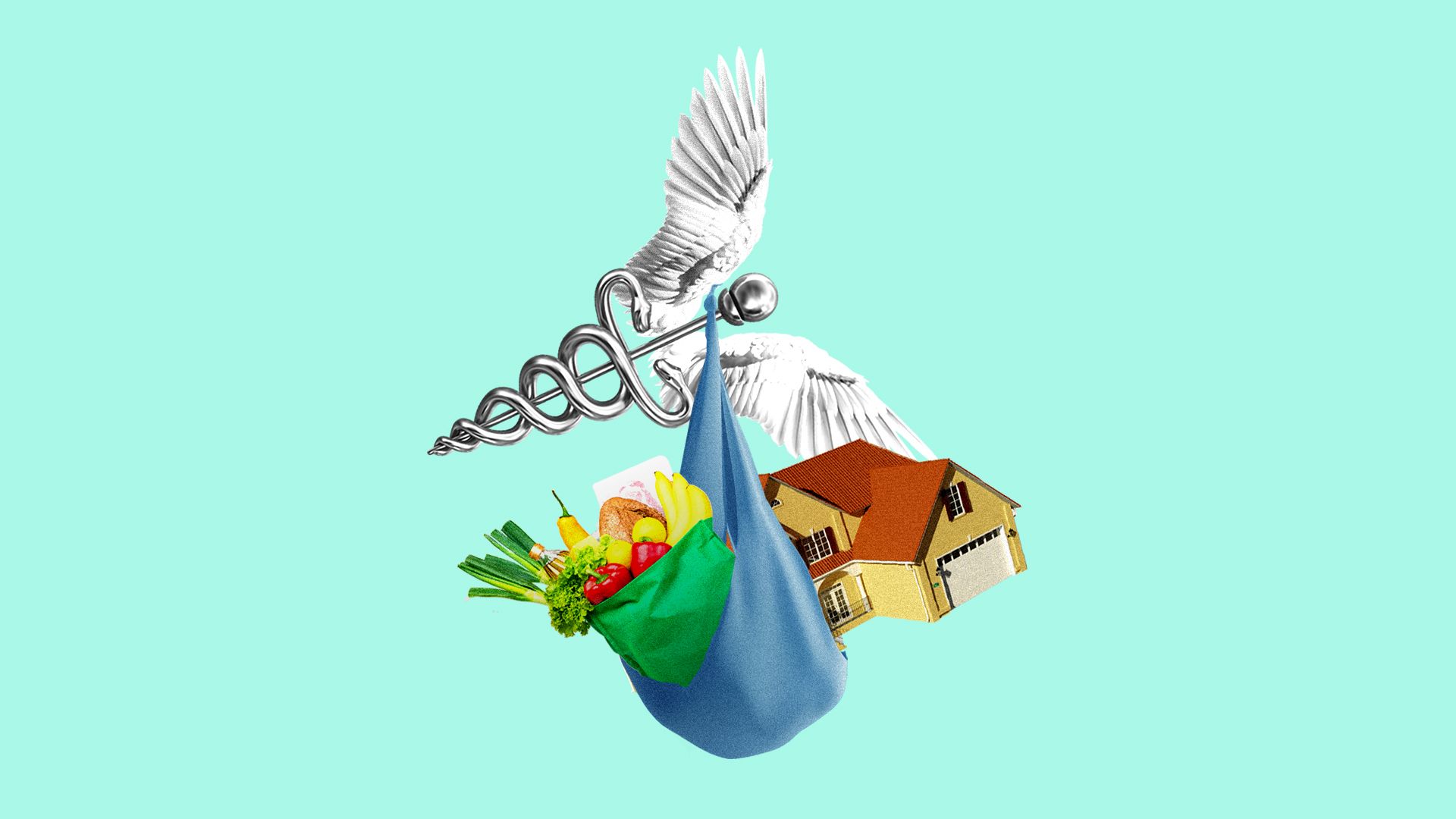 The health policy world is paying more and more attention to the social factors — like housing, transportation and toxic stress — that have a big effect on people's health, even though they fall outside the health care system. And states are using their Medicaid programs to help lead the way.
The latest and most significant example comes from North Carolina, which won federal approval last week for a Medicaid waiver that includes pilot programs focused on housing, employment, transportation and access to healthy food.
"As we seek to create a health care system that truly rewards value, we must consider the impact that factors beyond medical care have in driving up health costs," federal Medicaid administrator Seema Verma said in a Health Affairs post announcing North Carolina's waiver approval.
This is a bigger trend — and it's not confined to blue states. My colleague Caitlin Owens rounded up some of the other strategies state Medicaid programs are pursuing:
Oregon and Colorado have both established regional organizations that focus on integrating social, behavioral and physical elements of health. One Colorado organization uses Meals on Wheels to help Medicaid enrollees discharged from the hospital get food.
Texas has installed refrigerators in some homeless shelters so people can refrigerate their insulin.
The Louisiana Department of Health is working with the state housing authority to reduce homelessness and institutionalization of people with disabilities.
2. Everyone's price differs, even at same hospital
A lot has been written about how much the cost of health care varies from one region to another — say, the difference between urban and rural hospitals. But prices also vary within one region, and even within the same hospital, based on the rates each patient's insurance plan has negotiated.
A new working paper, published yesterday in the National Bureau of Economic Research, aims to shed some light on the differences in what various insurers pay for the same services, using data from Massachusetts' claims database.
By the numbers: On average, across a handful of common procedures, the most expensive major insurer pays about 13% more than the cheapest major insurer, the paper found.
The cheapest plan isn't cheaper for every service. For example, in Massachusetts, Tufts Health Plan pays about 36% less than the Blue Cross Blue Shield plan for knee replacements. For MRIs, though, Tufts pays slightly more than Blue Cross.
Why it matters: This is another illustration of just how hard it is to do anything resembling comparison shopping in health care. Even when you already have an insurance plan, competing hospitals often can't tell you how much a common procedure will cost.
To really get the most bang for your buck, you'd need to know what services you're going to be in the market for, decide which hospital you'll want to go to for those services, and sign up for the insurance policy with the lowest price for what you need.
That's just not feasible. And in states that don't have claims databases like the one in Massachusetts, it might not even be possible.
3. Getting paid to go to Mexico for your drugs
How much more expensive are prescription drugs in the U.S.? Enough that one Utah insurer can fly its customers to San Diego, give them a ride across the Mexican border, pay them $500 cash for their trouble, and still save over $13,000 per person.
This is bananas. PEHP, which covers state employees and their families, recently added the cash bonus to an existing "pharma tourism" package, and is hoping participation will rise, the Salt Lake Tribune reports.
Not all prescriptions will earn you a free trip to Tijuana. The program is limited to a handful of expensive drugs (Humira is on the list), most of which treat multiple sclerosis or arthritis.
Patients are eligible for up to $3,900 per year in rewards if they'll take advantage of the trips to Mexico.
How it works: "Patients who participate will fly to San Diego, be driven through a priority lane at the border crossing and arrive at a clinic, which PEHP director Chet Loftis described as 'top-notch,' comparable to a Mayo or Cleveland clinic in the United States," the Tribune reports.
"Why wouldn't we pay $300 to go to San Diego, drive across to Mexico and save the system tens of thousands of dollars?" state Rep. Norman Thurston asked the paper.
4. Academic hospitals are raking in 💰
Newly disclosed financial reports show that several high-profile academic hospital systems are flush with revenue, Axios' Bob Herman reports.
By the numbers: Here are the operating margins for systems whose fiscal years ended on June 30, with each system collecting more than $2 billion of annual revenue:
University of Colorado Health: 12.1% vs. 13.5% a year ago
Duke University Health System: 7.9% vs. 8.2% a year ago
Rush System for Health: 3.9% vs. 3.1% a year ago
Johns Hopkins Health System: 2.9% vs. 2.5% a year ago
The big picture: Academic hospitals have higher prices and are usually included in most employer insurance networks because of their brand name and prestige — and therefore don't normally struggle financially.
Teaching hospitals also have consolidated over the past several years to form larger, more expansive systems that make it even harder to be excluded from health plans.
5. Why list prices matter
Kaiser Health News' latest example of a crazy-expensive hospital bill is a battery of allergy tests with a sticker price of nearly $50,000, which insurance negotiated down to roughly $11,000, with $3,000 in coinsurance billed to the patient.
Medicare usually pays $16 per allergen for the kind of test performed here. Stanford Health, where this bill came from, charges a list price of $399 per test.
That's the in-network price, making this distinct from "balance billing" practices at the heart of many of these stories.
Between the lines: When we talk about list prices — not just for hospital care, but also prescription drugs — we often note that most patients don't pay the full list price. And that's true.
But they're still the starting point from which insurers negotiate. Even the discounted $11,000 price tag for a series of allergy tests is still far more than Medicare would pay.
When a price starts high, haggling can only bring it down so low.
It's also worth noting that allergy tests don't typically require hospital care. KHN says the patient in this case went to Stanford because getting an appointment with her local dermatologist would take too long.
Hospitals nationwide are not only consolidating among themselves (a particular problem in California), but also snapping up physicians' practices, which then allows those doctors to bill at a higher rate for the same services.
6. Tavenner joins VCU hospital board
ICYMI (we did), Marilyn Tavenner was recently named to the board of Virginia Commonwealth University's hospital.
Tavenner ran Medicare and Medicaid under President Obama and, after that, led the trade group, America's Health Insurance Plans.
VCU Health System had $3.4 billion in revenue last year.