Good morning ... Unless you're Tom Price. In which case, the odds that you're having a good morning are extremely low.
Price check
Offering to pay back a fraction of the cost of his private jet travel has not helped Health and Human Services secretary Tom Price climb out of his political hole. If anything, it seems to be getting deeper.
The buzz:
Price only plans to pay back only "his portion" of the charter flights he has taken since becoming secretary, HHS confirmed yesterday. That would be about $52,000, or 13% of the $400,000 total.
On top of that, Politico reported last night that Price also used military planes for international travel that added up to more than $500,000 — bringing his total taxpayer-funded airfare to north of $1 million.
Price was worth somewhere between $7 million and $21 million last year, according to the Center for Responsive Politics.
The hits keep coming: Price also expressed interest during the first two months of the administration in reopening HHS' executive dining room, BuzzFeed reports.
Reality check: This partial reimbursement will not make Price's troubles go away. Sure, he only took up one seat on each flight, but everyone else was there because he decided to fly private instead of commercial.
This story remains a big deal — Sen. Chuck Grassley jumped into the oversight mix yesterday. And when people are leaking about dining arrangements, it's a strong signal that the knives are out.
Lobbyists and Hill staffers say Price may be on his way out, but consistently attribute that to the failure of health care reform more than the jet fiasco.
Price very well might keep his job, but the health care world is already tossing around names of potential replacements. (So far, we've heard: Medicare and Medicaid administrator Seema Verma; Food and Drug Administration commissioner Scott Gottlieb; and former Louisiana Gov. Bobby Jindal.)
The bottom line: Price is about to be out a chunk of money and his job remains in jeopardy.
Back at the negotiating table
Sens. Lamar Alexander and Patty Murray are still trying to strike a bipartisan deal to stabilize the individual market, despite missing insurers' rate filing deadline. The two senators met on Wednesday, and Alexander told reporters Thursday he hopes to finalize a deal next week.
Where it stands: While Democrats, for the most part, seem eager to pass a stabilization package, the hard part will be to convince Republicans — after failing for a second time to pass a replacement of the Affordable Care Act through the Senate — that making changes to the ACA is a good idea.
"I doubt many in our caucus really 'want' to deal with health care at all right now, but Alexander has been beating the drum pretty regularly at lunch on this. I think there is broad recognition that something probably needs to be done," a senior GOP aide told my colleague Caitlin Owens.
Go deeper: Here's where negotiations stood last week, before they temporarily ended.
Hurricane victims will get special enrollment period
People affected by Hurricanes Harvey, Irma, and Maria will get an extended window to sign up for health insurance through the ACA's exchanges, HHS said yesterday.
Why it matters: So-called "special enrollment periods" have been common in similar circumstances in the past, but it wasn't clear how the Trump administration would approach this.
CHIP's success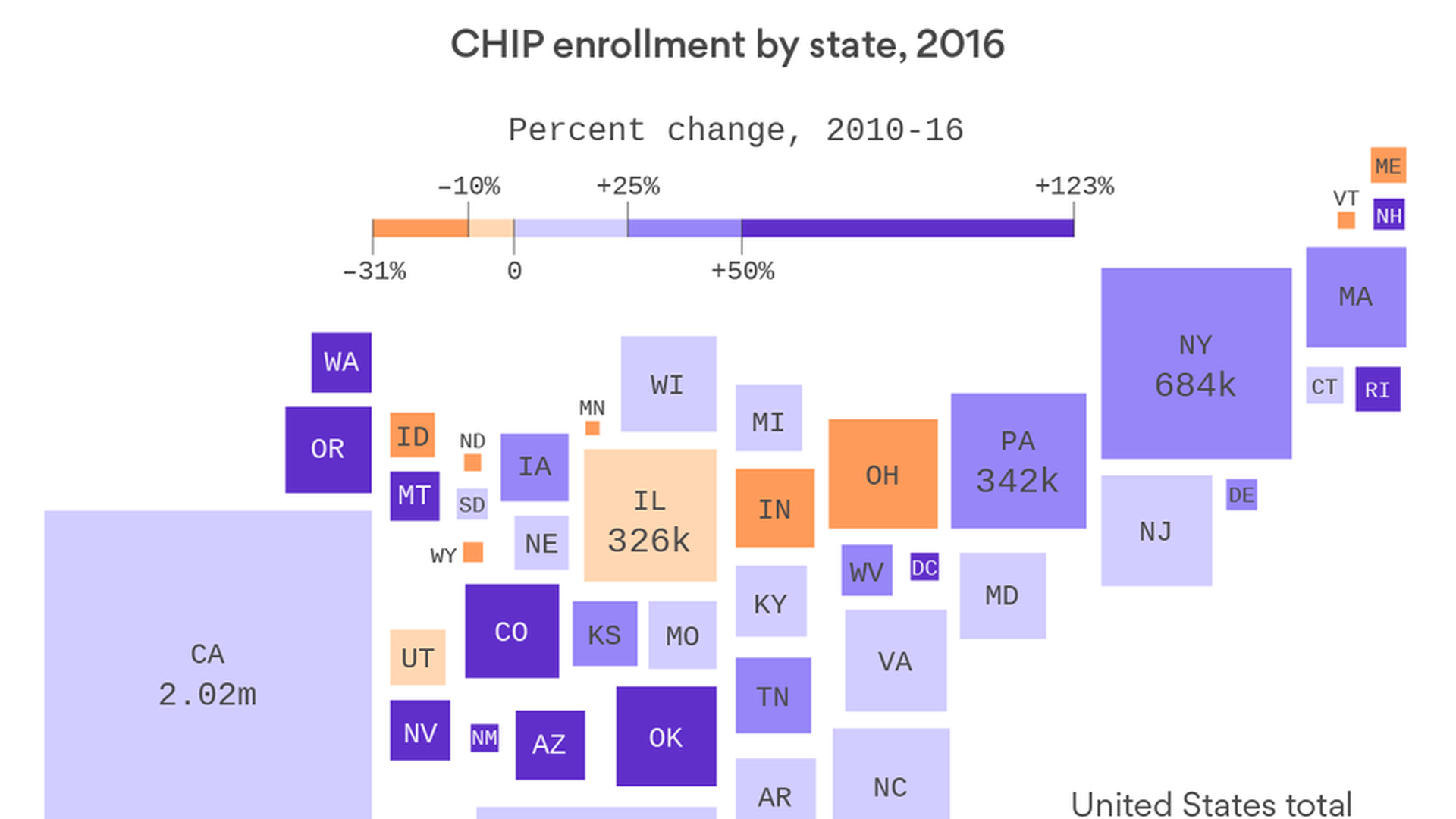 The Children's Health Insurance Program has gotten lost in the shuffle of the ACA debate, but it's worth remembering that CHIP covers a lot of people, and its rolls have been growing steadily in most of the country.
Why it matters: Federal CHIP funding runs out this weekend. Congress is hoping states have enough money left over to float their programs for a while (and many of them do). There's already a bipartisan deal in the Senate to extend the program, and a markup is set for next week in the House Energy and Commerce Committee.
How Massachusetts wants to lower Medicaid drug spending
Drug spending has consumed the Medicaid program in Massachusetts, growing more than 13% annually since 2010. Massachusetts wants to change that through a waiver, first reported by Modern Healthcare, that would allow it to exclude some drugs from being covered.
Get smart: Medicaid programs have to cover almost all FDA-approved drugs, even ones with high price tags. The waiver would allow Massachusetts to create a list of drugs, called a formulary, to exclude certain medicines if they aren't considered clinically effective. Many commercial plans already do this.
The big picture: Massachusetts' waiver caught the attention of a lot of researchers and policy wonks because other states that are buckling under rising drug costs could pursue the same idea. "The state has potentially much stronger pricing power if they can say they'll cover just one drug per class," Rachel Sachs, a Washington University law professor who follows drug policy, told Axios' Bob Herman.
The return of short-term health plans?
The Washington Examiner yesterday flagged an issue you might want to keep on your radar: 14 Republicans in Congress are pushing for the return of short-term insurance policies that don't cover many benefits. The Obama administration limited short-term coverage to 90 days, but Senate Republicans want people to be able to purchase these plans for more than a year.
The knock against short-term plans is that they would appeal to healthy consumers, pulling them out of the market for more comprehensive coverage, and causing the premiums for that coverage to rise.
Why it's worth watching: This is something Price's HHS could do largely on its own, and wouldn't be inconsistent with the department's recent moves.
What we're watching today: Price.
Send me your tips: baker@axios.com