Axios Vitals
March 28, 2019
Good morning ... At long last, this cruel world is starting to address the real problems.
1 big thing: Trump's health agenda gets boxed in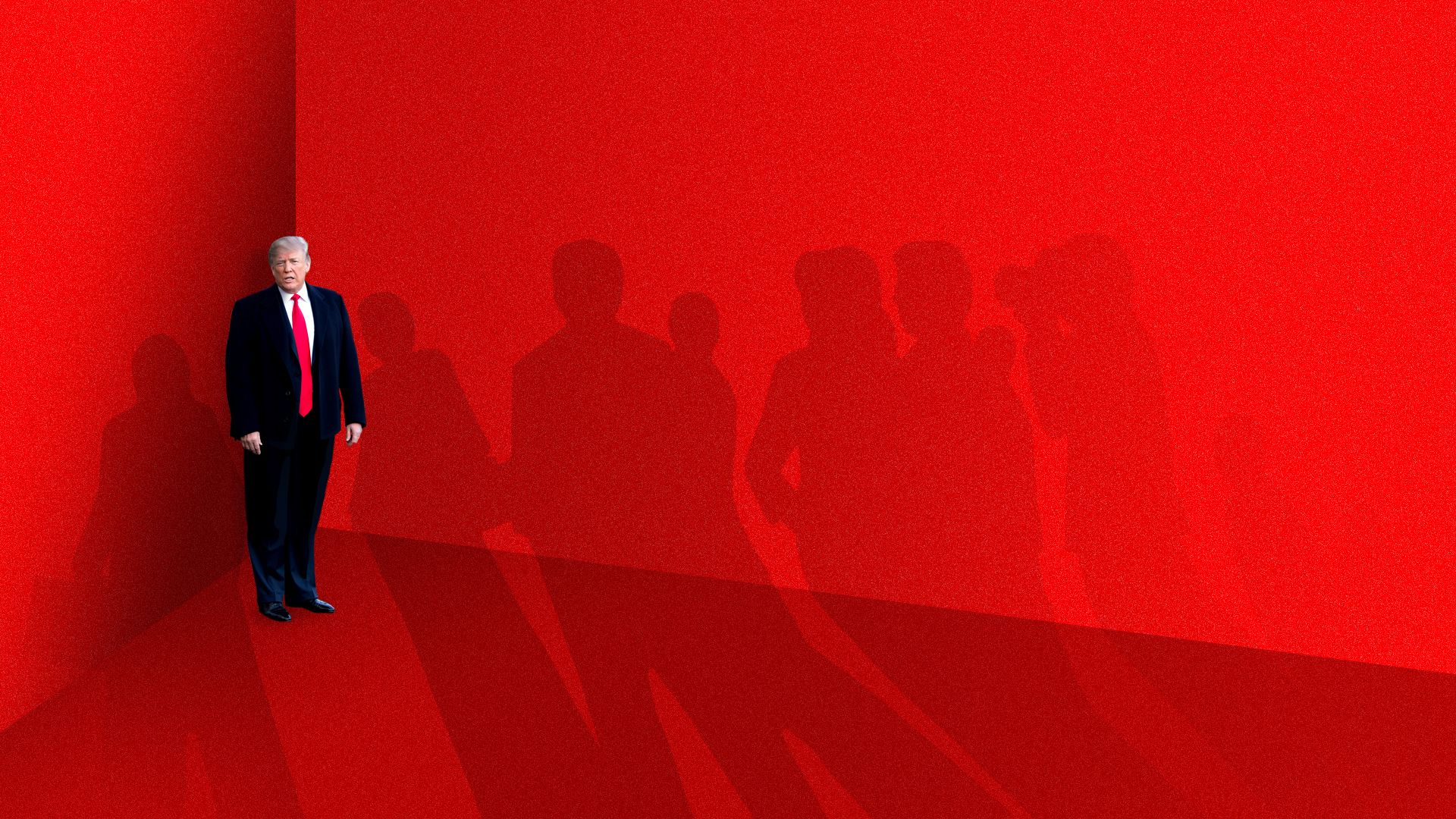 President Trump's health care agenda is making more enemies than friends, hitting brick walls and fierce opposition in the courts, in Congress and even within his own administration.
Driving the news: Yesterday was a bad day for two of Trump's biggest health care priorities.
A federal judge slapped down the administration's approval of Medicaid work requirements — arguably the biggest change it has actually made to health policy so far.
Some congressional Republicans, meanwhile, are quietly (and not-so-quietly) hoping the administration will also lose the separate lawsuit in which it's trying to get the Affordable Care Act thrown out.
The big picture: These are different kinds of setbacks, and there's still a long way to go in all of these legal proceedings. But together, the crosswinds — the political resistance on one side and substantive losses on the other — leave Trump's agenda in a precarious place.
This will keep happening. The administration appears close to finalizing the part of its drug-pricing plan that calls for including drugs' sticker prices in their TV ads. The pharmaceutical industry will likely challenge that proposal in court.
Another component on drug prices — the plan to tie Medicare payments for certain drugs to the prices European countries pay — is still a hard sell for some conservatives on Capitol Hill.
They are giving the administration the benefit of the doubt now, but — as we're beginning to see with the ACA lawsuit — the benefit of the doubt doesn't always last forever.
2. Why Medicaid work requirements lost
Of all the policies the Health and Human Services Department has actually finalized under President Trump, it's hard to think of a more significant rightward turn than the approval of Medicaid work requirements.
But Judge James Boasberg is still not having it. He ruled against Kentucky's work requirements yesterday for the second time, citing many of the same reasons from his first opinion — namely, that HHS is not living up to Medicaid's legally defined purpose as a health care program.
He noted Kentucky and HHS' acknowledgements that fewer people will have Medicaid coverage as a result of these rules, and also criticized Gov. Matt Bevin for threatening to pull out of the expansion entirely if HHS loses this lawsuit.
"The Court cannot concur that the Medicaid Act leaves the Secretary so unconstrained, nor that the states are so armed to refashion the program Congress designed in any way they choose," Boasberg wrote.
Arkansas didn't fare much better, though that case is still earlier in the process than Kentucky's.
Boasberg began his Arkansas opinion with the story of a resident who does work, but didn't know he needed to report his compliance with the state's work requirements every month, and therefore lost his Medicaid coverage, got sick, and lost his job.
That's a clear sign, the ruling argues, that HHS didn't give sufficient weight to work requirements' burden on Medicaid's objectives as a source of health coverage.
What's next: New Hampshire's work requirements are also being challenged in court.
3. Trump's going it alone on ACA lawsuit
Congressional Republicans are not happy about President Trump's decision to up the ante in the latest legal challenge to the Affordable Care Act.
Rep. Kevin McCarthy told the president this would be a mistake, given the trouncing Republicans took in the midterms over these very issues.
Other Republican lawmakers and aides told Axios they can't fathom why the president would want to re-litigate an issue that has been a clear loser for Republicans — especially while riding a pretty good news cycle.
The intrigue: Acting White House Chief of Staff Mick Mulvaney was the driving force behind the White House's new legal positioning.
Based on our own reporting, as well Politico's, and the New York Times', the following people appear to have had varying levels of concern about putting the entire ACA on the chopping block: Attorney General William Barr, HHS Secretary Alex Azar, White House counsel Pat Cipollone, and Vice President Mike Pence.
But it happened anyway.
The bottom line: Republicans are in this boat now, like it or not.
If Trump ultimately prevails here — which legal experts still consider a long shot — Republicans' decision to go nine years without ever coming together on an alternative to the ACA, while still putting themselves in a position to need one, may finally catch up to them.
4. FDA will tighten drug safety rules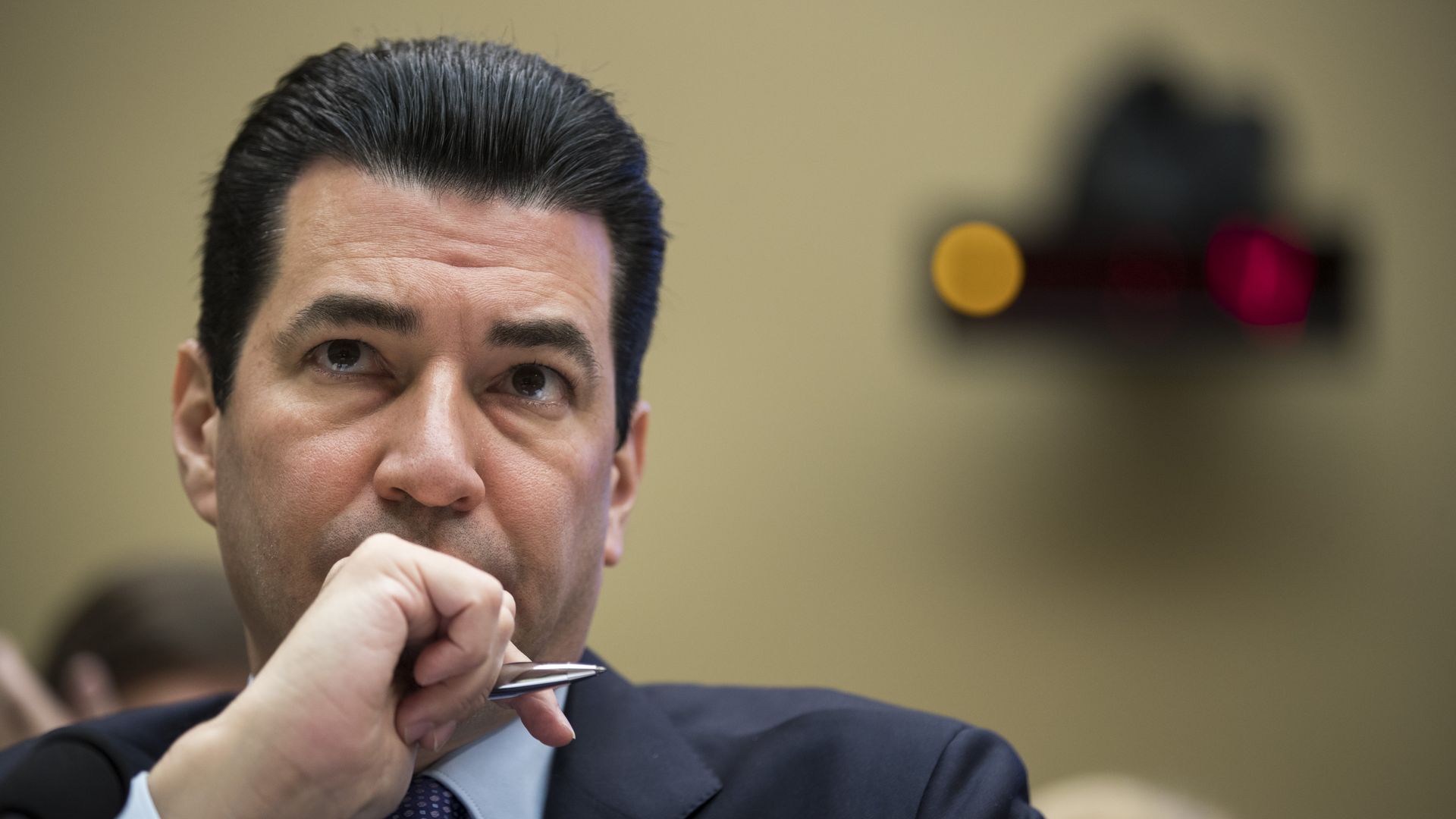 The Food and Drug Administration is planning to impose tougher safety requirements on the ingredients in prescription drugs, following an investigation by Bloomberg's Anna Edney into safety and quality issues at overseas facilities.
Details: The active ingredients in many pharmaceuticals, especially generics, come from China and India, but the FDA has few inspectors on the ground in those countries. So it requires drugmakers to self-report safety or quality issues.
The agency's new plan will require drugmakers to perform "more rigorous" safety and quality testing, Edney reports, with a focus on raw ingredients. It will also wants higher purity standards for the water that goes into drugs — contaminated water can contaminate the whole product.
"We've seen a lot of instances of adulterated products — contamination, impurities — recently," FDA commissioner Scott Gottlieb told Bloomberg. "The underlying causes have been traced back to manufacturing, inadequate quality controls and generally poor management oversight."
5. Once-taboo drugs get a second look
Once-off-limits drugs are gaining a bigger foothold in the health care market as scientists reassess how they work and what they're capable of.
Cannabis is the leader on this front. Marijuana is a booming business, and the FDA approved a drug last year derived from cannabis.
Now, CNBC reports that Walgreen's will sell cannabis-oil products, including creams, patches and sprays, in some 1,600 stores across 6 states.
CVS embraced CBD drugs earlier this month.
Psychedelics are also getting a closer look from pharmaceutical companies.
The FDA's approval of a "ketamine-like" drug to treat severe depression provided one boost, CNBC's Christina Farr writes.
On the heels of that decision, ATAI, a German company specializing in "formerly stigmatized compounds," raised $40 million, for a valuation of $240 million.
"Biotech investors believe that psychedelic medicine will experience a revival in the wake of recent research studies as well as some early signals of support from regulators," Farr reports.
Between the lines: CBD and psychedelic medicine are very different. Cannabis oil doesn't produce a high like smoking marijuana does. Psychedelic drugs do still have profound effects on the brain, which is why they're so tightly regulated and scarcely used.
If there's a constant here, though, it's a willingness to look at, as ATAI puts it, "formerly stigmatized medicines."
The opioid epidemic has opened up new approaches to pain therapy; treatment-resistant depression demanded something; the criminal justice system is reevaluating drugs, too; and regulators are willing to give these products a shot.
6. A new giant for government health care
Centene's plan to buy WellCare will create a new, consolidated powerhouse for privately administered government programs.
By the numbers: Centene and WellCare are both major players in Medicaid managed care, combining for over 12 million enrollees.
Centene has a large footprint in the ACA's insurance exchanges.
The company also provides some coverage for prisons and the military, the Wall Street Journal notes.
WellCare has been buying up Medicare drug plans, per WSJ, and with WellCare under its belt Centene will likely expand its Medicare Advantage business.
The bottom line: Privately run, government-funded health care is stable and lucrative. Medicare Advantage and Medicaid managed care are both growing, and this deal will also help Centene diversify away from the ACA's exchanges at a time of stagnant enrollment and existential political threat.
Thanks for reading. I always welcome your tips, feedback, and predictions about whether P.J. Washington will play this weekend. Find me at [email protected], or just reply to this email.