Axios Vitals
October 06, 2017
Good morning ... and happy Friday. It's been one week since Tom Price resigned as secretary of Health and Human Services. I can't tell whether that feels like yesterday or 100 years ago, but the calendar says it's been a week.
Trump tells Verma to reject Iowa's ACA waiver: WashPost
Iowa is a conservative state. It is controlled by Republicans. Yet when Iowa submitted a request to the federal government seeking a waiver from some of the Affordable Care Act's insurance rules, President Trump himself weighed in to stop it, according to the Washington Post.
The details:
The ACA includes a process by which states can seek a waiver from some ACA requirements so long as they meet certain criteria.
Iowa's insurance commissioner warned that, without the waiver it had requested, premiums could rise as much as 57% and many people might not have insurance plans to choose from.
According to the Post, Trump read a news article about Iowa's request and plainly told Seema Verma, who oversees much of the ACA within the HHS, to reject it. (Verma, incidentally, is also a leading contender to replace Price.)
Why it matters: Iowa's waiver request represented two things: A chance to pull an ACA exchange substantially to the right; and an effort to mitigate some legitimately staggering premium increases. Trump has said explicitly on many occasions that he wants to let the ACA fail, and there's not much reason for him to intervene against Iowa's waiver except to help make the law fail.
One more thing: Just gonna leave this quote from the Post article here...
"Trump first tried to reach Price…but the secretary was traveling in Asia and unavailable. The president then called Seema Verma…"
​New contraception rule coming soon
The Trump administration is planning to roll back the ACA's contraception mandate. New regulations, which could be unveiled as early as today, would allow any employer with a religious or moral objection to opt out of the requirement to cover birth control in their employees' health care plans without charging a co-pay or deductible.
Where our out-of-pocket costs are going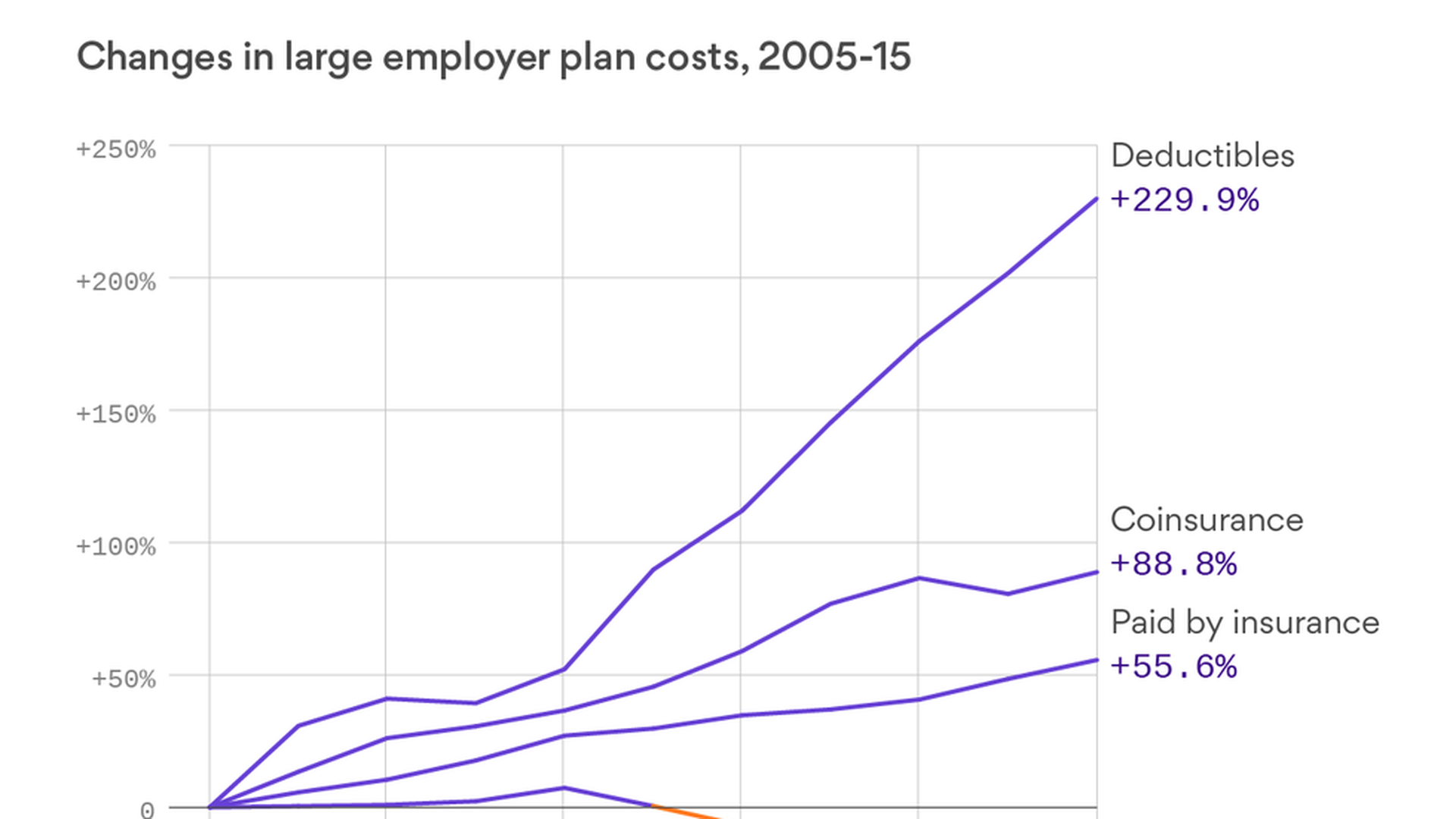 We've known for a few years now that employees are taking on an ever-increasing share of their own health care costs. But new data from the Kaiser Family Foundation add some critical context to that shift:
Out-of-pocket costs are growing significantly faster than the total costs of coverage, and both are growing a lot faster than wages.
Employers aren't just shifting more costs to their employees overall — they're picking plan designs that make employees especially sensitive to the cost of care.
The details: There are three main forms of cost-sharing: deductibles (a fixed dollar amount you have to pay out of pocket each year); copays (a fixed dollar amount for each service); and coinsurance (a percentage of the cost of each service). According to Kaiser's data, copays are actually falling, while deductibles are skyrocketing and coinsurance is growing steadily.
Deductibles and coinsurance hit your pocketbook harder when your visit to the doctor is more expensive, and therefore they're seen as stronger tools to make consumers think twice about certain services or certain providers.
Key point: As much as the ACA's critics complain about the high deductibles for plans sold through the law's exchanges, this trend clearly predates the ACA — even in the market for employer-based coverage, which the ACA barely touches.
​ACA insurers are making more money
As long as we're on a roll here with Kaiser, they're out this morning with a fresh look at insurance companies' finances — and things are looking up. The individual insurance market appears to be stabilizing and insurers are "regaining profitability," Kaiser said, based on its review of insurers' second-quarter financials.
The bottom line: Insurers' profits are up largely because they increased their premiums — by a lot. But those increases brought premiums more in line with the claims insurers have had to pay out. In other words, big premium hikes are likely a sign of stabilization, not looming disaster.
"Insurer financial results show no sign of a market collapse," Kaiser said.
Doctors brace for new Medicare payments
Physicians who provide certain drugs in their offices could reap huge rewards, or suffer big losses, under Medicare's new payment system. That's based on research conducted by consulting firm Avalere Health and funded by the Pharmaceutical Research and Manufacturers of America.
Who's most affected, per Axios' Bob Herman: Rheumatologists and oncologists have the highest stake as they could see incentive payments fluctuate as much as 16% in either direction.
Why it matters: Medicare's Merit-based Incentive Payment System, or MIPS, is charging ahead next year, but it flies under the radar because it has nothing to do with the ACA. Physicians who administer a lot of drugs under Medicare's Part B program have a clear interest in paying attention to what could be changing, and how it'd affect their income. So does the pharmaceutical industry.
Clarification: We said in yesterday's Vitals that the American Medical Association "does not support federal negotiations to lower drug prices." The AMA's official policy does support price negotiations, but not government-imposed price controls. Our story about the issue has also been updated.
What we're watching today: New contraception rules.
What's on your agenda next week? It's recess, which is always a great opportunity to dig a little deeper on overlooked issues. Let me know what's on your radar: [email protected]