Axios Vitals
September 12, 2018
Good morning ... Check out this video of a storm-tracking plane flying right through Hurricane Florence, including its eye.
1 big thing: Health care systems brace for Florence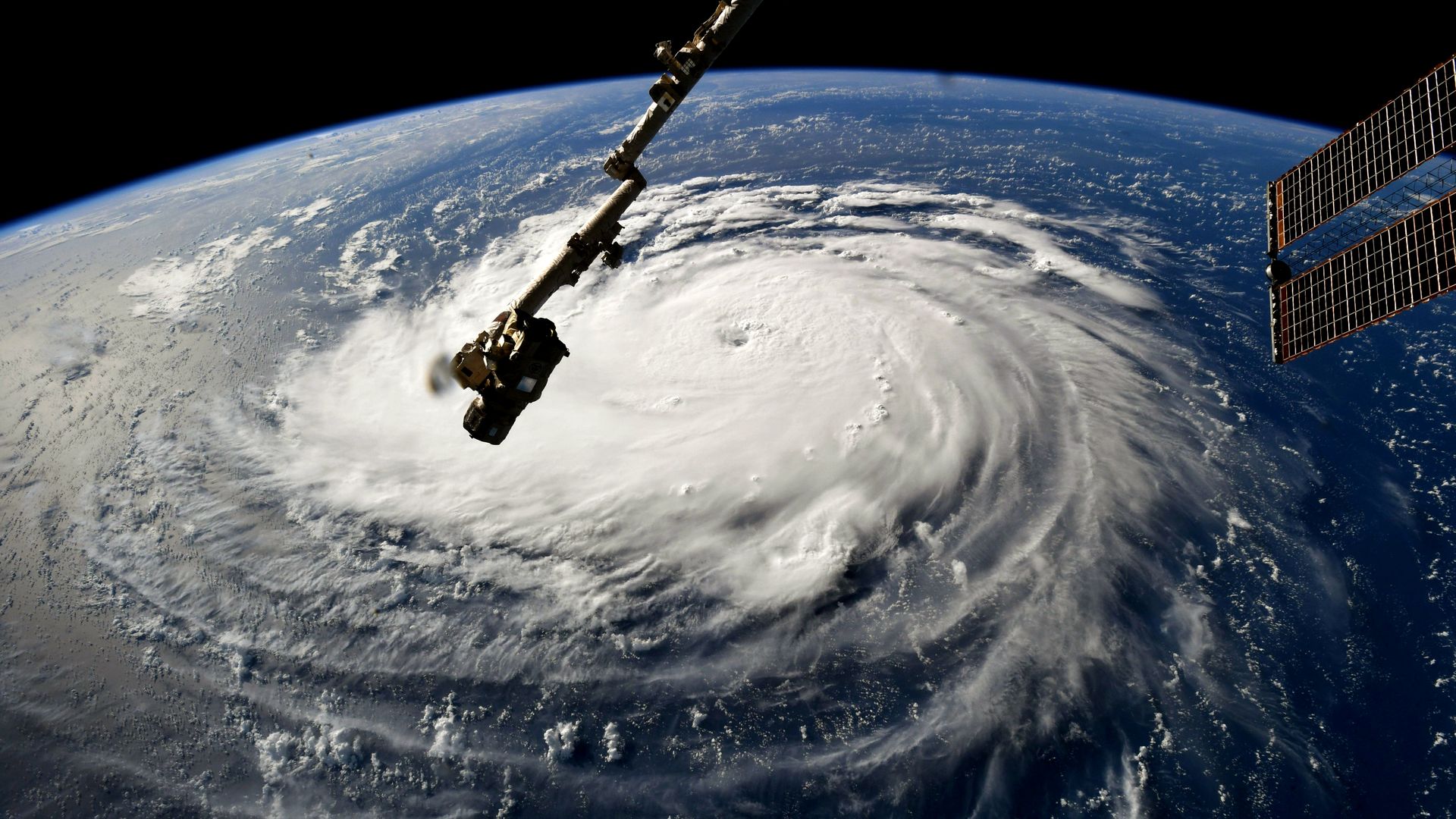 Hurricane Florence will likely wreak havoc on the health care systems in North and South Carolina when it makes landfall later this week, and preparations are already underway to deal with consequences ranging from stranded patients to disruptions in high-tech pharmaceutical manufacturing.
The big picture: As we all learned from Hurricane Maria, a major storm's impact on health care lasts a long time. The Southeast mainland has better existing infrastructure than Puerto Rico did, but there's still a lot to prepare for.
The latest, according to local news reports:
Some local hospitals are evacuating patients, under an order from South Carolina Gov. Henry McMaster.
Hospitals outside South Carolina's evacuation zone are readying backup generators in case they lose power and have also stocked up on extra medical supplies. One hospital recently acquired a large former military vehicle so it can move doctors around its campus even in high waters.
Pfizer said it would temporarily take offline two North Carolina plants where it manufactures drugs that are used in hospitals. A prolonged closure could have ripple effects on the nationwide supply of those products, Bloomberg reports.
In Washington, HHS Secretary Alex Azar yesterday declared public health emergencies in North and South Carolina, which the department said would provide "greater flexibility in meeting emergency health needs."
HHS has also assembled 230 volunteer health professionals who can move in and help address specific health care needs after the storm hits.
Go deeper: Florence to cause "catastrophic" damage in Carolinas.
2. CEO: High drug prices are "moral requirement"
Nirmal Mulye, the chief executive of small drug company called Nostrum Laboratories, defended his decision to quadruple the price of a 65-year-old antibiotic. And the quotes, all via the Financial Times, are … well, just take a look:
"I think it is a moral requirement to make money when you can . . . to sell the product for the highest price."
"I agree with Martin Shkreli that when he raised the price of his drug he was within his rights because he had to reward his shareholders."
"If he's the only one selling it then he can make as much money as he can ... This is a capitalist economy and if you can't make money you can't stay in business."
What they're saying:
"There are other suppliers of this product and, by its own admission ... the company in question isn't actively marketing their formulation. Their excessive price, detached from market principles, exists only on a list and should remain there in a competitive marketplace,"
— FDA Commissioner Scott Gottlieb
tweeted
yesterday
My thought bubble: Mulye is saying the quiet part out loud here, but he and Shkreli are by no means the only pharmaceutical executives to jack up the price on old yet crucial drugs — that's what happened with the EpiPen, with the cancer drug lomustine, and with dozens of other products.
In cases where one company is able to raise its prices at will because it's the only one making a particular product, the FDA has made it a priority to help speed new competitors to market.
But Nostrum has at least one competitor — which is charging just as much for its version of the same antibiotic, per FT.
Perennial caveat: Few patients pay a drug's full sticker price, but that price is still the starting point for determining what people with insurance do pay.
3. Doctors fight Medicare billing changes
Physicians have inundated CMS with comments in a bid to kill a major change to how they would get paid for routine patient visits, Axios' Bob Herman reports.
Where it stands: Medicare wants to create a new, fixed payment rate next year for all office visits, regardless of how much time physicians spend with the patient or how sick the patient is.
For most new patients, doctors would get paid $135 for an office visit (compared with the current range of $76–$211, depending on the visit's medical code).
For returning patients, doctors would get paid $93 (compared with the current range of $45–$148).
Some codes could be added to account for complex visits.
What they're saying: Pretty much every state and national physician group (including the American Medical Association) hates the proposal and wants it dead. Doctors who would lose the most money, such as oncologists and  neurologists, were the most vocal.
Between the lines: CMS has wanted to change payments to office visits for many years now, citing how they are prone to fraud and abuse. This proposal would benefit some doctors at the expense of others (welcome again to the world of tradeoffs). Don't be surprised if Medicare officials spike the proposal when a final rule comes out in November, given the huge backlash.
4. No repeal vote this year, even with Kyl
Congressional Republicans won't try again to repeal the Affordable Care Act before midterm elections, even though the late Sen. John McCain — who voted against the last effort — has since been replaced by Sen. Jon Kyl, who says he would support repeal, AP reports.
This should not surprise you. Senate Republicans still don't have the votes even with Kyl, and it would be political malpractice to take such an unpopular vote so close to the elections. But now it's on the record. So we can talk about something else for a while.
5. Public wants Roe v. Wade to stay
Most Americans want the Supreme Court to leave Roe v. Wade alone, according to our latest Axios/SurveyMonkey polling.
What's next: With Judge Brett Kavanaugh on a fast track to join the court by next month, it's unlikely the court will leave abortion rights where they stand or repeal Roe v. Wade.
It's far more likely that the justices will begin upholding more and more state restrictions on abortion, chipping away at its availability without fully reversing their precedents on the issue — at least right away.
What we're watching today: Hurricane Florence. The Census Bureau releases new information about the number of Americans with health insurance.
How's my driving? Send your feedback to [email protected].