Good morning … Several of us here at Axios have friends and family — as well as readers — throughout Florida, and our thoughts and prayers are with everyone who's been affected by Hurricane Irma. We hope you and your loved ones are safe and can begin rebuilding soon.
https://www.axios.com/newsletters/axios-vitals-11ce71b5-0b92-41f1-9f04-5e26547ac590.html?chunk=0#story0
Waiving the waivers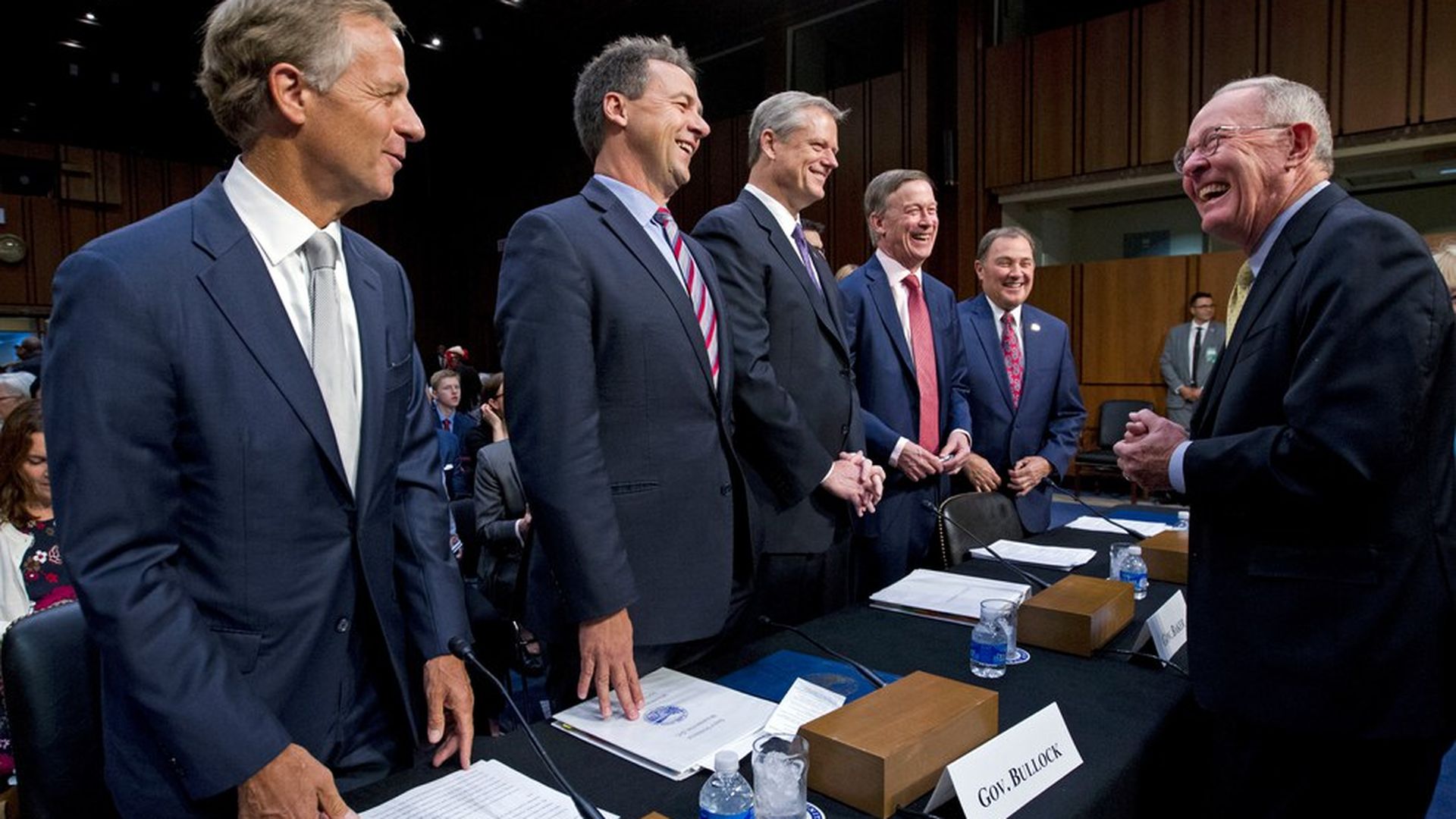 The Senate HELP Committee this week is scheduled to resume its hearings on stabilizing the Affordable Care Act, and it's already clear Chairman Lamar Alexander wants that effort to focus on the process by which states can obtain what are known as "innovation waivers."
How it works: States can already seek a waiver from many of the ACA's mandates, including the one that requires insurance plans to cover certain "essential" benefits. But, to get a waiver, they have to prove that their new plan would cover just as many people, with plans that are just as generous, without increasing federal spending.
"States actually have a lot [of] flexibility in theory under current waivers, but the guardrails are very hard to meet, which limits the amount of flexibility in practice," Kaiser Family Foundation's Larry Levitt told me.
What could change: During the repeal-and-replace effort, Republicans wanted to remove some of those "guardrails" — allowing states to chip away more substantively at some of the law's benefit mandates and coverage guarantees.
Alexander, though, is trying to keep his proposal more tailored. He's focusing more on changes to the process of seeking a waiver than on the substance of what can be waived.
For example, he talks about letting states essentially copy each other's applications, and letting governors submit an application without clearance from their legislatures.
Will it work? The problem with expanded waivers, last time, was that the ACA is so interconnected, rolling back one part of the law can quickly implicate another, more politically sensitive part. Could Alexander run into the same issue just with process changes? And will process changes alone make any difference in premiums, which is the whole point here?
"If you make waivers a lot easier to get from a process standpoint, the substantive rules could matter less because the federal government may have less ability to enforce them," Levitt said. "In that sense, relaxing the process could make a big difference."
https://www.axios.com/newsletters/axios-vitals-11ce71b5-0b92-41f1-9f04-5e26547ac590.html?chunk=1#story1
CHIP needs a strategy
Congress still needs to figure out what it's going to do about the Children's Health Insurance Program, since the program's federal funding expires at the end of the month.
Lawmakers are still trying to figure out how long they want to fund the program, whether to preserve the ACA's 23% bump in CHIP funding (which lobbyists predict they will), and whether to make any major policy changes (which lobbyists predict they won't).
The biggest challenge may not be policy, but legislative strategy. It's unclear whether the Senate wants to handle CHIP as a standalone bill this month, bundle it with some other must-pass reauthorizations, or wait until later in the year (likely December) to add to a big end-of-the-year package.
Some thoughts:
Last week's big deal to fund the government cleared the Senate calendar for the rest of September. It also got rid of the most convenient vehicle for CHIP.
CHIP could be bundled with funding for community health centers and extenders for certain health care programs. While it might make sense to do all of these at once, it also makes it more expensive.
"That's an interesting open question," one senior GOP Senate aide told Axios' Caitlin Owens. "There are several authorizations, in addition to CHIP, that expire this month...We had assumed that at least some of them would ride with the [continuing resolution] at the end of the month. I don't know if we end up with a big extenders package or if these programs can operate without an extension."
https://www.axios.com/newsletters/axios-vitals-11ce71b5-0b92-41f1-9f04-5e26547ac590.html?chunk=2#story2
Good news on Medicare spending
Don't look now, but Medicare spending is in the midst of a slowdown.
Total Medicare spending has grown by 3% in the first 11 months of this fiscal year, according to new figures from the Congressional Budget Office.
Compare that to average annual growth of 4.4% from 2010 to 2016, and 9% from 2000 to 2010.
CBO says the current growth rate "reflect[s] typical growth in the number of beneficiaries and in the cost of services for those beneficiaries." So, let's not pat ourselves on the back just yet, but any slowdown is good news for the program and for the overall federal budget.
https://www.axios.com/newsletters/axios-vitals-11ce71b5-0b92-41f1-9f04-5e26547ac590.html?chunk=3#story3
More on those 'avoidable' ER visits
Axios' Bob Herman wrote about a study last week that said unnecessary emergency room visits are not that common (especially the runny nose or sore throat types), and penalizing patients after the fact minimizes how they felt in the moment.
Feedback: We heard from a lot of readers about that study, and their comments are a reminder that — get ready for this understatement — ER usage is a hot topic among researchers and in the industry.
The big takeaway: Evaluating whether an ER visit was preventable is nuanced and difficult.
Researchers fully acknowledged there were some limitations to their study. But nearly everyone agrees that urgent care needs to be more accessible, and more funding should be routed toward preventive services like mental health.
Nico Lewine, a director at Evolent Health, pointed out that New York University developed an algorithm that attempts to classify the severity of ER visits.
One reader, a doctor, made this interesting point: ER physicians don't want bad marks on their patient satisfaction scores and will run some labs or tests even when a quick physical exam or look at a medical record suffices. "Sometimes the physicians order things to keep the patient/family happy," the reader wrote.
Keep the conversation going: Email bob@axios.com. (All other comments and health care business tips/scoops are welcome, too.)
https://www.axios.com/newsletters/axios-vitals-11ce71b5-0b92-41f1-9f04-5e26547ac590.html?chunk=4#story4
While you were weekending...