May 27, 2021
Happy Thursday, folks. Glad you're here.
🌤 Highs in the low 90s today, bottoming out in the low 70s.
🙀 Situational awareness: Hurricane season is fast approaching. Don't forget to plan for your pets.
Today's newsletter is 990 words, a 4-minute read.
1 big thing: Florida joins attacks on critical race theory
Republicans in at least nine states, including Florida, are moving to limit students' exposure to critical race theory, which links racial discrimination to the nation's foundations and legal system, Axios' Russell Contreras reports.
Why it matters: A year after George Floyd's killing, how systemic racism is — or is not — taught in public schools has become a new fault line in the culture wars.
Conservative activists are pressing for less talk about racism and more talk about patriotism.
Civil rights advocates say banning critical race theory from schools constrains academic freedom and suppresses the experiences of people of color.
Driving the news: Gov. Ron DeSantis this week again pledged to stamp out critical race theory in Florida classrooms — noting that while the Board of Education will take up the issue soon, the buck stops with him and the Legislature.
"You teach the facts. You teach everything that's happened. But what critical race theory is, is basically race essentialism," DeSantis added, per Florida Politics.
But it already is not part of the curriculum, as state Sen. Shevrin Jones told the Tampa Bay Times: "The crazy thing about this is, now critical race theory is not even taught in K-12 education."
Elsewhere: Tennessee's, Idaho's and Oklahoma's governors recently signed similar bans on critical race theory, and lawmakers in Oregon, Arkansas, Utah, Missouri and Arizona are crafting their own versions.
In Texas, the state Senate approved a bill to ban it in public and open-enrollment charter schools and eliminate requirements to study writings by women and people of color.
The other side: Critical race theory "invites us to confront with unflinching honesty how race has operated in our history and our present, and to recognize the deep and ongoing operation of 'structural racism,'" deans of the University of California Law Schools said in a joint statement last year.
2. St. Pete, bow to your new queen
No matter what you've been through, you deserve to be treated like the royalty you are.
That's the message of Ashlee T Bankgx, the new Miss St. Pete Pride.
Bankgx won the drag competition at the Postcard Inn earlier this week with a gorgeous yet hilarious clown costume and sickeningly sparkly evening gown.
But as easy as Bankgx made it look — sweeping all the categories — the crowd heard that the performer's journey has been hard.
"It all paid off, all that BS I had been through," Bankgx told Axios.
Bankgx spoke of overcoming homelessness and being off drugs for more than a decade.
Bankgx, who has been performing in drag for 13 years, had taken two previous shots at the crown since moving here in 2014.
Bankgx's heart was set on winning the 2020 competition, but it was canceled due to the pandemic. The performer had the entire year to perfect the act.
"This was my moment like Kamala had after the election. Like, 'We did it, Joe!'"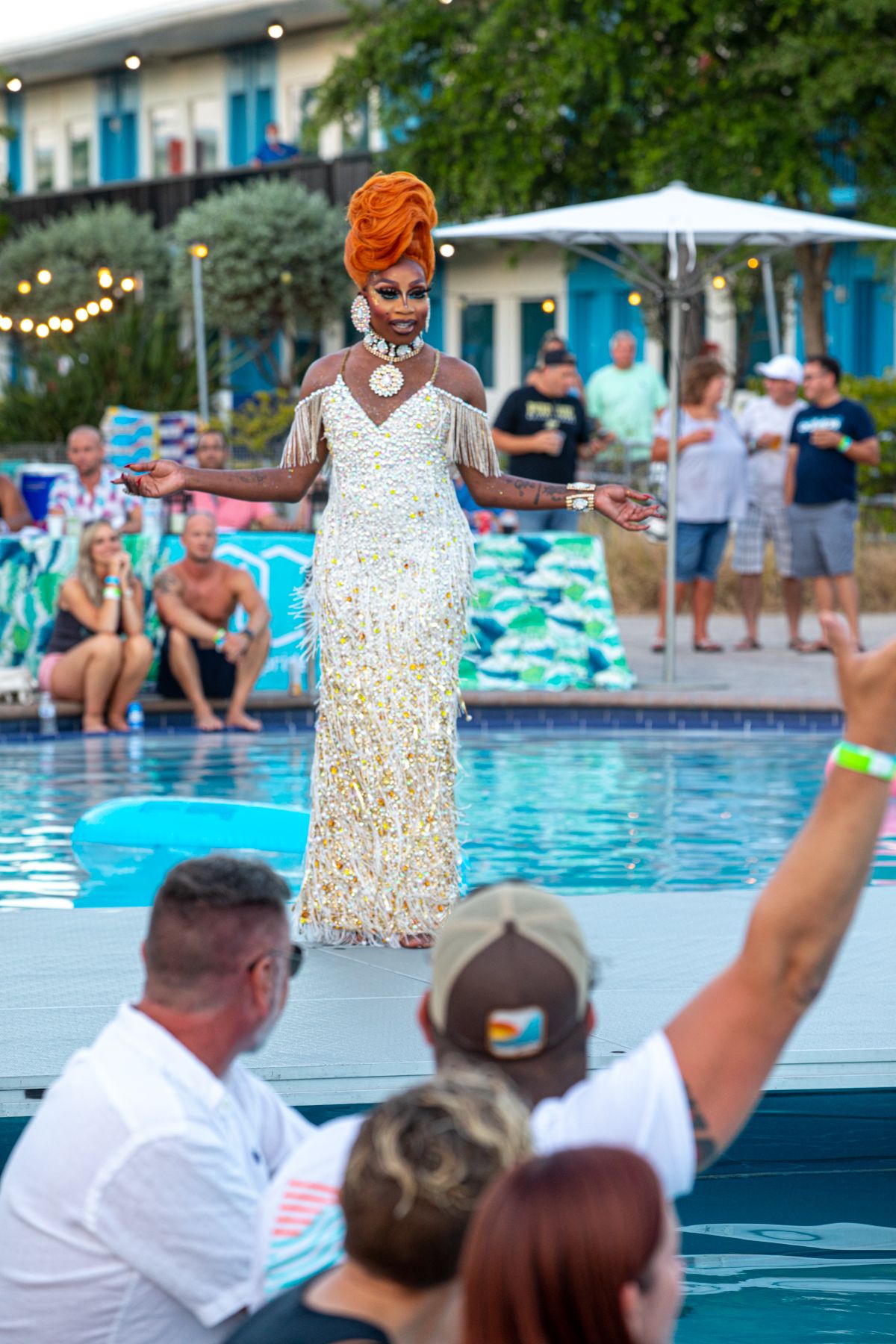 Catch Bankgx performing at Enigma on Friday and at the St. Pete Pride kickoff events starting next week.
3. Screen Time with Ashlee Bankgx
We wanted to know more about what Ashlee T Bankgx is like off-stage.
By day, Bankgx is Ian Gavin, a recreational therapist at PEMHS in Pinellas Park. And while Bankgx tries to limit screen time after work, the performer can't resist social media.
So how does a queen like Bankgx interact with tech?
🤳🏻 Device of choice: iPhone X, "but I'm thinking about going back to Android..."
👇 First tap of the day: "First thing in the morning I check Facebook, then I get the news from CNN."
🎶 On rotation, via Apple Music and YouTube: "I listen to everything. I may go to a club, and they say I need to do a country song tonight and I'm like, 'I got you.' But Beyonce and Michael Jackson are the GOATs."
📲 Most used app: TikTok. "It gets you sucked in. I can scroll for like two hours straight."
4. The Pulp: Rocket man, burning up his juice up here alone
🧢 A Tampa Bay Rays cap featuring the area code 813 instead of 727 was part of a line of MLB hats taken down from the New Era website after they were roasted on social media. (Uproxx)
💰 A Manatee County woman won the $2 million CASHWORD scratch-off game from Florida Lottery. (Bradenton Herald)
👙 A Hillsborough judge appears willing to accept a heftier penalty for the men behind a streaking prank during Super Bowl LV. (Tampa Bay Times)
🛳 The CDC gave its first green light for test cruises to Royal Caribbean Group. (Bradenton Herald)
🧳 Pasco County Tax Collector Mike Fasano's office is seeking gently-used luggage and suitcases to donate to a program called Luggage of Love. (The Laker/Lutz News)
Quote du jour:
"If we're not allowed to present evidence of his emotional and physical trauma, all this jury is going to have is he was upset over a text and put an ax in her head."
— Ed Spaight, public defender for 19-year-old Carlos Antonio Hallowell, who will stand trial for
the premeditated murder of his adoptive mother
5. Anna Maria Island makes charming-Florida list
Travel + Leisure Magazine cited "wide white-sand beaches lapped by emerald and sapphire seas" in naming Anna Maria Island one of its 10 most-charming small towns in Florida:
"While the Gulf Coast barrier island's shores are wild, natural, and picture-perfect, visitors also love strolling Pine Avenue to check out the shops, galleries, and restaurants."
6. Hey, hey: The tarpon are back!
The Silver Kings have returned to Tampa Bay.
"These overgrown herring that resemble and act much like a ladyfish on steroids are presently in an abundance hereabouts that I do not recall in all my years," writes Capt. Zach Zacharias for the Sarasota Herald-Tribune.
Maybe the state's no-kill restrictions are helping.
🎣 Go get 'em. But, again, don't kill 'em.
Fish the falling afternoon tides outside local passes.
Flashback: President Franklin D. Roosevelt fishing for tarpon on the Gulf...