Axios Sneak Peek
October 07, 2021
Welcome back to Sneak.
📅 Join Axios' Marisa Fernandez and Margaret Talev tomorrow at 12:30pm ET for a virtual event about what's next for ensuring access to quality health care.
Guests include Rep. Raul Ruiz (D-Calif.) and Biotechnology Innovation Organization president and CEO Michelle McMurry-Heath. Register.
Smart Brevity™ count: 1,761 words ... 6.5 minutes. Edited by Glen Johnson.
1 big thing: Scoop - Sanders' Sinema spat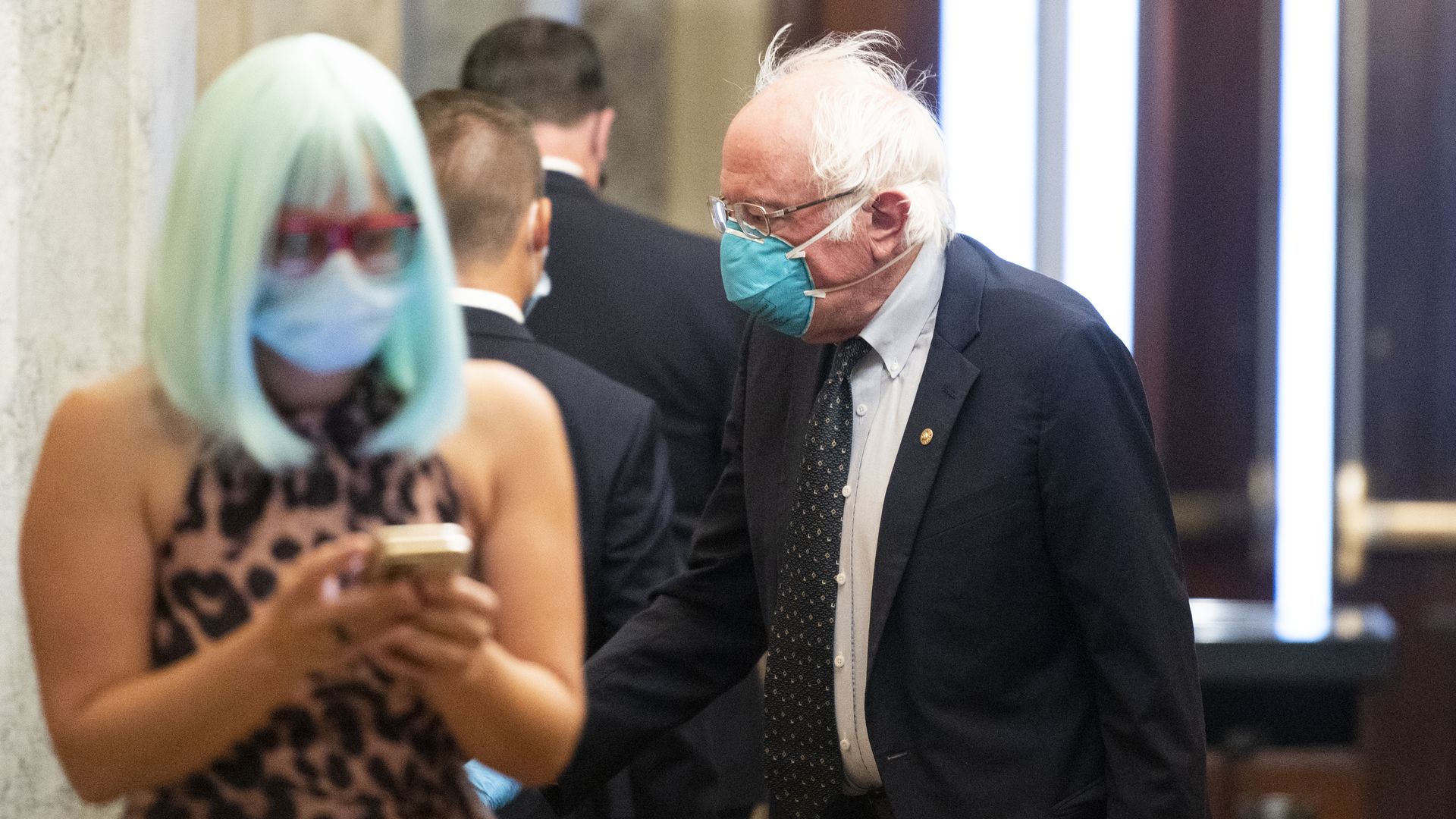 Sen. Bernie Sanders (I-Vt.) withheld support for a joint statement condemning last weekend's protests against Sen. Kyrsten Sinema (D-Ariz.) because it also wouldn't include a rebuke of her political views, Axios' Alayna Treene has learned.
Why it matters: The move is emblematic of the hostility between the progressive and moderate members, who have been sparring over the cost and scope of President Biden's agenda. Sanders wanted the statement to urge Sinema to drop her opposition to prescription drug reform, as well as Biden's $3.5 trillion social safety net expansion.
Driving the news: An email exchange between Senate Democratic leadership aides, obtained by Axios, reveals Sanders withheld his name from a joint statement declaring protesters who followed Sinema into a bathroom — and filmed her while using the restroom — as "plainly inappropriate and unacceptable."
Sanders' communications director Mike Casca asked that the statement be edited to include the preface, "While we hope Senator Sinema will change her position on prescription drug reform and support a major [budget] reconciliation bill, ..."
An aide to Sen. Cory Booker (D-N.J.), who organized the statement, said Booker would not accept the edits.
Casca later replied: "Sanders will not be signing, so please cut 'Senate Democratic Leadership Team' from headline."
Senate Majority Leader Chuck Schumer (D-N.Y.) and Sens. Dick Durbin (D-Ill.), Mark Warner (D-Va.), Elizabeth Warren (D-Mass.), Joe Manchin (D-W.Va.), Amy Klobuchar (D-Minn.) and Catherine Cortez-Masto (D-Nev.) all signed onto the statement in addition to Booker.
Excerpts of the leaked exchange are shown below. Axios has confirmed the contents of the full exchange with other Senate offices.
Casca, Sanders' communications director, declined comment. Sinema's spokesman also declined comment.
State of play: The statement has not been published. It's currently unclear whether it will run.
Between the lines: The move comes as those in Sinema's orbit have privately vented frustration that her fellow Democratic senators and the White House haven't more forcefully spoken out.
She described the incident at Arizona State University as "not legitimate protest," and "wholly inappropriate."
On Monday, Biden told reporters he didn't think the protesters' tactics were "appropriate," then added, "but it happens to everybody."
The president went on to say, "The only people it doesn't happen to are people who have Secret Service standing around them. So, it's part of the process."
Screenshot excerpts of the email exchange, obtained by Axios: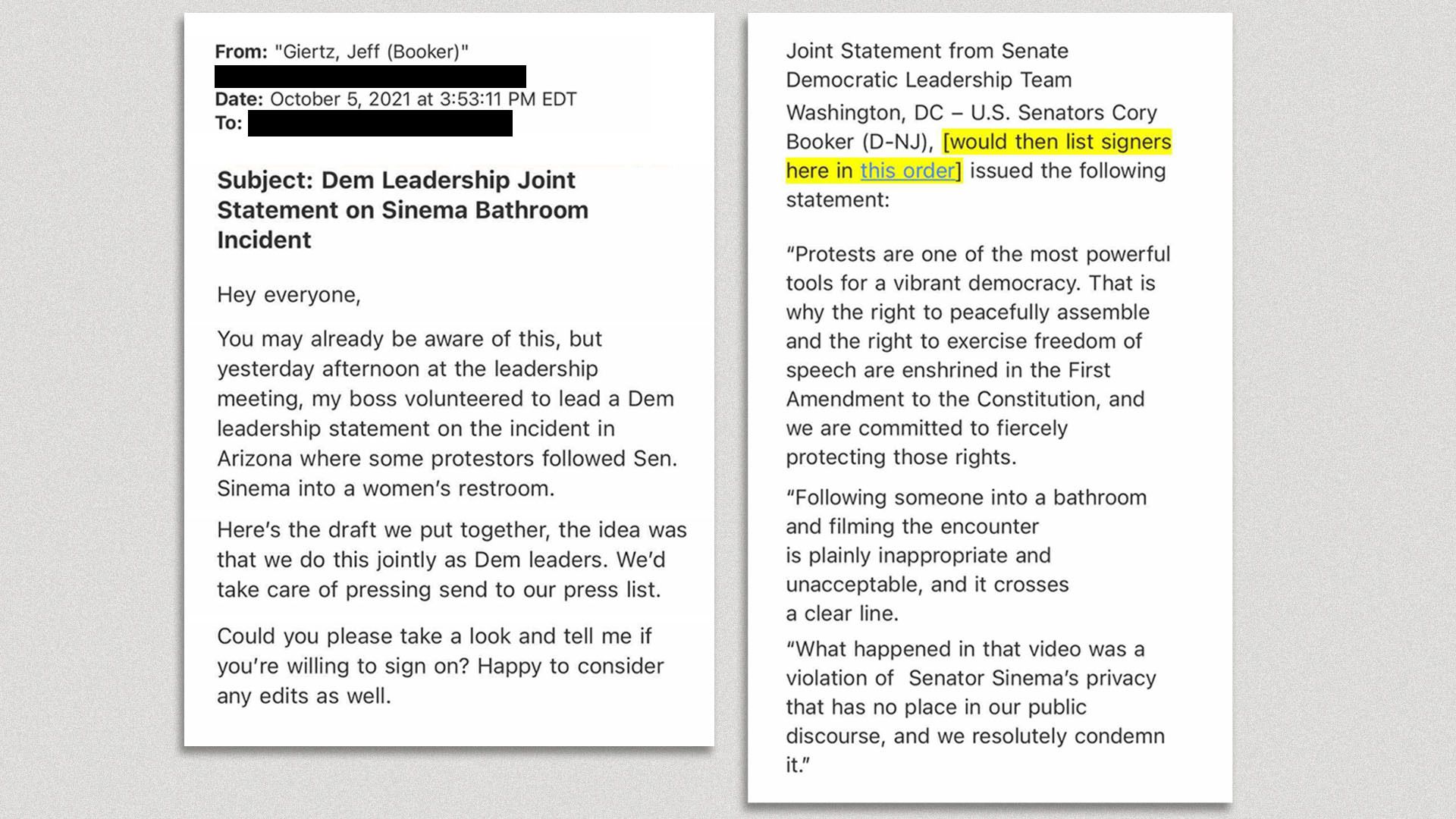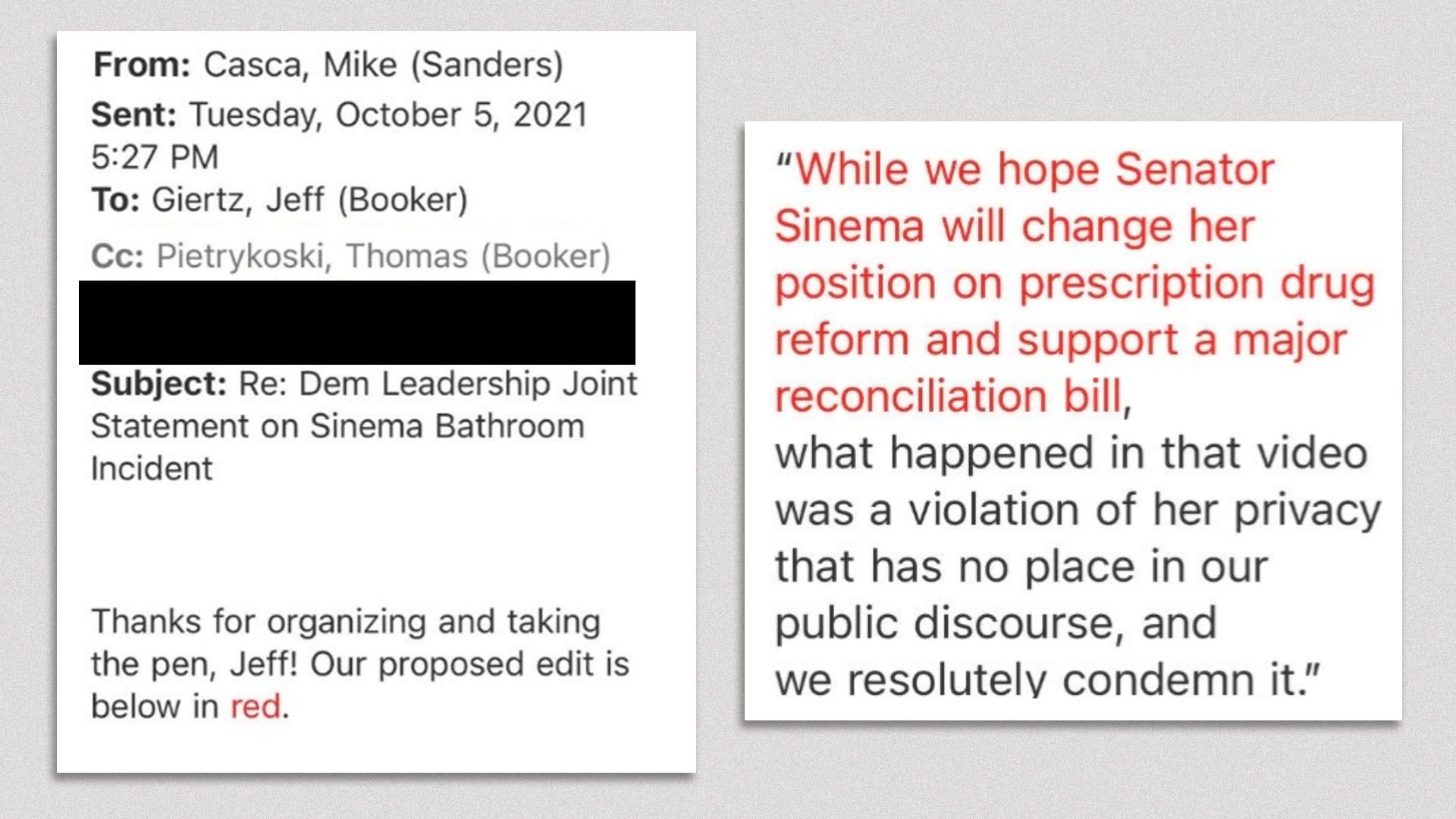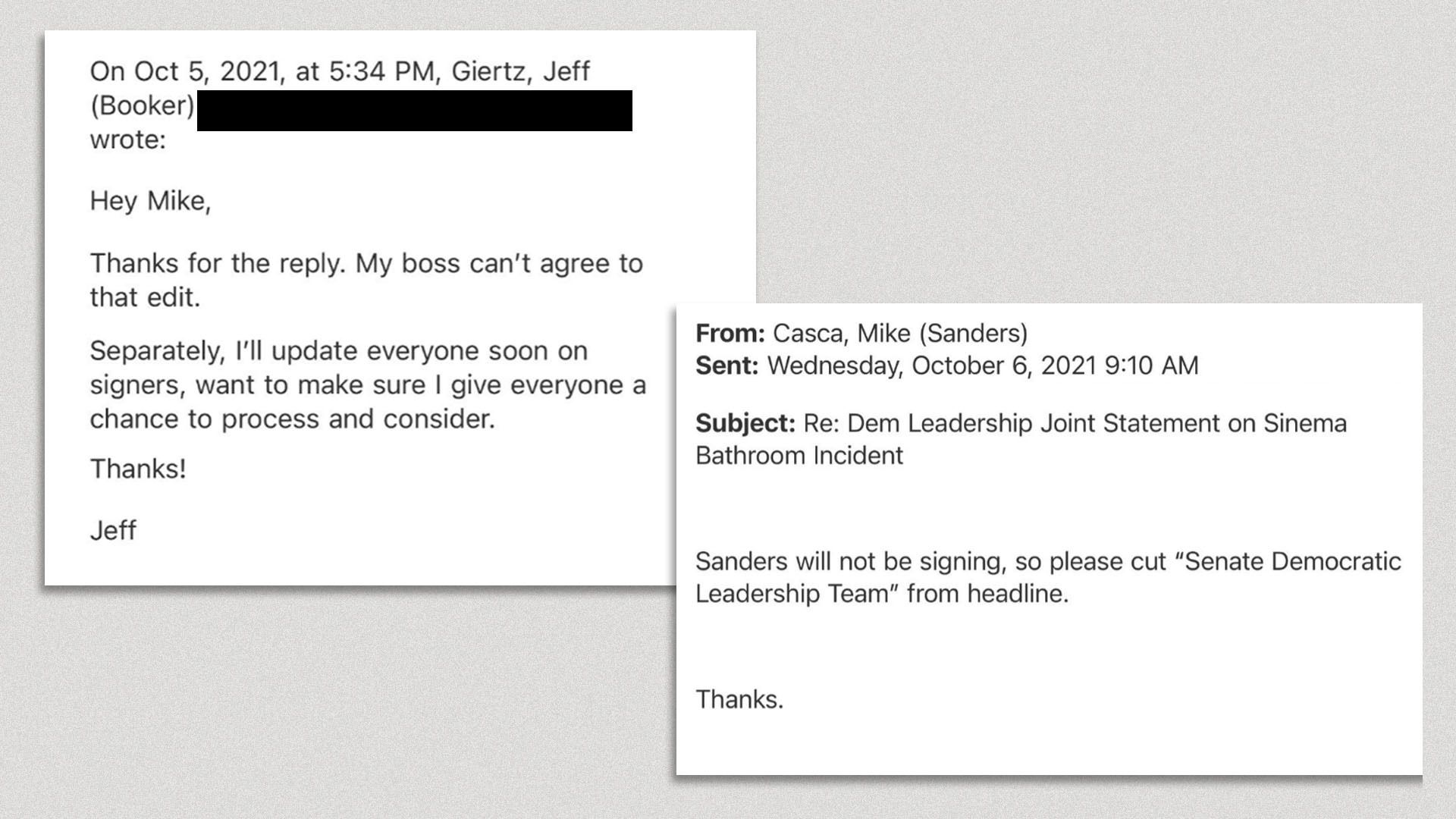 2. Scoop: Manchin demands progressives prioritize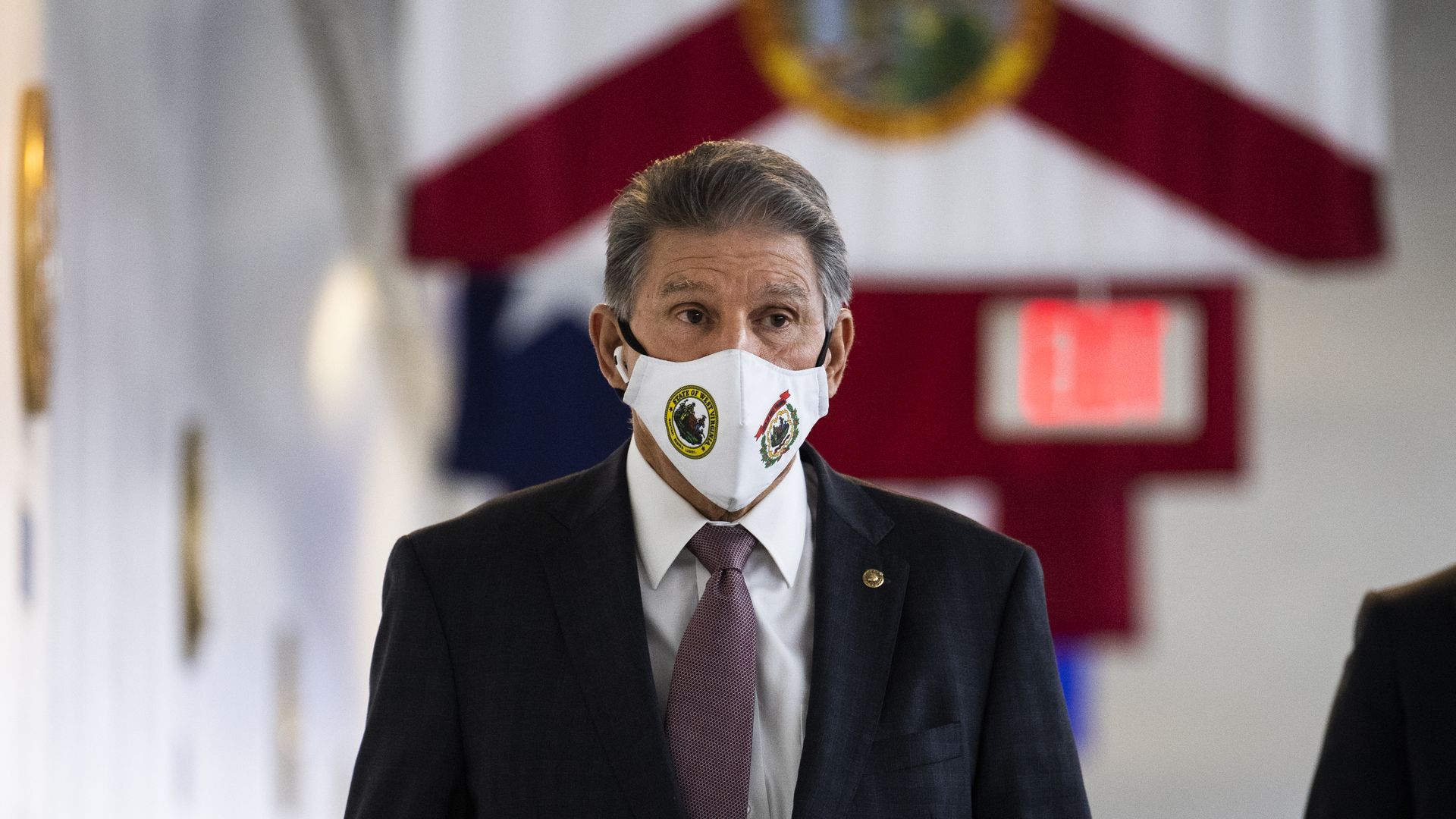 Manchin is telling colleagues that progressives need to pick just one of Biden's three signature policies for helping working families and discard the other two, people familiar with the matter tell Axios' Hans Nichols.
Why it matters: By forcing progressives to choose among an expanded child tax credit, paid family medical leave or subsidies for childcare, Manchin is complicating any potential deal— but also signaling his willingness to negotiate.
He's also aligning himself with Democratic centrists in the House, who want to trim the number of programs in any final package but fund them for longer.
Progressives are hopeful they can retain all of their cherished programs in a final bill by funding many of them for shorter durations and therefore lower the bill's ultimate price tag.
Manchin's office declined to comment to Axios.
The big picture: While Biden has scaled back his top-line number from $3.5 trillion to $2.2 trillion, Manchin stressed today that his price cap remains at $1.5 trillion, a position aggravating Sanders.
Sanders, a leading progressive, separately told reporters there are "48 senators who support $3.5 trillion; we have two people who don't," referring to Manchin and Sinema.
"It is wrong, it is really not playing fair," Sanders said. "Two people do not have a right to sabotage what 48 want."
Manchin's private demand for progressive prioritization tracks with his public concern that simply trimming a program's duration doesn't accurately capture its true overall cost.
By the numbers: The president has proposed extending the expanded, $3,600-per-child tax credit, which he funded for one year in the American Rescue Plan, for another four years. That would cost some $450 billion.
The costs for providing paid family medical leave vary wildly. The White House proposed $225 billion over 10 years in April, yet the House Ways and Means Committee priced it last month at $500 billion.
For Biden's child and infant care proposals, which include subsidies for poor and middle-class families for day care and two years of universal preschool, the House wants to spend $450 billion.
3. By the numbers: Debt ceiling history
Congress made its first moves today toward raising or suspending the debt ceiling, as the country faced the prospect of defaulting on its obligations in less than two weeks, Axios' Stef Kight writes.
Why it matters: Although it's not the first time Congress has waited until the last minute to deal with the federal debt ceiling, the U.S. has never defaulted. Treasury Secretary Janet Yellen recently said defaulting would likely trigger a recession.
By the numbers: The debt ceiling was enacted in 1917, at $11.5 billion, according to the Committee for a Responsible Federal Budget. A debt limit covering nearly all government debt was created in 1939, set at $45 billion.
Congress has raised the debt ceiling from $4.37 trillion in spring of 1993, to $28.4 trillion as of Aug. 1, 2021. The latest number was based on the current debt when the last suspension ended on July 31.
The ceiling has been suspended seven times since February 2013.
Between the lines: Since the debt limit was set on Aug. 1, Yellen has used her authorities as Treasury secretary to take "extraordinary measures" to avoid defaulting on debt — including stopping certain investments.
Those efforts are expected to be exhausted by Oct. 18.
4. McConnell blinks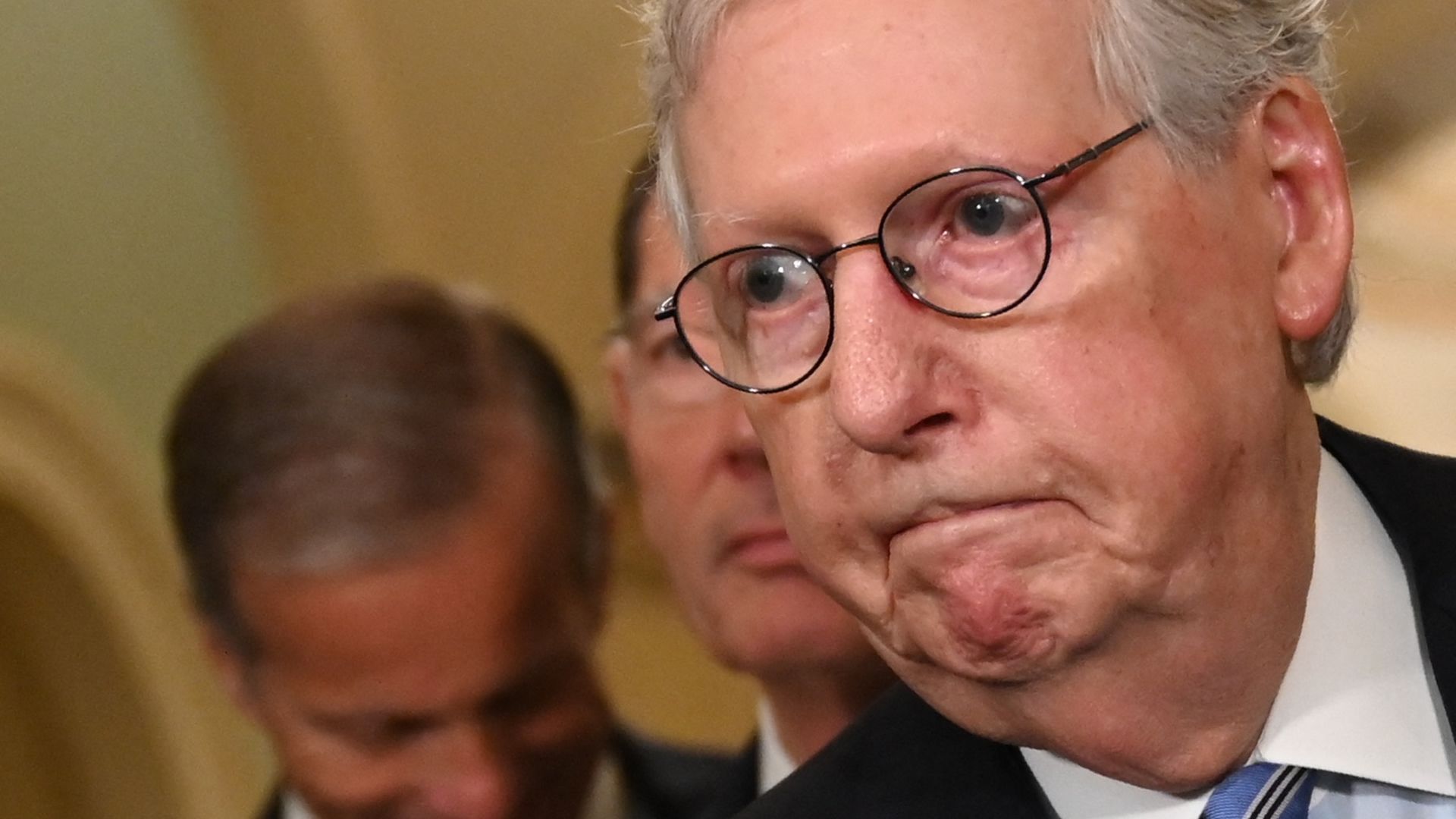 Senate Minority Leader Mitch McConnell (R-Ky.) blinked.
Why it matters: After McConnell refused for months to budge over his insistence that Democrats suspend the debt limit through the budget reconciliation process, he tried to forestall changes to the filibuster by offering Democrats an alternate route to temporarily raise the debt limit through December, write Alayna and Axios' Sarah Mucha.
Behind the scenes: McConnell's decision was in large part driven by Democrats' fresh calls to go nuclear and modify the filibuster — which requires 60 votes to move on major legislation — as they sought to break the debt-limit impasse.
"The paramount concern here is saving the 60-vote rule, saving the filibuster," a Republican senator told Axios.
"If you compare the debt ceiling, which is raised frequently, to permanently changing the Senate as an institution, it's not even a close call," the senator added.
What we're hearing: Democrats seem to be leaning toward taking the deal, according to Axios' conversations with senior leadership aides.
Democratic leaders also delayed Wednesday's scheduled cloture vote on the House-passed bill to suspend the debt limit through December 2022.
If both sides accept the deal, they'd create more uncertainty at the end of the year. Government funding also is set to expire in December without renewed action.
A Schumer aide told Axios "it appears the two sides are nearing an agreement, but the conversations about specifics are ongoing and neither leader has formally said anything, so ..."
"Either option will provide the Democrats who control Washington with even more time to pass standalone debt limit legislation through reconciliation," a Republican leadership aide said. "These are reasonable paths to avoid default."
The big picture: Democrats are already previewing how they'll use the messaging in their favor, while their Republican counterparts are keeping mum.
"McConnell caved," Sen. Warren told reporters. "And now we're going to spend our time doing child care, health care and fighting climate change."
Several Republican senators, including Sens. Pat Toomey (R-Pa.), Josh Hawley (R-Mo.) and Marco Rubio (R-Fla.), refused to comment on McConnell's offer and whether they'd support a short-term debt ceiling increase.
They told Axios they wanted to see where the negotiations led before weighing in.
The Republican senators also dodged questions about whether they were frustrated with McConnell's approach.
Former President Trump, however, was quick to criticize McConnell: "Looks like Mitch McConnell is folding to the Democrats, again," he said in a statement.
The details: McConnell's proposal included two options, which he laid out in a statement today.
One would allow Democrats to fast-track the suspension of the debt limit using the partisan budget reconciliation process.
The other would raise the limit to a specified figure through December.
Schumer has already declared that Democrats would not use reconciliation to raise the debt limit.
5. Signs of U.S.-China thaw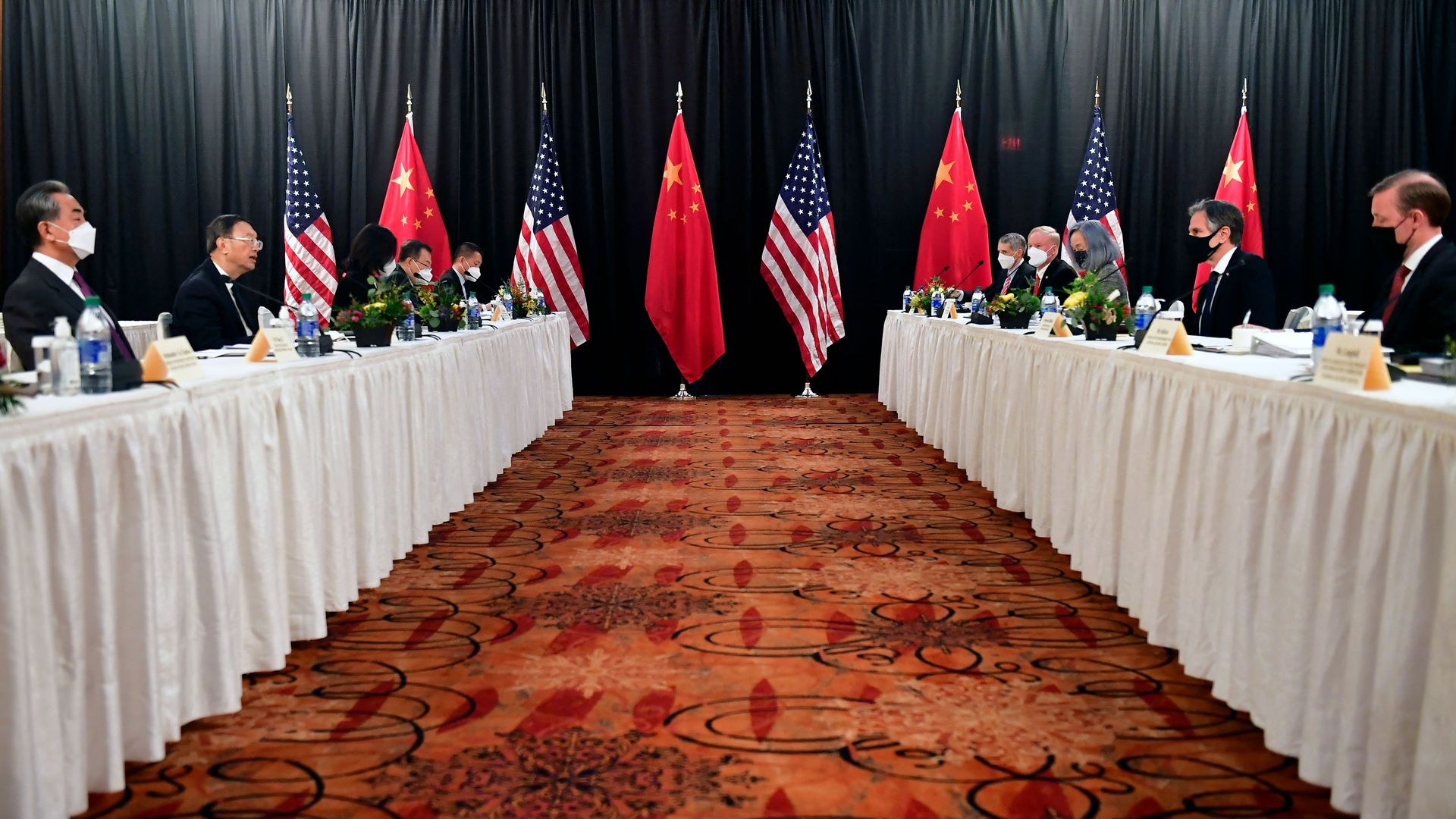 The six-hour meeting White House national security adviser Jake Sullivan had with his Chinese counterpart in Zurich today may have done more to defrost the U.S.-China relationship than anything since Biden took office, writes Axios' Zachary Basu.
Why it matters: That speaks more to the tense relations between the two superpowers than anything Sullivan achieved during his marathon with Yang Jiechi. But the White House counted it as a win and "model" for future talks.
Those talks include Biden's virtual summit with Chinese President Xi Jinping, set to be held sometime before the end of the year.
Driving the news: Today's session marked the most senior-level meeting between U.S. and Chinese officials since their now-infamous Alaska summit in March.
That meeting, involving Yang, Sullivan and Secretary of State Tony Blinken, devolved almost immediately into a verbal sparring match.
Blinken and Sullivan delivered opening statements about China's threats to the "rules-based international order," prompting Yang to launch a lengthy diatribe in response.
Yang accused the U.S. of its own human rights issues, including the Black Lives Matter movement, and assailed Sullivan and Blinken for their "gross interference" in Chinese affairs and lack of hospitality.
Flash forward: Sullivan and Yang met in private today at the behest of Biden and Xi. They agreed during a phone call last month about the importance of having direct lines of communication to "set guardrails" on the relationship, according to a senior Biden official who briefed reporters.
It was "probably the most in-depth conversation" that the two governments have had since Biden took office, the official said, adding that the meeting took on a "different tone than Anchorage."
The discussion involved a "genuine back and forth" that prompted the Chinese side to finally move beyond their "talking points," which the U.S. had viewed as a challenge in previous lower-level talks.
The official characterized the meeting as an important step in providing a "foundation" to avoid miscalculations that could cause "intense competition" — which the administration says it welcomes — to veer into conflict.
6. Pic du jour: Peekaboo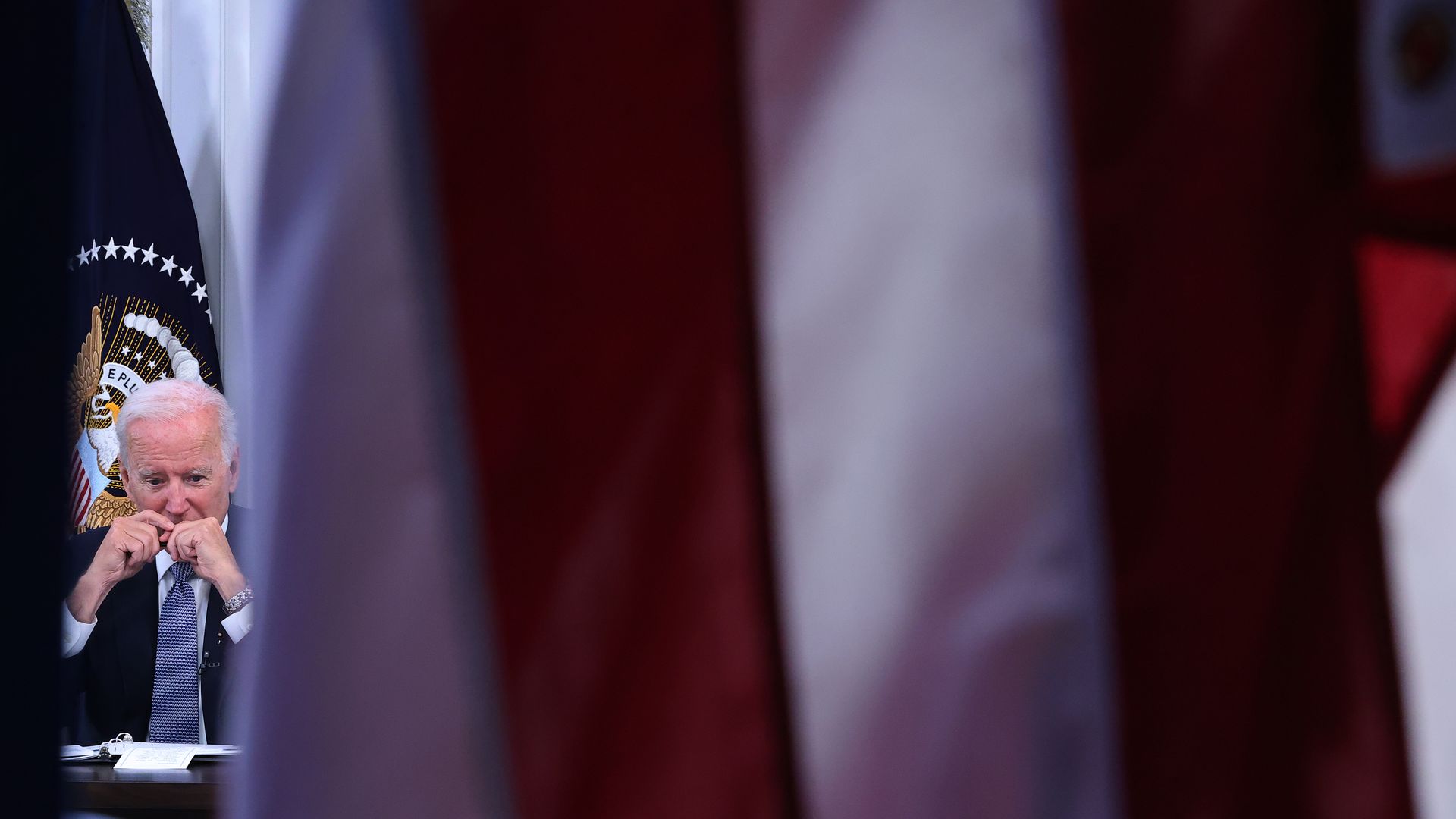 President Biden held a hybrid video/in-person meeting with corporate chief executives and members of his Cabinet to discuss the looming federal debt limit.
📬 Thanks for reading. We made it past Hump Day. A reminder that your family, friends and colleagues can subscribe to Sneak or any of Axios' other free newsletters through this link.