Welcome to Sneak Peek, our weekly lookahead for both ends of Pennsylvania Avenue, plus my best scoops. I'd love your tips and feedback: jonathan@axios.com. And please urge your friends and colleagues to join the conversation by signing up for Sneak Peek.
https://www.axios.com/newsletters/axios-sneak-peek-ed5ee82d-2c3b-43a9-950f-c5245d23d0ef.html?chunk=0#story0
1 big rerun: Trump's wildly predictable "unpredictability"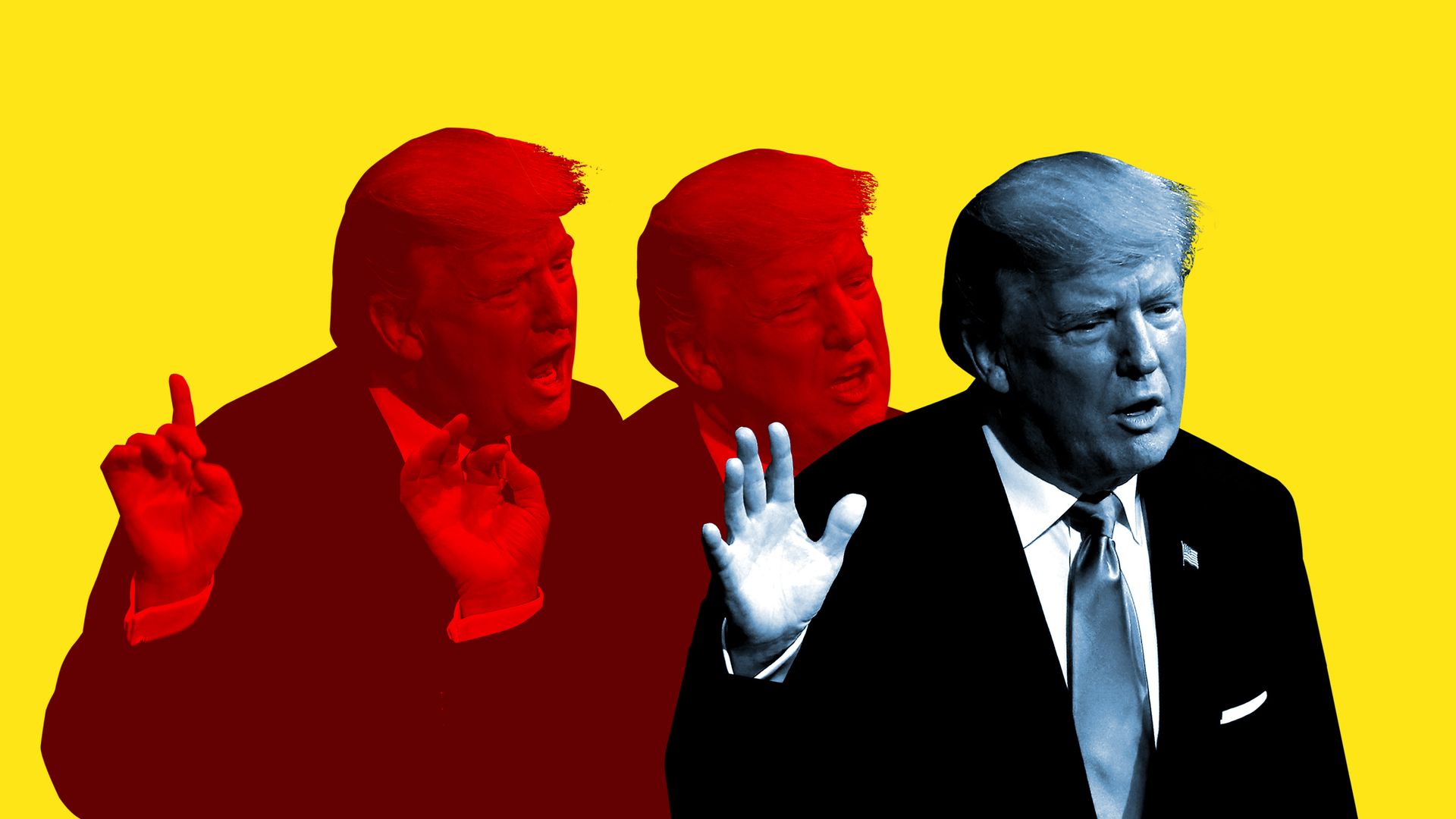 President Trump tells people he keeps the world guessing with his wild unpredictability. But those who work most closely with him say he's a one-trick pony in negotiations.
The trick: Threaten the outrageous, ratchet up the tension, amplify it with tweets and taunts, and then compromise on fairly conventional middle ground.
​"His ultimate gamble is: 'You don't have as big of stones as I do,'" a source close to Trump told me. "'You're going to feel too uncomfortable where I go. The stakes are too high. This is too far outside your comfort zone.'"
Consider these threats: To withdraw from Syria (he reengaged with missile strikes), withdraw from Afghanistan (he settled on the more-of-the-same strategy recommended by his generals), withdraw from the U.S.-Korean trade deal (Trump's team negotiated with the Koreans and announced modest changes to the deal), veto the government spending bill (he signed it), and impose severe worldwide tariffs on steel and aluminum (he offered a bunch of exemptions).
Sources who've been in the room with Trump for negotiations over NATO and various trade deals tell me they've at times felt "awkward" watching Trump go in hard against foreign leaders.
They say Trump seems immune to awkwardness — but then rarely follows through on his most extreme rhetoric.
The next few weeks promise three more Trump tricks:
After sending financial markets into a mass freakout over a trade war with China — which culminated in Trump's threatening China with $100 billion in tariffs — some senior officials, including Treasury Secretary Steven Mnuchin, are cautiously optimistic they'll find a compromise with Beijing. On Tuesday night, Mnuchin leads a delegation to China to try to negotiate a way out of the trade war.
Senior White House officials tell me a NAFTA deal could be "imminent" — meaning, an announcement could come in the next few days. Trump's team is still negotiating and views Canada as a major problem, but we're a far cry from a year ago when Trump's aides were telling us he was hellbent on terminating NAFTA.
Last August, the world braced for nuclear apocalypse as Trump threatened "fire and fury" against North Korea. And less than four months ago, Trump tweeted that his nuclear button is "much bigger & more powerful" than Kim Jong-un's. Now, we're anticipating peace talks on the Korean Peninsula.
Why it can still work: Trump has followed through on just enough of his threats to keep a tincture of doubt in people's minds. He withdrew from the Paris climate accord, for example, and tried to end DACA (though the courts have temporarily shielded the program). And the internal White House consensus is that he'll blow up the Iran nuclear deal. But as a general rule, Trump's rhetoric is usually just posturing.
Be smart: This week will pose a big test of Trump's negotiating predictability. More on that in item 2.
https://www.axios.com/newsletters/axios-sneak-peek-ed5ee82d-2c3b-43a9-950f-c5245d23d0ef.html?chunk=1#story1
2. Trump's midnight test
Less than 48 hours before a major tariffs deadline that could roil global markets, senior Trump administration officials are still internally divided over what to do. At 12:01 a.m. Tuesday, Trump is supposed to impose a 25% tariff on steel and a 10% tariff on aluminum on all the countries that got temporary exemptions in March. Those countries include some of America's closest allies.
Why this matters: The temporary exemptions — the European Union, Canada, Mexico, Australia, Brazil and Argentina — account for almost half of steel imports to the U.S. If Trump slaps tariffs on all of them on Tuesday morning, it would disrupt global markets and throw international supply chains into uncertainty.
Behind the scenes: It's unclear what the administration will do. The free-trader officials — Mnuchin and Larry Kudlow — want to extend the deadline to give more time for negotiations and prevent a freakout in the markets and among allies.
Commerce Secretary Wilbur Ross has taken responsibility for the negotiations with the Europeans, but all the signs from the Europeans suggest he's not made any progress.
In fact, per the N.Y. Times, the German government said in a statement that Chancellor Angela Merkel, President Emmanuel Macron of France and Prime Minister Theresa May of Britain agreed after speaking on the phone that if the tariffs go into force, "The European Union should be ready to decisively defend its interests within the framework of multilateral trade rules." (Also known as a trade war.)
An administration source said the decision is Trump's to make and "the list of countries with whom agreements have been reached will be released this week." The source wouldn't say which countries are on that list, and I'm told Trump hasn't decided yet.
U.S. Trade Representative spokeswoman Emily Davis told me: "The USTR is working closely with the Secretary of Treasury, the Secretary of Commerce and several other senior administration officials. All recommendations to the President are made collaboratively with all affected agencies."
A source who has consulted with several countries trying to get exemptions tells me there's widespread confusion, and the Trump administration has given no clear guidance for how they could get exemptions.
Then you have the hardliners, especially the hawkish trade adviser Peter Navarro, who argue it's crucial to impose the tariffs without exceptions. They believe that every time you give a country an exemption, you simply allow that country to boost its domestic production and become a middleman to help China ship excess steel into the U.S.
Bottom line: Tuesday's deadline will test the theory we outlined in item 1. If Trump extends the temporary exemptions, he'll be fitting a predictable pattern: threaten an extreme action, then take a moderate middle course. If he doesn't — and slaps down sanctions on the entire European Union — he'll show why foreign countries still fear his "unpredictability."
https://www.axios.com/newsletters/axios-sneak-peek-ed5ee82d-2c3b-43a9-950f-c5245d23d0ef.html?chunk=2#story2
3. Scoop: Elaine the Enforcer
When he needs to send a message to his foes, Mitch McConnell is the master of subtlety.
At the Republican Study Committee meeting this past week, RSC Chairman Mark Walker told members the following story, according to a source in the room and another source briefed on the conversation:
On April 17, Walker put out a press release attacking McConnell for opposing the White House's plan to reverse some of the spending from the latest government funding bill. The release said McConnell cared more about his "backroom deal with Democrats" than about fiscal conservatism.
Three days later, Walker had a fundraiser with Mike Pence in North Carolina. Pence and Secretary of Transportation Elaine Chao flew down to join him.
On the tarmac, Chao said to Walker: "Do you know who I am married to?" Walker replied that yes, of course he knew. Then Chao said: "He wanted you to know that he reads everything you put out."
Walker gulped and said, "Understood." And that was that.  
A Chao spokeswoman said: "We have nothing to add."
https://www.axios.com/newsletters/axios-sneak-peek-ed5ee82d-2c3b-43a9-950f-c5245d23d0ef.html?chunk=3#story3
4. Scoop: Behind Trump's most unlikely deal
My colleague Barak Ravid broke a remarkable story this afternoon: At a closed-door meeting with heads of Jewish organizations in New York on March 27, Saudi Crown Prince Mohammed Bin Salman (MBS) had harsh criticism for Palestinian President Mahmoud Abbas (Abu Mazen), according to an Israeli foreign ministry cable sent by a diplomat from the Israeli consulate in New York, as well three sources — Israeli and American — who were briefed about the meeting.
The bottom line of the Crown Prince's criticism: Palestinian leadership needs to finally take the proposals it gets from the U.S. or stop complaining. It's a stunning message from an Arab leader.
According to Ravid's sources, the Saudi Crown Prince told the Jewish leaders:
"In the last several decades the Palestinian leadership has missed one opportunity after the other and rejected all the peace proposals it was given. It is about time the Palestinians take the proposals and agree to come to the negotiations table or shut up and stop complaining."
Why this matters: Despite some in the administration believing the Israeli-Palestinian peace deal is dead on arrival, Trump's Middle East negotiating team still plans to release its proposal.
Behind the scenes: The U.S. negotiating team — which includes Jared Kushner, Jason Greenblatt and David Friedman, among others — hopes that even countries that are sympathetic to the Palestinians view the U.S. plan as reasonable and after its release will pressure the Palestinians to the negotiating table. To that end, MBS' comments are helpful.
Trump made a big bet on the Saudis in general, and MBS in particular, to help achieve his goals of isolating Iran and attempting to solve the Israeli-Palestinian conflict. Kushner has personally spent hours working extremely closely with MBS.
The Trump administration will open the new U.S. embassy in Jerusalem on May 14 — and while most Middle East experts will likely declare this event the nail in the deal's coffin, Trump's team will press ahead.
https://www.axios.com/newsletters/axios-sneak-peek-ed5ee82d-2c3b-43a9-950f-c5245d23d0ef.html?chunk=4#story4
5. Meeting of the century looks like it's happening
Senior White House officials are expressing confidence, both privately and publicly, that Trump will meet with Kim Jong-un.
National Security Adviser John Bolton, perhaps the biggest internal skeptic of North Korea's genuineness, told Chris Wallace on Fox News Sunday: "I think [the meeting] is going to happen."
"The dates and the places are still under discussion. I think the president is eager to do it as soon as possible, but we still need to work out the precise parameters."
Why this matters: Trump surprised his staff and the South Koreans in early March by agreeing on the spot to a meeting with Kim Jong-un. Shortly after that meeting, a senior official told us there was a "50-50" likelihood, at best, that the talks ended up happening. Now, the staff seems certain it's going ahead. Trump simply wants it to happen.
Reasons for skepticism: Wallace asked Bolton if Trump would insist that Kim "give up, ship out, all of his nuclear weapons, all of his nuclear fuel, all
of his ballistic missiles" before the U.S. makes any concessions.
Bolton said "yes," but quickly reminded Wallace that the North Koreans have already agreed to denuclearize. In 1992! 
Bolton also referred to the "Libya model" as an example the U.S. wanted to follow with the North Koreans. When Kim reads what Bolton said, it's hard to imagine he won't ponder the fate of Libyan dictator Muammar Gaddafi — who was killed, with help from the U.S., less than a decade after he gave up his nuclear weapons program.
https://www.axios.com/newsletters/axios-sneak-peek-ed5ee82d-2c3b-43a9-950f-c5245d23d0ef.html?chunk=5#story5
6. Sneak Peek diary
Congress is on break until the week of May 7.
President Trump's schedule, per a White House official:
Monday: Trump meets with Nigeria's president, Muhammadu Buhari, at the White House.
Tuesday: Trump presents the Commander-in-Chief's Trophy to the U.S. Military Academy Football Team. He also meets with the crew of Southwest Airlines Flight 1380, and has meetings with Secretary of State Mike Pompeo, Defense Secretary Jim Mattis, and the Secretary of Homeland Security, Kirstjen Nielsen.
Wednesday: Trump to speak at the National Teacher of the Year reception.
Thursday: Trump participates in the National Day of Prayer event.
https://www.axios.com/newsletters/axios-sneak-peek-ed5ee82d-2c3b-43a9-950f-c5245d23d0ef.html?chunk=6#story6
7. 1 scary thing: video manipulation
"The current era of 'fake news' may soon seem quaint. Video manipulation is eroding society's ability to agree on what's true — or what's even real," The Atlantic's Franklin Foer reports.
Why this matters: "Scandalous behavior stirs mass outrage most reliably when it is 'caught on tape.' Such video has played a decisive role in shaping the past two U.S. presidential elections."
But now: Fabricated videos, which are becoming ever more sophisticated, "will create new and understandable suspicions about everything we watch. Politicians and publicists will exploit those doubts. When captured in a moment of wrongdoing, a culprit will simply declare the visual evidence a malicious concoction."