Axios Sneak Peek
May 14, 2017
Welcome to Sneak Peek, our weekly lookahead for both ends of Pennsylvania Avenue. I'd love your tips and feedback: [email protected]. And please urge your friends and colleagues to join the conversation by signing up for Sneak Peek. See you all week in the Axios STREAM.
1 big thing: never let a good crisis go to waste
On CNN's "State of the Union," Jake Tapper asked Chuck Schumer whether he'd refuse to vote on the nomination of a new FBI director to replace James Comey until a special prosecutor is appointed. The Democratic Senate leader said yes; but that's only the beginning of the pressure Democrats plan to exert.
Here's what Democrats will do in the coming days, per a senior Senate aide:
Establish a litmus test for Republicans who care about the integrity of the Russia investigation: to appoint a special prosecutor.
Call for Attorney General Jeff Sessions to recuse himself from deciding Comey's replacement, given the new FBI director will be overseeing the investigation into whether the Trump campaign colluded with Russia during the election.
Extract a full explanation from Rod Rosenstein about his role in Trump's firing of Comey. The deputy attorney general will brief senators this week and they'll have a chance to grill him.
Urge Republicans to support Democrats' calls for Comey to testify before a congressional committee.
Around the corner: Watch for Dems to use their demands on the Russia probe as leverage to justify even more aggressive obstruction of the Republicans' legislative agenda. "If they [Republicans] don't cooperate on what we view as requests that should be bipartisan and reasonable," the senior Senate aide said, "I don't think any Democrat would be in the mood to conduct business as normal."
One last Comey thing — worth your time: the most insightful thing I've heard or read about Comey in a week of nonstop coverage is a Slate podcast interview with the former FBI boss' longtime friend Benjamin Wittes. Stressing he had no inside knowledge of his friend's plans, Wittes predicted Comey — "maybe the only completely subtext-less person in Washington" — would publicly tell his full story and probably in a congressional hearing. Wittes had these ominous words for Trump: "One of the problems that Trump created for himself in removing Jim Comey is that he dramatically increased the list of things that Jim Comey is now allowed to talk about."
2. Scoop: Sheldon Adelson "furious" about Tillerson's comments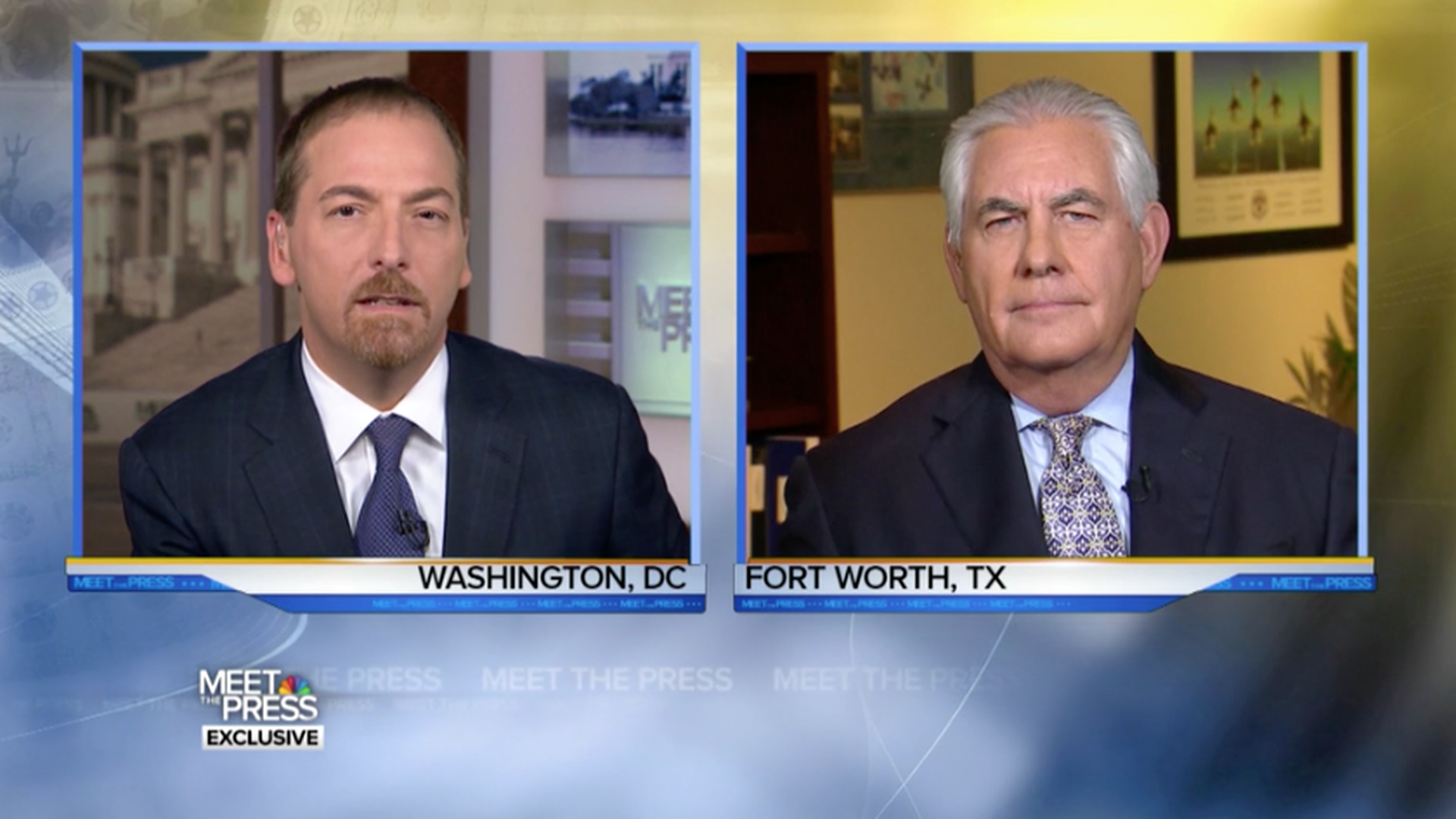 Republican mega-donor Sheldon Adelson — a man who has no trouble getting the President on the phone — is "furious" about comments Secretary of State Rex Tillerson made today on NBC's "Meet the Press," according to two sources with knowledge of Adelson's reaction.
Chuck Todd asked Tillerson about Trump's campaign promise to move the American embassy in Israel from Tel Aviv to Jerusalem. Tillerson replied that the President "wants to put a lot of effort into seeing if we cannot advance a peace initiative between Israel and Palestine...the President is being very careful to understand how such a decision [moving the embassy] would impact a peace process."
Sources familiar with Adelson's thinking say the Las Vegas billionaire doesn't buy the argument that the embassy move should be contingent on the peace process. He has told Trump that Palestinians are impossible negotiating partners and make demands that Israel can never meet.
Adelson and his wife Miriam spent more than $80 million to help Republicans during the 2016 cycle, and he gave $5 million to Trump's inaugural celebrations.
3. The light bulb test
My colleague Mike Allen broke the news today that President Trump is considering a "huge reboot" of his White House that could take out everyone from Chief of Staff Reince Priebus and chief strategist Steve Bannon, to counsel Don McGahn and press secretary Sean Spicer.
If such a shake-up happens, Trump will need replacements who have experience at the highest levels of politics, know how to manage a White House, and reach across the aisle to Democrats when required.
I phoned David Gergen to ask what he'd do if he were Trump. Gergen served under presidents Nixon, Ford and Reagan, before Bill Clinton brought him in as a top counselor.
"There's an old joke asking how many psychiatrists does it take to change a light bulb," Gergen said about Trump's prospective staff shake-up. "Answer: only one, but the light bulb must want to change."
Gergen's view:
When you're trying to reorganize any organization, corporation, the White House, the person who leads the group [i.e. Trump himself] has to be the first person to change.
Beyond that, what Trump needs is a Jim Baker figure. "Someone who is entrusted with the power, and has the credibility and the heavyweight status — in addition to respect on both sides of the aisle — that the President will actually listen seriously and take into account the views of that person," Gergen said. "And a person who can really crack the whip and run the White House."
Gergen says Trump has made great progress on the national security side by bringing in General H.R. McMaster. "People write off Trump as unable to do it, but on national security it's a better decision-making process than it was."
4. Republicans getting nervous about Dem recruitment
I'm beginning to hear senior Republicans fret about Democrats recruiting unusually high quality House candidates for the 2018 midterms. They worry that with Trump in turmoil, accomplished progressives view next year as a their best chance in ages to win a congressional seat.
Some examples:
A DCCC source tells me the Democratic committee has already had serious conversations with more than 300 potential candidates in about 75 districts. "There are a great deal of veterans, small business owners and entrepreneurs, and women that are stepping up," the source said.
5. 1 fun thing: live from the Vatican, Newt Gingrich!
Now that CNN is reporting that Trump will likely appoint Callista Gingrich the next ambassador to the Vatican, I have an excuse to serve you a delicious anecdote I've been hoarding for weeks.
About six weeks ago, the President was kibitzing about the Vatican ambassador role. Trump told our source he was reluctant to send Callista to the Vatican because he likes seeing her husband Newt defending him on TV. Our source told the President they were sure satellite hook-ups could be arranged for Newt at the Holy See.