Axios Sneak Peek
August 26, 2018
Welcome to Sneak Peek, our weekly lookahead for both ends of Pennsylvania Avenue, plus my best scoops. I'd love your tips and feedback: [email protected]. And please urge your friends and colleagues to sign up for Sneak Peek.
Situational awareness: "Multiple people were killed in a mass shooting during a video game tournament at a shopping and dining complex in downtown Jacksonville, Florida, the Jacksonville Sheriff's Office said Sunday afternoon," CNN reports.
1 big thing ... Scoop: Republicans secretly study their coming hell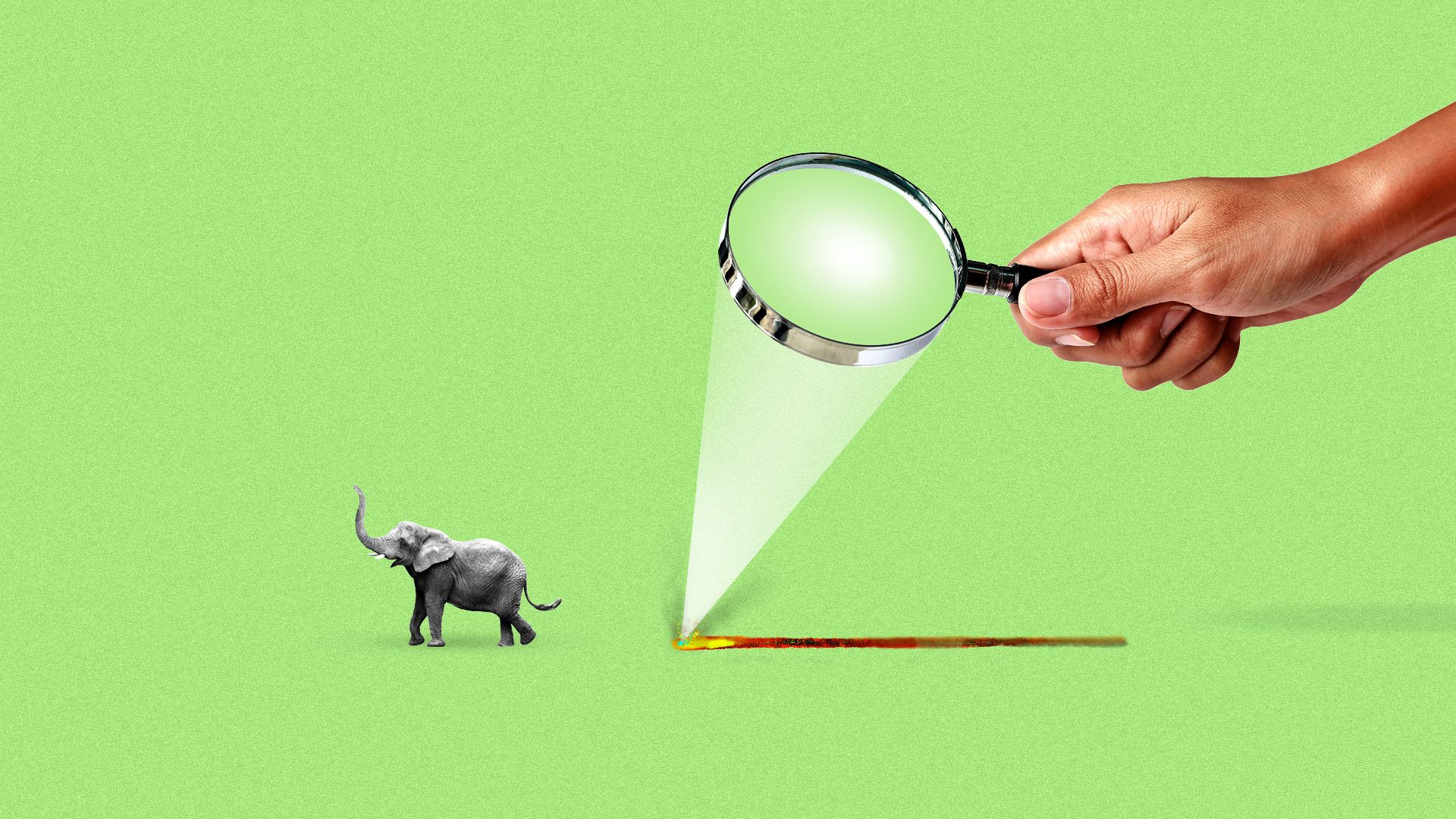 Congressional Republicans are getting ready for hell.
Axios has obtained a spreadsheet that's circulated through Republican circles on and off Capitol Hill — including at least one leadership office — that meticulously previews the investigations Democrats will likely launch if they flip the House.
Why this matters: Publicly, House Republicans are putting on a brave face about the midterms. But privately, they are scrambling to prepare for the worst. This document, which catalogs requests Democrats have already made, is part of that effort.
It has churned Republican stomachs. Here are some of the probes it predicts:
President Trump's tax returns
Trump family businesses — and whether they comply with the Constitution's emoluments clause, including the Chinese trademark grant to the Trump Organization
Trump's dealings with Russia, including the president's preparation for his meeting with Vladimir Putin
The payment to Stephanie Clifford — a.k.a. Stormy Daniels
James Comey's firing
Trump's firing of U.S. attorneys
Trump's proposed transgender ban for the military
Treasury Secretary Steven Mnuchin's business dealings
White House staff's personal email use
Cabinet secretary travel, office expenses, and other misused perks
Discussion of classified information at Mar-a-Lago
Jared Kushner's ethics law compliance
Dismissal of members of the EPA board of scientific counselors
The travel ban
Family separation policy
Hurricane response in Puerto Rico
Election security and hacking attempts
White House security clearances
The spreadsheet — which I'm told originated in a senior House Republican office — catalogs more than 100 formal requests from House Democrats this Congress, spanning nearly every committee.
The spreadsheet includes requests for administration officials to be grilled by committee staff, requests for hearings to obtain sworn testimony, efforts to seize communications about controversial policies and personnel decisions, and subpoena threats.
These demands would turn the Trump White House into a 24/7 legal defense operation.
The bottom line: Thanks to their control of Congress, Republicans have blocked most of the Democrats' investigative requests. But if the House flips, the GOP loses its power to stymie. Lawyers close to the White House tell me the Trump administration is nowhere near prepared for the investigatory onslaught that awaits them, and they consider it among the greatest threats to his presidency.
2. Behind the scenes: Inside Lighthizer's thinking on NAFTA
Senior Trump administration officials have spent the weekend holed up with their Mexican counterparts, haggling over the final details of a new NAFTA deal. Sources briefed on the negotiations tell us the negotiators are on the brink of a handshake deal, and Mexico's Economy Minister told reporters today the two countries were in the "final hours of this negotiation."
But, but, but: We're skeptical. Remember, there's a third party to these NAFTA talks: Canada.
The Canadians have sat on the sidelines while the Trump team has ironed out its bilateral issues with Mexico — but they must be party to any deal.
Canadian Prime Minister Justin Trudeau will be loath to appear to capitulate to demands from Trump, who is widely detested in his country.
The three countries want to sign the deal by the end of August to stop the ultra-left wing Mexican leader Andrés Manuel López Obrador from throwing a wrench in the talks.
U.S. trade law requires a 90-day waiting period after nations reach an agreement before they can sign a pact. Therefore, if the U.S., Canada and Mexico can't reach an agreement by the end of August, the negotiations would be transferred to Obrador, who gets inaugurated on December 1.
Behind the scenes: Only a tiny circle of administration officials, including Robert Lighthizer and Jared Kushner, have full visibility of the NAFTA negotiations. They've been almost entirely leakproof. That said, two trusted sources who've spoken to Lighthizer outlined for me how he is privately angling to get a new NAFTA deal through Congress:
The most important point: Trump is hugely popular with the Republican base, so just giving the new NAFTA his imprimatur will move a ton of Republican members of Congress — at least 180 votes in the House, by Lighthizer's count.
For the rest, you grind it out. The coalition Lighthizer has privately discussed is "energy plus labor," according to two additional sources with direct knowledge of his thinking. He's looking to give the energy sector a better deal than some other industries on the investor-state dispute settlement to protect their investments in Mexico in particular, and to safeguard them from nationalization by AMLO. If the oil and natural gas industries are happy, it will be tough for members from energy states like Texas to oppose a deal.  
Lighthizer's bet on labor unions has generated significant skepticism among sources close to the talks, inside and outside the White House. "He and Navarro think if the labor unions like the deal they will push Democrats to vote for it," a source with knowledge of Lighthizer's thinking told Axios. "I think that's crazy."
The Trump administration response: After I shared this reporting with the administration, Emily Davis, a spokeswoman for Lighthizer, replied: "USTR declines to confirm or comment on this."
3. A drama-free September?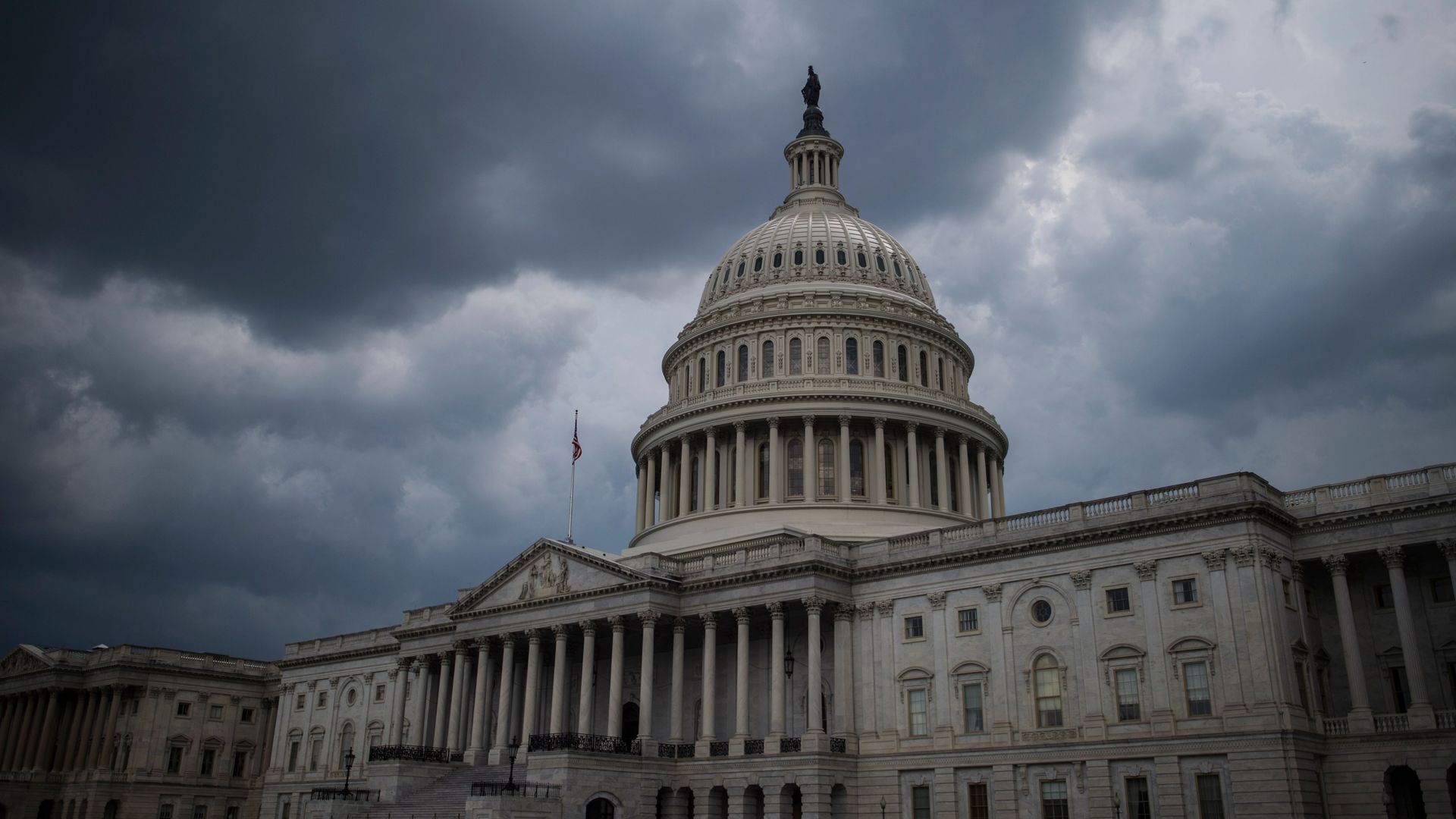 It's looking increasingly likely that Congress will fund the government by the Sept. 30 deadline without too much hubbub.
Leadership sources from both parties tell me they think they can pass between five and nine spending bills, including the mammoth defense bill, funding more than half of the discretionary budget. They would then pass the remaining bills using a continuing resolution.
Between the lines: My sources in the Senate — which has already passed nine spending bills, the chamber's most since 2000 — are more optimistic than those in the House. And while plenty can go wrong when they get together in conference, both parties sound fairly sanguine about dodging a catastrophe.
The bottom line: The wild card, of course, is President Trump. Even though he's itching to pick a fight with Democrats over funding of his wall, he's privately assured both Paul Ryan and Mitch McConnell that he won't shut down the government before the midterms.
But a source close to Trump told me that while they're almost certain he'll keep that promise, they still hear a whisper of doubt.
"[The wall] is on his mind," the source said. "I think I would still say we are not going to have a shutdown...and yes, he has explicitly told Ryan and McConnell he won't, but he talks about the wall and keeps talking about it."
"I won't rule it [a shutdown] out because it's his biggest issue and he wants to have this discussion before the election. ... In his gut, he thinks it's good politics."
4. Dems despair on Kavanaugh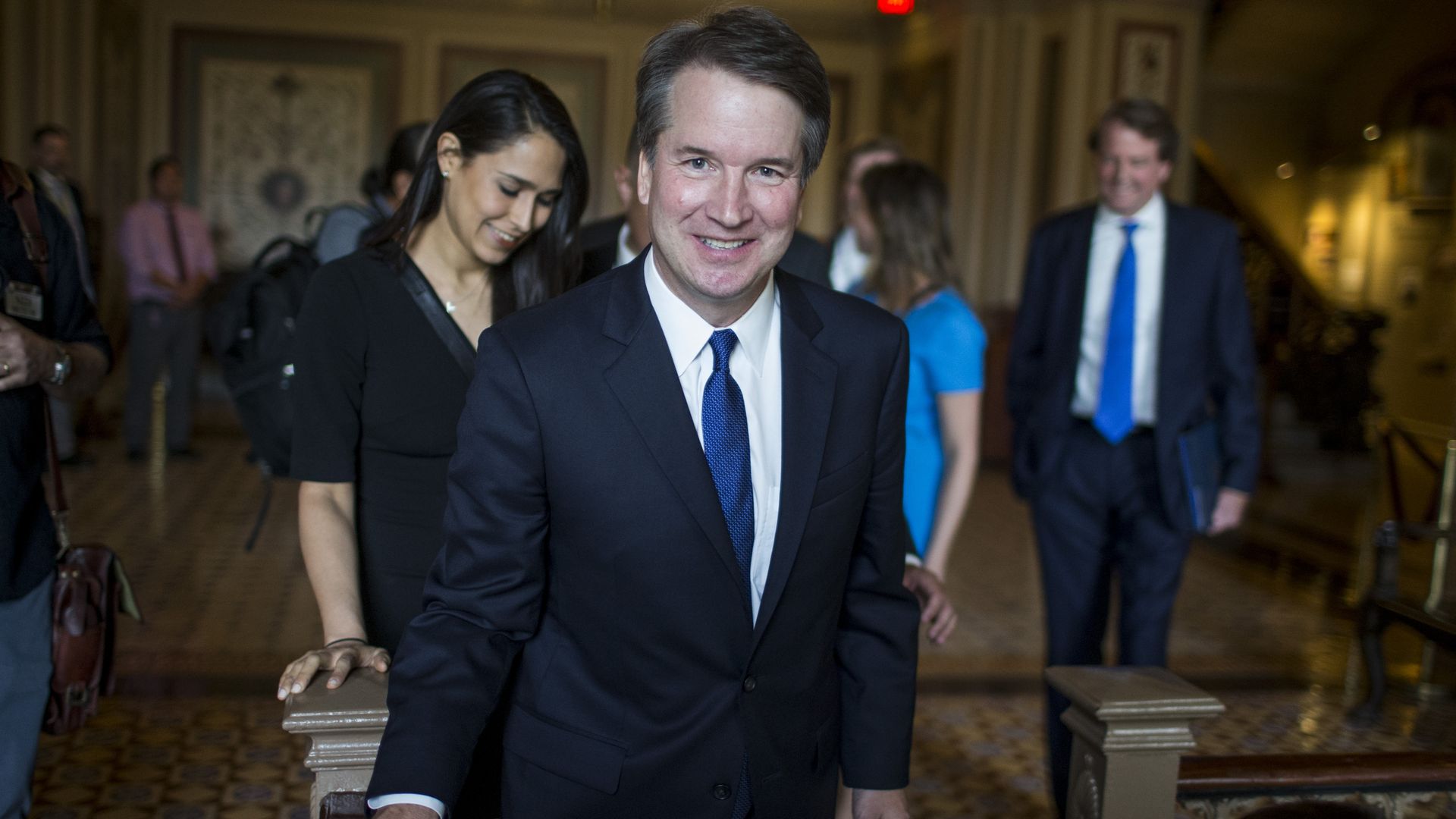 We saw fresh signs this week that Democrats won't be able to block the confirmation of Brett Kavanaugh. Axios' Alayna Treene spoke to the offices of all the senators the White House considers swing votes for the next Supreme Court justice.
The bottom line: The swing senators are saying all the things Team Kavanaugh would want to hear. And even senior Democrats involved in the effort to oppose Kavanaugh's nomination have privately admitted to Axios they'll need a major new development for them to have any chance of killing his confirmation — either an explosive document or a total meltdown from Kavanaugh at his confirmation hearing.
What they're saying:
Sen. Susan Collins (R-Maine), a centrist who supports abortion rights, met with Kavanaugh for more than two hours and said the two discussed abortion "at length." Kavanaugh told her that, like Chief Justice John Roberts, he believes Roe v. Wade is "settled law." Collins said the meeting was excellent and that she was very pleased with his answers.
Sen. Lisa Murkowski's (R-Alaska) communications director Karina Petersen told Axios that Murkowski, a moderate who also feels very strongly about abortion rights, focused many of her questions on the fate of Roe v. Wade. Petersen says Kavanaugh told Murkowski what he told Collins — that the case was settled precedent.
Sen. Joe Manchin's (D-W.Va.) communications director, Jonathan Kott, told Axios that Kavanaugh repeatedly stressed "his independence as a jurist" during their meeting, and emphasized that he "takes into account the human impact of his rulings." Kott said their conversation centered on how Kavanaugh's rulings would affect health care, especially for West Virginians.
Sen. Heidi Heitkamp (D-N.D.) emphasized the importance of shielding the court from politics following her meeting with Kavanaugh, and said the meeting helped her learn more about his judicial record and temperament.
What to watch: Everything can still change during the confirmation process. Democrats will grill Kavanaugh over his willingness to override precedent and his views of special counsel Robert Mueller's investigation into the Trump campaign and Russian interference in the 2016 election.
What's next? A source working to confirm Kavanaugh told Axios they're spending this week on practice hearings — mimicking what his week will be like during his confirmation hearing in early September. "Similar cycles/times/hearings, etc.," the source said. "Very lifelike rounds of questions..."
5. Sneak Peek diary
The House is still on summer recess.
The Senate remains at work. Plenty were skeptical that Mitch McConnell would keep the Senate in session through August, but he's done just that. The Senate will be voting on five more Trump administration nominees and 12 district judges, according to a leadership source.
President Trump's schedule, per a White House official:
Monday: Trump receives his intelligence briefing and has lunch with Mike Pence. The President and First Lady will also host the Kenyan president and his wife at the White House, and they'll later host a dinner "celebrating evangelical leadership."
Tuesday: Trump has lunch with Defense Secretary James Mattis.
Wednesday: Trump receives his intelligence briefing and has lunch with Secretary of State Mike Pompeo. The President and First Lady will also host a reception for the White House Historical Association.
Thursday: Trump receives his intelligence briefing.
6. 1 curious thing: QAnon conspiracist in the Oval Office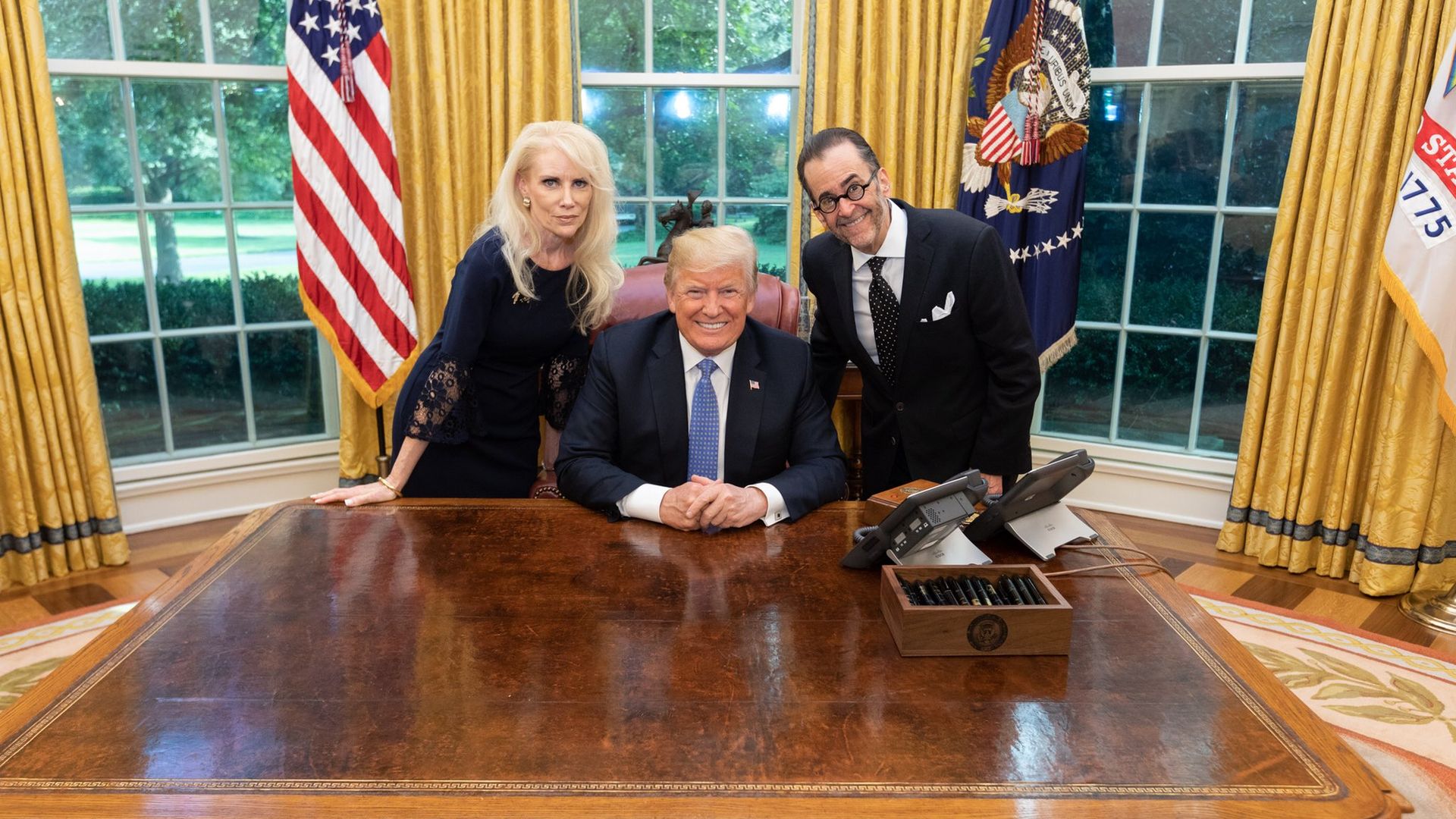 On Thursday, a bespectacled gentleman who goes by the name "Lionel Media" on Twitter, met President Trump in the Oval Office.
Lionel Media, whose real name is Michael William Lebron, is an enthusiastic proponent of the QAnon conspiracy theory, which posits that Trump and Robert Mueller have secretly teamed up to take on a global cabal of pedophiles (Hillary is on the same side as the pedophiles). He's also a 9/11 truther.
"There are simply no words to explicate the profound and ineffable honor of meeting

@realDonaldTrump

in the tabernacle of liberty, the Oval Office," he tweeted.
Shortly after this gentleman posed behind the Resolute desk for a photo with Trump, he tweeted about people having chips implanted in their skin as part of government mind control.
So, how, you might be wondering, did this person get into the Oval Office with the President of the United States? I asked the White House press office for an explanation on Friday afternoon. On Sunday, press secretary Sarah Sanders said: "A large group came through the White House for a brief tour and a photo."
Go deeper: For more on this saga, I commend this piece by The Daily Beast's resident weirdo-chroniclers, Asawin Suebsaeng and Will Sommer.