Welcome to Sneak Peek, our weekly lookahead for both ends of Pennsylvania Avenue. I'd love your tips and feedback: jonathan@axios.com. And please urge your friends and colleagues to join the conversation by signing up for Sneak Peek.
https://www.axios.com/newsletters/axios-sneak-peek-cf161b4c-1957-43dc-8712-1e3509d3a4aa.html?chunk=0#story0
1 big thing: the million dollar bracket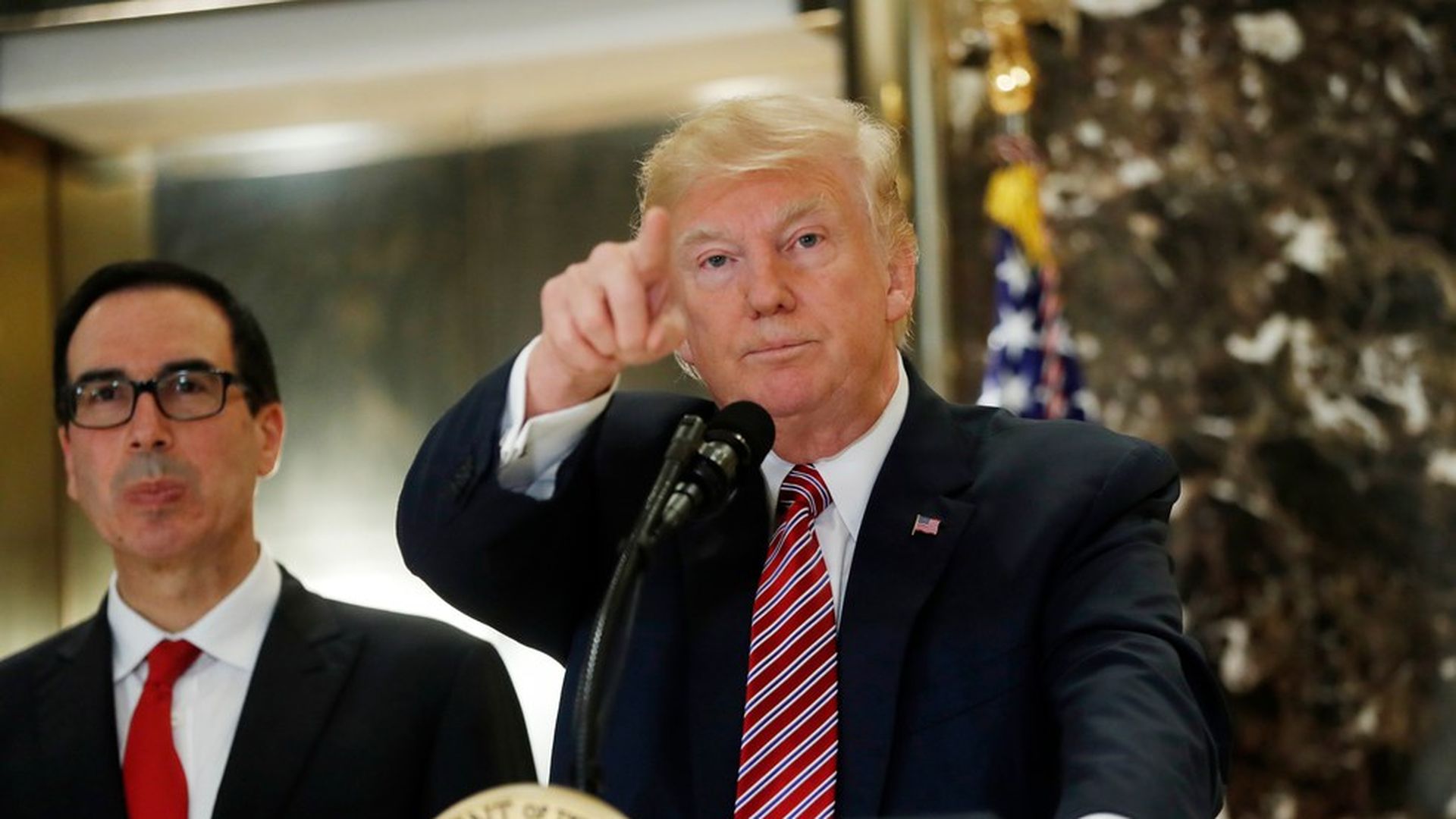 The Republicans on the House Ways and Means Committee — engaged in a high-pressure, high-stakes tax policy rewrite — are currently exploring not cutting the income tax rate for people who earn $1 million or more per year.
Right now, anyone who makes $418,000 or more per year pays 39.6 percent of their income in taxes. And that's the highest income tax bracket. The Republicans' opening gambit — secretly negotiated for months, and endorsed by Trump — would have cut the highest tax rate to 35 percent.
But now, House Republicans' thinking has changed. Under their current thinking, people who earn between $418,000 and $999,999 will get a cut to their tax rate. But those earning $1 million or more will not.
Opting to keep taxing million-dollar-earners at the current 39.6 percent-rate will help stem the deficit increase from tax cuts for corporations and the middle class.
Caveat: The million dollar bracket plans haven't been finalized and could change this week, as committee Republicans finalize their tax bill during meetings on Tuesday and Wednesday.
Potential blowback: If the Committee Republicans ultimately decide not to cut the income tax rate for million-dollar-earners, much of the Republican donor class and Reaganomics community (including anti-tax activist Grover Norquist) will feel betrayed.
"I understand compromise, but why compromise with the sin of envy?" Norquist told us. "This isn't the dumbest idea I have ever heard of. But it is in the top 20."
Norquist argues this won't placate Democrats — who inevitably will charge that Trump's tax overhaul is just designed to help the rich — but will alienate conservatives.
Meanwhile, one administration official told me Trump doesn't really care about this issue.
"He basically thinks they [rich people] are fine and he believes they don't care that much about the individual rate so long as they get all the other goodies, like the corporate rate and expensing," the official said.
What's next: The House expects to pass the Senate budget this week. Shortly after, we're likely to have a timeline of when House Republicans will release their tax cut bill.
A dynamic we're watching: House Republicans make no secret of their disdain for Treasury Secretary Steven Mnuchin. They call him and Gary Cohn "the Democrats." Don't expect either one of them to have much lobbying power with conservatives on the Hill over these next crucial weeks.
https://www.axios.com/newsletters/axios-sneak-peek-cf161b4c-1957-43dc-8712-1e3509d3a4aa.html?chunk=1#story1
2. Ivanka in Pennsylvania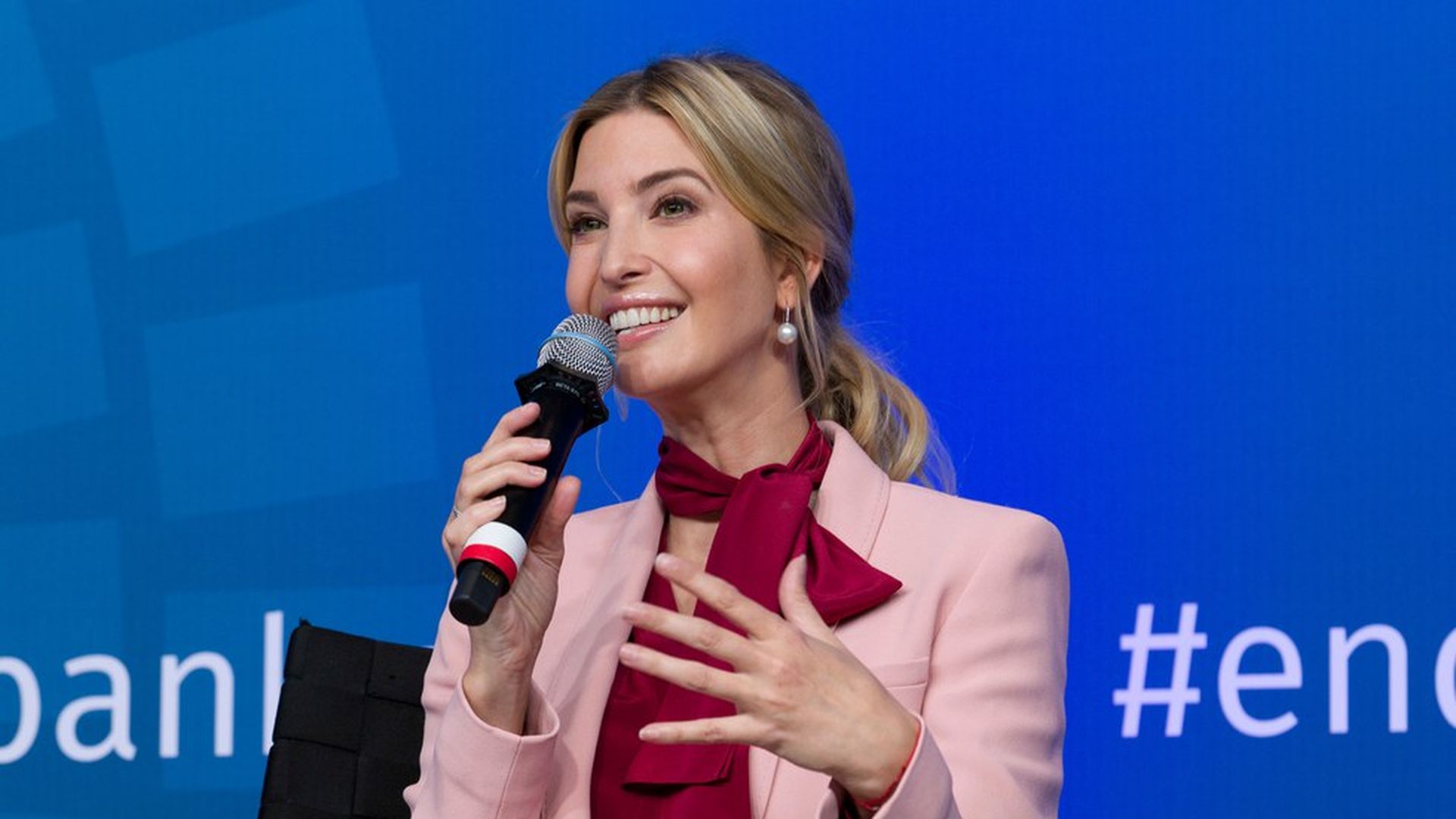 Ivanka Trump heads to Bucks County, Pennsylvania, on Monday to talk tax reform, according to a senior administration official. She'll appear at a White House tax reform town hall, alongside U.S. Treasurer Jovita Carranza, and former New York Rep. Nan Hayworth will moderate the event.
Pressure's on: Since the campaign, Ivanka has openly pushed for expanding the child tax credit. The Big Six tax reform plan would do that. But some fiscal conservatives worry it will only make the deficit worse. It remains to be seen whether House Republicans' final tax plan will keep the child tax credit expansion that Ivanka and the administration are lobbying for as part of their plan for "middle class relief." So that will be a big part of her focus in Pennsylvania.
Ivanka has been working towards that end with the National Economic Council, the Office of Legislative Affairs and Treasury; and, as we first reported a couple weeks ago, Jared and Ivanka have been having members of Congress over for dinner at their Washington D.C. residence.
Despite concerns from fiscal conservatives, officials working on tax reform say support is building for the child tax proposal.
Momentum play: The administration's effort to sell tax reform has kicked into overdrive. The president sat down with Fox News' Maria Bartiromo on Friday for an interview aired today, his team placed a Trump Op-Ed that ran this morning in USA Today, OMB Director Mick Mulvaney hit the Sunday shows, and the president phoned into a conference call for House Republicans this afternoon, urging members to adopt the Senate budget this week and follow through to tax reform, saying, "We are on the verge of doing something very, very historic."
What's next: House Republicans are set to pass the Senate budget this week — even though it doesn't include top conservative priorities, like addressing the debt crisis through entitlement reform. They're putting those goals on the back burner in hopes of expediting tax reform.
https://www.axios.com/newsletters/axios-sneak-peek-cf161b4c-1957-43dc-8712-1e3509d3a4aa.html?chunk=2#story2
3. Inside the Fed Chair decision
Like every major Trump decision, the president is leaving even his closest advisers in suspense over his plans for the next Federal Reserve Chairman. Most aides I've spoken to think Trump will appoint Fed Board member Jerome Powell. But nobody who's spoken to Trump feels overly confident.
"It's never a done deal with this guy," said one official.
Rupert Murdoch, who speaks regularly to Trump by telephone and is one of his most influential informal advisers, has urged the president to appoint either of the two free market conservative finalists, Stanford economist John Taylor or former Fed Governor Kevin Warsh, according to two sources familiar with his outreach.
A spokesman for Murdoch declined to comment.
Trump didn't have amazing chemistry with Taylor, according to two sources familiar with their interactions. But he's still in the mix, possibly for vice chair. Top officials who Trump respects, including Vice President Pence, have been vouching for Taylor's credentials and intellect. Trump has also spoken favorably of current Fed Chair Janet Yellen, further muddling the picture.
What else we're hearing:
A source who spoke to Trump late last week said they left the conversation believing the president had not made up his mind.
Another source close to the process told me the smart money is still on Powell. Powell's most aggressive advocate has been Treasury Secretary Steven Mnuchin. But Trump should be taken at his word when he tells Fox Business' Maria Bartiromo that he's considering Taylor and Yellen, or a combination of Powell and Taylor for chair and vice-chair.
Some White House officials have vented about the constant stream of news stories promoting Powell's candidacy. They say they suspect the leaks have come from Treasury, since Powell is Mnuchin's preferred candidate.
One senior official said Powell is far from a home run for Republicans. When Obama nominated Powell to the Fed Board, in 2012, 21 Republican senators voted against his confirmation.
What the West Wing is reading: Senior administration officials told me that Friday's Wall Street Journal editorial headlined "A Fed for a Growth Economy" was read attentively in the West Wing. The editorial argues it's a bad idea to give another term to the Obama appointee Janet Yellen or replace her with Jerome Powell, whom the Journal portrays as a Yellen clone. The newspaper lobbies for Trump to appoint either Taylor or Warsh. "Both would be change agents at the Fed," the editorial declares.
Bottom line: If you're handicapping the Fed Chair race, you're still probably safest with Powell. But this is far from a done deal. Trump still plans to announce his pick for the Fed Chair before he leaves for Asia on Nov. 3.
https://www.axios.com/newsletters/axios-sneak-peek-cf161b4c-1957-43dc-8712-1e3509d3a4aa.html?chunk=3#story3
4. Sneak Peek diary
The White House is intensely focused on tax reform and the president's upcoming Asia trip.
President Trump meets Singapore's prime minister on Monday; on Tuesday he'll join Senate Republicans for their policy lunch; on Thursday afternoon he'll give a speech about the opioid epidemic; and on Friday he'll meet with Interior Secretary Ryan Zinke.
On Capitol Hill: It's full steam ahead on tax reform, with the House set to pass the slightly-amended Senate budget, which will be the legislative vehicle that ultimately moves the tax bill.
In the House: as well as passing the 2018 budget, the House will also vote next week to slap new sanctions on Iran's ballistic missile program and Hezbollah (a Lebanese militia backed by Iran.)
In the Senate: they'll have a cloture vote on Monday for the disaster relief package, then final passage after up to 30 hours of debate.
One to watch: A Senate leadership source tells me nothing has been confirmed but a senior government official says he expects there'll be a vote in the Senate this week to overturn the Consumer Financial Protection Bureau's (CFPB) arbitration rule, using the Congressional Review Act.
Flashback: Per WashPo... "Richard Cordray, the head of the Consumer Financial Protection Bureau, went on the offensive Tuesday to publicly defend an agency rule that has roiled Wall Street by allowing consumers to band together and sue their banks."
Many conservatives are frustrated that Cordray — whose exit is perpetually described as imminent — still has his job. Cordray is one of the final agency heads left over from the Obama administration.
https://www.axios.com/newsletters/axios-sneak-peek-cf161b4c-1957-43dc-8712-1e3509d3a4aa.html?chunk=4#story4
5. What's next for the caliphate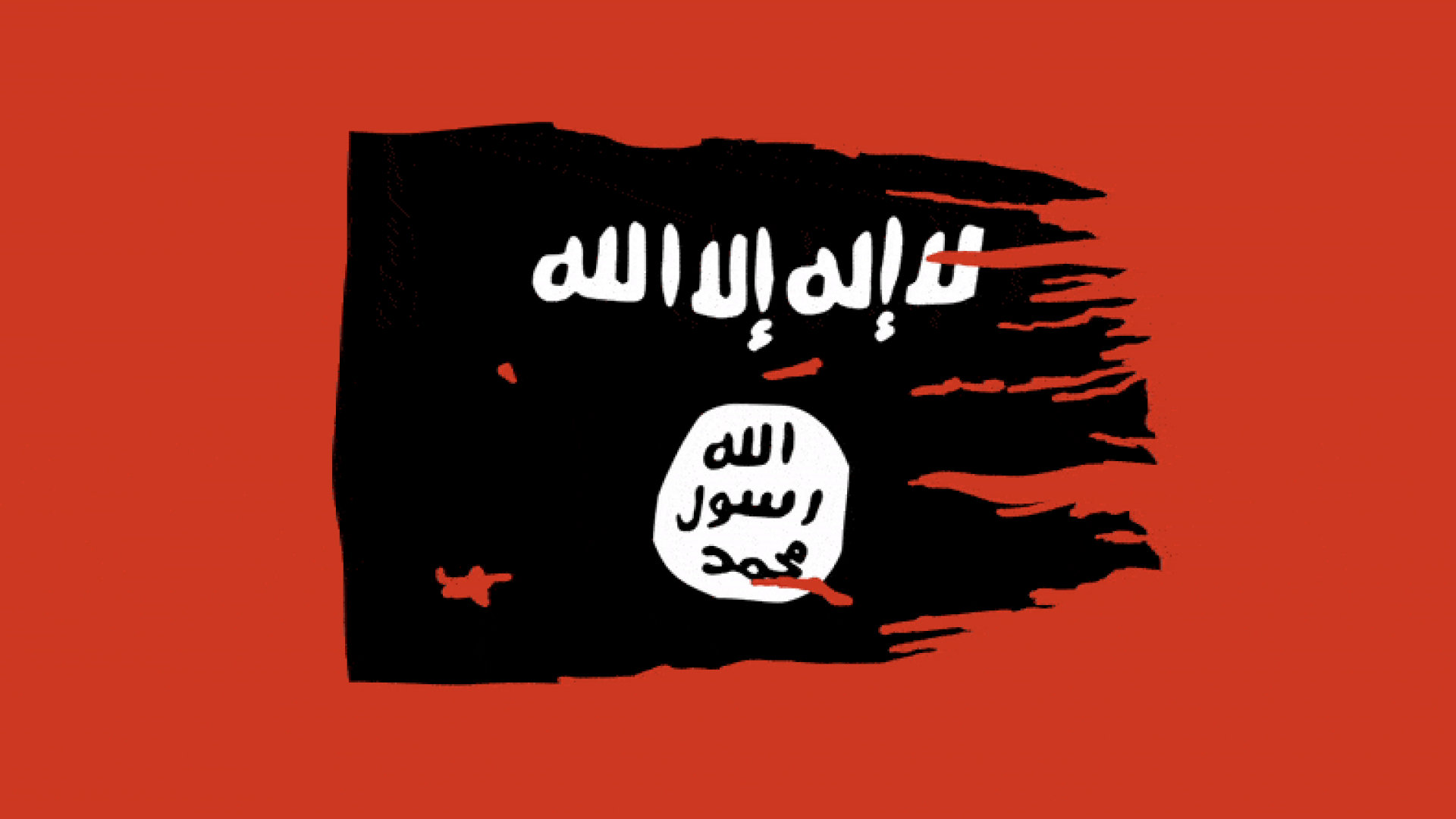 ISIS lost its Syrian capital, Raqqa, last week. Trump issued a congratulatory statement; but we've not seen any George W. Bush-style "Mission Accomplished" speeches.
I spoke to Dana White, the top spokeswoman for Defense Secretary James Mattis, about where the U.S. military is at in its fight against ISIS and what challenges lie ahead.
Shrinking caliphate: In Iraq and Syria the Syrian Democratic Forces and the Iraqi Special Forces — with the help of the U.S. military — have retaken an area the size of California. White says that what ISIS still controls "is a territory slightly smaller than New York State."
Most importantly: White points out that "ISIS has not regained an inch of the territory it has lost."
Bottom line: The power of intimidation, to use Mattis' phrase, is working great. But now comes the hard part.
What White calls "the stabilization piece" — working with Syrians and Iraqis on the ground to ensure ISIS doesn't make a comeback — is going to be incredibly tough and time-consuming work.
Brett McGurk, the Special Presidential Envoy for the Global Coalition to Defeat ISIS, "is responsible for ensuring the hard fought military gains are maintained — ensuring the 73 coalition members (NATO, Arab League, Interpol and EU) continue to support these communities after the fighting stops."
"It's why Secretary Mattis and Tillerson work so closely together," White says, "and why [Mattis] insists on having a State Department rep with him when he meets any of his counterparts."
https://www.axios.com/newsletters/axios-sneak-peek-cf161b4c-1957-43dc-8712-1e3509d3a4aa.html?chunk=5#story5
6. 1 powerful thing: 'Keep Grassley happy'
A senior administration official joked to me last week that the real EPA Administrator comes from Iowa, and his name is Chuck Grassley. The source made that wisecrack after Trump called EPA Administrator Scott Pruitt last week and told him to keep Grassley happy on the Renewable Fuel Standard.
After that call, Pruitt backed away from a plan to reduce how much biofuel — mostly corn ethanol — is required in gasoline. Pruitt's concession to Grassley and co. surprised approximately nobody.
The reality: Pruitt is one of Trump's favorite cabinet secretaries, has aggressively deregulated his agency, and was a key voice behind the president's decision to withdraw from the Paris climate deal.
But, but, but... Don't mess with Grassley. Perhaps no senator wields more power over Trump than the Judiciary Committee chairman. When Grassley wants one of his people appointed at an agency, it happens. Trump views him as a loyal supporter who helped him win Iowa. (Grassley even stuck by Trump after the Access Hollywood tape leaked!) The fact that Grassley chairs the Judiciary Committee, which confirms federal judges, is just one more source of leverage.
Go deeper on the policy and politics of ethanol with my colleague Amy Harder. In her column tomorrow morning she'll dive into this hot issue, with an interview with Grassley. To read Harder's column, sign up for our energy newsletter Generate.