Welcome to Sneak Peek, our weekly lookahead for both ends of Pennsylvania Avenue, plus the cream of the Sunday shows. I'd love your tips and feedback: jonathan@axios.com.
Please urge your friends and colleagues to join the conversation by signing up for Sneak Peek and the other Axios newsletters. See you all week in the Axios STREAM, and next Sunday evening in Sneak Peek.
https://www.axios.com/newsletters/axios-sneak-peek-b9ababc1-9fc4-4e97-87c7-b76c0f47aa49.html?chunk=0#story0
1 big thing: Trump's wall
Chuck Schumer has concluded that denying President Trump his wall is perhaps the surest major defeat Democrats can hand the President in his first year.
Trump needs 60 Senate votes to fund construction of his "great wall" along the Southern border. Unlike healthcare or tax reform, Republicans can't use the budget process to ram the wall funding through Congress using only Republican votes.
Schumer's thinking: There's nothing the Republicans would be willing to offer that could get Trump the eight Democratic Senators he needs to fund the wall. Mitch McConnell's only other option would be to invoke the nuclear option and bypass the filibuster. But Democratic appropriators are betting the Republican leader won't be willing to undermine such a fundamental Senate tradition just to pay for Trump's wall.
The evolving plan, being discussed by Schumer's office and Senate appropriators: If Republicans put money for the wall into a bill, Democrats block it. It doesn't matter what else is in the bill — Schumer will make it about the wall. The way Democrats see it, if they can block the wall, they'd crush a central feature of Trump's political identity. And as the face of the strategy, Schumer would thrill the Democratic base (though less so the red-state Democratic senators up in 2018).
What happens next: Team Trump knows it's not going to be easy to fund the wall. A source familiar with the administration's plans says the preferred strategy would be to attach the wall funding to the bill that funds the military. That way, Republicans could tell the public that Schumer and the Democrats are blocking money not only for border security but for our troops. They'll run relentless attack ads against Senate Democrats up for re-election in 2018 in states that Trump won.
What happens if Schumer wins: A second source familiar with the administration's thinking said that even if Democrats block funding, the administration will find ways to get by in the short term. "We have enough money to get a decent amount of the wall done in first year," the source said. "We can reprioritize some funding within [the Department of Homeland Security]. ... It's not like work would come to a complete halt."
https://www.axios.com/newsletters/axios-sneak-peek-b9ababc1-9fc4-4e97-87c7-b76c0f47aa49.html?chunk=1#story1
2. The clean-up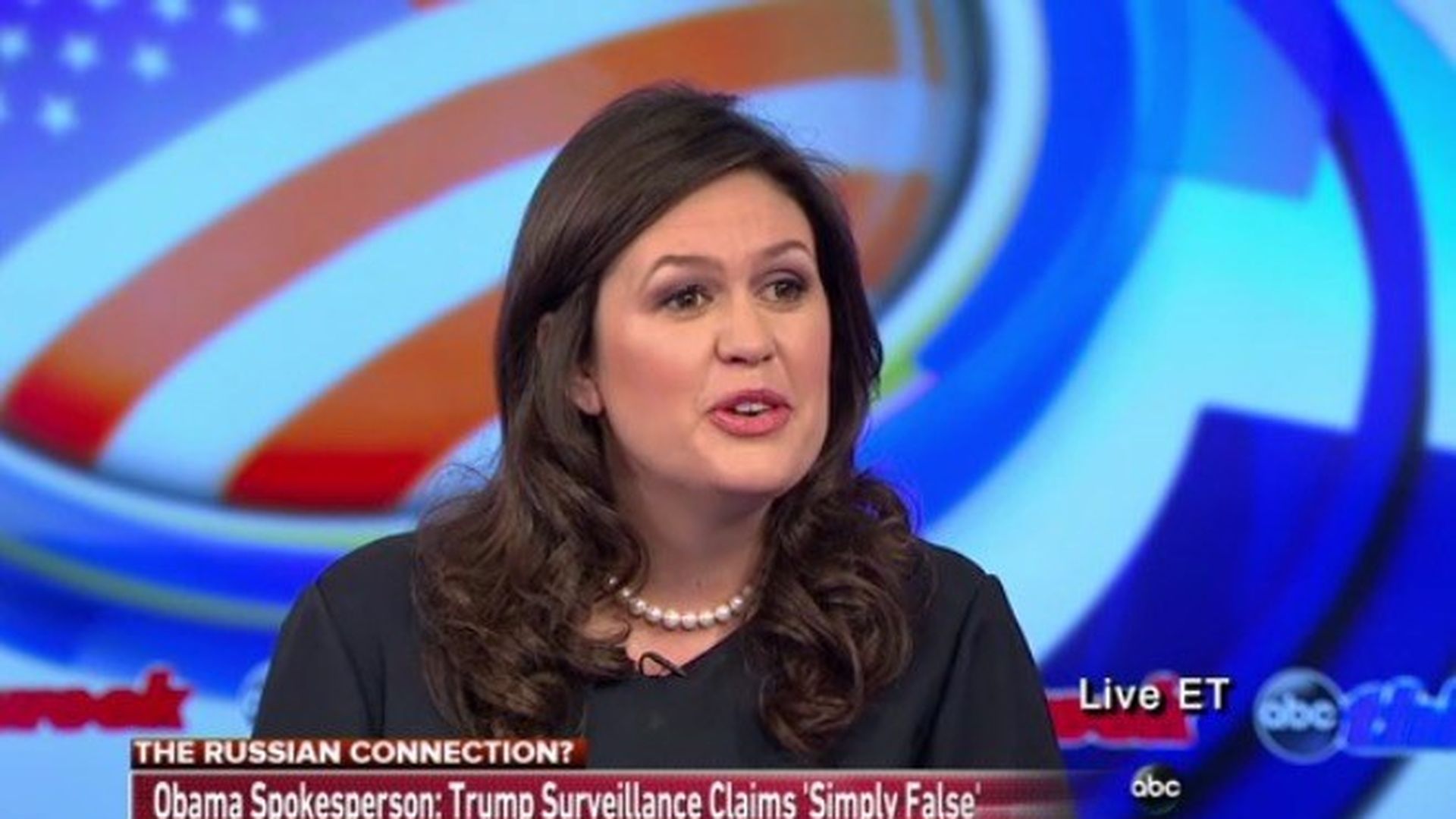 The Sunday shows were supposed to focus on Obamacare — the policy issue that's supposed to be consuming Washington right now — but instead they were dominated by President Trump's explosive and unsubstantiated claim that Obama ordered the wiretapping of Trump Tower.
On ABC's "This Week," host Martha Raddatz became exasperated with the White House's representative — deputy press secretary Sarah Sanders. Sanders told Raddatz that "if this happened, if this is accurate, this is the biggest overreach and the biggest scandal."
"If, if, if, if," Raddatz replied, pointing out that Trump didn't hedge in his tweet. He categorically asserted that Obama committed what would be a crime of Watergate proportions.
Republicans are distressed and irritated, and nobody in the White House or on Capitol Hill has offered evidence to support Trump's allegation:
Republican Susan Collins, who sits on the Senate intelligence committee, said she has "seen no evidence" of what Trump alleged. "It would be more helpful if he turned over to the intelligence committee any evidence that he has," she told John Dickerson on CBS's "Face the Nation." "What we need to deal with is evidence, not just statements."
Marco Rubio told Chuck Todd on NBC's "Meet the Press": "The president put that out there, and now the White House will have to answer as to exactly what he was referring to."
Former Director of National Intelligence James Clapper told Chuck: "For the part of the national security apparatus that I oversaw as DNI, there was no such wiretap activity mounted against the president-elect at the time, or as a candidate, or against his campaign."
https://www.axios.com/newsletters/axios-sneak-peek-b9ababc1-9fc4-4e97-87c7-b76c0f47aa49.html?chunk=2#story2
3. Window into Trump's mind
Trump's aides desperately want to move on from the wiretap flap. Press Secretary Sean Spicer issued a statement this morning saying the President requests that the congressional committees look into the allegations as part of their investigation into Russia's interference in the 2016 election. "Neither the White House nor the President will comment further until such oversight is conducted," he said.
But, but, but ... As is so often the case in Trumpland, the President has his own ideas. Trump's friend Christopher Ruddy gives us a window into the president's current state of mind. Ruddy, the CEO of conservative media outlet Newsmax, writes this morning:
"I spoke with the President twice yesterday about the wiretap story. I haven't seen him this pissed off in a long time. When I mentioned Obama 'denials' about the wiretaps, he shot back: 'This will be investigated, it will all come out. I will be proven right.'"
What many in Congress will say: Given Trump made the claim, the onus is on him, not us, to produce the evidence. The president has access to any piece of classified intelligence in the country. It's well within his power to find out whether Obama ordered the tapping of Trump Tower.
https://www.axios.com/newsletters/axios-sneak-peek-b9ababc1-9fc4-4e97-87c7-b76c0f47aa49.html?chunk=3#story3
4. Obamacare's big week
The Hill will be consumed by Obamacare for the foreseeable future but this week is a big one, with House committees expected to mark up the first legislative text.
Committees responsible for the health-care bill — led by Ways and Means chair Kevin Brady and Energy and Commerce chair Greg Walden — worked over the weekend with the White House "to tie up loose ends and incorporate technical guidance from the administration," a senior GOP aide tells me.
There was a weekend call with the big players crafting the policy: Speaker Ryan, Walden, Budget Director Mick Mulvaney, HHS Secretary Tom Price, White House senior policy hand Andrew Bremberg, and others.
Outstanding issues, still being worked through by the committees:
Design of the tax credits: We're told that Republicans are going to put an income cap on the tax credits. This helps bring down costs — a top GOP priority — and will ensure that the super-rich aren't getting financial assistance they don't need.
Tweaking coverage: We're told that the early estimates about how many people would be covered by the healthcare plan were pretty bad. Republicans have been tweaking the plan to ensure that the coverage gets better.
https://www.axios.com/newsletters/axios-sneak-peek-b9ababc1-9fc4-4e97-87c7-b76c0f47aa49.html?chunk=4#story4
1 fun thing: The Onion's prediction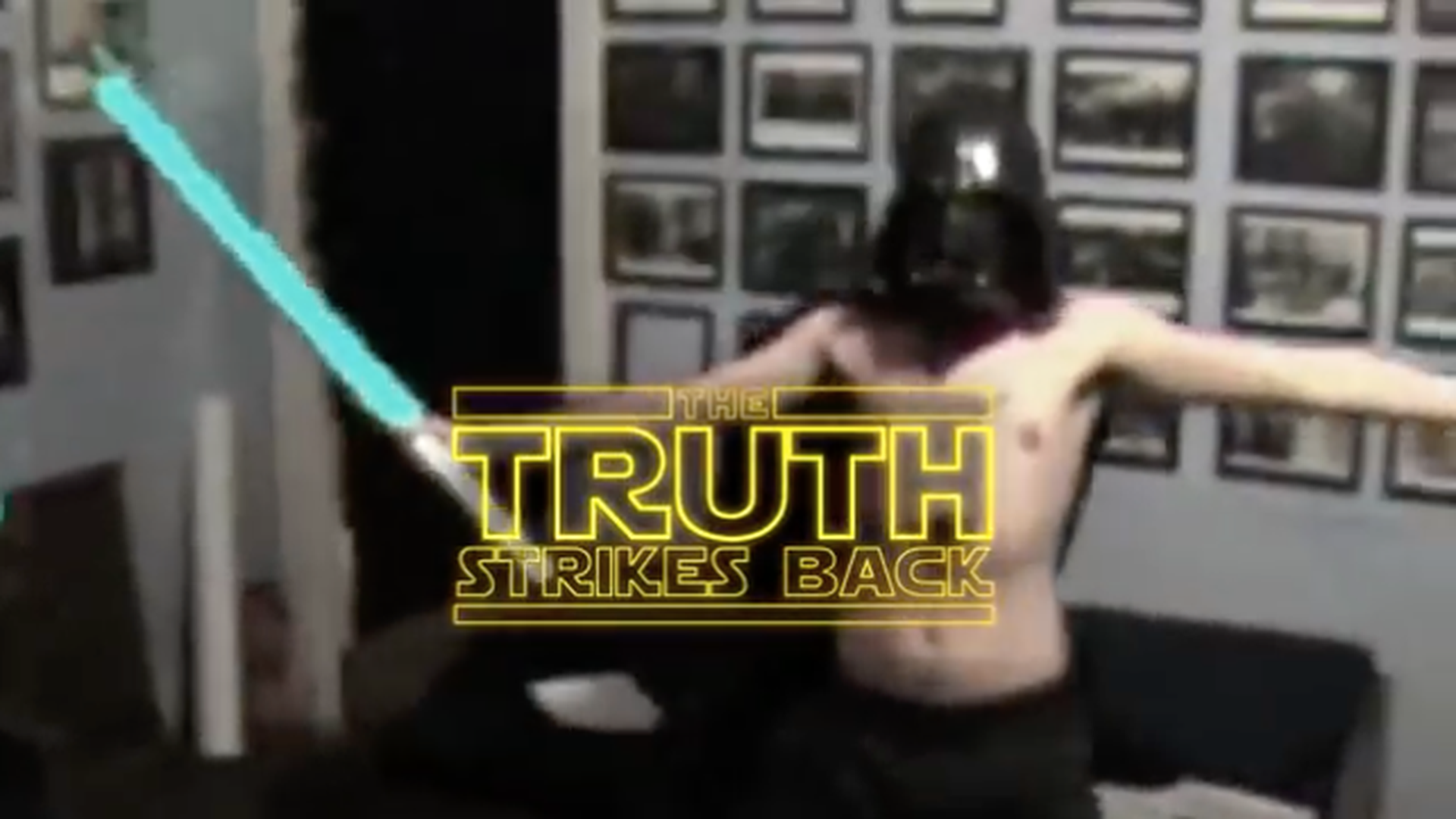 Many laughed in 2012 when a news anchor on the satirical website The Onion reported that "due to Facebook ... every potential candidate for the 2040 presidential race, no matter how smart or accomplished, is now completely unelectable."
Turns out The Onion had a solid grip on the future, with a new political attack ad comprised entirely of unflattering footage found on social media.
NPR reports: "Jon Ossoff, 30, is running as a Democrat in a special election in Georgia ... The Congressional Leadership Fund, a super-PAC aligned with GOP leadership, launched an attack ad Wednesday [which] includes a clip of him dressed as Han Solo in a Star Wars parody of the school's alcohol policy."
"The ad marks a new era in politics," writes NPR's Jessica Taylor. "In years past, opposition researchers would have to dig deep to hope for leaked videos or testimony from former friends, rivals and roommates. Now, they don't have to go much farther than Google or the photos section of Facebook pages."