Axios Sneak Peek
November 05, 2017
Welcome to Sneak Peek, our weekly lookahead for both ends of Pennsylvania Avenue. I'd love your tips and feedback: [email protected]. And please urge your friends and colleagues to join the conversation by signing up for Sneak Peek.
Situational awareness: "Approximately 25 people" are dead and at least 10 others injured after a shooter opened fire inside the First Baptist Church in Sutherland Springs, Texas, the county sheriff told NBC. The shooter is dead, following a police chase, and the FBI is on the scene — summary on Axios.
And Philly readers — Vice President and Dr. Biden, along with Sean Parker, are joining our Mike Allen Wednesday to discuss the future of cancer care and you're invited. Mike will also explore this topic with the CEO of Celgene Mark Alles, Cancer Survivor and Advocate Stefanie Joho, and Deputy Director of the Kimmel Cancer Center at Johns Hopkins Dr. Elizabeth Jaffee. RSVP here.
1 big thing: Government of One
In late June, President Trump hosted a group of Native American tribal leaders at the White House and urged them to "just do it" and extract whatever they want from the land they control.
The exchange turned out to be an unusually vivid window into the almost kingly power that Trump sees himself as holding, and which he has begun describing with increasing bluntness. The scene was recounted by a source in the room and confirmed by another. The White House didn't dispute the story.
The chiefs explained to Trump that there were regulatory barriers preventing them from getting at their energy. Trump replied: "But now it's me. The government's different now. Obama's gone; and we're doing things differently here."
"So what I'm saying is, just do it."
There was a pause in the room and the tribal leaders looked at each other.
"Chief, chief," Trump continued, addressing one of the tribal leaders, "what are they going to do? Once you get it out of the ground are they going to make you put it back in there? I mean, once it's out of the ground it can't go back in there. You've just got to do it. I'm telling you, chief, you've just got to do it."
The tribal leader looked back at one of the White House officials in the room — perhaps somebody from the White House Counsel's office — and he said "can we just do that?" The official equivocated, saying the administration is making progress and has a plan to roll back various regulations.
Trump interjected again: "Guys, I feel like you're not hearing me right now. We've just got to do it. I feel like we've got no choice; other countries are just doing it. China is not asking questions about all of this stuff. They're just doing it. And guys, we've just got to do it."
A second source in the room objects vehemently to the suggestion that Trump was asking the chiefs to just start drilling and break federal law. The source said it was unremarkable "Trump speak" and what he meant by "just do it" was he was pushing for removing burdensome regulations from the Obama era.
The same source added the context that, at the time, Trump was getting briefed on all manner of regulations impeding his top priorities including energy production and infrastructure development.
This might seem like an extraordinary account for a U.S. president. But it's increasingly the norm: Trump sees himself above the traditions, limits and laws of the presidency — even when he's not, as in this case — and this trend is intensifying the longer he's in office.
This past week he claimed sole credit for soaring stock prices.
This past week he publicly moaned about limits on his ability to direct the FBI /Justice Department — and then went on to bully the department for not investigating "Crooked Hillary & the Dems."
This past week he told Fox's Laura Ingraham "I'm the only one that matters" when it comes to State Department policy and personnel.
Be smart: This impatient and improvisational billionaire — who spent a lifetime cutting deals, grabbing what he wanted, and steamrolling anybody in his path as the boss of his own company — has no interest in adapting to the ways of Washington. It wasn't just campaign rhetoric; Trump still really believes, even after the humiliating failure to repeal Obamacare, that he can bend this city to his will.
His clashes with Congress will likely worsen in the months ahead, as some of the most challenging legislative items wend their way through the dysfunctional Capitol.
He'll take every opportunity to rail against institutionalists like Mitch McConnell and he'll try to blow up laws, norms, and rules GOP leaders consider sacred — like the legislative filibuster. Expect to see Trump issue more executive orders as his frustrations boil over; and expect more intense shocks to parts of the governmental system you've never had to think about.
2. Breaking stories to watch
Two stories that could echo into the coming weeks:
NBC reports that Special Counsel Robert Mueller has enough evidence to bring charges in his investigation of Trump's former National Security Adviser Michael Flynn. I asked Flynn's attorney, Robert Kelner, what to make of the story. He emailed: "We have no comment."
Multiple outlets — including NBC, NYT, and The Guardian — popped a complicated story about Commerce Secretary Wilbur Ross' investment in a controversial company, as revealed in a cache of leaked documents. Per NYT: "After becoming commerce secretary...Ross... retained investments in a shipping firm he once controlled that has significant business ties to a Russian oligarch subject to American sanctions and President Vladimir V. Putin's son-in-law..." Ross's spokesman said he "recuses himself from any matters focused on transoceanic shipping vessels, but has been generally supportive of the administration's sanctions of Russian and Venezuelan entities."
3. Tax problems to watch
Three problems to watch as the House Ways and Means Committee finalizes the Republican tax reform bill this week:
The new fault line for big business: an excise tax on cross-border transactions. Watch for multinational corporations and well-funded lobby groups to mobilize aggressively against this tax. It caught everyone by surprise. Our thought bubble: If the excise tax becomes too big a problem, we bet they replace it with the repeal of the Obamacare individual mandate. (But bringing health care into a tax debate has its own problems.)
Pro-life groups and social conservative leaders are fighting to save the adoption tax credit, which the GOP bill scraps. Influential social conservative leaders such as Penny Nance and Marjorie Dannenfelser are leading the charge. Nance, who runs Concerned Women for America, emailed me to say that "the majority of families who sacrificially walk out their faith by caring for 'the least of these' through adoption depend on the ability to afford the costs...I am almost speechless at the lapse of judgement but we will work to clean up the mistake."
A number of Republicans believe it's political malpractice to eliminate a longstanding tax break for people who have very high medical costs. One senior House Republican told me he thinks it's the stupidest idea in the entire 429-page tax bill.
Be smart: Tax reform is a series of painful trade-offs. Every time you shut down a tax break you find an interest group passionate about defending it. But not all tax breaks are politically — or morally — equal.
What's next? Republicans will propose plenty of changes to the tax bill over the coming days, with House Ways and Means aiming to finish its mark-up by the end of the week. I've seen no signs so far, however, that they're prepared to fold on any of these controversial provisions.
When I asked a senior House GOP official about the adoption tax credit, for example, they pointed me to all the other social conservative measures contained in the bill.
And House Ways and Means chairman, Kevin Brady, who is an adoptive father, answers the question this way: "We are working to give families not only help when they're adopting but every year when that child is growing up, by making sure they have more in their paychecks to raise kids."
4. A Bob Menendez-shaped cloud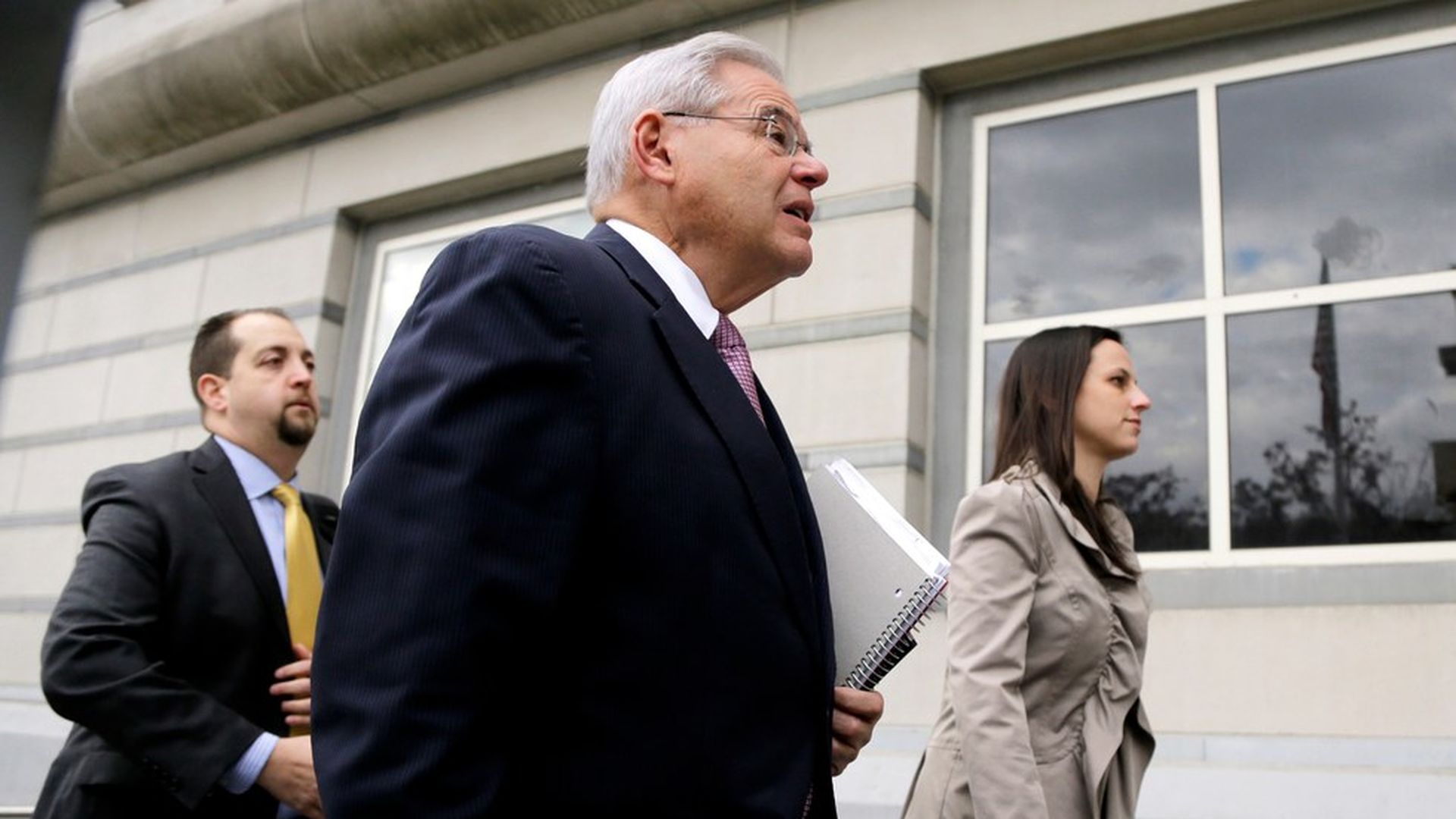 The Bob Menendez corruption trial enters its final days. The Democratic senator from New Jersey, accused of participating in a bribery scheme, was seen praying "with a circle of clergy members in the hallway of Newark federal court" as closing arguments were made last Thursday, according to the New York Post.
The jury could reach a decision any day now, and the case looms large over the Senate. Nobody in the leadership of either party will reveal anything about their plans to deal with this highly sensitive and explosive matter. But it's high on their minds.
Bottom line: This is a huge deal for the Senate and there will be many open questions if Menendez is convicted. What happens if Menendez appeals it? What will Mitch McConnell, who will play a key role, do? How will Chuck Schumer and Menendez's Democratic colleagues respond? Would they call for Menendez to step down? And what reaction can we expect from the Senate Ethics Committee, chaired by the senior senator from Georgia, Johnny Isakson?
5. Sneak Peek diary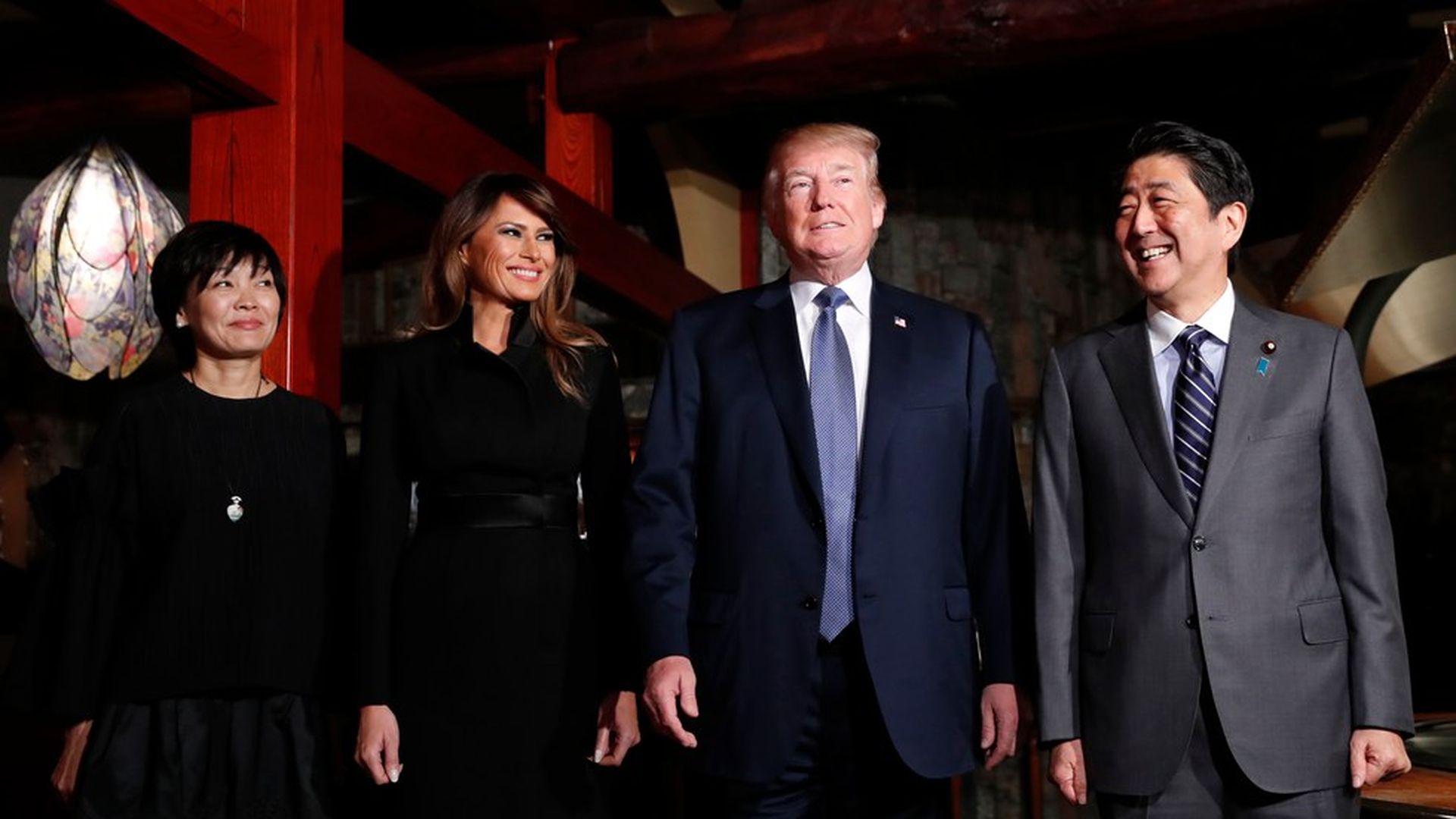 President Trump is in Japan. Next stops: South Korea, China, Vietnam, the Philippines. It's a 12-day trip — the longest visit to Asia by a U.S. president in a quarter of a century.
While he's away, many of Trump's top advisers and cabinet secretaries are staying back to sell tax reform in Washington and in politically-crucial House districts and Senate states around the country:
Hitting Capitol Hill and/or the road will be Gary Cohn, Kellyanne Conway, Marc Short, Labor Secretary Alex Acosta, Agriculture Secretary Sonny Perdue, Budget Director Mick Mulvaney and Small Business Administrator Linda McMahon, among others.
Treasury Secretary Steven Mnuchin and senior adviser Ivanka Trump are in California hosting tax reform events.
In the House: the tax-writing Ways and Means Committee begins its mark-up of the tax reform bill at noon on Monday. They expect to finish the mark-up by the end of the week.
In the Senate: The Senate will pound through nominees while waiting for the Ways and Means Committee to finish marking up its tax bill. Then the tax-writing committee of the upper chamber, Senate Finance, will introduce its own tax reform bill. It will have similar contours to the House bill but will differ in significant ways.
Bottom line: Both chambers are entering the landmine phase of tax reform. Loads of political and mathematical problems await.
6. Axios China
I'm genuinely thrilled to tell you that Bill Bishop — one of the smartest minds on China — is moving his weekly must-read "Sinocism" newsletter to Axios' platform. It'll be called "Axios China."
"Axios China" launches Nov. 10, with Trump still on his trip to Asia. Sign up free here.
Beyond the spin: Bishop says he doesn't expect Trump to achieve any substantive breakthroughs with China on either trade or North Korea during this trip. "China and the US will sign a lot of deals during the visit, but deals are easy for the Chinese and, once you wade through the PR spin, many of the signed 'agreements' may actually be non-binding MOUs," he writes in his newsletter today.
7. A 'new language' for Asia
I asked Richard McGregor, the longtime Asia correspondent and former Financial Times bureau chief, to read between the lines of the Trump administration's revealing decision to rename the "Asia-Pacific" as the "Indo-Pacific."
McGregor emailed:
The U.S. is now entrenching new language for America's role in the Asia. It is now officially the Indo-Pacific, not the Asia-Pacific. That attempts to bring India permanently into the U.S. web of alliances and partnerships in the region. And it is the precursor to the new partnership — "the quad" — which will bring together the U.S., Japan, India and Australia. Abe tried this in 2007 in his first term. A decade later, it is real. The first meeting will be soon.
The U.S. and the Japanese militaries have long been deeply integrated in the region. But the partnership is deepening, driven both by the DPRK in the short-term and China in the longer term. The big change is: Japan under Abe is slowly unshackling itself from the postwar constraints on its military, allowing it to do more with the U.S.
8. 1 fun thing: you forgot the "J"
Sorry for the McGregor overdose, but with Trump in Japan I couldn't resist including this delicious anecdote from McGregor's new book, "Asia's Reckoning: China, Japan, and the Fate of U.S. Power in the Pacific Century."
The author condensed the anecdote to fit Axios' style. Enjoy:
When Donald Trump was presented with the joint statement with Japan to be issued after his summit in Washington and then Mar-a-Lago earlier this year with Shinzo Abe, one thing jumped out at the president.
The meeting between Abe and Trump had great import. Japan is arguably America's most important bilateral military ally. It hosts more American troops in permanent bases than any other country. America's largest naval base overseas isn't in the Middle East but at a port about an hour's drive south of Tokyo. Trump's dismissive attitude to the U.S.-Japan mutual security treaty during his campaign for the White House had already put Japan, and America's national security establishment, on edge. Anything the U.S. did with Japan would also have profound implications for America's only rival superpower, China.
Some reassurance was needed. Yet as Trump perused the statement, he asked for just one change. The statement said "Donald Trump." The president asked that it be changed to "Donald J. Trump."
Trump, in an earlier meeting in Trump Tower with Abe immediately after his election, had been reluctant to repeat what all his predecessors had — the US pledge to defend Japan's Senkaku Islands, which are also claimed by the Chinese, from attack. He had only done so, according to American and Japanese diplomats, when his daughter, Ivanka, had persuaded him to do so.
Is it any wonder that Japan is nervous about Trump? In reality, as Japanese officials acknowledge, they have to find a way to work with him. No matter what. "We need America — we cannot handle China on our own," an adviser to Abe told me.