Axios Sneak Peek
October 29, 2017
Welcome to Sneak Peek, our weekly lookahead for both ends of Pennsylvania Avenue. I'd love your tips and feedback: [email protected]. And please urge your friends and colleagues to join the conversation by signing up for Sneak Peek.
For short attention spans: Republican lobbyist Bruce Mehlman does my job in 140 characters: "HUGE NEWS WEEK AHEAD: Who does Mueller indict? Who's next Fed Chair? How will House pay for tax cuts? Who killed JFK? NEED COFFEE + @axios"
1 big thing: Trump goes to China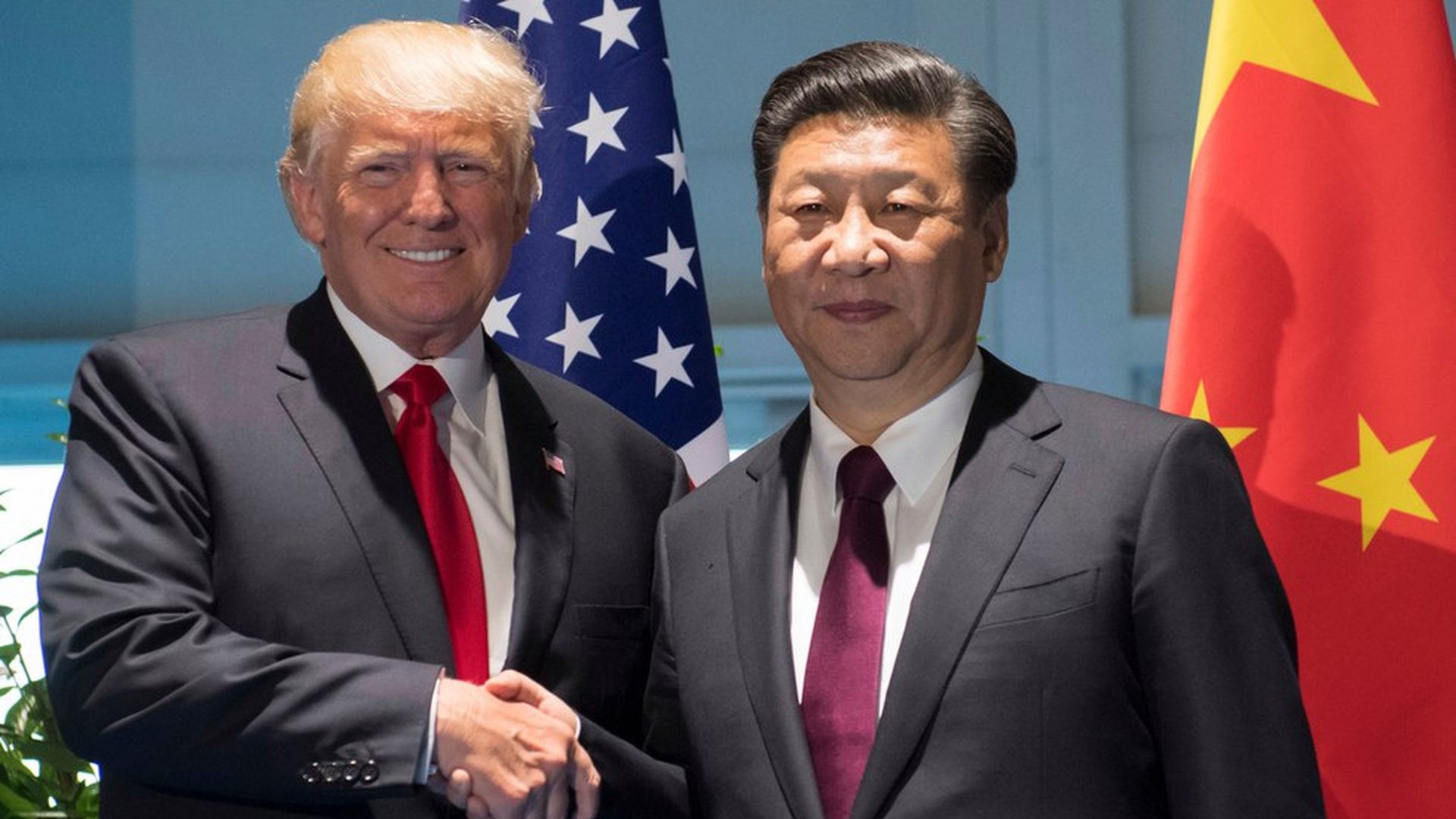 President Trump leaves Friday for the most consequential foreign trip of his presidency — a five country, 12 day tour of Asia. It's the longest visit to Asia by an American president in a quarter of a century.
The stakes couldn't be higher: North Korea races towards a miniaturized nuke that can hit American cities; China keeps propping up North Korea, stealing U.S. intellectual property, and forcing American investors to hand over their technology to Chinese state entities; and American businesses watch with horror as Trump flirts with blowing up the landmark U.S. trade deal with South Korea.
In the midst of all this, Trump will try to reassure America's treaty allies in the region that even as he's throwing trade relationships into flux he won't be the U.S. president that abandons the Asia Pacific and leaves American allies there vulnerable to Chinese domination. Trump wants to dramatically show his commitment to the region and to the post-WWII order that the U.S. built up in Asia. He'll visit several military bases and will flex America's military power.
Over the past few days I've spoken to senior administration officials about what to expect from the trip. Here's what I've learned:
Big picture: You won't hear any major new policy announcements; but Trump will hammer on two themes — physical security (aka North Korea and China's nefarious behavior in the South China Sea), and economic security (aka reshaping U.S. trade with Asian countries.)The first two legs, Japan and South Korea, Trump will mostly address physical security, including a major speech at the National Assembly in Seoul. South Korea's President Moon Jae-in has invited Trump to visit the military base, Camp Humphreys. Administration officials expect the visit to the military base will highlight two things: that South Korea is sharing the financial burden of its defense and that President Moon, who campaigned as a liberal dove, is now fully committed to defending his country against an emboldened Kim Jong-un.The final two legs, Trump visits Vietnam for the Asia-Pacific Economic Cooperation (APEC) summit, a free trade forum for 21 Pacific Rim economies. Finally, Trump attends the Association of Southeast Asian Nations (ASEAN) summit in the Philippines.
The White House considers China the fulcrum of the trip — and it's deliberately positioned that way, as the middle stop of the five countries.
The consensus view at the highest level of the Trump administration is that multiple U.S. administrations have pursued the same failed China strategy and that the economic relationship between the two countries is getting worse not better.
The way Trump sees it: China already knows what the U.S. needs because every time an American president visits Beijing he announces the same litany of complaints and demands. China, in Trump's view, does the bare minimum to stop American complaining for a while, only to continue to take advantage of the U.S. economically.
But, but, but: That all sounds nice, but I still have no idea what Trump plans to do to change the situation with China. Nobody I've spoken to inside the White House will tell me.
Bottom line: Trump knows past policies haven't worked when it comes to China and North Korea. But we still have no idea how the Trump administration plans to achieve its stated goal of denuclearizing the Korean Peninsula.
2. Scoop: Bannon's call with Trump
In a Friday night phone call, President Trump's former chief strategist and enforcer Steve Bannon told Trump he was going "off the chain" to destroy Paul Singer, a New York hedge fund billionaire who is one of the most influential donors to the Republican Party.
Trump agreed with Bannon that it needed to be done, according to two sources familiar with the conversation. (Though I'm also told that Trump has since told at least one other person that Singer is "on the team" — suggesting that maybe he's telling everyone what they want to hear.) And a cautionary note for those wanting to oppose Singer: A source familiar with the arrangements told me that Singer has already made a "major commitment" and cut substantial checks to outside groups to support the president's tax reform push.
Why this matters: Bannon spoke to Trump shortly after the New York Times broke the news that a Singer-funded conservative website first paid for anti-Trump research by the firm, Fusion GPS, that later produced the infamous Russia dossier. The dossier alleges that the Trump campaign conspired with the Russian government to influence the 2016 presidential election. It also contains unsubstantiated sexual allegations.
A source close to Singer said the billionaire had no idea who Fusion GPS was until they became a subject of news reports related to Trump and Russia. Though the source added that of course Singer generally knew — and it was public knowledge — that the website he funds, the Washington Free Beacon, paid for opposition research.
Free Beacon editors told the NYT the outlet had nothing to do with the dossier that the Clinton campaign funded.
Since the story broke, the president has told several people he views the NYT revelations as a "win" for Republicans because they show that only Democrats and the Clinton campaign paid for the controversial dossier, produced by former British intelligence officer Christopher Steele.
Trump's tweets this morning reinforce that message: "Never seen such Republican ANGER & UNITY as I have concerning the lack of investigation on Clinton made Fake Dossier..."
In their Friday phone call, Bannon told Trump he had been looking for a long time "to set things right with Singer and his entire crew," according to a source familiar with the conversation.
Since the NYT story broke, Bannon's right-wing media outlet, Breitbart News, has been relentlessly attacking Singer and calling on politicians who've taken money from him to return the donations.
Background: Trump loathed Singer during the campaign, when the billionaire was a lead financier of the "Never Trump" movement. But the two made up earlier this year, and Singer has been financially very helpful since Trump won the presidency. He donated $1 million to Trump's inauguration and has supported various administration efforts including funding the successful outside campaign to back the confirmation of Neil Gorsuch to the Supreme Court.
Bottom line: Bannon has long despised Singer. In Bannon's worldview, Singer belongs to a "globalist" cabal that favors open borders and includes other bogeymen and bogeywomen such as George Soros and Hillary Clinton. It's also helpful to Bannon that Singer has close ties Mitch McConnell — the Senate GOP leader whom Bannon is obsessed with destroying.
Based on my reporting so far, however, I'd be surprised if Trump publicly joins the fight against one of the most important donors in Republican politics.
3. A week from hell
House Republicans in charge of tax reform face a hellish few days before they finally release their bill on Wednesday.
The chairman of the tax writing committee, Kevin Brady, is trying to find hundreds of billions of dollars to pay for a slashing of the corporate tax rate from 35 percent to 20. He's painfully learning — as every politician who attempts tax reform inevitably learns — that lawmakers and interest groups won't give up their favored tax breaks without a fight.
"I don't think people realize," says a source close to House leadership, "how many sharp objects will be in this package."
The GOP leaders' strategy — pithily described by the Wall Street Journal's Richard Rubin — "is to keep the tough trade-offs in the bill secret until after Halloween, then reach Thanksgiving with bills passed by the House and Senate and hit New Year's Day with a bill on President Donald Trump's desk." The politically correct term for that timetable is ambitious; another adjective might be insane.
The risk: Members will buck against some of the changes, especially politically sensitive issues like meddling with retirement savings or putting a new minimum tax on U.S. companies that do business overseas.
One GOP House member told me Brady's plan to limit 401k benefits — an idea Trump opposes because he thinks it's a political disaster — is "what you get when you have young staffers and rich dudes looking for a pay for. Neither one has any idea that 401k monthly statements are a monthly report card that will soon give the GOP an F."
Bottom line: Leadership has already spoon fed all the dessert — the tax cuts — to Republican members. Now they need to eat their veggies.
What everyone agrees: The best thing Republicans have going for them is that they simply have to get tax reform done. It's now a question of survival after they failed so spectacularly to repeal Obamacare after seven years of promises.
As one senior party official put it to me: tax reform is "party defining." "I think we could become the Whigs," he added, "if we don't get it done."
Or as Mark Meadows — who as chairman of the ultra-conservative House Freedom Caucus is one of the most influential lawmakers in Congress — put it to me on Saturday: "The next few months will demonstrate the thrill of victory and the agony of defeat. Let's hope there is more thrill than agony."
4. A "moderate Islam"?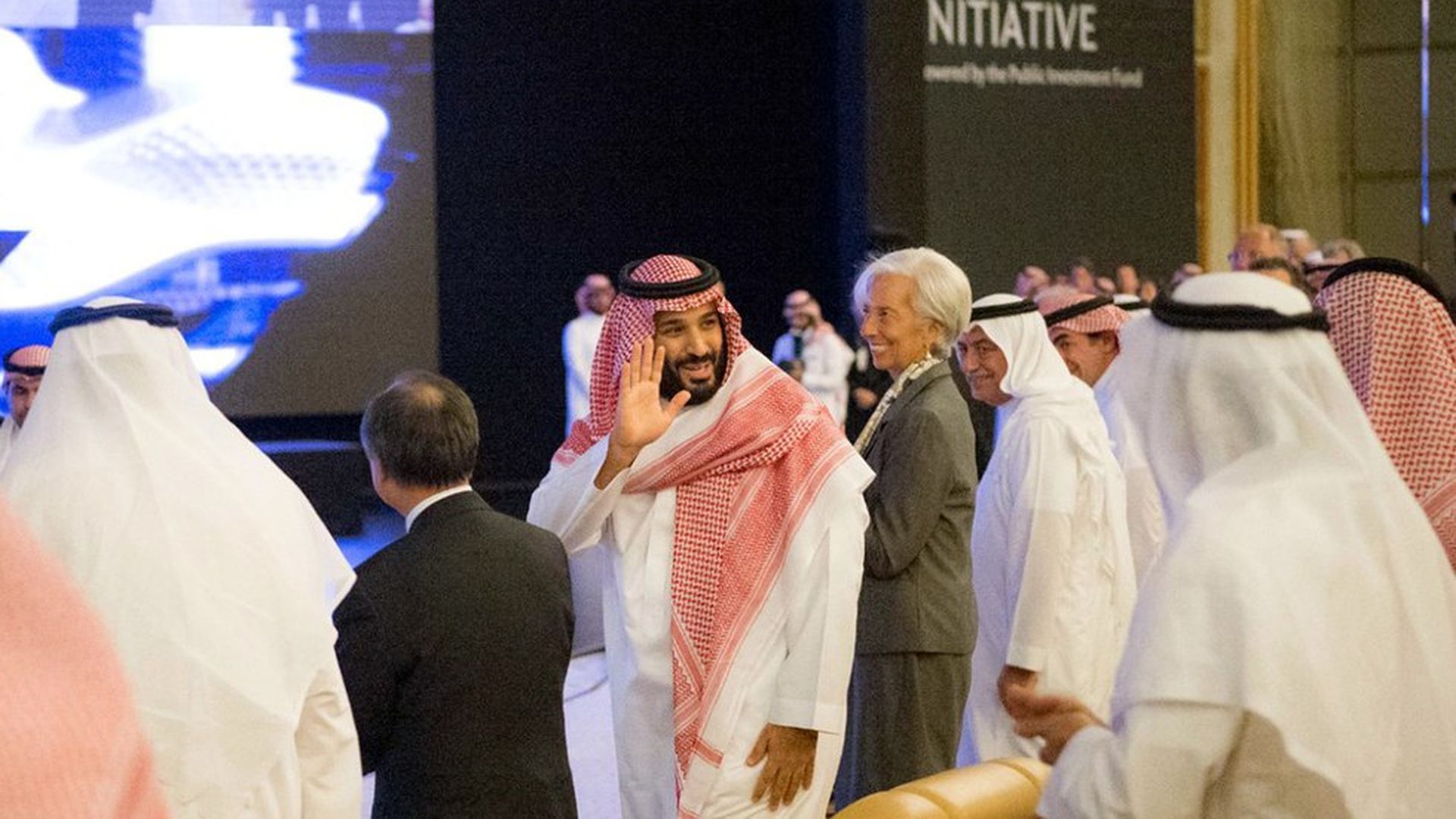 You probably didn't see it on cable news, but on Tuesday last week the 32-year-old Saudi Crown Prince Mohammed bin Salman gave a speech that could have profound consequences for the future of the Middle East and the fight against radical Islamic terrorism.
MBS, as he's often known, told a gathering of the world's wealthiest investors and powerful political figures in Riyadh that he will return his country to "moderate Islam." A source who was in the audience for the speech said people were shocked to hear this said in public by one of the leaders of the country that keeps the two holiest sites in Islam.
"It was beyond epic," Tom Barrack, the billionaire investor and close confidant of Trump's who was at the conference, told me. "I have been doing business in the region for 40 years and I could have never imagined what we experienced in Riyadh."
Yousef Al Otaiba, the UAE ambassador, said: "the Crown Prince is driving the reform toward a more open, progressive and modern Saudi Arabia, which ultimately is in everyone's interests. It's in everyone's interests that MBS succeeds." Asked whether MBS is floating a trial balloon, the ambassador said, "No, no, no. He's definitely all in."
Several sources who have spoken to MBS told me he's been saying the "moderate Islam" line privately for some time, but for him to say it out loud sets a marker for his ambitions.
Why this matters: What happens in Saudi Arabia will have a major echo effect in the Middle East and on Islam itself. Saudi-born hijackers staged the 9/11 attacks and prominent Saudis have funded the spread of terrorist ideologies in the region. MBS says he wants to wants to change this; to turn Saudi Arabia into a more progressive open society, to bring in new investment and stop the reliance on oil. He's made some changes — like allowing women to drive — and America and its allies are heavily invested in him succeeding.
A note of skepticism: I asked Middle East expert Elliott Abrams what he made of MBS' remarks. "The reform plans are real, but implementation will be difficult," he said. "Is he really going to allow the open practice of Christianity in the Kingdom? ... I certainly wish him well and think we should all do so. But given the strength of the Wahhabi establishment, and the lack of preparedness of the population for the 21st century in terms of education and work skills, he has a real struggle."
Trump's view: The president took a major bet on MBS, and so did his son-in-law, Jared Kushner, who planned Trump's first foreign trip to Saudi Arabia. So far, the bet is paying off.
5. The Kremlin meets Silicon Valley
Per Axios' David McCabe — Silicon Valley's most prominent companies are running a gauntlet in Washington this week: top staffers from Facebook, Google and Twitter will be confronted by three Congressional panels on Tuesday and Wednesday about the role their platforms played in Russian election meddling.
Expect Democrats to push especially hard — with questions not just about the Russian advertisements that have dominated discussion so far. They're also worried about the so-called "organic" content that could have been pushed out, for free, on the pages run by Russian operatives.
Also watch for questions about what the companies are going to do to stop future attempts at foreign election interference, potentially as soon as next week's election in Virginia.
For your calendar: The companies appear before a Senate Judiciary subcommittee on Tuesday afternoon, and in front of both House and Senate Intel on Wednesday.Why it matters: It's rare for these companies to testify publicly about anything, let alone an issue as grave as foreign attempts to sway an election.
The other coast: The Russia issue is being discussed at the highest levels in the Valley's glassy corporate campuses. But it becomes a more serious issue if the bad press starts to affect how many people use the platforms — which is the core of their lucrative ad businesses.
6. What the West Wing will be watching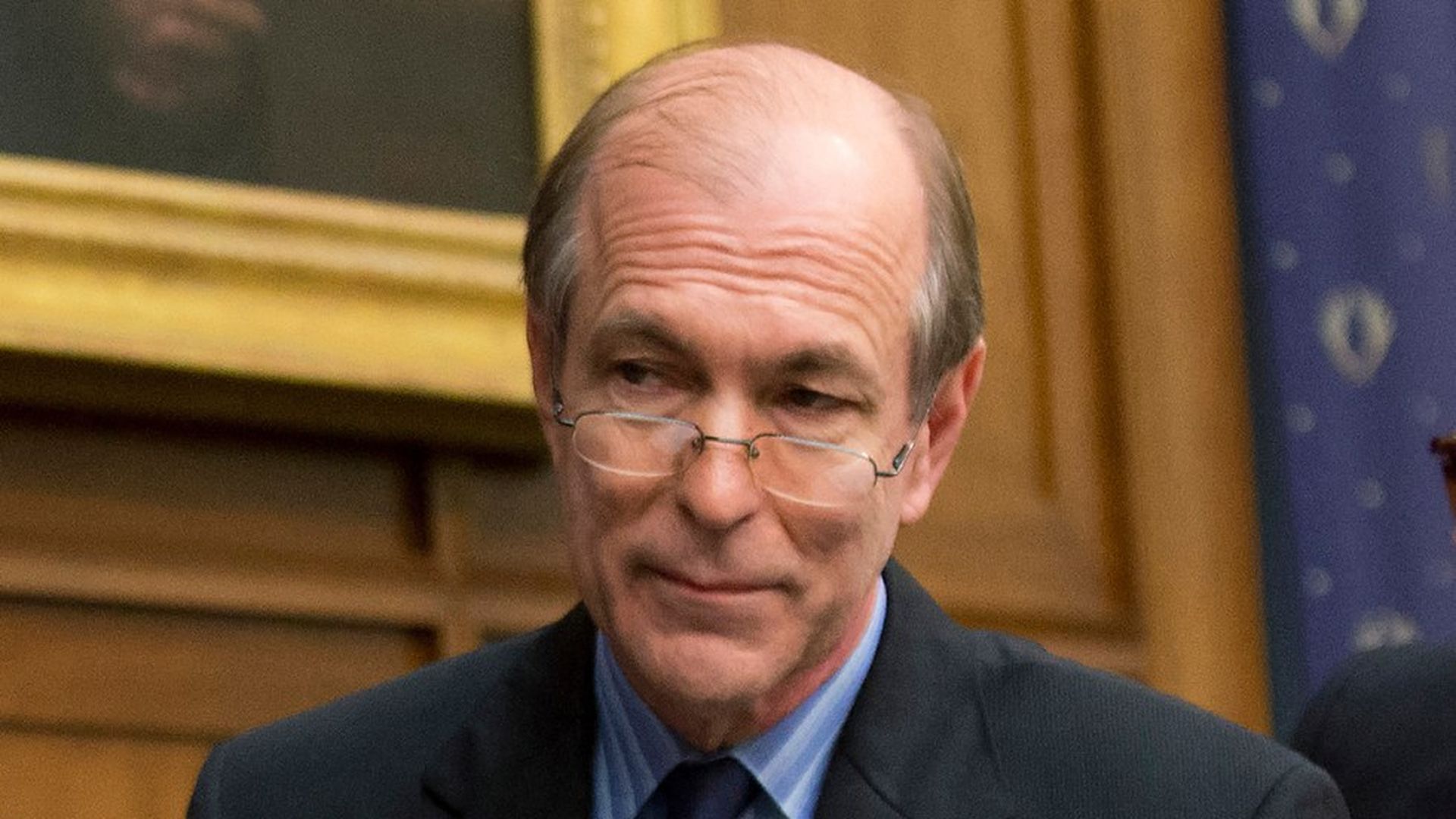 West Wing officials will be watching nervously Wednesday morning as the president's nominee to lead the Export-Import Bank faces a hearing of the Senate Banking Committee. (The Ex-Im Bank is a government backed lender that provides loans to American businesses when private sector lenders refuse to lend the businesses money.)
This all sounds boring and routine; but behind the scenes there's been a major fight inside the administration, in the business community, and on Capitol Hill over Trump's appointment of former New Jersey congressman Scott Garrett to the role.
The inside dynamics: During the early freewheeling months of the Trump administration — when Reince Priebus was chief of staff — both Treasury Secretary Steven Mnuchin and top economic adviser Gary Cohn would use their one-on-one time with the president to urge him to withdraw Garrett's nomination.
The head of the office of personnel, Johnny DeStefano, would then remind the president why he appointed Garrett in the first place — which was to satisfy conservatives like Sen. Richard Shelby, who could put a hold on Trump's nominee.
Per multiple sources, the cycle kept repeating itself — Cohn and Mnuchin undermining Garrett and then DeStefano reminding POTUS of the original arrangement — but the fight internally has settled down since John Kelly took over as chief of staff.
Why it matters: The scrap over the bank's leadership is a high profile ideological battle between corporate America and movement conservatives who argue Ex-Im is a classic example of "crony capitalism." Administration officials worry that Republican senators who aren't fans of Garrett — like South Carolina Sen. Tim Scott — could scuttle his confirmation.
Behind the scenes: The divisions within the Trump administration blew into the open during a closed door meeting in August. White House head of legislative affairs, Marc Short, took Garrett to Capitol Hill to meet with Democrats on the Senate Banking Committee. According to two sources in the room, Ohio Democratic Sen. Sherrod Brown told Short that he thought, based on a conversation he'd had with Cohn, that there was a good chance the president would pull Garrett or switch him with another nominee, Spencer Bachus.
Short's reply: "That's nice, Senator, but that's not Gary's decision to make. It's the president's decision."
7. Sneak Peek diary
Russia investigation: If CNN's reporting is correct, the first arrest of the Mueller investigation could happen on Monday.
Foreign policy: Trump has a week heavy on foreign policy and national security meetings before leaving for his Asia trip on Friday. According to a schedule provided to Axios, the president meets with Secretary of State Rex Tillerson and Defense Secretary Mattis at least twice each before he leaves for Honolulu on Friday.
Taxes: On Wednesday, the Republicans on the House Ways and Means Committee will introduce their tax reform plan.
Fed Chair: I'm told that on Thursday, Trump will likely announce his appointment for Federal Reserve Chairman. Sources who've spoken to Trump about the decision unanimously believe he'll pick Jerome Powell, a former investment banker who currently serves on the Federal Reserve Board of Governors.
Health care: Obamacare open enrollment for next year starts on Wednesday. (Runs through Dec. 15.)
8. 1 life lesson: energy without purpose
One of my favorite websites, Brain Pickings, shares some invaluable nuggets from the diaries of the sixth President of the United States, John Quincy Adams.
Adams' journal entries dig "at the heart of modernity's foundational disconnect between efficiency and effectiveness: our tendency to pour tremendous energy into doing things, with little reflection on whether those are the right things to do in the first place." ... "Unfocused ambition is a guarantee of frustration rather than fulfillment."
In this entry, from the spring of 1819, Adams "laments the absurdity of ineffectual busyness that animates his days in office as Secretary of State":
"Every day starts new game to me, upon the field of my duties; but the hurry of the hour leaves me no time for the pursuit of it, and at the close of my Career I shall merely have gone helter skelter through the current business of the Office, and leave no permanent trace of my ever having been in it behind."
Why this matters: It's so easy to slip into a work/life routine of dumb, frenetic output and unfocused ambition.