Axios Sneak Peek
May 07, 2017
Welcome to Sneak Peek, our weekly lookahead for both ends of Pennsylvania Avenue. I'd love your tips and feedback: [email protected]. And please urge your friends and colleagues to join the conversation by signing up for Sneak Peek. See you all week in the Axios STREAM.
1 big thing: Filleting Flynn
If West Wing officials could make one person disappear, it would be Mike Flynn. Sources from all factions of the White House seem unified in their distrust of the President's former national security adviser — and their willingness to throw him under the bus. I haven't seen such broad contempt for a member of Trumpworld since the reign of Corey Lewandowski.
On Monday, Sally Yates, the deputy attorney general under President Obama, is expected to tell a Senate panel how she warned top White House officials that Gen. Flynn misled the Vice President and others about his conversations with the Russian ambassador. It should be an uncomfortable afternoon for the West Wing.
The White House's strategy to push back:
Brand Yates as a Democratic operative who was out to get Trump from the beginning and willing to torque the facts to advance her agenda;
Put as much distance as possible between Flynn and the man whose side he rarely left during the campaign (which could be a tall order.)
Portray Flynn, and no one else, as responsible for this mess.
Here's the case against Flynn that administration officials — including Flynn's former allies — have been making anonymously to reporters:
Flynn's only priority was getting the president on board with his agenda.
The White House and the national security process is infinitely more synchronized and functional without him. He isn't missed.
Flynn pushed his own points of view — selectively presenting information to Trump in ways favorable to his own positions — rather than serving as an honest broker as national security advisors should.
His lawyer's statement that Flynn "certainly has a story to tell" and that he'd only tell it if granted immunity, looked "desperate," according to a senior administration official. (Harvard Law professor Alex Whiting made the same case back in March in a post on the site Just Security that's well worth a read.)
Our thought bubble: It's worth noting that the one person in the White House who remains reluctant to undermine Flynn is the man who fired him. President Trump says Flynn is the victim of a Democrat/media-fuelled "witch hunt," and has publicly endorsed Flynn's request for immunity.
2. Healthcare's alternate realities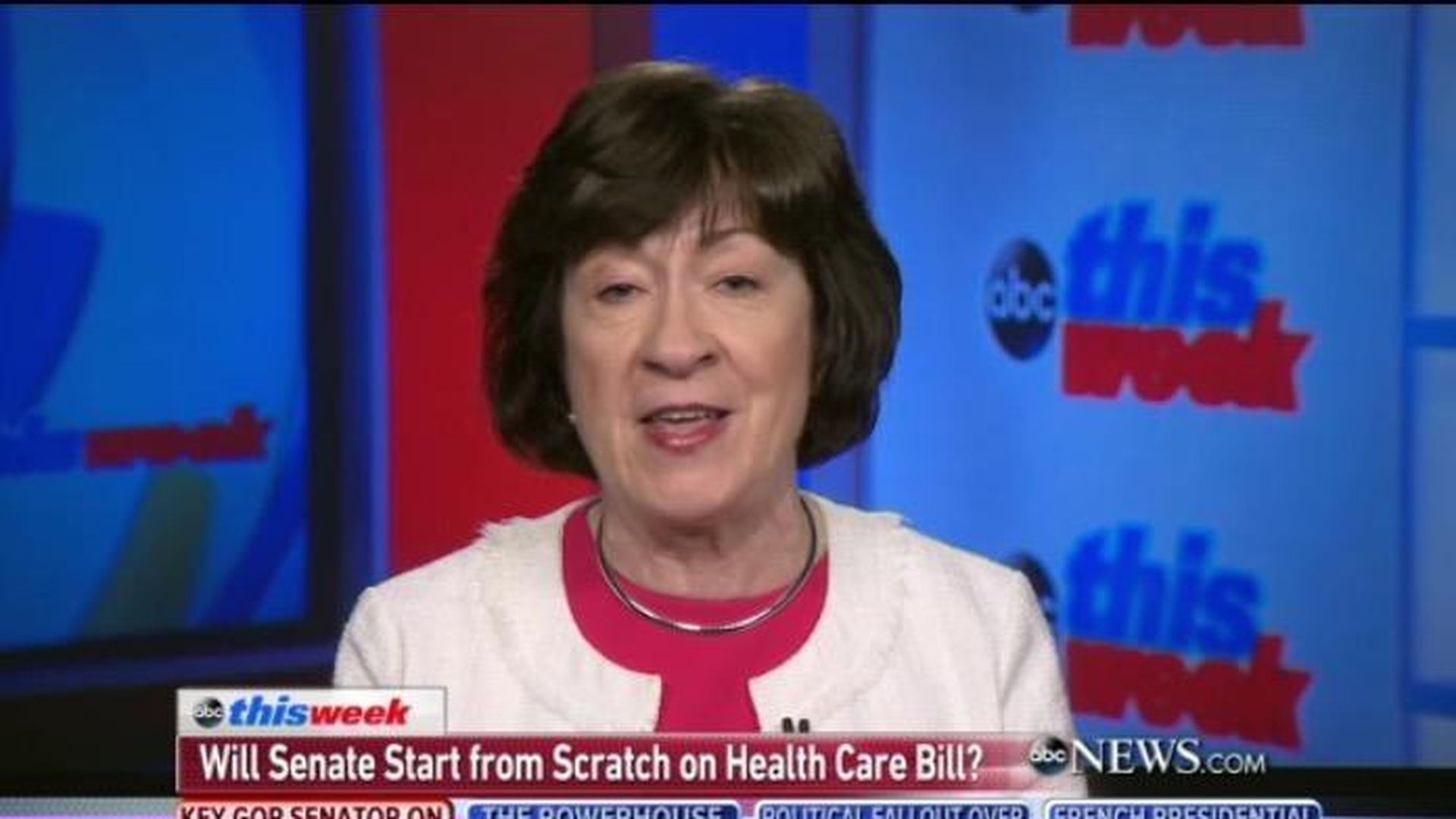 On the Sunday shows, Republicans couldn't agree whether the healthcare bill that passed the House last week was a fabulous first step or an unworkable plan that needs to be fundamentally changed.
The White House / House GOP leadership pitch:
House Speaker Paul Ryan to George Stephanopoulos on ABC's "This Week": "This is a rescue mission ... getting the cost of coverage down and making sure that everyone has access to affordable health care, especially and including people with pre-existing conditions."
White House Chief of Staff Reince Priebus said, "Absolutely, Chris," when "Fox News Sunday" host Chris Wallace asked him if he could "really stand by the president's pledge that everybody will be taken care of."
What other Republicans are saying:
John Kasich to Jake Tapper on CNN's "State of the Union": "This business of these [risk] pools, they are not funded ... Eight billion dollars is not enough to fund — it's ridiculous. And the fact is, states are not going to opt for that."
The Ohio Gov. again to Tapper: "You cannot give people a $3,000 or $4,000 health insurance policy. You know where they're going to be? They are going to be living in the emergency rooms again."
The moderate Republican Sen. Susan Collins to George Stephanopoulos on ABC's "This Week": "The Senate is starting from scratch. We're going to draft our own bill ... We will come up with a whole new fresh approach."
Collins also disagreed with Ryan and Trump, saying it's "unlikely" that people with pre-existing conditions will have the same or better coverage under the House healthcare plan as they did under Obamacare.
Subplot: Collins v. The World. Collins ripped into Speaker Ryan in the most Collins-y way possible. After he cited Maine's experience with high risk pools on Stephanopoulos's show as evidence the House bill would work, she amiably fired back, saying Maine's experience did nothing to bolster his case. She also needled Senate leadership for not inviting her to the all-male group drafting the chamber's own healthcare overhaul, and made clear she isn't trying to curry favor with the White House.
Why this matters: The White House will have limited patience for Collins' "whole new fresh approach." Priebus and co. spent the past month crafting a bill that somehow got enough votes from moderate members and the most intransigent members of the House Freedom Caucus. Here's what one HFC member, Dave Brat, said about the Senate's healthcare plans last week: "They better not change it one iota ... If they change it, you're not going to have 218 [votes]." But everyone knows the bill that passed the House couldn't pass the Senate, and that it has to change — a lot. That means someone has to cave — or the healthcare overhaul is dead.
3. Paul Ryan's pivot to tax reform
House Speaker Paul Ryan will head to the Buckeye State during this week's Congressional recess to begin his sales pitch for tax reform, according to a source with direct knowledge. After grinding a healthcare bill through the House (a bill that's about to face even more resistance in the Senate), the Speaker should relish the opportunity to change the topic.
Ryan travels to Ohio on Wednesday. He'll make the case for tax reform in general and (unsurprisingly) won't emphasize his disagreements with the White House.
The Speaker will visit manufacturing companies near Columbus and hold a roundtable discussion with local business leaders.
Our source says the event will serve as the beginning of coordinated efforts between House leadership and the administration to sell tax reform.
Between the lines: Ryan obviously favors his own tax plan, endorsed by the rest of House Republican leadership and Ways and Means chair Kevin Brady. The White House also likes a good deal of Ryan's plan, but considers some of its key components politically unfeasible — especially the "border adjustment tax" that would raise more than $1 trillion over ten years by hiking taxes on imports, while cutting taxes on American-made goods that get exported. Private negotiations between the Hill and the White House on the issue will take weeks if not months. In the meantime, Ryan wants to lead a public discussion to generate momentum behind the idea of tax reform.
A big open question: Can Ryan sell tax policy in a way that will appeal to Trump voters across the Rust Belt?
4. Le Pen here to stay
When he finishes celebrating, Emmanuel Macron, the 39 year-old centrist, globalist who won today's French presidential election, should read this sobering passage from the New Yorker's May 8th issue:
If Macron secures the presidency and a parliamentary majority, his tenure will constitute the first and the most important fortification against the Front National [the right-wing nationalist party of Marine Le Pen.] But, as the journalist Anne Sinclair told me, "If this next mandate is a failure, you can be sure Marine Le Pen will win next time. And Marion Marechal Le Pen [Marine's 27 year-old politician niece] has forty years ahead of her to become president."
1 fun thing: Trump's driving
Jamie Weinstein, a conservative commentator and podcast host, holds semi-regular dinner parties with famous guests at his Georgetown condo. The dinners are usually off-the-record, but last week, for the first time, he taped some of the evening's conversation with President Trump's old friend Roger Stone.
It's worth listening to the full recording. The bit that grabbed me: Stone, who's known Trump since 1979, says he's never seen the billionaire drive a car. (Trump said in his recent interview with Reuters that he misses driving.)
Counterpoint: Weinstein told Stone he'd seen a video of Trump driving with his son. I searched YouTube and found this glorious clip: "Donald Trump listening to Taylor Swift while driving his Rolls-Royce with Barron and Melania." The video is shot from the backseat, but sure looks like Trump is driving. The Taylor Swift song that's playing, "Blank Space," came out in 2014.