Axios Sneak Peek
January 07, 2018
Welcome to Sneak Peek, our weekly lookahead for both ends of Pennsylvania Avenue. I'd love your tips and feedback: [email protected]. And please urge your friends and colleagues to join the conversation by signing up for Sneak Peek.
1 big thing: Scoop: Trump's secret, shrinking schedule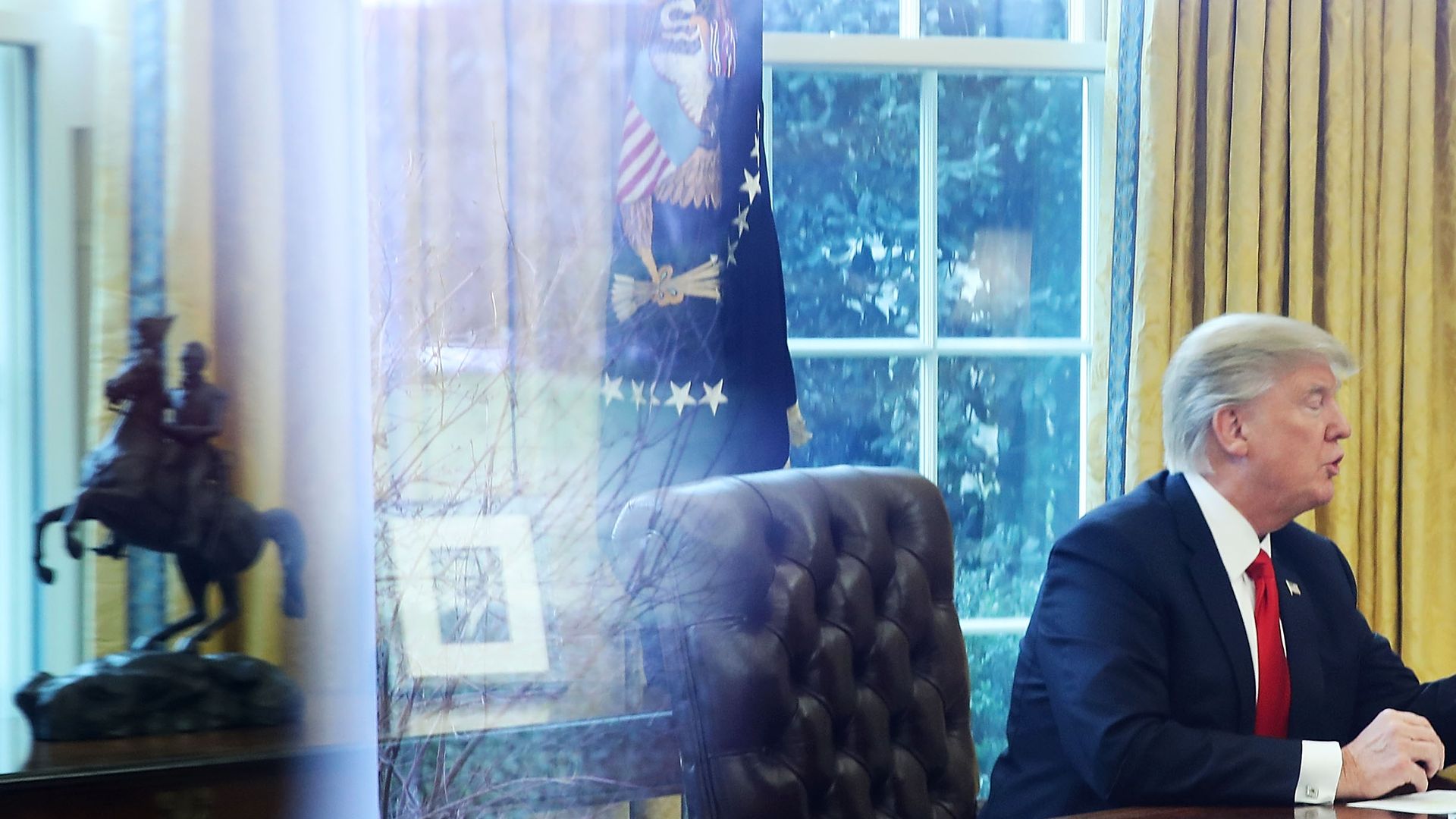 President Trump is starting his official day much later than he did in the early days of his presidency, often around 11am, and holding far fewer meetings, according to copies of his private schedule shown to Axios. This is largely to meet Trump's demands for more "Executive Time," which almost always means TV and Twitter time alone in the residence, officials tell us.
The schedules shown to me are different than the sanitized ones released to the media and public.
The schedule says Trump has "Executive Time" in the Oval Office every day from 8am to 11am, but the reality is he spends that time in his residence, watching TV, making phone calls and tweeting. Trump comes down for his first meeting of the day, which is often an intelligence briefing, at 11am.
That's far later than George W. Bush, who typically arrived in the Oval by 6:45am. Obama worked out first thing in the morning and usually got into the Oval between 9 and 10am, according to a former senior aide.
Trump's days in the Oval Office are relatively short – from around 11am to 6pm, then he's back to the residence. During that time he usually has a meeting or two, but spends a good deal of time making phone calls and watching cable news in the dining room adjoining the Oval. Then he's back to the residence for more phone calls and more TV. Take these random examples from this week's real schedule:
On Tuesday, Trump has his first meeting of the day with Chief of Staff John Kelly

at

11am.

He then has "Executive Time" for an hour followed by an hour lunch in the private dining room. Then it's another 1 hour 15 minutes of "Executive Time" followed by a 45 minute meeting with National Security Adviser H.R. McMaster. Then another 15 minutes of "Executive Time" before Trump takes his last meeting of the day —

a

3:45pm

meeting with the head of Presidential Personnel Johnny DeStefano — before ending his official day

at

4:15pm.



Other days are fairly similar, unless the president is traveling, in which case the days run longer.

On Wednesday this week

, for example, the president meets

at

11am

for his intelligence briefing, then has "Executive Time" until

a

2pm

meeting with the Norwegian Prime Minister. His last official duty: a video recording with Hope Hicks

at

4pm.



On Thursday, the president has an especially light schedule: "Policy Time"

at

11am

, then "Executive Time"

at

12pm

, then lunch for an hour, then more "Executive Time"

from

1:30pm.
Trump's schedule wasn't always like this. In the earliest days of the Trump administration it began earlier and ended later. Trump would have breakfast meetings (e.g. hosting business leaders in the Roosevelt Room). He didn't like the longer official schedule and pushed for later starts. The morning intelligence briefing ended up settling around 10:30am. 
Aides say Trump is always doing something — he's a whirl of activity and some aides wish he would sleep more — but his time in the residence is unstructured and undisciplined. He's calling people, watching TV, tweeting, and generally taking the same loose, improvisational approach to being president that he took to running the Trump Organization for so many years. Old habits die hard.
In response to this article, White House Press Secretary Sarah Huckabee Sanders wrote:
"The time in the morning is a mix of residence time and Oval Office time but he always has calls with staff, Hill members, cabinet members and foreign leaders during this time. The President is one of the hardest workers I've ever seen and puts in long hours and long days nearly every day of the week all year long. It has been noted by reporters many times that they wish he would slow down because they sometimes have trouble keeping up with him."
2. Scoop: Another potential White House loss
Three sources with direct knowledge tell me White House Staff Secretary Rob Porter — regarded as one of the biggest brains in the building — has received overtures from major companies and organizations wanting to poach him from the Trump administration.
I'm told Porter has not yet seriously entertained an offer, and has made no decisions about his future. Top White House officials are keen to keep him in the building.
Porter has expressed an interest in playing a larger role in coordinating policy throughout the Trump administration.
Policymaking roles and responsibilities have been fractured across the administration thus far.
The most powerful policymaking group has been Gary Cohn's National Economic Council, and sources tell me the recent resignation of Cohn's deputy Jeremy Katz has been a bigger blow to the administration than many realize.
White House officials say the Domestic Policy Council, led by Andrew Bremberg, has been less effective. Bremberg's deputy Paul Winfree recently quit.
Porter is rare in the sense that he's close to people on both sides of the White House policy debate — he has a close working relationship with both Gary Cohn and Stephen Miller, for example. He's a lawyer with strong Capitol Hill connections and helps General Kelly control the paper flow to Trump's desk. Porter also presides over the weekly trade policy meetings in the Roosevelt Room.
3. Behind-the-scenes at Camp David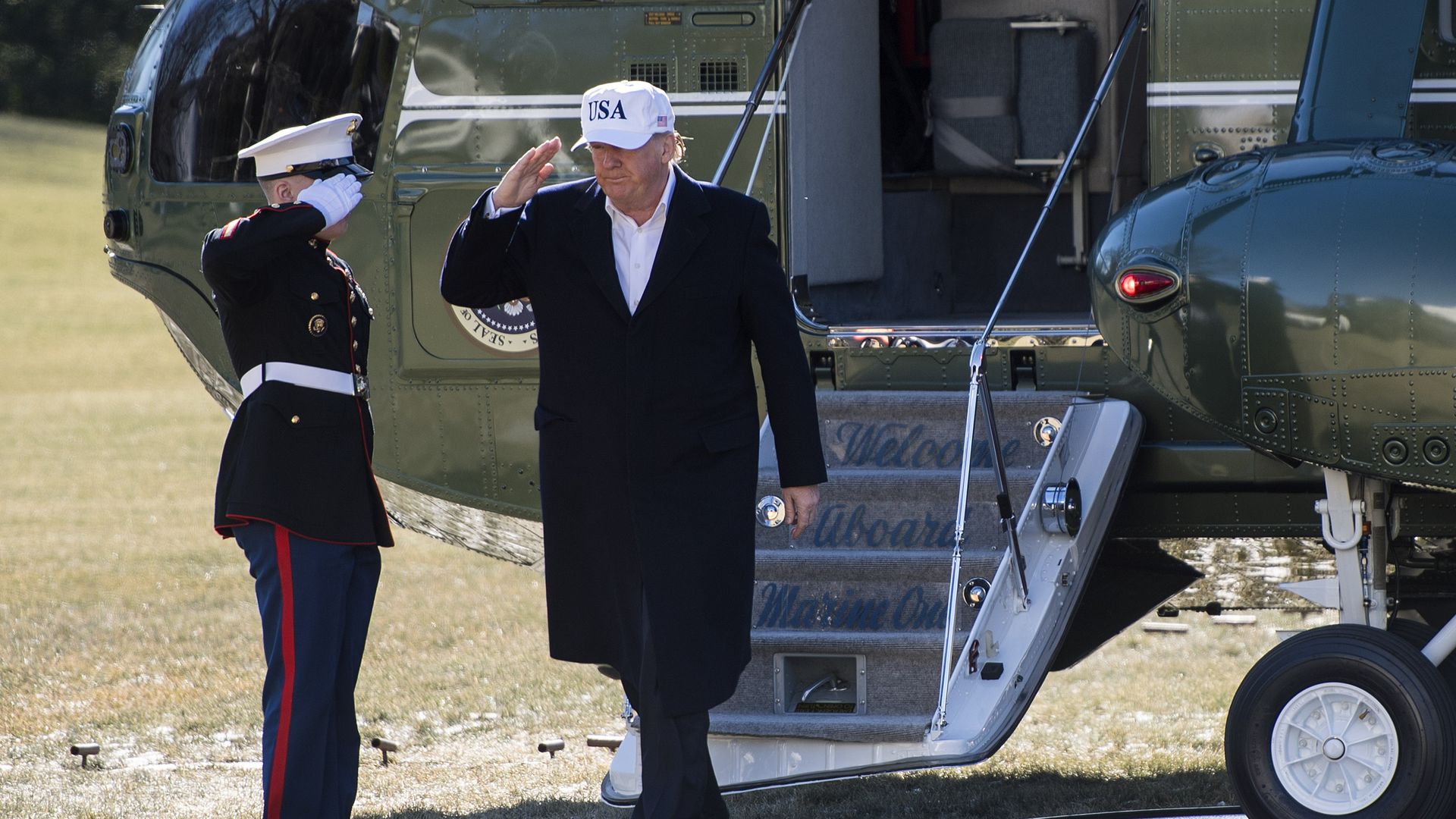 After his days of rage following the release of Michael Wolff's controversial book, President Trump spent some welcome time with his allies at Camp David.
A source familiar with the discussions — involving top administration officials and congressional leaders — told me the talks were important, above all, to re-establish a "feeling of camaraderie" after a rough few days. Trump was "very loose," the source added, "telling a lot of jokes to keep people in a good place."
Highlights from the private conversations, per sources familiar with them:
Downgrading expectations: The group acknowledged they'd have a tough time repeating the legislative accomplishments of 2017. Everybody understands how tight the margin is in the Senate, and that it's even worse than 51-49 given several unreliable senators like Susan Collins. Another unspoken reality: two GOP senators, John McCain and Thad Cochran, have serious health problems, meaning they sometimes can't be there to vote.
Sell 2017: They talked about doing a better job selling what they've already accomplished — and especially the tax bill they just passed, which remains very unpopular, according to polls. McConnell highlighted the confirmation of Neil Gorsuch to the Supreme Court, confirming a record number of circuit court judges, rolling back regulations, and of course the big tax bill, which also opened up Arctic drilling and repealed the Individual Mandate — the cornerstone of Obama's Affordable Care Act.
Bipartisan: They acknowledged reality — that with even less control over the Senate, Republicans are going to have to work with Democrats to get 60 votes to pass any major legislation this year.
More limited welfare reform: The group had an important conversation about defining what welfare reform means. Republicans now mostly agree that major entitlement reform won't happen this year but they're determined to push for work requirements for welfare recipients.
Big picture: Republican sources involved in the negotiations tell me they expect Democrats will not agree to a spending deal until Republicans make a deal with them to save DACA — the Obama-era program that temporarily protects immigrants who were brought to the country illegally as children. You'll hear plenty about DACA in the coming days but the reality is there's very little chance they'll agree on a DACA bill in the next 10 days.
We expect Congress will agree on yet another short-term funding deal — aka kicking the can down the road — to avoid a shutdown on Jan. 19. Then you'll probably see Republicans escalate their rhetoric, trying to blame Democrats for shutting down the government over DACA.
4. Sneak Peek diary
The House will vote on a resolution declaring it "stands with the people of Iran that are engaged in legitimate and peaceful protests against an oppressive, corrupt regime."
The House will also begin the process of reauthorizing the Foreign Intelligence Surveillance Act — the law that allows the U.S. government to collect intelligence on foreign citizens, with the goal of preventing terrorist attacks.
The Senate has four district court judges to confirm. Discussions over a budget caps deal and government funding — the Jan. 19 deadline for a government shutdown is fast approaching — will continue.
5. 1 fun thing: Spicer's ratings
Sean Spicer had a rough trot as White House press secretary but one fact was undeniable: the guy — as Trump often noted admiringly — got terrific ratings.
Away from the podium, it appears Spicer can still bring in an audience. On Thursday night, he sat with SE Cupp for the full hour on her show on the relatively obscure network HLN. I wouldn't even know where to find HLN with my remote, but Axios' media editor Sara Fischer emails to tell me the Spicer show far outperformed Cupp's usual ratings:
"The show gets roughly 70.000 viewers on average in its daily 5:00 p.m. time slot, but Thursday night's show pulled in 109,000 viewers for the network — a big improvement, but still far behind its cable news rivals in that hour.
"In addition, the network re-aired the show Thursday at the 8pm hour for those who missed the first run of the Spicer interview. The repeat show pulled in 142,000 total viewers — 38,000 within the coveted 25-54 advertising demo — bringing the day's total to 251,000 total viewers of the show, 70,000 of which were in the demo."
I asked Spicer about the ratings bump, and whether he harbored any TV aspirations. He declined to comment.
Flashback: San Francisco Chronicle: "Sean Spicer Hands Kimmel a Rare Ratings Win Over Fallon."